Off the Menu: A Vegan Wrap Recipe that's Actually Delicious
Kye's, in Santa Monica, shares the secret to their amazing seaweed wrap.
Entertaining
So, we've noticed you guys really, really like healthy recipes. And we feel you! Taking in fresh, clean foods that make you feel like you could beat Usain Bolt AND kick a conference call in the ass beats calorie counting and obsessing over bikini season one hundred times over. Welcome to Off the Menu: our new series, dedicated to begging our favorite places to eat for the recipes behind their most delicious, good-for-you dishes.
Even though it's not always the healthiest of options, you can't say that a sandwich isn't the most convenient, easiest lunch option ever. We mean, there's a reason your mom made you PB&J everyday for the first ten years of your life. And, why, in college, you ate a turkey wrap every single day of freshman year. Okay, fine, so now we've graduated to salads, the greener, more body-friendly lunch, but nothing beats the wrap-slash-sandwich for ease (and, let's be honest, taste bud satisfaction). Cue Kye's, our favorite guilt-free Los Angeles lunch spot, and their somewhat revolutionary nori wrap, which has all the nutritional value of even the most superfood-stuffed salad (see: hemp seeds; broccoli; lotus root) in the undeniable convenience of a wrap. It's like going back to your turkey with iceberg and mustard days, but, like, a million times better.
---
Vegan Macro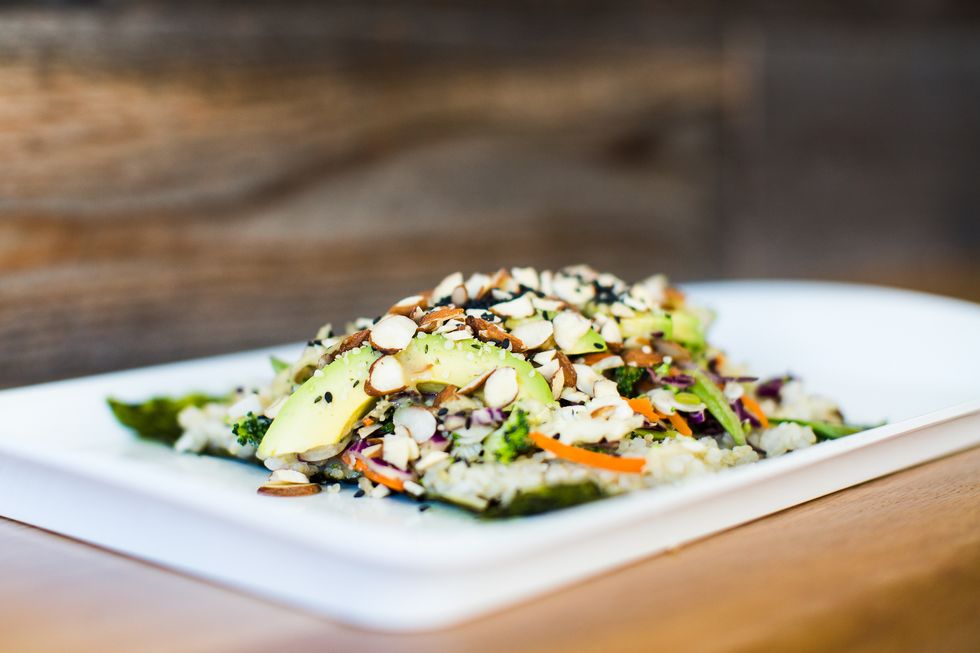 INGREDIENTS
One sheet of toasted Nori
1/2 cup of rice of choice (cooked)
1/2 cup of veg mix (recipe below)
2 tablespoons of dressing of choice
1/2 avocado, cubed
1 TB hemp seeds
4 TB sliced almonds
1 TSP black sesame seeds
VEG MIX
Equal portions of:
Shredded green and purple cabbage
Julienned carrots, snap peas, broccoli, cauliflower, and woodear
Small diced lotus root
ONE >> Place nori sheet on a cutting board or flat surface.
TWO >> Spread rice down center of the sheet and top with veg mix, dressing, avocado, hemp seeds, almonds, and black sesame seeds.
THREE >> Roll up tightly, wrap in wax paper and tape closed.
FOUR >> Enjoy immediately so the nori doesn't get soggy.