Get Well
Who Better Than the EIC of Women's Health to Talk Wellness?
What's that? Another new series? We know, we know. Let's put it this way: we're a nosy bunch (reminder: we go through people's homes for our 9-to-5) and that extends to health and wellness, too. From the boutique fitness classes people are blowing their entire paychecks on to how they top off their avocado toast, we want—nay, need—to know. Get Well is where we'll quiz our favorite people on their evolving ideas of wellness and health of all kinds—including what you don't necessarily see on Instagram.
When we started this wellness series, it was because we are a really, really inquisitive (read: nosy) bunch who needed another excuse to quiz all of our favorite editors and nutritionists—whose 9-to-5 involves practicing what they preach—on the nitty gritty of their workout routines and midday snack choices. And who better to chat with us about what being "healthy" (an adjective that has it fair share of interpretation) actually means than the editor-in-chief of one of the biggest fitness magazines around, Women's Health? Nobody. Amy Keller Laird is basically the authority on all things related to, well, women's health, and we couldn't wait to hear what she had to say. Spoiler alert: she did not disappoint. We're 100% taking cues from her unwinding strategy (Days of Our Lives and massages) and go-to dinner recipe (veggie tacos)—see what we mean? Herein we got her talking about the importance of a lunch break, getting outside in the name of health and her thing for Twizzlers. As for the office treadmill desk, it's #goals no?  
---
General Wellness
 
"[To me, wellness means] feeling good physically, mentally and emotionally; happiness, confidence, loving your life and what you're doing in the world. And having a strong support network—it's hard to be healthy without that.
 
[My wellness goals are] pretty simple: I try to make as many healthy choices a day as I can, but I'm never rigid about it. I like to indulge! And I let myself. It's a balance. I used to think it was an all-or-nothing proposition, that if you were quote-unquote 'healthy,' you could never indulge or just sit on your couch when you felt like it. To me, that's the ultimate way to make people NOT want to try and get healthy. Now I know that small changes and little upgrades can make a big difference.
 
When I was a kid, and even in high school and college, I could not gain a pound, no matter how much or how badly I ate. I even tried to bulk up at one point with protein shakes! I was a journalism student at the University of Missouri, and I remember an assignment where we had to 'profile' someone else in our class. The guy who interviewed me found it so interesting-slash-bizarre that I chose my spaghetti arms as my least favorite body part. He was like, 'Really? That's what you see?' Now, I'm most self-conscious about my stomach—it's smushy after having two kids and hitting 40. We once did a global survey for Women's Health, and worldwide, the stomach came up as the body part women struggle with most. But I try to focus on what I like instead of on the negative—my high cheekbones and my legs—and play those up. And let's just say I'm quite thankful for the blousy-shirt trend."
Mental Health
 
"I go out to lunch or eat with coworkers in the conference room nearly every day. I've been doing it for years—if I don't get away from my desk, I feel crazy. Women's Health started a #LeanInToLunch social campaign after we discovered data that only 1 in 5 people take a lunch break during the workday! Studies show that people are both happier and more productive at work when they take breaks. I also like going to movies by myself—two hours of alone time, where I can get my mind off to-do lists? Heaven. Ditto for a long shoulder or scalp massage. I also dork out and watch Days of our Lives at night while playing Candy Crush Soda—I'm pretty sure studies would refute this, but I find this combo sort of meditative; I can half pay attention and half zone out.
 
There are a lot of things that I never thought I'd try before coming to Women's Health. It's mostly the fact that I do these things in front of coworkers, like sitting in our conference room with the whole staff participating in a tapping seminar (you literally tap spots on your body with your fingers to help harness energy). Or meditating in front of every executive at Rodale, including our president and CEO! This company really walks the healthy walk.
 
I've become an early riser since I have two cats who start meowing for food around 4:30 AM, and two kids, six and two, who clamor for Alvin and the Chipmunks at seven. If I'm on diaper duty, that's usually my first thing. If it's my husband's turn, I check Twitter. Best way to get the news first! Then I turn on Morning Joe."
Eating
 
"Gotta be honest here—I don't really cook. I can microwave a mean organic chicken nugget for my kids, but my husband is the cook in our family, and we do try to keep it healthy at home. His signature dishes are homemade spicy red sauce for pasta, a mandarin orange, artichoke, toasted almond salad, and veggie tacos—black beans, grilled onions and green peppers. I could eat Mexican food every night of the week. This version is low-cal and not greasy. I mix it up for breakfast. Sometimes oatmeal with strawberries and a little brown sugar, or Greek yogurt with chopped mango. I also love over-easy eggs. Taco Bell, Twizzlers and salted caramel hot chocolate [are my guilty pleasures].
 
Unsalted, roasted cashews and Skinny Pop Black Pepper Popcorn are my go-to snacks.
 
I have never been a big water drinker, but I know how important it is. About four months ago, my husband got on the seltzer bandwagon, so I forced myself to ditch soda—which I admit I used to love—and drink flavored seltzer for a couple weeks. Now I'm such a convert, I actually crave the stuff. Particularly La Croix Cherry Lime and Schweppes Pomegranate. It's liberating to be able to crack open as many a day as I want! But: I always prefer a cold can to a bottle. The effervescent effect is the same I used to get from soda. It almost makes it feel like a treat.
 
[For] hot coffee, I love a skim mocha from Café Grumpy. Cold, it's Grady's Cold Brew all the way—my husband, Grady, makes cold-brew concentrate that you simply add milk or water to. I add two percent milk and zero sugar—the beans are blended with chicory so it's slightly sweet on its own.
 
I take pretty much any chance I get to hit up The Smith midtown location, near my office, and order the kale-quinoa salad. It has sun-dried cherries and ricotta that make it slightly sweet—it is so yummy! I also love Mediterranean food, and am newly obsessed with this new fast-casual chain that's popped up, called GRK, right down the street from Grand Central. I order chicken shawarma and Aegean slaw probably twice a week."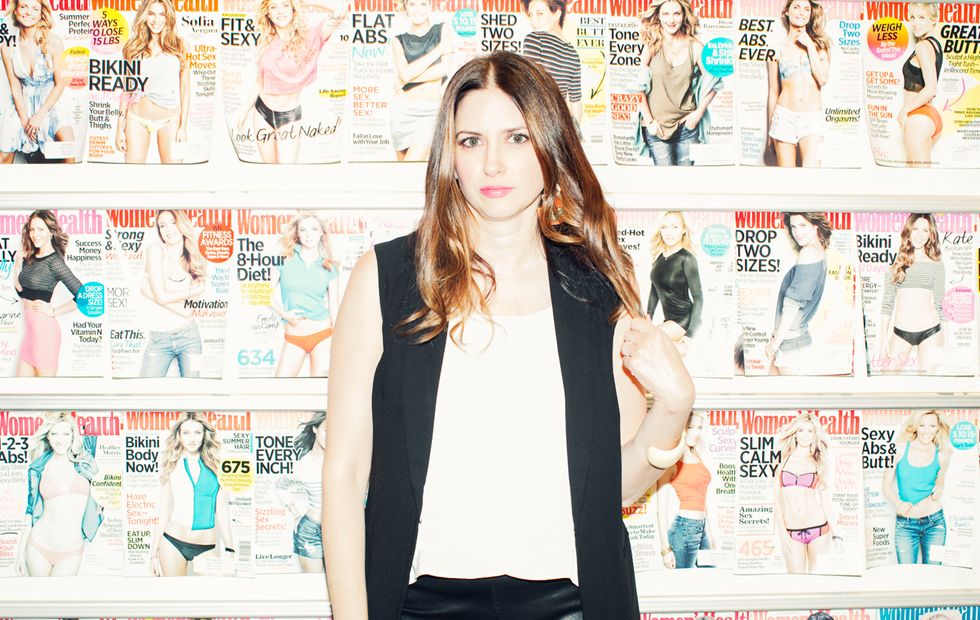 Fitness
 
"I love dance-cardio workouts, as well as hiking with my family. We just went to REI and got a canopied backpack to carry our 2-year-old in. And I have a treadmill desk from Pro-Form Thinline at work—I've been trying to jump on twice a day for 20-30 minutes each session while I edit copy. Granted, you can only go so fast while trying to read!
 
I have to have my Nike Lunarlon sneaks at the office, so I have no excuses not to get on the treadmill desk. And sunscreen! As a former beauty editor—I was the beauty director at Allure before coming to WH—I've had the necessity of year-round sunscreen pounded into my head. So much so that if I'm out on a day when it's blazing and I haven't applied SPF, I can't even enjoy myself because I just feel nervous! La Roche-Posay makes the best sunscreens. My favorites from them are Anthelios 50 Mineral Sunscreen Fluid for face and Anthelios 30 Cooling Water-Lotion Sunscreen for body. Both feel so incredibly light, not goopy or smelly at all."
Advice for anyone looking to be healthier
 
"Take it day by day, and try to make more healthy choices today than you did yesterday. Eventually, it adds up. Research shows that if you make things a choice rather than a dictate—as in, I choose not to have that pizza today, versus I can't have it—you'll make healthier choices. This is so true in my life. Constantly beating yourself up and completely depriving yourself typically backfires."