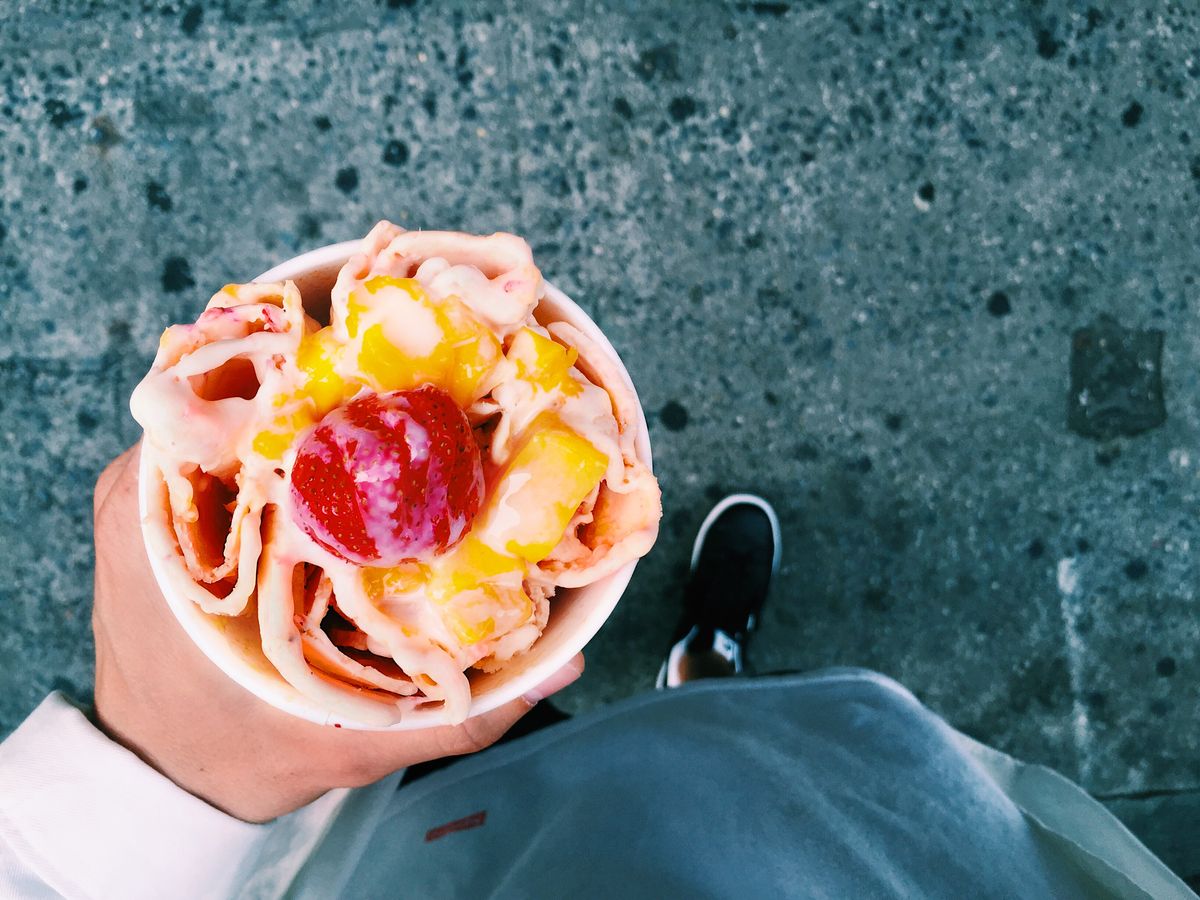 Living
The only places you need to know about this fall.
Remington Guest
It's fall and since we don't go back to school, and, despite what a generous summer Friday policy would have us believe, we're not going back to work either (:raising_hand: been here the whole time!), it's kind of become the season that we try to connect the dots on all the cool places we've been missing out on while searching for rooftops all summer long. Which is where The Cheap, The Best & The Hidden's Remington Guest comes in: he knows all. He's like our own personal seer (and yours, too) when it comes to the places we can't not miss (that we'd honestly never otherwise end up hearing about). So here are all the places in New York and Los Angeles where you should be spending your time starting, um, right now. See ya there.
---
Ice Cream
(3 options including Vegan)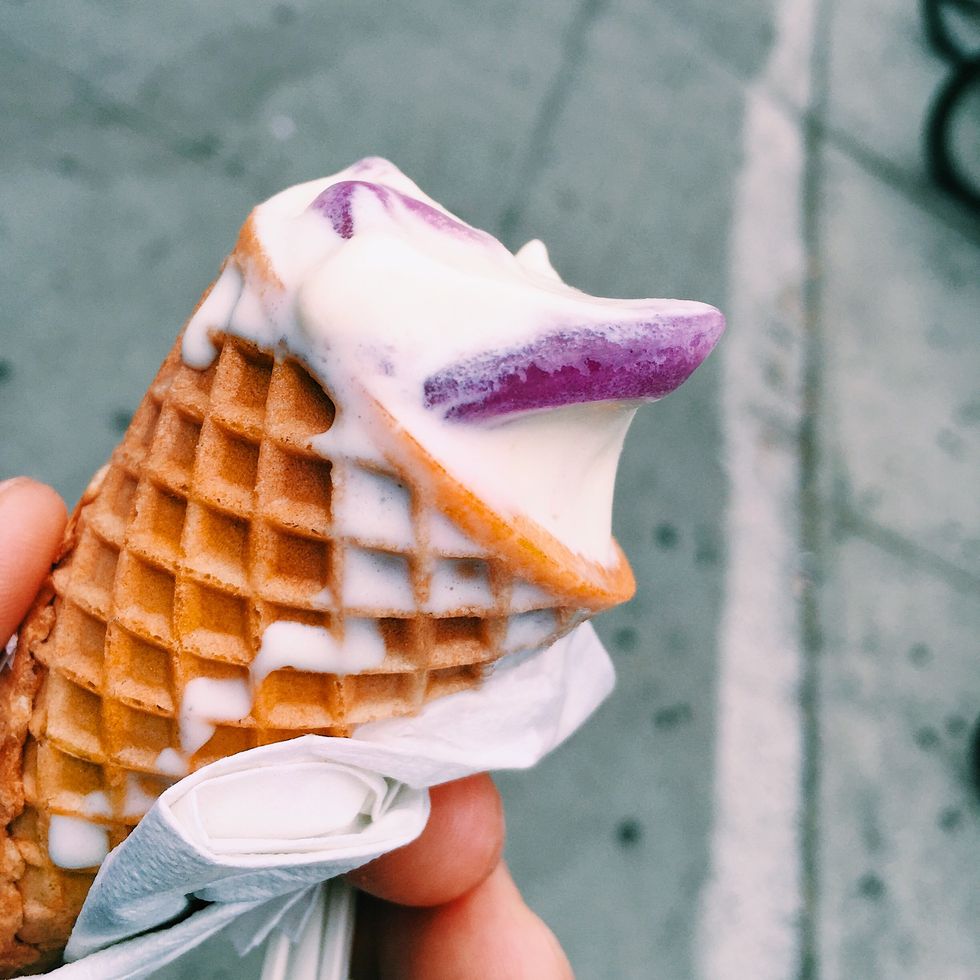 1a.
Garm Destruction 
Ice & Vice
221 E Broadway
 
Okay, I may have just been to the most next level ice cream place of all time. Big statement, I know, but I only talk in superlatives these days. All my shit's at the greatest degree. But I really did just have this ice cream that had KOOL-AID JAM. THE fuck? Where has this been for the entirety of my life? I want to spread it all over everything. I had the weirdest dream about Kool-Aid tho. You know the commercials where the Kool-Aid man burst through brick walls and shit and is just like OOOOOOOOH YEAAAA. I had a dream I was asleep and just bought the entire fall-winter '15 Supreme collection, which was meticulously laid out all over my floor for an epic 'gram. Then the Kool-Aid man burst through my wall, blew up all over my new garms, and stained them forever with his artificially dyed and delicious flavored drink mix. I still crave that jam tho.
 
TIP: Try all of the flavors. It doesn't make it any easier
1b.
Buying Fall Garms too Soon 
10Below Ice Cream
10 Mott Street
 
Okay. Listen. 10Below is the real deal. The whole situation here is that they make each ice cream to order. Like they freshly make your ice cream to order and then roll it up. They pour milk into this freezy sort of plate and it turns to ice cream. I was with a friend who was said, it's just like Cold Stone! You think I'm in the depths of Chinatown out here for some Cold Stone???? Insulting. Remember when Cold Stone was everything tho? With their drug mentality sizing options of want it, need it, gotta have it? I also made the deadly mistake of wearing a sweater to go here. I'm always the one buying fall garms as soon as they hit the stores, and TBH, 10Below sounds like it might have the AC on super blast. It was hot as fuck in this place, my guys. I was out in Chinatown, wrapped in a lit FW '15 sweater, stumbling through the street with the super sweats. I was clutching this dope cup of ice cream very close. It seriously looked like I was too turnt. 
 
TIP: Toppings are free and unlimited. Go in. 
TIP: Watch for the special flavor
TIP: Ice cream is made to order, so the wait times can be pretty long. It's worth it tho.
1c.
Shifting to Cash-Only Situations 
Blythe Ann's 
516 East 6th Street
 
Yo, going back to school shopping is so rad. It's my favorite thing to do especially since I NO LONGER GIVE A DAMN ABOUT ACADEMICS.
 
Luckily I maxed out all of my credit cards on next level garms (really feeling lightweight turtlenecks at the moment) and kicks that will undoubtedly break plebian necks when in line at that new Echo Park Blue Bottle. Since I have zero room on my card for like, bills and food, I gotta take advantage and hit all the cash-only spots. THIS IS YOUR TIME TO SHINE CASH-ONLY DEMONS. There's this real sus and hidden vegan ice cream spot—no sign and no name like its a black hole—and they're cash-only. Watch for me as I cruise out of there in a lightweight turtleneck directly into my Uber and give you judgmental looks from the cracked window as I cruise away. 
 
TIP: Vegan only (soy, almond or coconut based).
TIP: Kizzash only.
TIP: Cake batter is the fire.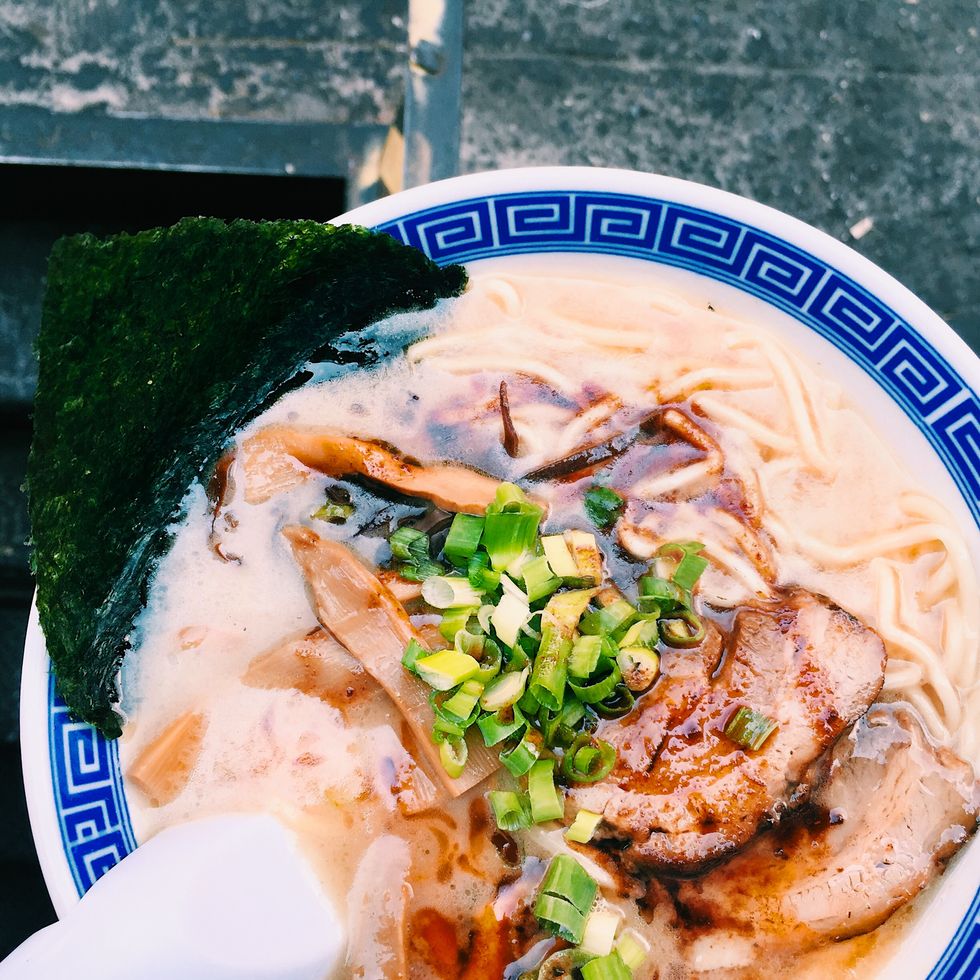 2. 
Basic As a Pseudonym 
Minca
536 East 5th Street
 
Yo, this is the one and only time basic is good. Basic is a banned adjective in my world, but when it comes to the number three basic at Minca, all is forgiven. I know it's September and you're out here reading about soup and mad at it. DON'T BE. This is a life changing experience. One night I took a friend here who was turned way up to the max, and he thought we flew him to Japan. He was like Rem, don't let my girlfriend find out she's going to be real mad I went to Japan without her. I was like, Mikael, she's already knows, we posted a picture of you on Instagram and she dumped you. 
 
There is no ramen competition. There is only Minca. 
 
TIP: This ramen will change your life. 
TIP: The gyoza and radish salad are the best apps. Crazy, crazy good.
TIP: Cash only.
3.
Shopping for the winter and it's only September
Goa Taco
79 Delancey Street
 
How am I going to afford all this dope fall swag? My boy Raf is literally designing for me these days. Have you seen these v neutral Stan Smiths he's turning out?? 
 
I only have four other pairs of similar sneakers, so naturally these are a must cop. You've got to be seen in the newest fall garms come now, by THE LATEST, otherwise we all know you ain't shopping resort which means you ain't going on vacation which means you ain't going to the resort show in Palm Springs which mean you're NEVER getting on that CHANEL BOAT, which means you basic which means you MAY AS WELL BE MEEK MILL. ITS A DOWNWARD SPIRAL, WEAR FRESH GARMS.
 
TIP: Wow. Order anything you're going to freak out.
TIP: Guacamole is shockingly dope.
TIP: Even the hot sauce is homemade here. This is a special place.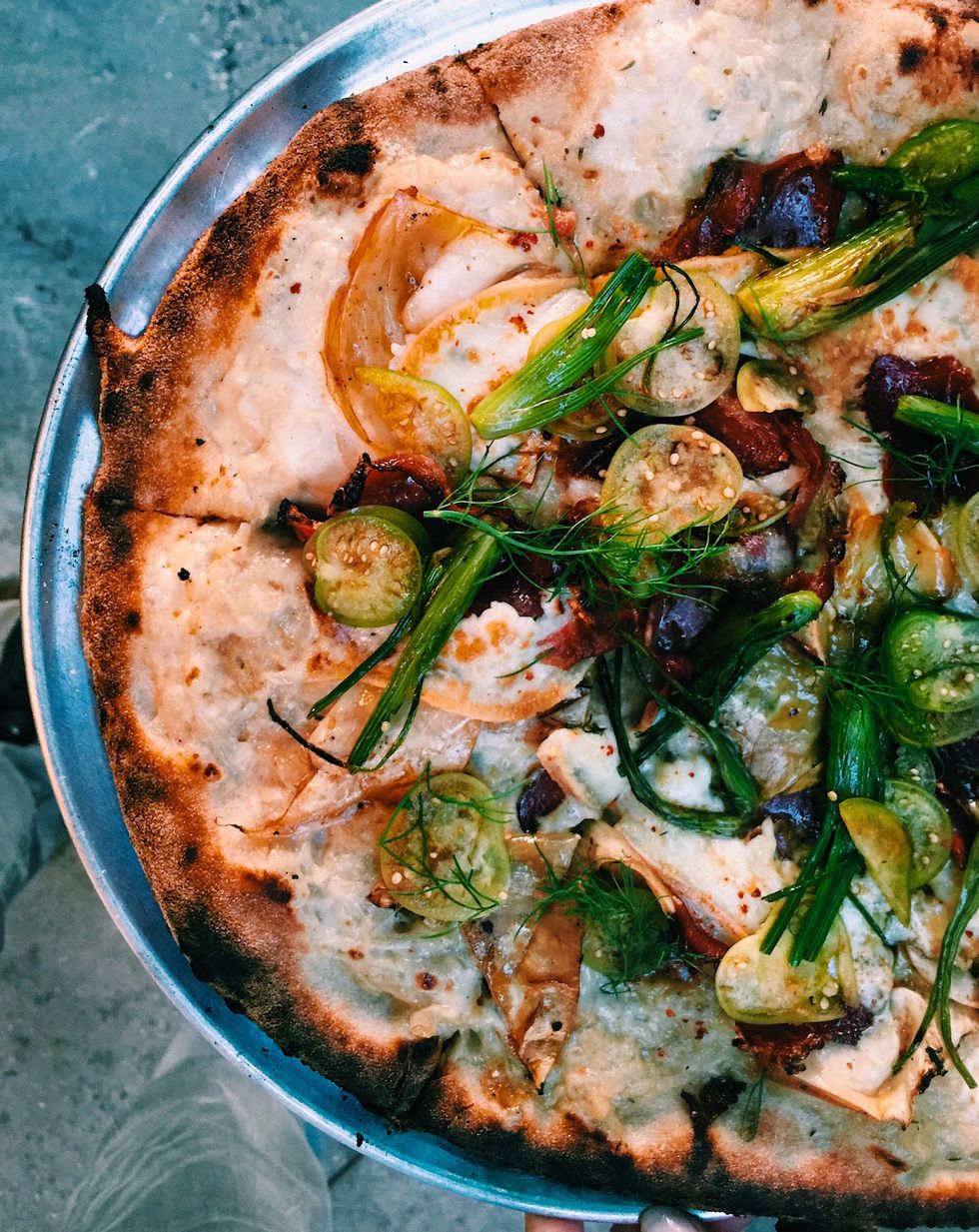 4. 
The Suge Knight of Food 
Bruno Pizza
204 East 13th Street
 
MaAAAAaaaaaAAAaaan I just saw Straight Out Of Compton and I want to be a hard gangster so bad rn. Those dudes were stone cold. Back on track: Bruno Pizza. Gotta go, now. It's on the verge of too turned up. I really, really like to take credit as being the guy that put you on to fire things like Bruno. All your friends be like,,. Awwwwww Stacie, how you know about all these fire spots before any of us ever heard of it. Stacie you are sooooo coooooooool. Let's go to All Saints now and get Chipotle. 
 
ME. I TOLD YOU ABOUT THAT. I'm like the Suge Knight of the food scene. I see the talent and put you on it mad early. I need that hard reputation tho. Like, stay loyal to my restaurant or Imma break all your breadsticks in half and make your soufflés fall if you even look at my parking spot. I'll have an army of super cute teacup Pomeranians on hover boards that cruise the streets with me. WHO SAYS YOU CANT BUY LOYALTY?
 
TIP: Get pizza.
TIP: Multiple pizzas.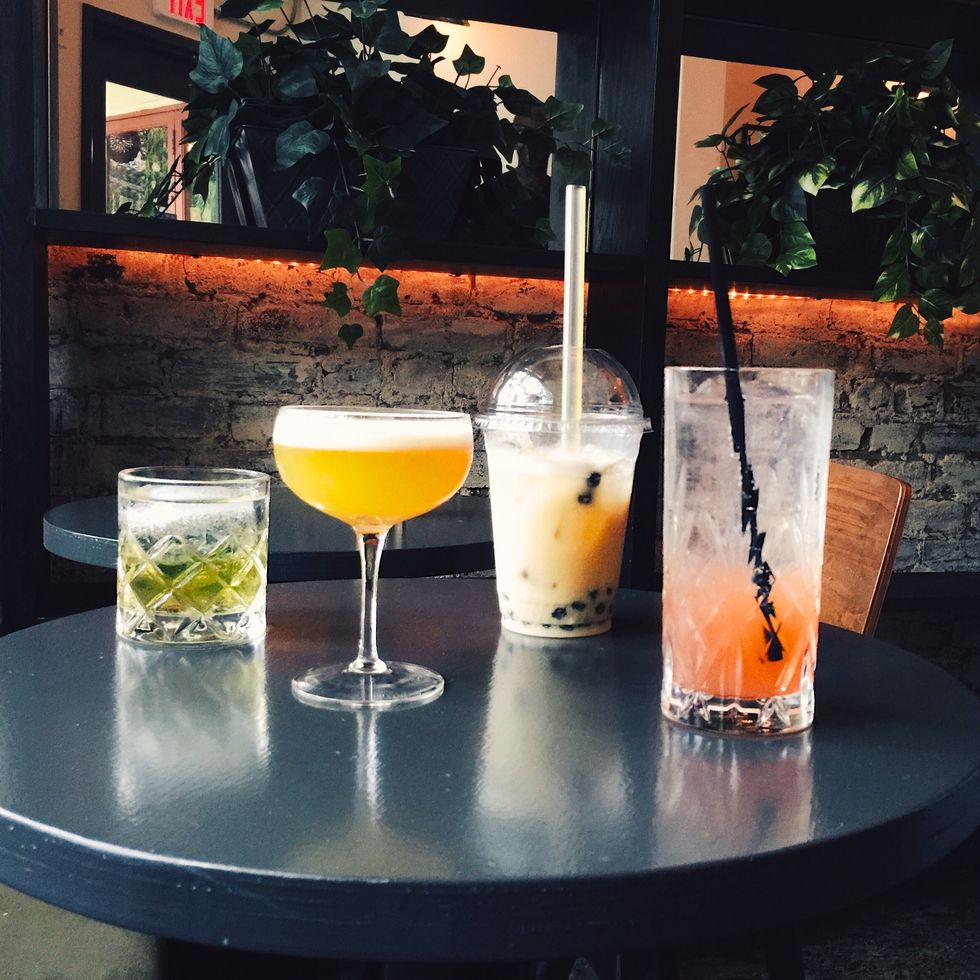 5.
Strictly Fucking with Turtlenecks
Mace
649 East 9th Street
 
I think I'm officially off of the large hat train, guys. I know I've been saying I'm going to suddenly just commit and burst through the ceiling in a dope hat, but I think I'm passed it. I'm onto TURTLENECKS now. Like super, super lightweight ones. I strictly only fuck with turtlenecks from now on. Just the flowiest, most vibey ones you can imagine. I just received one of said turtlenecks from a friend, and MAN I CAN'T wait to just post up in the back of Mace with a table full of bubble tea cocktails and my turtle neck pulled all the way up. They've got a bubble tea cocktail on the menu at Mace and it's obviously my favorite thing. So next time you're in NYC look for the guy in a baseball hat and turtleneck sipping a bubble tea cocktail over by Avenue C.
 
TIP: Go now. No one knows about this place so you can still have it to yourself.
TIP: Cocktails are always changing so check back often. 
TIP: New cocktails were just added, like the aforementioned bubble tea cocktail.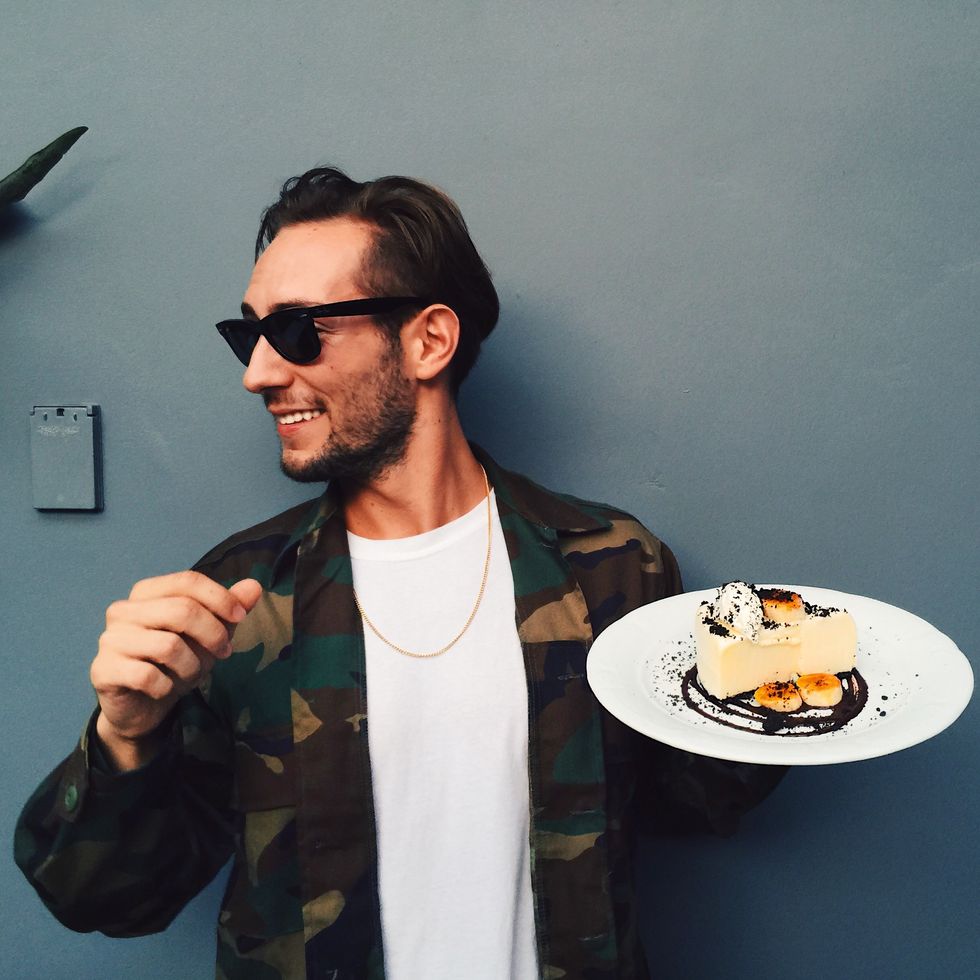 1.
Just like a Manta Ray
Pistola

8022 West 3rd Street

Pistola really has a great thing going. Beautiful interior, incredible design, talented chef in the kitchen. Killing it on all levels. There's such a sophisticated vibe, it's like a dramatic Rihanna video. Whenever I'm in LA from now on I'm only talking meetings at the very top floor on the back patio #WAYUP. I got some very rare new garms from the H&M showroom the other day. These flowy black trousers, a lightweight turtleneck, which will be all the rage real, real soon, and an epic lightweight overcoat with the rarest of hem lines. Can we stop and think about this dope look? It's a monotone grey banger. I'll be like a manta ray swooping into your proverbial DMs. Just call me the god damn Dark Knight, fam. I'll be poised at my table with shades like Johnny Depp in Black Mass eating a steak at all times. Let's build over steak and dope fits, fam. 

TIP: The meatballs are a must.
TIP: Get steak? Obviously?

TIP: Sit upstairs outside whenever I'm not there.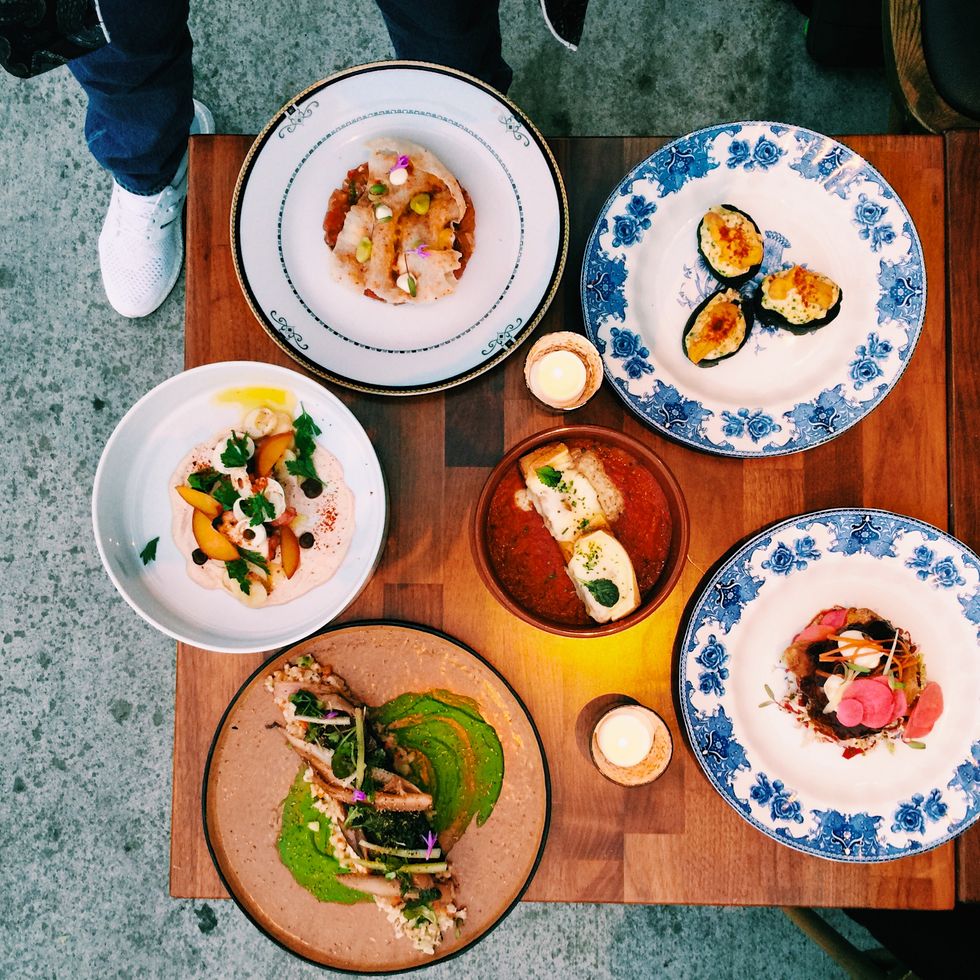 2.
Reconsidering my Hat Obsession

Ox and Son

1534 Montana Avenue, Santa Monica
You know what impresses me pretty much more than anything? DOPE CERAMICS. Food is cool and all, but really the way to get me, serve my pasta in a next level container or on a vintage plate, and I lose it. It hits that Martha Stewart bone in my body that make me say ooooooooooohhweeeeeeee!!! 

It really just makes for a better 'gram, which is the purpose of life today. I was so charged up on home decor after eating at Ox and Son I went to Bungalow. I met an older woman there who was really, really good at ping pong and was super pressed to change the lighting for the table. We really couldn't see that ball and she wasn't taking it. She also had a really cool hat on, which made me reconsider abandoning my need for a cool large hat (lightweight turtleneck + large hat = ?). She had so much conviction and purpose… You know what, she changed that fucking lightbulb fam. I bet she had the dopest ceramics at her place, too. 


TIP: Things change here all the time. Pay attention to the specials, too.
TIP: Inside seating is vibey and fun. Outside seating is quiet and chill.
TIP: Wine list is on point.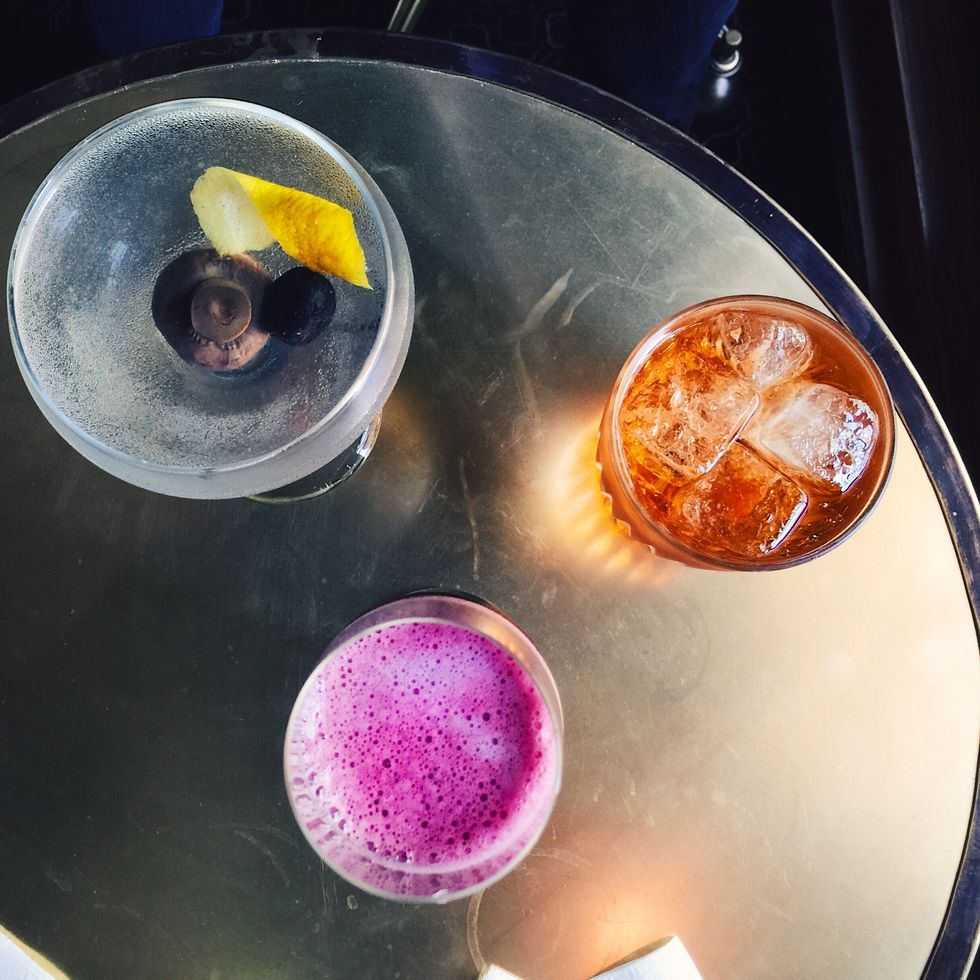 3.
Dating is So Easy

Minibar Hollywood
6141 Franklin Avenue
Wow. I love a real sus trap night with a bit of sophistication. And Minibar is the epitome of #trapseason. It's situated in a Best Western right before the 101 Freeway entrance. You head into the Best Western, walk past the desk and down the hall, and on the right is a super chic, Mad Men style bar. It's the perfect blind date spot because, like, you never really know how it's going to go, and I love the idea of deciding where to meet up, and you're like, "Hey Marisa!!!! Meet me at the Best Western on Franklin :) See you at 8!" You'll already be there waiting, all the way around the bar seated on the right side with your sunglasses and turtleneck on, with a nice cold drink waiting for Marisa. It's pretty dark in there but with her not being able to see your eyes and you not being able to see anything, the mystery will be very strong all night. Dating is so easy.


TIP: The Alpine Hippie Juice all day.
TIP: The menu is small and tight; it's a MINIBAR. Get it?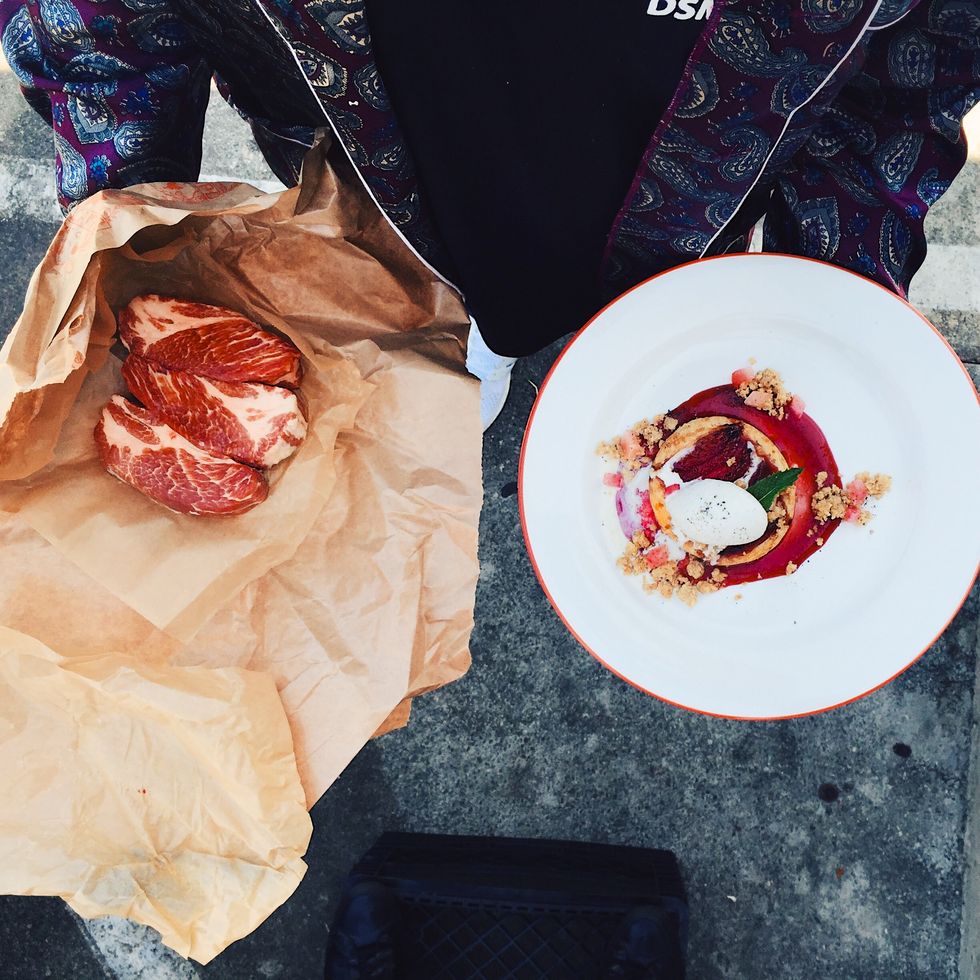 4.
Kanye Dancing with Janice

Belcampo Meat Co.

Grand Central Market, 317 South Broadway;
1026 Wilshire Boulevard, Santa Monica
There are few times I am really ever floored. I don't like much, I'm pretty hard to impress, I'm a cynical New Yorker who loves to complain, and my mom is an epic cook in case you haven't noticed with the Mom's Mondays.


(There should be some sort of cool contest where the winner gets to come over to Mom's with me and have an insane dinner. Best prize ever.)


Belcampo is now officially one of the best, in my opinion, places I've ever eaten. That is not a statement I readily make, fam. You know me, YOU KNOW ME. How often are you hearing that from me?? They're a two-part operation. There's the butcher shop (DR DRE), and then the restaurant (ICE CUBE). Are you following? I was trying to see Straight out of Compton at the iPic in Westwood. I was in the downstairs lobby and couldn't really find the way into the theatre, so while my friends figured it out I started doing this Kanye dance because it's just the best. Out of nowhere this lady comes out from the shadows of the garage and starts Kanye dancing with me. It was supermodel Janice Dickinson. So Janice Dickinson and I were like who needs this movie when we can Kanye dance in sublevel A of the iPic for as long as we want. We finally went up to the theatre and it was all sold out. Janice stole a lipstick from my friends purse, handed it to me, tapped my friends shoulder, pointed to me, and I got in trouble.  


TIP: The burger is one of the best I've ever had.
TIP: THE WINGS DUDE, I MEAN, THE WINGS ARE THE MENU SLEEPER.

TIP: Buy something from the butcher and cook at home sometimes you lazy pigeon.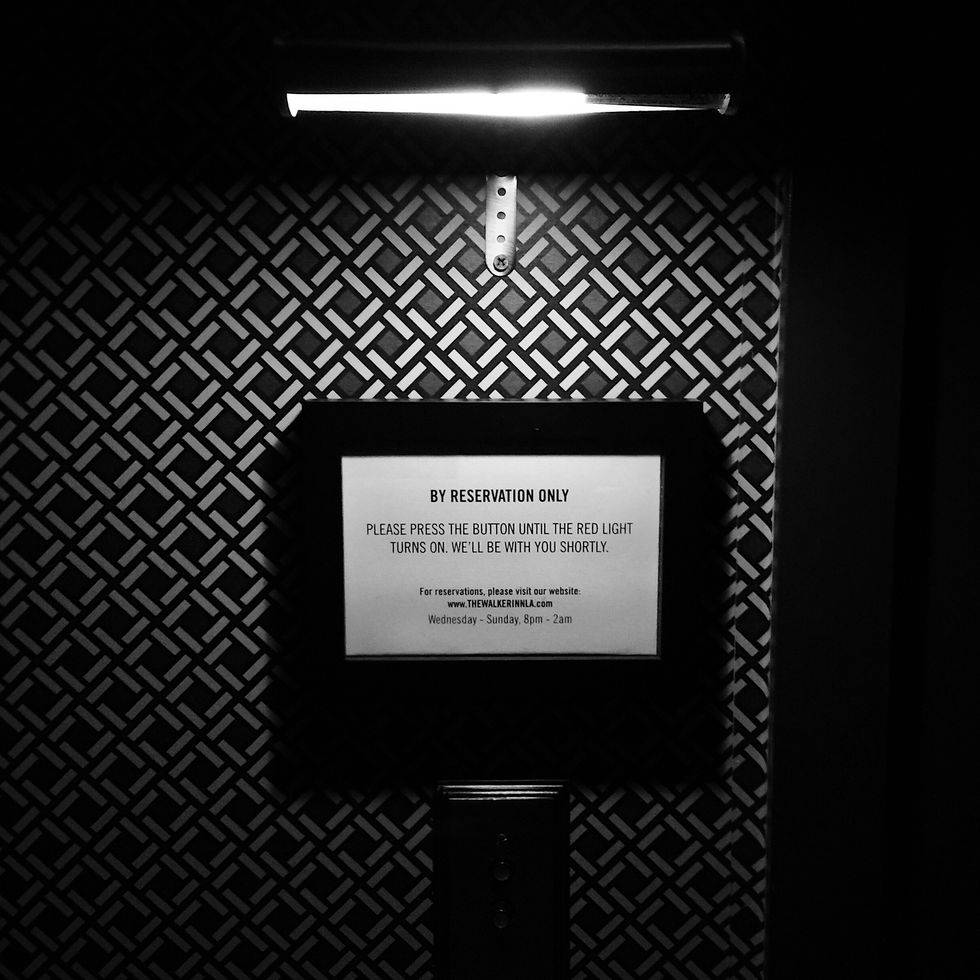 5.
Emotional/The Meaning of Life
Walker Inn
3612 West 6th Street
I give up. I really am speechless—emotional, even. I nearly shed a tear of pure joy last night. Places like the Walker Inn are the reason I even do what I do. Looking for the best, the coolest, the spot with the vibe. Just everything. A place that really sums up the meaning and joy of life in one cocktail. I am actually lost for words on this one, and honestly, I'm struggling with what to tell you here. I think what's best is to really tell you nothing. Nothing at all. On a very, very real guidance counselor note, I don't want to tell you anything about the Walker Inn, except, simply put, you should go there. I feel like at this point we've built some trust, fam. This is simply one of the most incredible experiences you can have in any regard. This is what life is supposed to be like. It's thought out. I mean, really, really thought out. From the height of the bar, the materials you touch, what you sip out of, every little detail has almost a Steve Jobs level of attention to it. I don't want to show you any pictures, I don't want to tell you what to get. I will tell you to sit at the bar, but I want you going in blind to what will be one of, if not the best, experience you will ever have. I want you to feel the magic that is the Walker Inn without seeing or reading anything. Do yourself a favor and go in blind. If you ever, ever listen to me about anything. Anything at all. Please, go to the Walker Inn. 


TIP: Sit at the bar