Fitness
Motivate Yourself To Work Out in 60 Seconds
Because we all don't have Tracy Anderson on speed-dial.
Listen, we already know from all of our dedicated Pinboards and Instagram feeds overtaken by fit-to-death models doing their best pointed-toe-handstand-in-front-of-a-sunset (#goals), that getting ourselves to work out takes a lot of motivation. We mean, it's practically more work than actually working out. You have to admit, we've come to get pretty damn creative with ways in which we'll forgo the gym entirely—uh, because this isn't the first time we've spent 150 words complaining about having to stick to our routines. But it's September and although school's been out for us for some time, it still kind of feels like a fresh start. So in the spirit of reforming our summer-long bout of anti-workout justifications, we've found seven ways to actually get us up an at'em. 
---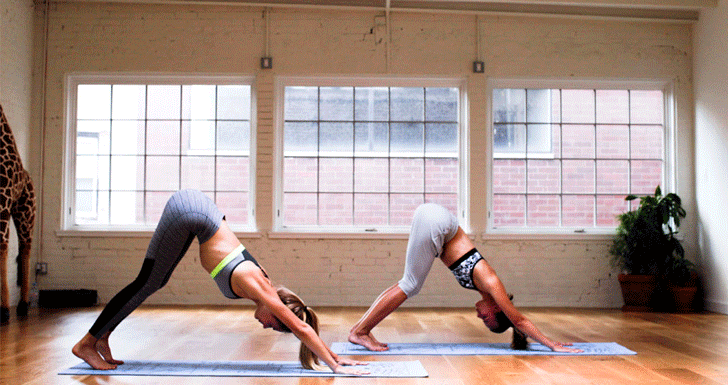 To us, there are a whole lot of things that are just so much better done with friends. But besides finishing off bottles of merlot and entire charcuterie boards, exercising is also one of them. 
Just because you cringe every time you hear #fitspo doesn't mean it doesn't actually work. Whether it's Instagram or Pinterest, choose your poison. We're suggesting @hannahbronfman, @emilyskyefit, @yoga_girl, @ninaagdal to get you in your Lucas Hughes and moving. 
We've all made hasty snaps, especially in times of weakness—er, and most of which we'd like to forget. But just as you reach that low point (you know, when you're finding annyy excuse to not go to that spin class) announce on your story (or tweet, FB status, whatever, we don't judge) that you're about to go on a do something active. There's no backing out now, sorry. 
Running fucking sucks. It just does. But what sucks more, is knowing your friend just ran a cool 5 miles while you were slumped on your couch eating leftovers out of tupperware. That's the whole schtick behind Runkeeper, which not only tracks your pace, distance and elevation as you run, it also pings you your friend's progress and lets you know if you're lacking any. 
We know, we know, this one isn't anything new. But when it comes to running apps this is the OG, and why change a good thing when it works. Plus, since we're in some serious Daryl and Rick withdrawals, it's pretty much the most perfect zombie supplement while we wait out the next season of Walking Dead. 
 "Hi, chubby human," 
Think of this app as Siri as trainer—robotic cadence with an effing lot of attitude—that will have you punching Justin Bieber in the face and seducing dragons (actually). So yeah, it doesn't get more motivational than that.
Eating healthy 100% is pretty much the most unrealistic goal ever. Instead of feeling all the guilt, use the temptation of that cornflake-marshmallow-chocolate-chip cookie to fuel your next workout. Ran that 10 miles? Have two. 
FYI: Same rules apply for that Chloé Faye. :smirk: