Food
Off The Menu: The Most Delicious Kale Bowl Ever
A fall-approved dish by way of NYC's favorite salad bar, Sweetgreen.
So, we've noticed you guys really, really like healthy recipes. And we feel you! Taking in fresh, clean foods that make you feel like you could beat Usain Bolt AND kick a conference call in the ass beats calorie counting and obsessing over bikini season one hundred times over. Welcome to Off the Menu: our new series, dedicated to begging our favorite places to eat for the recipes behind their most delicious, good-for-you dishes.
---
As we've ultimately come to accept the imminent end to summer :sob:, we've kind of conceded to welcoming in some of fall's payoffs. We mean, aside from the sartorial benefits of cooler weather (you have to admit, this is the season of :ok_hand: fashion options), there are also some epicurean perks (read: apples, sweet potato, KALE!), especially if you're into the whole eating locally-sourced-in-season produce thing like we are. And you can leave it to NYC's go-to spot for build-your-own salads, green juices, and farm-to-table (or biodegradable take-out container) nutritional meals, Sweetgreen, to create one amazingly delicious and healthy fall-ready bowl for our kale-loving hearts. It also happens to be super easy to make at home #winning. So obviously we had to try it and (obviously) it was amazing—but you wouldn't have expected anything different.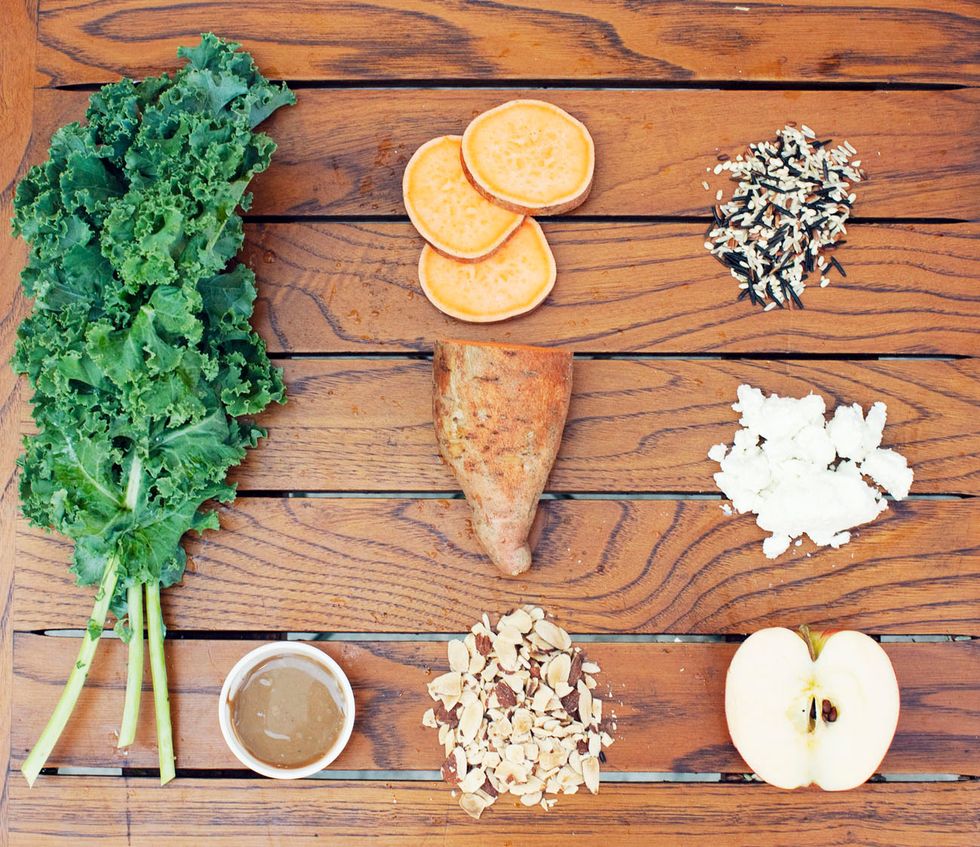 ---
Harvest Bowl Recipe
INGREDIENTS:
2 cups Cooked Wild Rice (warm)
4 cups Kale Leaves
2 Chicken Breasts, Roasted, Diced
¼ cup local goat cheese
1 cup Roasted Sweet Potatoes (cut into bite sized pieces)
Handful of toasted almonds
1 Apple, diced
Combine all of the salad ingredients in a large mixing bowl. Dress it up with your favorite Balsamic Vinaigrette, and eat fast (before someone else does).