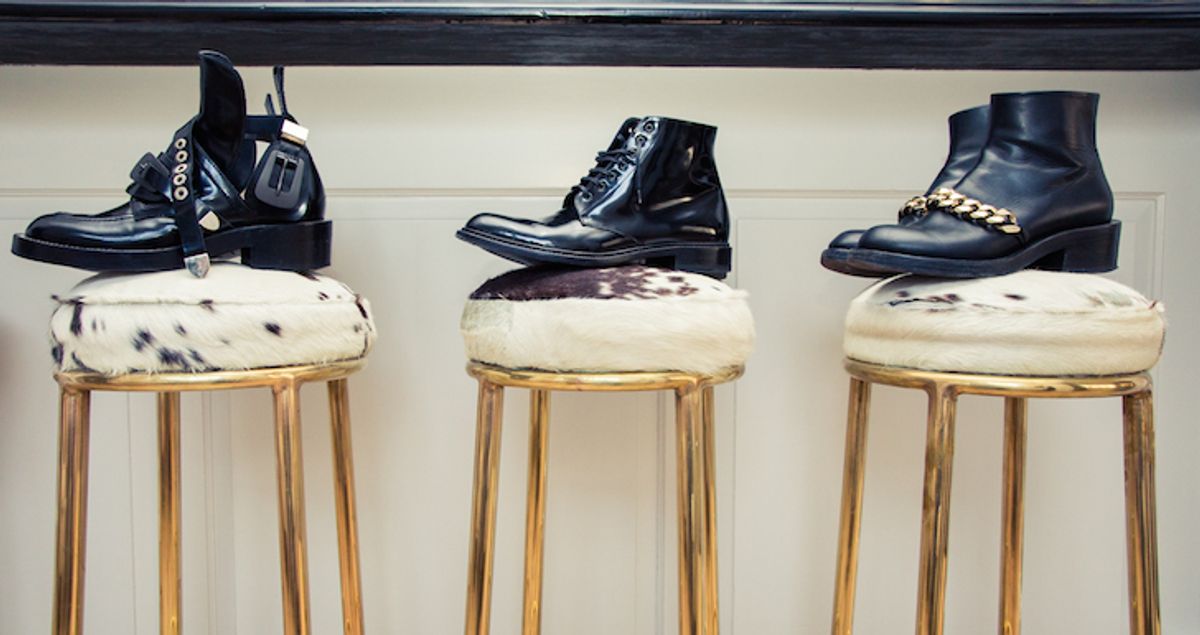 Fashion
That crepe sundress isn't going to weatherproof itself.
Maybe it's the ingrained back-to-school fever that hits us every September, or maybe we've just been watching too many '90s movies starring not-so-convincing-nerd Rachel Leigh Cook in thick-rimmed tortoiseshells. But this is that time of year that always kind of feels like a makeover—like we're going to leave for Labor Day weekend a freckly youth and come back all Princess Mia-d with our corduroy skirts and humidity-repellant blowouts.

While we may not have a personal Paolo to tame our three-month-old beach waves (let's be honest, they're starting to look a little more like beach dreads), we do have a few tricks up our sleeves to take us from dockside to deskside in a matter of seconds—no personal glam squad or well-intentioned high-school senior required. Here's how we get fall-ready in a hot minute.
---
Berry Lipstick
We know, we know. Yesterday it was all pops of coral and swipes of fuschia, but the easiest way to transition a look from summer soiree into autumnal all-nighter in, like, three seconds is to get some deeper, richer pigment on that pout. Stat.
The Deep Side-Part
Formerly cautioned against by mothers and motherly hairstylists alike ("it pulls at the crown!!"), even the most conservative of stylists have put their serum of approval on the super-side part. Sleek and slicked down, it's the ideal low-maintenance 'do for post-humidity fall weather (not so much for dancing on a Montauk patio. That frizz halo, though).
The 60-Second Rehab Facial
It was inevitable. Months spent bouncing between cottages, patios, and beaches and your skin feels like it's been vacuum-sealed and permanently reddened. We like to get in the habit of the nightly mini-facial to get some of that glow back into our dehydrated pores—call it skin rehab.  
The Suede Jacket
Pop one of these over a sundress or pleated skirt, and not only does it extend its wear long after September 1st, but we actually prefer the tougher, less saccharine edge it lends to a lace frock or printed sheath.
The Blanket Cape
You've been wearing that felt hat like it's your summer job—and the good news is, you don't need to retire it after Labor Day. Cast shade on a cozy cape, dark denim and ankle booties instead of your crepe maxi and you've got that something-kind-of-maybe-resembling-Rosie Huntington-Whitley look.
Just Add Booties
To us, the first sign of fall isn't a red or orange leaf—it's that unmistakable clip-clop of the first ankle boot. Swap your sandals for a Chelsea boot or your lace-up flats for a geometric block-heeled Alexander Wang. Trust us, it's our trick for making a fall editorial-worthy look in seconds. 
The Bag Swap
As simple as switching out that white/beige/lavender cross body you've been turning into a tiny portable sandbox all summer for a camel/black/navy cross body you'll turn into a tiny portable forest all fall. Done and done.