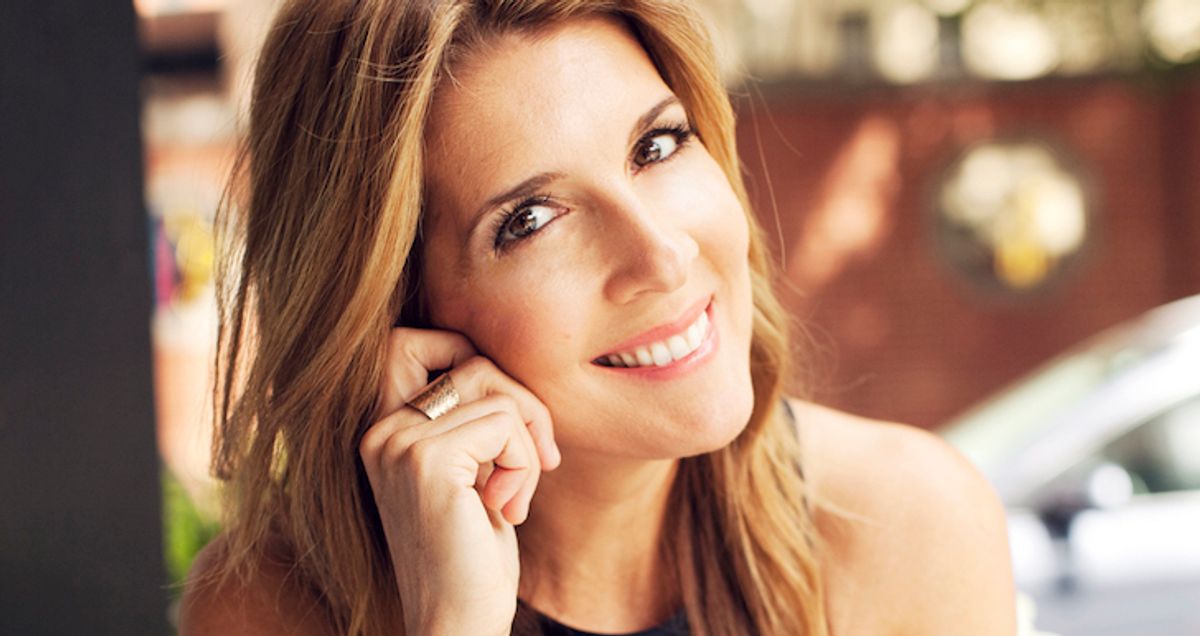 Wellness
The Editor-in-Chief of Yahoo Health has the wellness routine you've always wanted.
Meditation to de-stress instead of Netflix and wine; apples with almond as snack instead of week-old potato chips; genetic testing instead of erratically Googling "why is my tongue black." These are the marks of a truly healthy person (as compared to, um, us). Specifically, Yahoo Health EIC, Michele Promaulayko. But when your job is to cover every incoming and outgoing health and wellness trend (Promaulayko is also the former editor of Women's Health and has written a book, 20 Pounds Younger), something has got to stick. And from what we could tell by talking to her at Café Clover in the West Village, she's pretty much formed every healthy habit we've ever resolved to try on New Year's Day. That's not to say she doesn't still enjoy a good glass of pinot every now and then. Phew
---
General Wellness

"My definition of wellness is constantly evolving as I learn more—and I'm always learning in my job. Certainly, I think wellness means striving for equilibrium—where you feel fit mentally and physically. To achieve that, you have to take a holistic or integrative approach to health because everything is interconnected… what you eat, the quality of your sleep, the thoughts you think, and how active you are all converge to contribute to wellness or unwellness.
The main thing is that I don't believe in a one-size-fits-all approach to health and fitness. You have to find what works for you: what your body responds to, and also what's sustainable in terms of your time and interest. Consistency is more important than intensity. I've recently gone down the rabbit hole of genetic testing with services such as 23andme. It's super fascinating. The more you know, the more you can do what's right for your individual health. That said, interpreting the data and deciding how to act on it can be overwhelming, so it's crucial to have someone—usually a functional medical doctor—who can help guide you.

I'm not immune to vanity and wanting to look good. But now I try to have gratitude and appreciation for all that my body does for me—it's a miraculous machine that is both fragile and incredibly resilient. I try to tune in and listen to what it wants and needs … we're becoming closer friends, me and my body."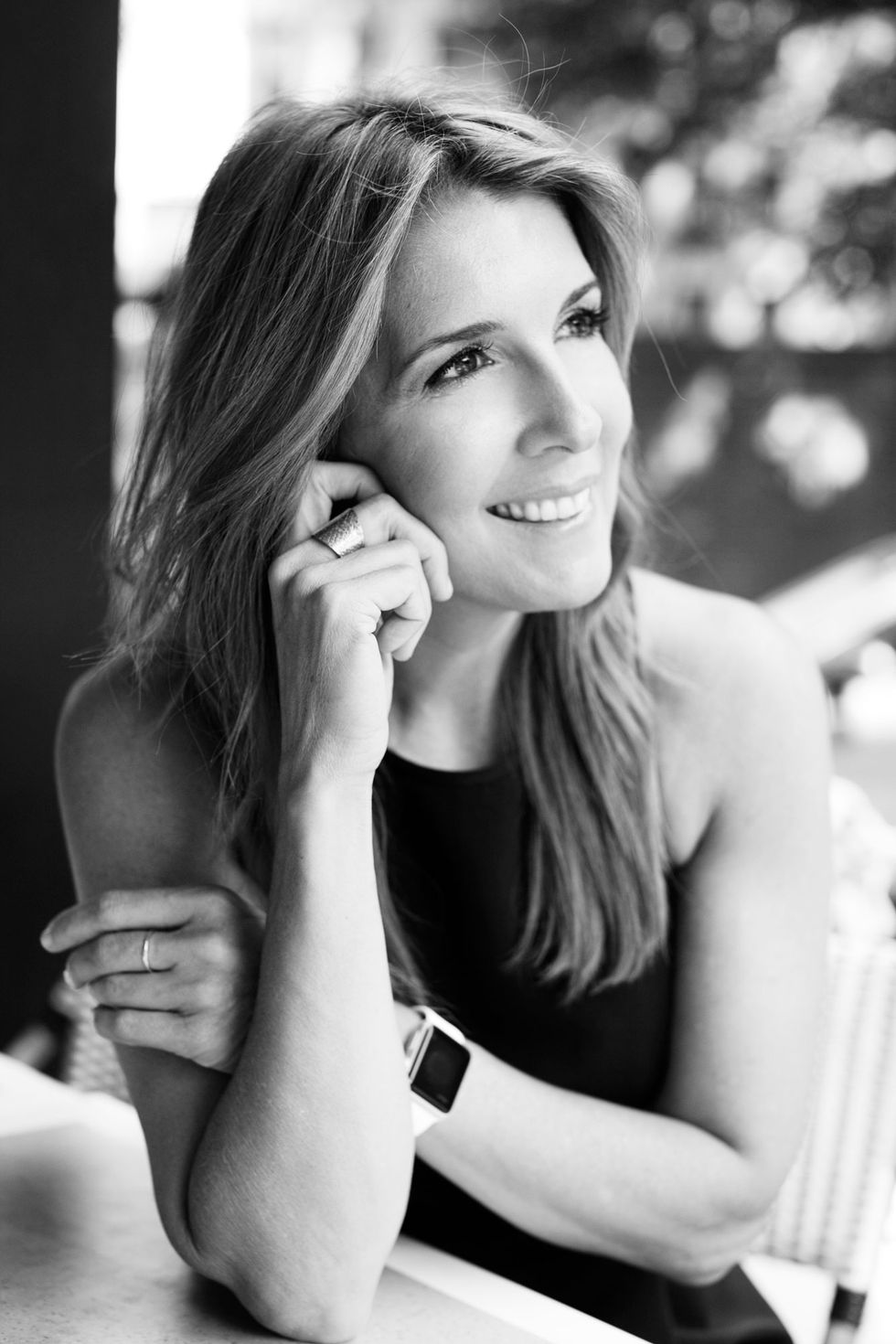 Mental Health

"Happiness is a pillar of wellness. So one of my goals—and biggest challenges—is to make decisions that are in the best interest of my happiness. It sounds simple, but when you start to catalog how many things you do in life to make other people happy, even if it detracts from your contentedness, it's kind of startling. A lot of us feel self-serving when we prioritize our own happiness. I'm trying to get over that.

One of the biggest sanity savers is meditation, which I talk a lot about in my book 20 Pounds Younger. I'm trained in Transcendental Meditation. Taking 20 minutes twice a day to meditate sharpens my senses, helps me to be less reactive in difficult situations, and releases deep stress. I'm far from being perfect with my practice, but it's always there when I return to it.

A few months ago a friend invited me to a sound bathing session at her wellness space, Sante World, conducted by sound therapist Sara Auster. I was skeptical, but went with an open mind and was blown away. You just lie there and listen to these healing, harmonizing sounds and vibrations. When it was over, I felt as calm and relaxed as I do when I transcend in meditation. I know it seems weird, but it was pretty awesome."
Travel

"A little preplanning goes a long way, and when I don't do it, I regret it. When possible, I bring my own food on a plane. And as tempting as it is, I don't drink alcohol when I fly because it just worsens dehydration. Also, I pack workout clothes and try to figure out a few days when I can build in some activity, whether it's working out in a hotel gym or going for a hike. Lastly, I am never without an eye mask to block out those disruptive alarm clock lights in hotel rooms. I'm miserable when I'm sleep-deprived, so I also take herbal supplements such as passion flower and valerian to fight off jet lag."
Eating
"I drink Soma-filtered water with yummy stuff in it—herbs, cucumber, citrus. I drink tons more when it's flavored. [My coffee order is] nothing all that fancy—regular coffee with nut milk and a little stevia. [In the morning] I either meditate or drink coffee. I'm the kind of person who goes to bed dreaming about my morning cup of coffee. What should you do? Drink a big glass of water to rehydrate.

I let seasonal ingredients drive what I'm going to cook, and when you do that, you can keep things simple and still end up with something incredible. I recently got a spiralizer, so I'm currently on a zucchini noodle kick.
[My favorite snacks are] a green apple with cashew butter, organic air-popped popcorn drizzled with coconut oil, half an avocado with sea salt and gluten-free crackers—I'm addicted to Mary's Gone Crackers.

For breakfast I often have just a hard-boiled egg and a handful of blueberries. Or a smoothie made with goat whey protein powder, greens, and a little frozen fruit. But if I'm feeling ambitious, I'll make some quinoa, toss some greens into it, throw an egg—cooked however—on top, and sprinkle it with salt and a little olive oil. Or I'll make some quinoa and treat it like cereal by eating it with almond milk and fresh berries and slivered almonds.
[My favorite restaurants in New York are] Cafe Clover, Souen, Dimes, Angelica Kitchen—to name just a few."
 
Anyone who follows me on Instagram can probably [guess my guilty pleasure]: wine."
Fitness
"One of [my wellness goals] is to defy gravity—the decaying forces that pull on us as we get older, causing our shoulders to hunch and our butts to drop. I'm not okay with that! I'm a big proponent of strength training because it does so many incredible things for your body—sculpts lean muscle, builds bone mass, increases mobility, and fires up your metabolism. I want to feel strong, and that in turn helps me to feel more powerful mentally.
I usually work out in the morning, so I often do it on an empty stomach, or almost empty—I have to have coffee first. Can't move without coffee. Afterward, I go for lean protein and veggies, like a grilled chicken salad or a veggie omelet—eggs aid in muscle recovery. I'll sometimes drink raw coconut water to get extra electrolyte and potassium replenishment or make a drink with a powder that contains the amino acid glutamine, which helps restore muscles. [Everyday I use] a foam roller to melt tension, loosen up tight muscles, and get back in alignment."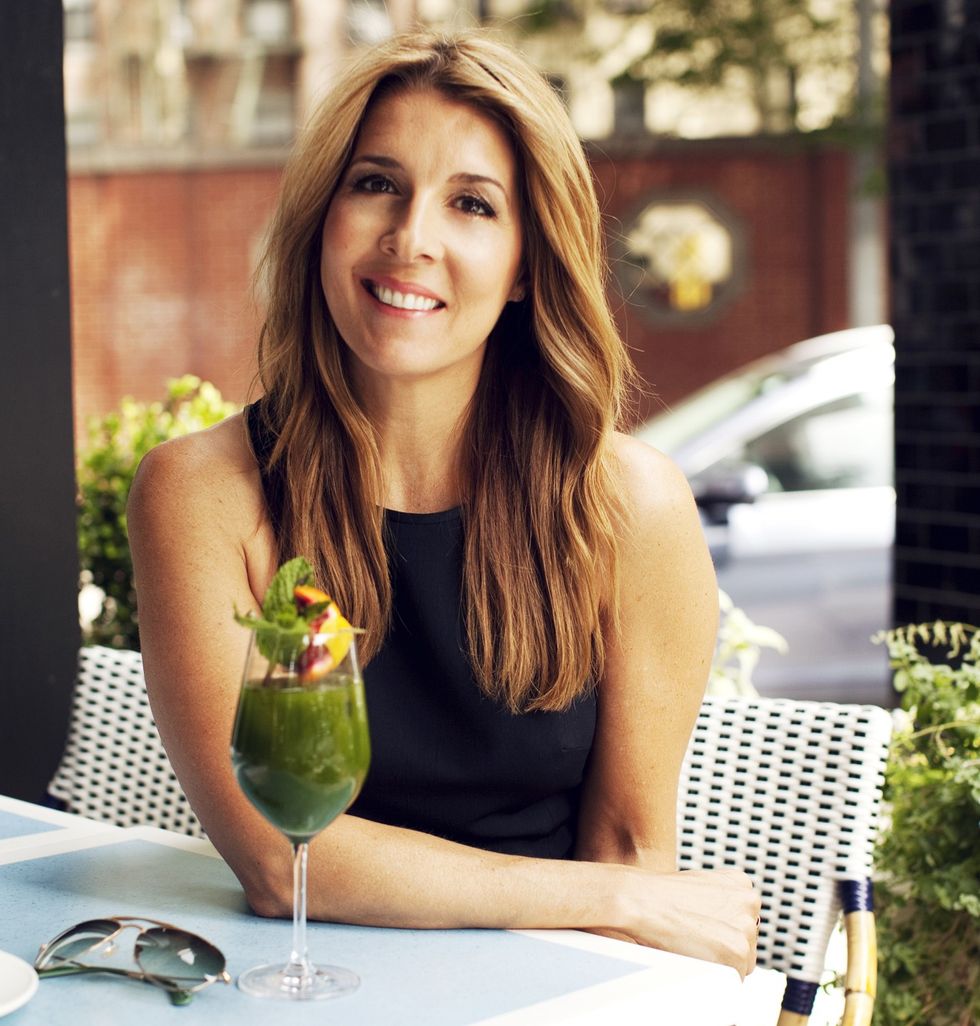 Advice for anyone looking to be healthier
"My basic motto is: small changes can add up to big rewards. A lot of people are daunted by the idea of getting healthier, but it doesn't have to be a big, scary proposition. Just making one better choice a day, such as picking a healthier lunch, or taking the stairs, or passing up dessert, or standing up at your desk, can make a difference. And the positive reinforcement that comes from feeling better and empowered will encourage you to keep making better choices. The single most important thing is to find ways to decompress, whether that's working out, or getting a weekly massage, or investing in a really good mattress to improve your sleep. Drowning in stress is antithetical to being healthy."