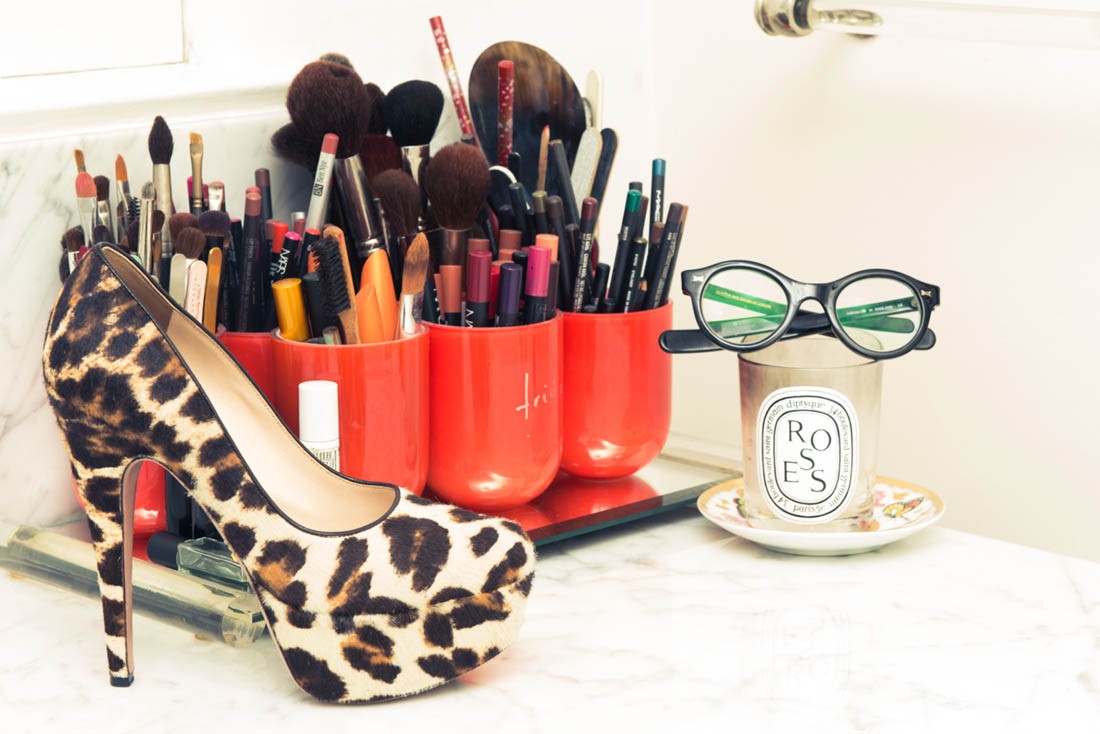 Fall's Best Beauty Buys
According to buyers everywhere from Bergdorf Goodman to Space NK.
The notorious change of seasons: the culprit for many a beauty and personal problem. Sudden breakouts, skin so dry no amount of coconut oil can remedy it, that flu/cough/sore throat thing... you get the gist. But seriously guys, the sudden shift from summer's humidity to autumn's brisk temperatures (hello again, cashmere) has us emptying our vanities and makeup bags in search of richer moisturizers, darker palettes and matte lip shades. So with our to-buy list (what else are iPhone notes for?) on our minds, we quizzed our favorite beauty buyers on what they're stocking the counters with this season. From high-potency serums that reverse the sins of the summer (we swore we reapplied the SPF?) to moodier fragrances, here's what we'll be making room on our top shelf for. Your skin—and #shelfie game—will thank you.
Su-Kyun Chung
Head of Buying, Space NK
"We've just launched the Lord & Berry makeup range at Space NK, and their Alchimia Mascara is a real standout for me. The thin rubber brush gives my lashes lift and length, but the color doesn't smudge across my lids (which is often an issue for me with other mascaras).
My skin appreciates a good serum and I've found two in Kane NY Serum Savant and Vintner's Daughter Active Botanical Serum. Kane NY comes from a NYC-based plastic surgeon and was inspired by the micro-particle delivery that revolutionized injectables, while Vintner's Daughter is a potent plant-based treatment. Both impart multiple benefits to the skin, whether someone prefers hi-tech or natural skincare treatments.
As we move into fall, I'll swap out my light moisturizer for something a bit more rich. The new Eve Lom Radiance Lift Cream not only hydrates, but lifts, firms and tones the skin while boosting the complexion's radiance.
I prefer not to carry a lot of makeup with me for on-the-go touch-ups and the Lilah B Divine Duo doubles as my lip and cheek color. The formulas are long-wearing, creamy and can be worn sheer or built for deeper pigment."
Elizabeth von der Goltz
SVP, GMM of Beauty, Bergdorf Goodman
"We are really excited to launch the first ever fragrance for Miu Miu exclusively! It is youthful, colorful, sophisticated and unique. The turquoise flacon references the brand's signature matelassé design motif: classic with a modern edge, which we absolutely love!!
Norell New York is launching this month and is bringing this legendary American designer, Norman Norell back to life with a fresh new fragrance collection. The classically beautiful bottle really brings luxury to the collection and the floral scent is beautiful.
The brand new Skin Illuminating Powder Duo from Tom Ford is my favorite staple for fall. Since contouring is out and strobbing is in, this is the perfect item to keep that summer glow going through fall. It is easy to use and great to keep in your bag for an on the go highlight!
Matte lips are in for fall in a big way and no one is doing them better than the celebrity makeup artist Charlotte Tilbury. Her formula includes a 'matte-trick' to create the appearance of fuller, wider lips. The shade 1975 Red is the perfect pop color to go with your bronzed summer glow!
Sisley's Supremya Cream is this fall's richest, most luxurious and indulgent nighttime cream out there! It's wow at first swipe! Super moisturizing, super reparative. A true indulgence reserved for skin's most critical time to repair itself from the day's aggressors, nighttime."
Miriam, Natalie, Celene & Stephanie Gee
Co-Founders, Gee Beauty
"Retinol is the star ingredient for fall because it's the season to repair, rejuvenate and renew from summer sun and fun. Retinol is always a power-player because it's a multi-tasker: it helps to reduce wrinkles, pore size and dark spots, while it brightens, smoothes and improves skin texture and marks from acne. We love Resurface by Shani Darden Retinol Reform because it contains Aloe Vera to help gently nourish too.
Skin Ceuticals C E Ferulic, an antioxidant-packed Vitamin C 'super-power' serum, is a medicine cabinet must-have. Drawing from our ten years plus in the beauty business, this best-selling serum is always a top pick for us because it delivers real results and provides real protection against free-radicals and environmental damage (which means brighter, younger-looking skin!)
Caudalie Glycolic Peel Mask and Moisturizing Mask. We're all about 'multi–masking.' We like to start with an exfoliating mask for fifteen minutes to detox and renew the skin, followed by a hydrating mask to replenish moisture and give the skin a glow. This layering combo is perfect pre-party (or pre-fashion week) because it's like a fresh start! Makeup will go on so smoothly and your gorgeous glow can be seen across the room. Beauty tip: apply the Moisturizing Mask before bed and leave it on overnight. Talk about beauty sleep!
The Super Elixir is a morning ritual brought to us by WelleCo and Elle Macpherson (we'll have what she's having, right?). This alkalizing greens powder features an organic blend of green tea extract, probiotics, greens, mushroom, goji berry and so much more to promote healthy digestion and natural energy while it improves skin, nail and hair health! Put two teaspoons in your morning smoothie or in a cold glass of water with a splash of lemon and drink before lunch!
We are so excited about Agent Nateur Deodorant, an all natural, organic and effective deodorant now in our studios! The beautiful blend of honey, lavender and eucalyptus protects and hydrates the skin to keep us feeling fresh all day.
For countless seasons now a key trend has been the full brow, and for good reason. A full brow gives a modern, healthy and youthful look to the face, so it's pretty much here to stay. But instead of having an overly defined, perfect-looking brow, we're into a full, natural finish. We love our Tinted Brow Gel because it fills in sparse brows with tint of color, while providing a soft fix to keep them in place all day long. The brush makes the brows look fuller, plus it's easy to use."
Tara Simon
Senior Vice President of Merchandising, Ulta Beauty
"The newest addition to Urban Decay's Naked family, the Smoky Palette is my must-have of this season. With the mix of finishes and shades, this palette really has everything you need, whether you're going for a more neutral look or a dramatic smoky eye.
I'm so excited about this new and exclusive palette. Too Faced teamed up with social media sensation @Vegas_Nay to create this collection of twelve matte and shimmer shadows that are perfect for any occasion. I love that the set includes loose glitter for those times you need to add a bit more 'stardust' to your look. The palette comes equipped with Better Than Sex Mascara, Shadow Insurance Eye Primer and a how-to guide from Vegas Nay, for a complete eye look.
Tarteist Clay Paint Liners are so innovative and cool. Inspired by the ease of an artist's palette, this cream liner user fewer waxes in order to allow for a smooth texture and super simple application.
The LORAC PRO Contour Palette kit has everything you need to highlight and sculpt your natural features. For the days I want a more natural look, I like to use the shimmer and matte highlighter shades for a 'strobe' effect."
Julie Tomasi
Senior Vice President of Merchandising, Ulta Beauty
"My favorite way to achieve the velvet lip trend of the season is with NYX Soft Matte Lip Cream. This lipstick/lip gloss hybrid glides on smoothly for soft lips with a matte finish and the unique texture adds the perfect polish to any look. Plus, it's available in twenty-two shades, so you can go bold or neutral, depending on your mood.
I love being able to quickly change my look just by switching from a matte lip to high shine gloss. These new Super Shiny Lip Glosses from the Ulta Beauty Collection are addicting. I love using both the sheer and shimmer glosses on their own or layered on top of another lip shade for extra shine and moisture.
I love these bold new liquid liners from the Ulta Beauty Collection. The super slim precision tip brush allows for easy application and the colors and finishes- super saturated mattes, vibrant pearls and multi-faceted glitter shades allow you to create endless looks. For a fun party look, you can even layer the glitter liners on top of another color for an added hint of sparkle.
We are so excited that Soap & Glory has landed at Ulta Beauty! Fresh from across the pond, The Righteous Butter is a luxurious body butter combines scents of bergamot, rose, jasmine and strawberry for an alluring and romantic scent. This product leaves skin delicately fragranced, moisturized, hydrated and super soft, no matter your skin type.
Pureology's Smooth Perfection Cleansing Conditioner is great because it is so gentle and still leaves hair super smooth after washing and doesn't weigh your hair down. I like to switch out with my regular shampoo and conditioner every other time I wash for just the right amount of sheen and body."