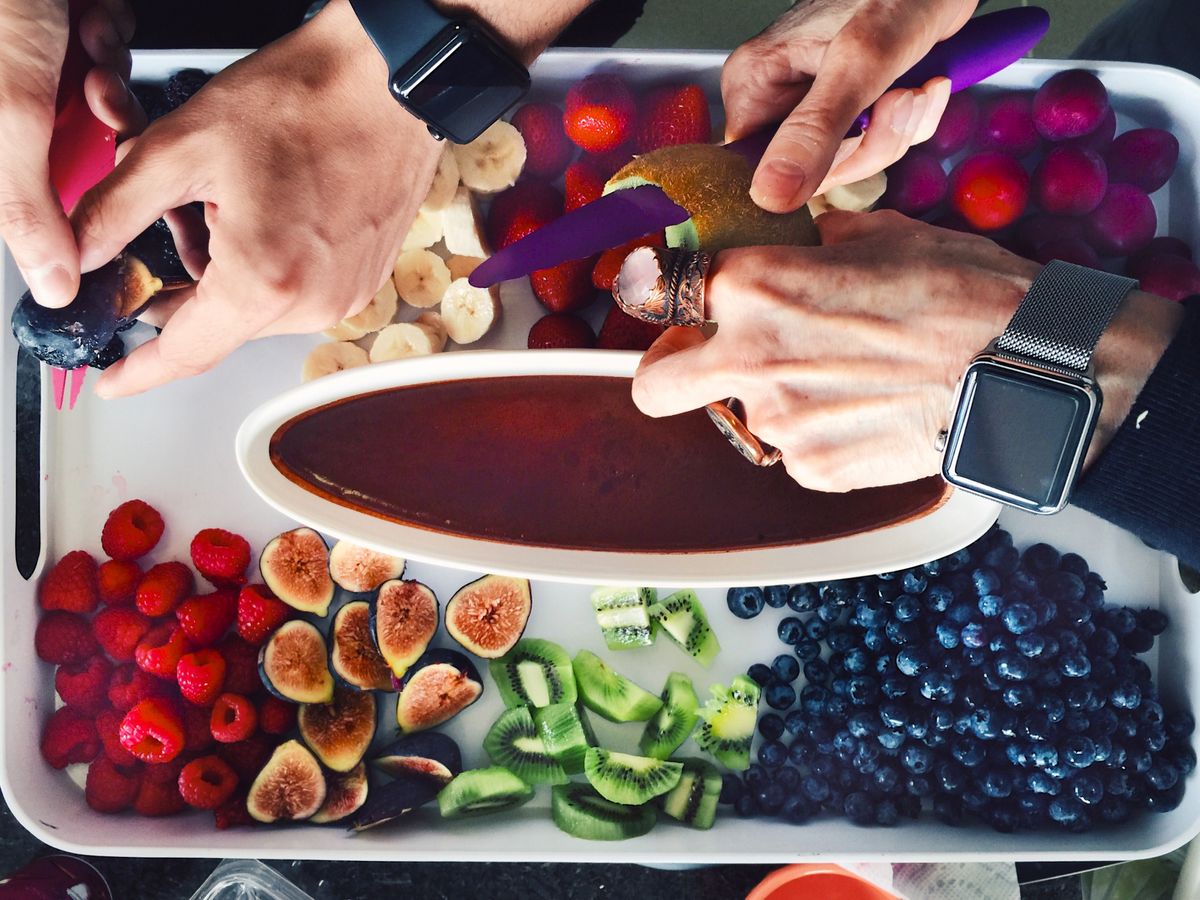 Entertaining
Featuring a magical raw cacao fondue.
We've told you before: our friend Remington Guest (of the The Cheap, The Best & The Hidden) knows good food and where to find it. You might remember that he's clued us in on everything from New York and L.A.'s top vegan and veggie spots, the best not-lame summer dates and even a little sneaker slang. Today, we've tasked him with letting us in on the most delicious summer recipe—for which he just so happened to enlist his mom for reinforcements.
---
Fam, I've been trying to drop a new kind of post on you for a minute. Being a freelancer, I have so much time for swag activities like leisure shopping at Uniqlo on a Monday and sipping cantaloupe juice at Jack's Wife Freda. This post is called... Mom's Monday.
I know it's Wednesday, but like I said, I was BUSY yesterday. My mom, Zan Charisse, is an actress who's a dope food doctor. She's mastered making super simple recipes insanely easy, on-trend healthy, and overall amazing. I know, I had the best childhood. On The Cheap, The Best & The Hidden, I already attempt to give you a new mom's Monday recipe every Monday for your own cooking pleasure. Prepare yourself, this is going to change your life.
I was planing on doing some mom's Monday recipes with my mom today and, as I was headed over, I got the official word from The Cov that they needed some recipes from the based recipe king, :crown:MOM:crown::nail_care:.
Do you guys believe in serendipity? Because I just recently realized James Murphy, from LCD Soundsystem, and I are meant to be friends. Like, HARDCORE besties. I was working on this project (signed an NDA, so can't tell you nothin') that involves James. I was researching his dope subway symphony situation, which NEEDS TO HAPPEN, BTW. Next thing you know, I walk outside and see James sitting at Cafe Select. Then today I was just invited to see him perform in L.A., like, right after I land there next week. AYO JAMES, I know you're most likely reading this, so let's go to Yum Yum Donuts, drive to Palm Springs and camp in Joshua Tree next weekend. Then we can go to a trashy rooftop and make fun of the bros, buy bottles at Avenue and then play the True American drinking game from New Girl at Chateau with a stack of burgers like...
—Remington Guest
MAGICAL RAW CACAO FONDUE
1 cup organic cacao powder (Navitas brand recommended)
1 cup organic plain almond milk
2 tablespoons raw organic honey, or to taste
1 teaspoon stevia powder
1 teaspoon organic vanilla extract
1 tablespoon organic unrefined coconut oil
Pinch Himalayan salt
TO DIP:
Organic Fruits:
Blueberries
Strawberries
Raspberries
Blackberries
Bananas
Mango
Kiwi
Peaches
Any fruit that's in season!
You'll need a small pot, a pan that the small pot can sit in and wooden skewers.
The idea behind this fondue is to keep it as uncooked as possible. Raw cacao is a superfood. We first put all of the ingredients in a blender and blended 'til combined. Then, pour into the small pot that sits in the larger pan of boiling water. Stir 'til honey melts. Taste and adjust (we added a bit more honey).
Arrange the fruits in organic mounds, with the sauce in the center. Let everyone choose their fruits and dip in! The intense flavor of the cacao dripping over the sweet fruits is sublime and healing.