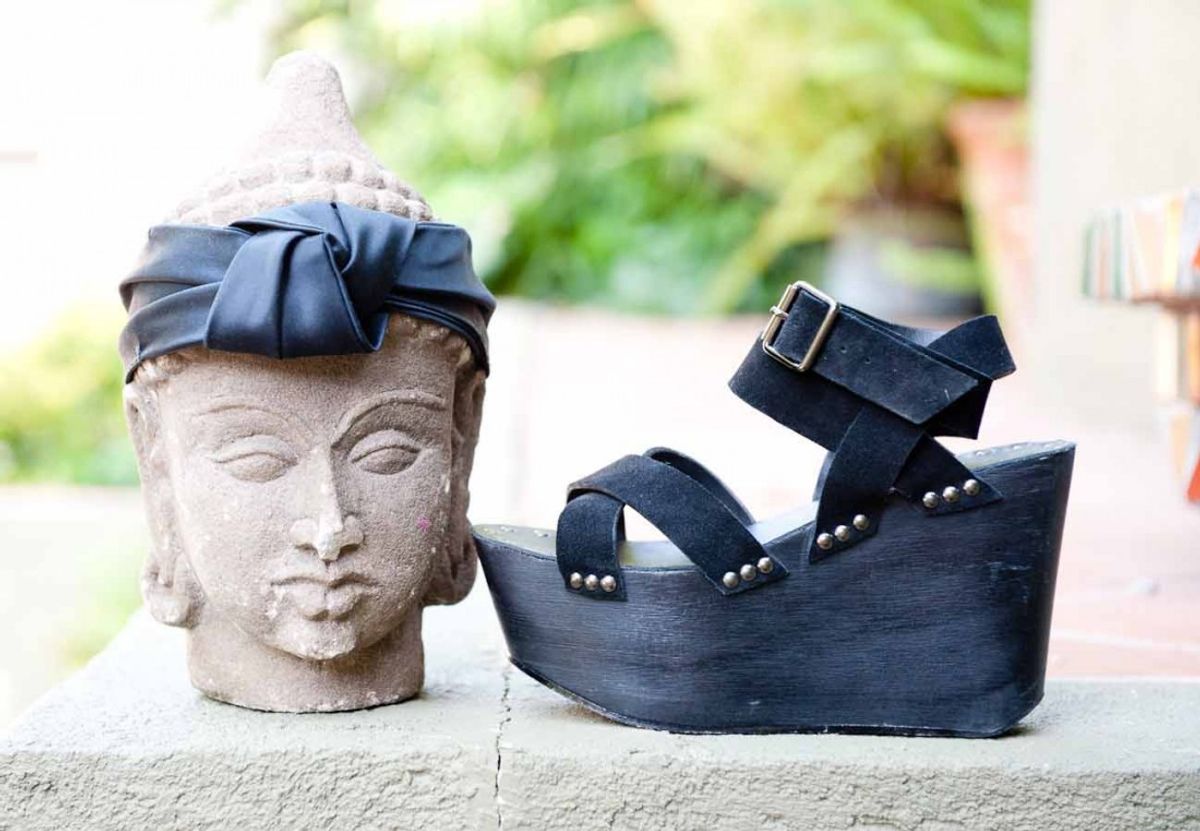 Wellness
Think of it as Siri for your soul—or something like that.
Despite having Oprah's go-to guru, Deepak Chopra, on our side, breaking down the basics of meditation, we admit we have yet to fully adopt the regime into our day-to-day. We mean, twenty minutes a day of introspection sounds great and all, until you remember Netflix and wine. So given that most Millennials spend more time staring at a screen than at their significant others (Tinder totally counts as doing both though, right?), we thought it only appropriate to turn to Silicon Valley to help streamline our meditative practices—or, you know, lack thereof. Enlisting the help of some of the leaders in the self-reflection meets smartphone world, we asked them to explain the methods behind their digital mantras. From setting the meditative scene anywhere from the bus to the boardroom, to game-like applications that actually train your brain to keep calm, let's just say they're giving a whole new meaning to new-age thinking. (Sorry, had to.)  
---
HEADSPACE
How it Works
According to the Headspace team, the app was created "to improve the health and happiness of the world." In other words, they're an optimistic bunch. Through the use of animated imagery and characters—essentially Minions for your mind—and guided meditative practices narrated by Headspace's co-founder, Andy Puddicombe (10 points for the name), the app is a great choice for beginners in need of some meditative guidance.
Why it's Different
Headspace creates a community of users showing you how many other people are meditating at the same time, and even letting you buddy up with spiritual cyber-friends. You can tailor the practices to fit a specific area of life, like improving your health or relationships, or use the SOS tool, which is specifically designed for those moments typically reserved for a Xanax. Oh, and did we mention Narrator Puddicombe has a British accent? Enough said.
MUSE
How it Works



Muse is a "mind training" headband that uses EEG sensors to actually measure your brain activity while meditating. Connecting to your mobile device, it then translates this information into storm sounds, which become louder as your brain becomes active, and quieter as you begin to calm—all the while collecting the data from each session allowing you to track your meditative progress over time. Alternatively, you can also use Muse in conjunction with other meditation guidance apps to get the experience of different teachers and sessions, while still quantifying your brain activity.


Why it's Different



"Other apps offer guided meditations, but Muse is the only guided meditation tool with brain-sensing technology to let you hear whether your mind is calm or active as you meditate," explains Ariel Garten, CEO and co-founder of Muse. "Data from each session also lets you set goals to build a truly effective and rewarding meditation practice." And bonus: headbands are totally in for Fall/Winter '15-'16.


CALM
How it Works



Calm seriously sticks to its name: let's just say it calms you the fuck down. The app is the most simplistic of the group, great for someone who really just wants to create a meditative space without the added technological and scientific bells and whistles. Calm subscribers receive access to a collection of 2-20 minute guided meditations, aimed to help one meditate, sleep, relax and focus.


Why it's Different
The combination of customizable moving landscape imagery and nature sounds might make Calm's website and app the most relaxing e-destinations in existence. The program allows you to tailor your experience by choosing from a variety of Nat Geo-worthy sceneries, as well as 16 music tracks by Kip Mazuy. He's like the Yeezy of new age beats, guys.
WHIL
How it Works
Whil offers programs for both the mind, through situation-specific meditation and "compassionate leadership" training, and the body, through mobile yoga sessions. "We work with the world's best trainers and leverage the latest research in neuroscience and behavioral science to help people reduce stress and live happier, more engaged lives," says Whil founder and CEO, Joe Burton. Both the mental and physical programs aim to cater to each individual's needs, asking you to pinpoint a variety of areas you want to work on, and then offering you specific programs targeted to fit those elected goals.
Why it's Different



Whil's focus on diversifying meditation programs to suit a wide and growing audience sets it apart from many of the one-route mindfulness apps on the market. Along with its adult-orientated series, Whil's also partnered with charitable organizations to bring mindfulness tools into schools through their teen meditation program, Grow.


BUDDHIFY
How it Works



buddihfy is the mindfulness app made for those multi-hyphenate job-jugglers—a.k.a. anyone with little to no spare time. "It has over 80 guided meditations designed specifically for listening to alongside your everyday activities such as eating, working online, travelling, walking about town, and when you're feeling stressed," says Rohan Gunatillake, director of Mindfulness Everywhere, and creator of buddhify.


Why it's Different
Its multihued wheel of situational mediation options is A) anyone with even the slightest bit of colour coordination-OCD's dream, and B) an extremely simple way to tailor meditation sessions to your exact need and location at any specific moment. Now if only they'd add a "changing outfits in an Uber between fashion week shows" tab, then we'd really be in business.