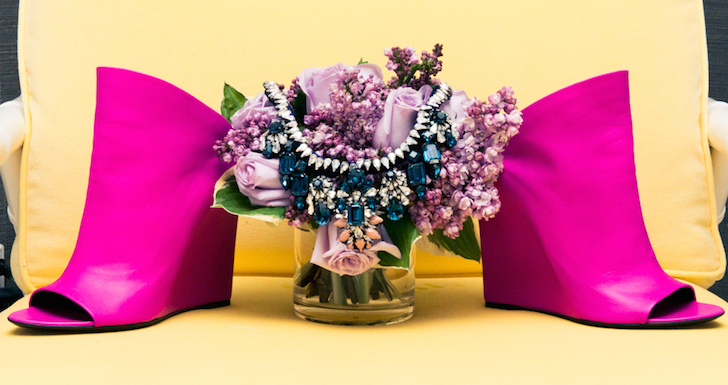 August's Most Coveted
Everything we want right now.
Guys, we wish we could begin this with a scene the likes of a T.Swiftstagram—reporting to you live from a cerulean infinity pool, one leg dangling lazily over the wing of our Pegasus pool float, shirtless Calvin Harris whispering sweet nothings into our ear ("If there were a VMA for apology tweets, it'd be yours, babe"). The daydream bubble (er, inflatable swan) bursts and we're back to reality, sipping stale coffee at our desks in sub-zero AC, pop-stardom still only imaginary. We're officially into the dog days of summer, we're in dire need of a pick-me-up.
Sure, scorching temperatures were a welcome reprieve in early June, when our orders of business included 1) Going one shade darker in our Diorskin foundation wardrobe, and 2) Hunting for a one-piece that didn't ride up to places one can only describe as 'gynaecological' (harder than it sounds). But now that we're onto our seventh 100-degree day, burnt to a beet chip and wearing our last muumuu, it's all we can do not to pray to Gaultier for a nubby knit and some pumpkin spice. 
From the pre-fall to the fall to the downright wintery, here's everything we're coveting for August.
1.
Designer Spotlight:

Alexa Chung for AG
Don't judge a book by its cover, unless it's Alexa Chung's. Everything this girl touches turns to It, from the disheveled blunt bang to brogues to the Peter Pan collar. The latest line she's lent her Midas magic to is AG, and, like a Manhattan subway extension, we're digging it. From denim playsuits to inky corduroy to Neapolitan-striped sweatshirts, this line is for the circa-2015 Jane Birkin who wishes it were still 1965. 
Not that we need to declare it (your peony-laden closet does that all on its own), but betches love florals. Find us a self-respecting twenty something who doesn't get wedding centrepiece-envy. (Kidding. But we are writing this encased in a cherry blossom jumpsuit.) As our tastes shift between day-glo buds to kelly-green fronds to monochrome dahlias, we've settled on a palette of universally flattering moody florals—it's like a David Fincher-filtered version of our summer staple. 
It took approximately four down-beats of Iggy Azealea's "Fancy" video to reignite our Clueless obsession (it just kind of lives in us like dormant virus. We see yellow plaid and we're dressing like a Horowitz for weeks). This month, we're  like, totally loving patent Mary Janes, A-line minis and tartan tweeds—or you know, speeding straight through to back-to-school season like Cher at a stop sign. Hey, we totally paused! 
While it's hard to imagine letting anything remotely fur-like graze our skin in this heat, every so often we'll stumble upon something so seasonally inappropriate (read: festive) that we get this impulse to wear it right now. First it was winter whites, and now it's summer velvet. In an effort to keep the masochism to a minimum, we've been restricting the fuzzy accoutrements to a velour clutch or oxblood platforms wherever socially acceptable. Who says you can't go all Eloise at Christmastime mid-August?
Salt spray and Evian mist notwithstanding, ask us for our single life-hack summer product and we'll slide you a candy-apple red tube of Charlotte Tilbury. When the stifling heat tempts you to skip even the quickest of eyebrow grooms, you need something that's going to make you look pulled together even when you're wearing your boyfriend's t-shirt as a dress and your hair has been fossilized in the same top knot for three days. The one thing that always, always screams "I tried"? A matte red lip.