Career
Deskside: Thakoon Panichgul
Designer, Thakoon. New York
We've been following—make that, wearing—Thakoon Panichgul's designs for, well, the past 11 years, which is exactly how long his eponymous label has been around. Us and people like Emma Stone, Anna Kendrick, Taylor Schilling, Sienna Miller and Rita Ora. Oh yeah, and Michelle Obama. Suffice it to say, he has what one might call a high profile fan base. But the craziest part, as we learned when we hung out with him at his New York office, is that Panichgul made the jump from fashion writer at Harper's Bazaar to launching his own label without any design experience. The fact that he was called to Anna Wintour's office literally the day after his first presentation is probably a good indication of how well that risk paid off. Herein, the designer spills on his obsession with magazines, the best advice Anna ever gave him, having a fan in Naomi Campbell and the one person he'd love to see wearing his clothes.
---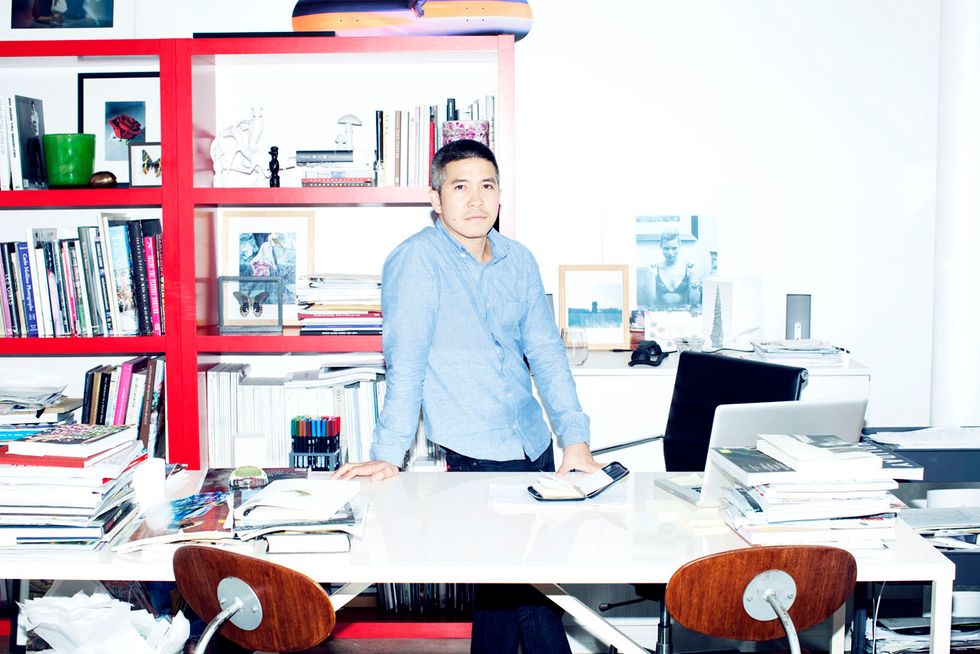 ON WHEN HE FIRST FELL IN LOVE WITH FASHION:
"When I was 9, I remember always loving to get dressed. At the time, my grandmother had been teaching me how to sew. I had a cousin who was a seamstress, and she was making clothes in Thailand: people would come to her with sheets and she would make them clothes based off of the designer pieces that were shot in magazines, so I remember that being cool. But I didn't really think anything of it until we moved to Omaha, Nebraska and there was really nothing to do. Literally Bangkok is just like a hundred times bigger than Omaha, in the middle of nowhere in America. I got bored and I ended up going to the newsstand to look at books—I was really into reading—and then I discovered fashion magazines. I think I was around 13, maybe 14. I was looking at really beautiful images—you know, Arthur Elgort, Patrick Demarchelier, Steven Meisel… That was when I started to really think about fashion."
ON HIS ROUNDABOUT ROUTE TO DESIGN:
"I went to Boston University for a business undergrad and after that I moved to New York, and I got a job right away at J.Crew. I was doing production. I always wanted to get into fashion, but I didn't really know that I wanted to design until I danced around it like via production. I got promoted to merchandising at J.Crew, but I left that because I wanted to do high-end fashion. I went to Harper's Bazaar, just kind of landed a job as a writer, even though I didn't want to write. I just wanted to learn about fashion. And it was there, when I was doing interviews with designers, hanging out with designers, and I was like, 'Oh, I actually want to be on the design side instead.'"
ON MAKING THE LEAP TO STARTING HIS OWN LABEL:
"I was over writing and I was looking for a design job, but I couldn't find one, just because I didn't have any experience. So I just was like, fuck it, I'll just do it myself then. At that time I had made enough contacts and I was sketching a little bit, I was taking classes at Parsons, I had some ideas. I think at that time, too, there were a lot of new designers coming out of New York and there was this energy I was feeling—I felt like it was the right time, so I just started."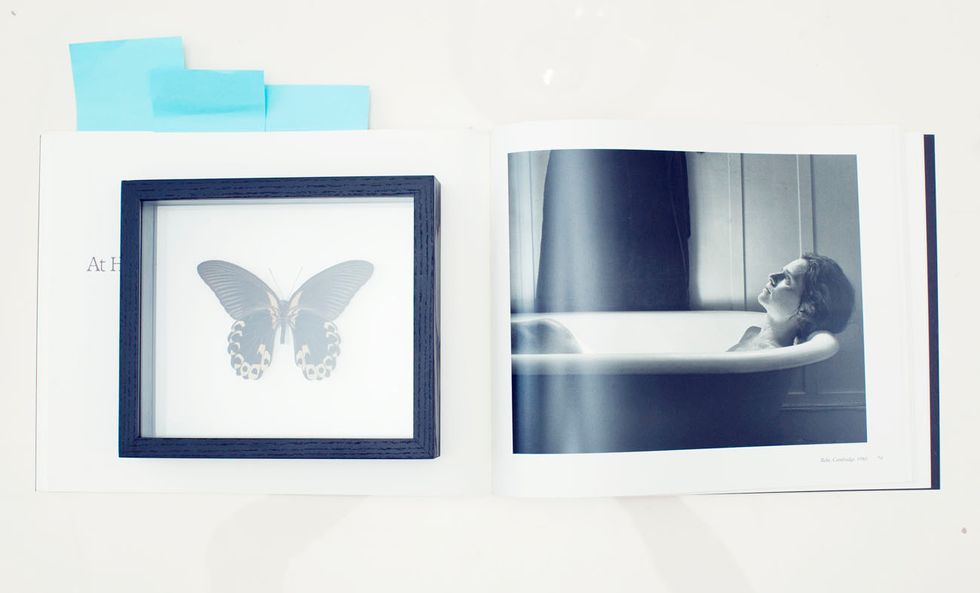 ON THE FIRST FEW MONTHS OF GOING IT ALONE:
"It came together really quickly. Looking back, I'm surprised that I was so naïve of the process, because I gave myself four months to put a collection together to present. At that time I had quit my job. I didn't have any money, I didn't have anything coming in, and I just was like I'm gonna use whatever money I have to buy fabrics and make clothes. I just enlisted a ton of friends to help: to style, to shoot it, to design the sets and the presentation and I just made some calls to people and said, 'Listen this is what I'm doing.' And thankfully everyone was supportive and turned up at the presentation. It was amazing.
 
[There was] no looking back at that point. Literally the next day Vogue called and said, 'Anna wants to see you up in her office, can you bring the collection to show her.' And I was like, 'Fuck, this is it. There's no turning back."
ON KNOWING HIS DESIGN IDENTITY FROM THE VERY BEGINNING:
"I had a very specific point of view and that was really based on the things that I innately like. I love mixing something feminine with American sportswear. I'm really fascinated by American sportswear and I think it's because when I moved to the US we lived in the Midwest and you really understand that language very well coming from basically middle America.


But I also loved, at the time, European fashion, too. I was really loving all the new ideas and even more interesting feminine ideas. For me, it was about mixing the two in a way that felt fresh, which was to deconstruct couture a little bit. I would take something precious like lace and I would wash it and turn it into a hoodie to casualize precious fabrics. That was the beginning of my identity. As I've grown and the brand has developed over the years, those clothes are still very much true to the brand, but what I'm doing more of is really choosing less precious fabrics, but more classic fabrics—even menswear fabrics like shirting and poplin and chambray—but then twisting that up and making it more interesting as opposed to just your everyday shirt. The sensibility is still the same, the usage of fabrics is shifting a little bit but ultimately the ideas are still there."
ON HIS DESIGN PROCESS:
"I'm constantly thinking of ideas, I'm constantly collecting images, everything that I see, I collect. I have this crazy memory for images… I think it's because when I was younger I was really obsessed with magazines and would remember which picture was from which magazine and which year and which month. So now, when I go into research mode, which is constant—I'm always just picking up images—I remember what image I have. The images dictate, but then when I go to choose fabrics, I gravitate towards a particular fabric and that will then inform which image I pull from my archive to use for the collection. So it's really a back and forth process."
ON HIS "AVERAGE" WORKDAY:
"If I'm in design mode, I wake up at like 5:30. I go to the gym and I get into work by eight. I actually stop at the newsstand and I get one magazine. I usually try not to hoard magazines… Then I go through it and if there's anything inspiring I'll pull it out while I'm listening to music in the morning. That begins my design process. I usually try to do it in the morning because it's the quietest time. No one's around, so I can really focus and I'll have some ideas or some rough sketches at the ready when the team comes in. Then I'll be doing anything from production to merchandising to meetings to fabric research. I'll eventually get to the design—I'll give those ideas to my team and then they flesh it out a little bit, they sketch based off of my ideas.


I like to work early. I'm usually out the door by like 6:30 because I will have to either meet up with somebody for drinks or dinner."
ON THE EVOLUTION FROM DESIGNER TO LIFESTYLE BRAND:
"I think that it's evolving into a lifestyle brand. I never saw it that way really, I think because I was always the designer I was always just thinking about the next collection and the next idea. I think that the more we grow, the bigger we grow, all of a sudden I can see the lifestyle to the brand. Some designers, out the gate, they know they want the collection to exude a sense of lifestyle. For me, I was really obsessed with the design process, so every collection I went into I was looking at the construction of the clothes or ideas for garments. I never wanted to look at the overall lifestyle component of it and now I really see the lifestyle coming together.


[The Thakoon woman is] fast; she's feminine; she's slightly sexy—not overtly sexy at all, not sexual, she's just sexy. She is a globetrotter, she travels quite a bit, she might have a little bit of tan on her. She is a bohemian, but she's a city bohemian—a city girl with a bohemian sensibility."
ON LAUNCHING BAGS:
"Bags are harder because they have to be simpler. I love fashion bags, but I think ultimately women want bags that they can carry everyday. The best kind of bag for me is a little bit understated—the challenge is how do you make understated bags desirable? So for us it's really about quality and just the right amount of detail. Bags are hard to do. Like, shoes I love to do: sometimes I design shoes before I design the collection of clothes because I think that ultimately the shoes kind of dictate what you're outfit is going to be. So shoes are easier to do for sure, for me.


[With my bags], I knew immediately the shape that I wanted and the sensibility. I wanted it to be minimal, but I wanted it to have a little bit of a bohemian touch to it—that was the aesthetic and it took a couple of tries. It also took the right factory. We spent a lot of time looking at factories because we wanted to make sure the factory we worked with would be able to do something simple in a beautiful way. It really is about the factory when it comes down to bags."
ON BEING PART OF THE NEW YORK FASHION INDUSTRY AND ITS EVER-CHANGING LANDSCAPE:
"I think, inherently, New York is super supportive of new talent. Designers here feel like they can really break out because they have a network of supporters that can help them. This city is so hungry always for new energy, which is always great, but I think that since I've started the landscape has completely changed. There are a ton more collections now—there's almost too many collections—so I think that while it's great to be supportive, sometimes I feel like it's too noisy, there's too many people."
ON THE DIFFERENCE SOCIAL MEDIA HAS MADE:
"I think that it's becoming democratic. [Fashion is] basically in the hands of the generation that is digitally savvy. I don't think that it's a hierarchy anymore. When I first started you could count on one hand the number of influential people that you needed to make it. I don't think that that's necessarily the rule anymore. In this day and age, yes it would be great to have the support of those people, but at the same time I think people can really break out on their own through the channels that we have available."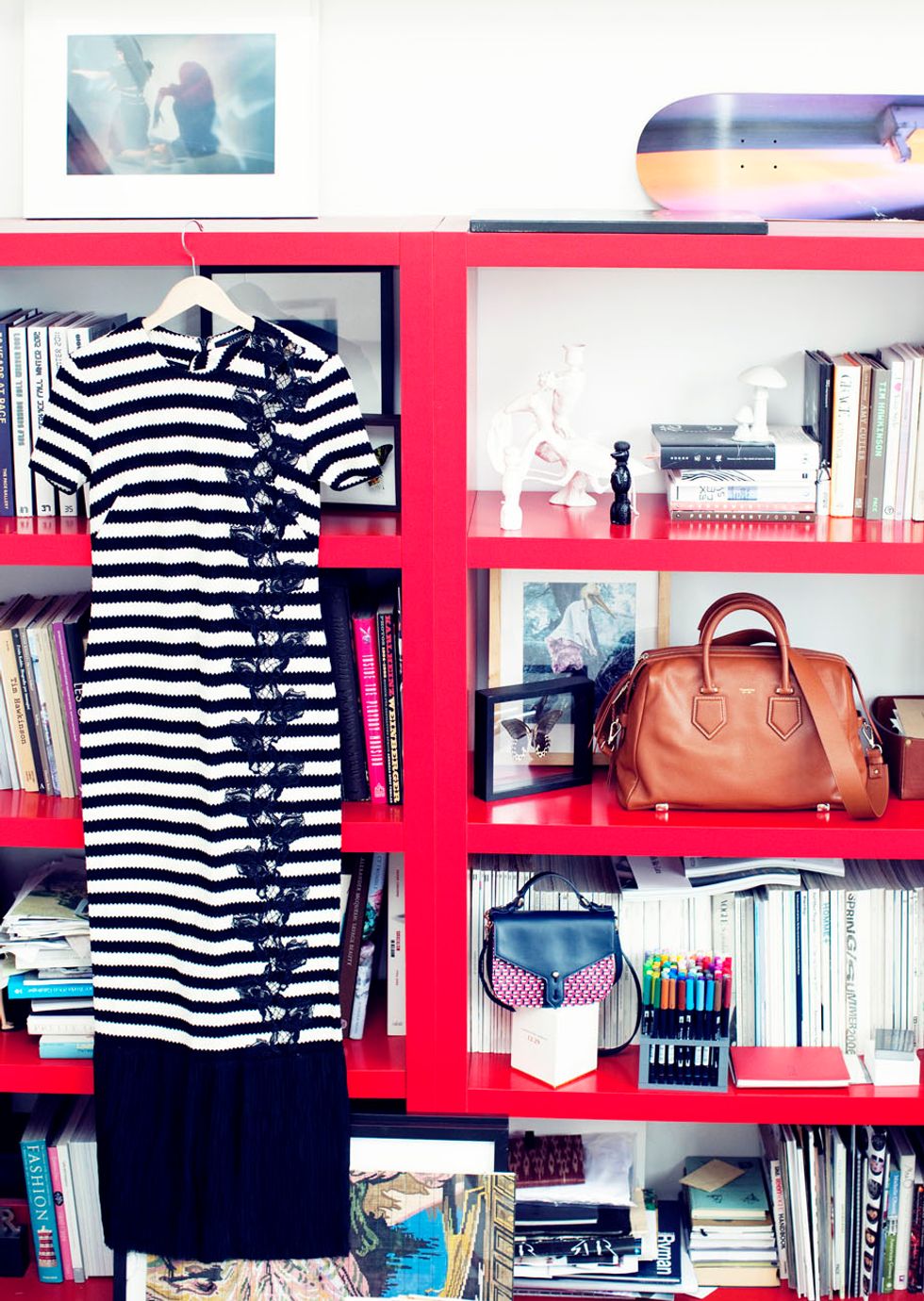 ON THE PEOPLE WHO HAVE MENTORED HIM ALONG THE WAY AND THE BEST ADVICE HE'S RECEIVED (FROM ANNA!):
"In the beginning, before I launched the collection, I was talking a lot with Julie Gilhart, who was at Barneys at the time, who really supported me, which was fantastic. Anna has been a big support. I placed as a CFDA/Vogue Fashion Fund runner-up and I was given the opportunity to work with Mark Lee who was at Gucci at the time, and he really supported me. Now he's at Barneys and we do phenomenally well at the store. And Ikram [Goldman] from Chicago—she's been super supportive. So has Sally Singer [from Vogue].


I always take advice from people, but the one piece of advice that I got was Anna Wintour saying to me, 'Take it slow.' That was the first meeting that we had. She was like, 'Where do you want to go with this?" I was I like, 'I just want to put out good designs.' And she was like, 'Just make sure you take it slow,' which is the most important thing. There's pressure to push faster and faster and keep up with other brands, but at the same time, when it's like that, can really burn you out and can run your business into the ground. You really need the right foundation before you grow."
ON HIS PINCH-MYSELF MOMENTS:
"There's so many. I never take anything for granted, I always take things as they come and I pinch myself [when I think of] how far I've come. Certainly the support of Michelle Obama has been tremendous—that was a moment I will never forget. I think that having a good relationship with Anna Wintour is something that I will never forget. I'm a fashion baby… I used to love looking at fashion photography and being shot by Steven Meisel was something that was super cool. Mario Testino shot a portrait of me for Vogue and that was super cool. All these moments that are with fashion insiders, they're super cool for me. I met Naomi Campbell who was like, 'Oh my god, I've been buying your stuff like crazy!' I mean, that's super cool.
ON THE ONE PERSON HE'D STILL LOVE TO SEE WEARING HIS CLOTHES:
"Maybe Caitlyn Jenner? That would be amazing, right?"
ON THE BEST ADVICE HE COULD GIVE ANYONE WHO WANTS TO BECOME A FASHION DESIGNER:
"I mean this is the advice I always give and I think it's so important especially in this day and age when everyone wants to be famous… Do you want be famous or do you want to be a designer? Answer that question as truthfully as you can, because if you want to be a designer then you're going to make it. If you just want to be famous it's probably not going to be your calling."
ON THE THING THAT INSPIRES THE MOST PRIDE:
"I'm proudest that I was able to jump into something that I really wanted to do for myself. I didn't have anything to fall back on—literally I had a little bit of money and hope and a dream and that was it. I just jumped in and if it didn't happen, I'd have figured something out. But still today I'm proud of the fact that I started my own collection."