Makeup
Summer's smokey eye: it's easier than you think.
As anyone who's found themselves slave to one signature look can attest, it's all too easy to find yourself in a beauty rut. We all know the telltale signs; the culprits are usually that one inky black cat eye or the red lip you picked up at a beauty counter a few years ago and just really never left alone. While we're all for finding precisely what works for you and running with it, we're also all for breaking out of said ruts once it starts to feel as if it's getting a little Groundhog Day. It helps when said experimentation just so happens to take its inspiration from the two decades that are ruling supreme sartorially right now (that would be the '70s and '90s, in the case that you only follow @natgeo on Instagram and somehow missed the downpour of suede skirts invading Montauk). You know, like the navy and teal blue eye we're about to break down for everyone following along at home. 
---
With a little help from model Geo Burke and Vênsette we got down to the challenge at hand: creating an updated, modern take on the blue eye. 
With a little help from model Geo Burke and Vênsette (the insanely convenient on-demand hair and make-up service that brings Kardashian moments to wherever you are), we took over a suite at The Standard, High Line, where we got down to the challenge at hand: creating an updated, modern take on the blue eye. 
As Burke was being primped, we (bonus!) also had her fill us in on her career thus far, what it's actually like to work as a plus-size model and then some. "I was doing a bit of modelling in my hometown of Brisbane, but for me, my career didn't begin until I stepped off my flight from Australia and landed in New York," she explained. "There is a much larger market for plus-size models in the United States, so when I arrived I could finally be myself and not conform to size restraints. That's when I truly considered myself a model." Turns out the move's also coincided with a larger wave of changes in the industry, as Burke explained. "The line between plus and straight size models is becoming more and more blurred and barriers are continuing to break. Today, plus and straight size models are regularly being featured alongside each other, which is tremendous for the industry."
As we continued to talk everything from boxing ("It's a great way to blow off steam while getting a full-body workout!") to FaceTiming with her family at home in Australia ("My family is a huge part of my life, so I definitely miss them the most. Thankfully, with technology I'm able to talk to them everyday. Sometimes it feels like my mom is with me 24/7.") to who she's dying to work with ("I don't have a set list of people I'd like to shoot with, but for me, it's anyone who doesn't see my body type as a hinderance but instead a different variation of what they're used to. And the way things are going in the industry, that list is getting longer and longer!"); Vênsette's makeup artist worked on Burke's eyes, until she was left with the perfect winged out blue eye. As for how she got there? We've got the break down for you below.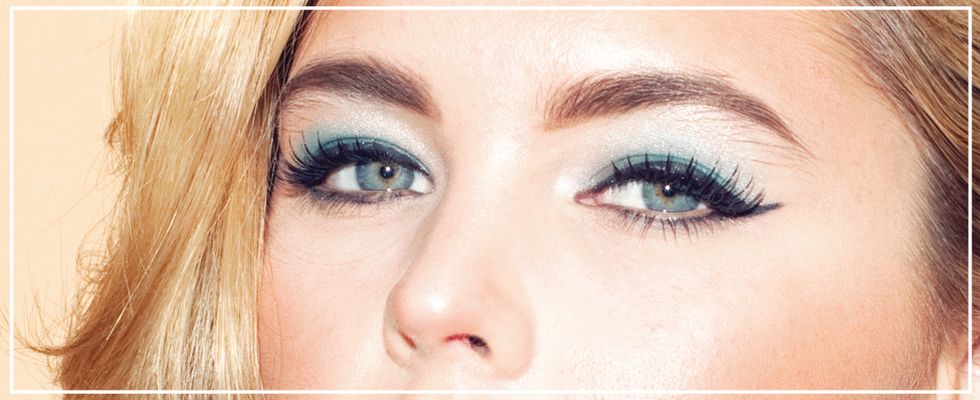 "Prepping the eyes helps make the color last. Start by priming the eye with an eyeshadow primer such as Urban Decay's Eyeshadow Primer Potion."
"Start the eyeshadow close to the lash line and apply a very bright blue shade of shadow, like M.A.C. Cosmetic's Electric Eel. We brought the shadow to the crease and that's it. Nothing past that keeps the look simple, cool and edgy."
"Using a bright teal, blend out the shadow—we used Estee Lauder's Pure Color Envy Defining EyeShadow in Hyper Teal."
4.
"From there, we applied a signature 70's winged eye; starting very thin in the inner corner and working out with thicker strokes with a flick at the end. We recommend Make Up For Ever's Waterproof Cream Eyeliner in Matte Black."
"Apply a generous amount of mascara starting light and building up to your preference—Diorshow Mascara in Pro Black is a top pick at Vênsette."
"Stay light when filling in the brows—be very clean with the outline.  We used Anastasia's Brow Powder Duo in Dark Brown."
Shot on location at The Standard, High Line