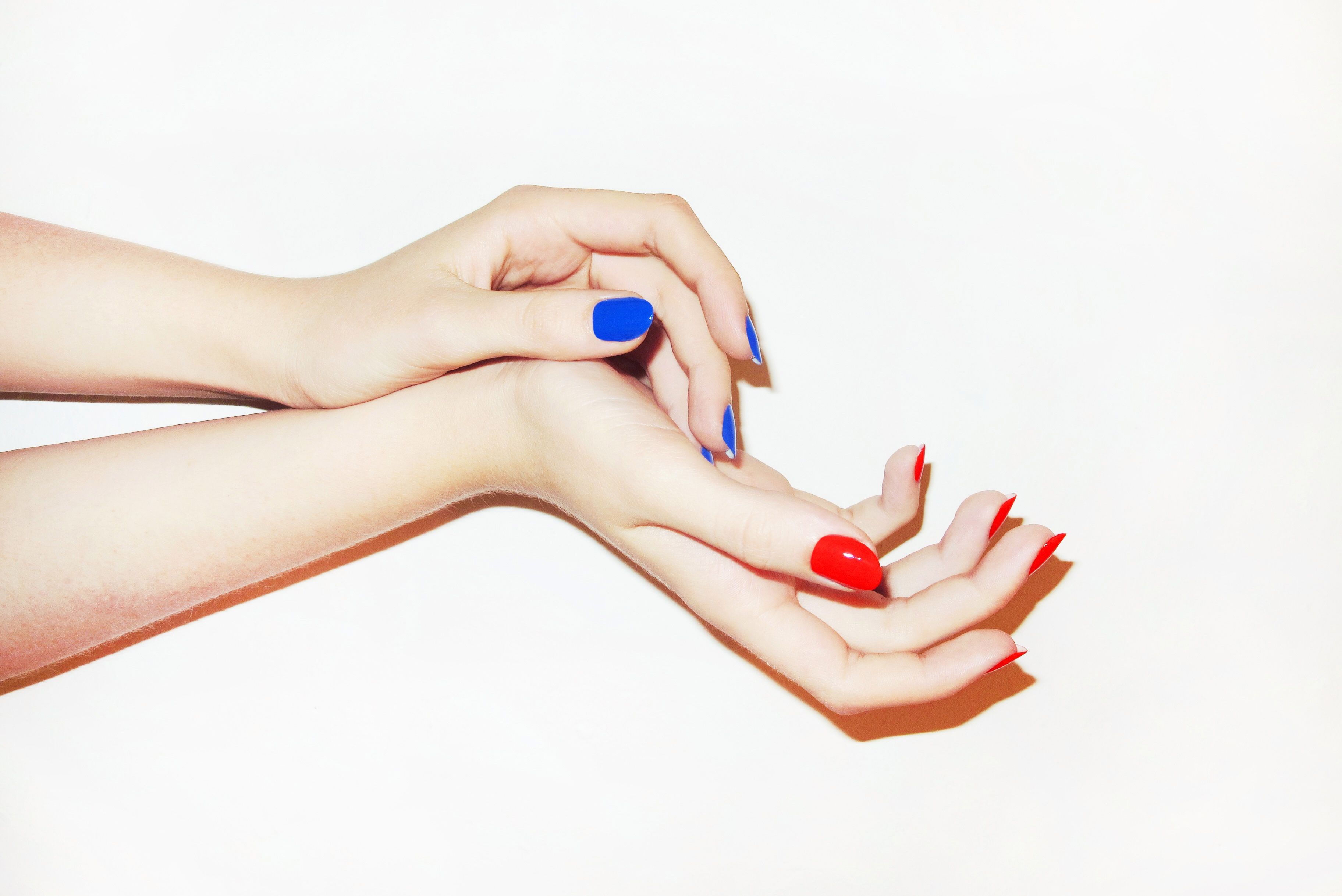 Makeup
An IRL hand model talks favorite products & the weirdest things she's done in the name of maintenance.
Save the Seinfeld jokes—hand model Susan Schell has heard them before (and yes, admittedly, some of them may have been from us). When Schell reached out to us offering to fill us in on what it's actually like to be a hand model for part of (she also happens to be a writer) her 9-5, our minds admittedly started to wander. To be frank, we've heard some unbelievable anecdotes regarding what it takes to be one—think wearing gloves full-time when you're not shooting. We quizzed Schell on the biggest misconceptions about her trade, her favorite product picks that keep her hands, nails and cuticles in photo-ready shape and the weirdest thing she's done in the name of nail maintenance.
---
ON HOW SHE BECAME A HAND MODEL:
"I honestly fell into hand modeling. People had often complimented or commented on my hands and nails but I never really thought of hand modeling as a legitimate career. My first real hand modeling experience was while we were shooting an editorial for the company I design jewelry at, Bobby Pin Jewelry, for TWELV Magazine. I got thrown into the shoot at the very last minute—they slapped a red nail on me and had me stand behind the model, covering her face with my hands adorned in numerous rings. It was a very Guy Bourdin inspired shoot. The shoot went really well and left me with some high quality pictures of my hands to send into an agent. I got signed with a parts agency and the rest is history."
ON HER FIRST BIG GIG BEING WITH VOGUE:
"The first major project I was lucky enough to take part in was a World Cup themed nail art photo shoot with
Madeline Poole
for Vogue.com. It was my first time wearing intricate nail art and it was also my first time working at
Vogue
, so it was extra exciting. It was quite a whirlwind of a week; soon after the Vogue shoot I worked with Madeline again but for Sally Hansen and booked a few other jobs."
ON THE WEIRDEST THING SHE'S DONE IN THE NAME OF MAINTENANCE (HINT: IT INVOLVES UDDER CREAM):

"I'm not too insane about my hand care routine, but I definitely try to keep my skin and cuticles in particular well moisturized. I've tried a few odd treatments and products like a warm paraffin wax treatment and lanolin cream.

I'm actually really into the warm paraffin wax treatment, I have an at-home kit so I just do it myself. It's great for when your hands are seriously dry or cracking in the winter. It's a fun process: you dip your hands in the moderately warm wax, let it harden around you, wear insulating mittens over the wax to retain the heat, and then pick it off after a while.

I have also used lanolin cream, which is a strange, waxy product that is made from wool. It is colloquially known as 'udder cream' because farmers use it to rub on cow's udders. They noticed how soft it made their own hands after applying it to the cows so it became a hand treatment for people. It sounds really weird when you explain the story behind it but it is actually found in a lot of beauty products. It is just really rich and makes your hands super soft.

Sometimes I slather a mix of lanolin and lotion on my hands and put on overnight gloves to make a little hydrating hand mask that I can wear while I sleep."


ON THE CASTING PROCESS:

"The fact that there are castings for hand models is kind of ridiculous, but they do exist! It makes the most sense to have a hand casting for commercials or video projects because they want to see the way you move or pose your hands.

A hand casting is pretty much just like a regular casting; you go in with your book, they take a few snap shots, and you leave a comp card. Every now and then they ask for a picture of your face, too, just to see who is behind the hands. I have been to a few hand castings that were mixed with real model or actor castings so it makes me feel a little silly that I'm just there for my hands.


ON THE BEST HAND & NAIL CARE TIPS SHE'S PICKED UP FROM THE TRADE:

"The best tip I learned while hand modeling is the best way to remove a colorful nail polish. Manicurists do this on set all the time when they have to take off a highly pigmented or glittery polish. Basically, you saturate cotton balls in remover, press them on the nail with a good squeeze, and leave them on the nails to soak for a bit. This technique helps loosen the polish to a point where it pretty much just slides off the nail. As opposed to just rubbing it off, this helps prevent staining your fingers and pushing the pigment under your cuticles."


ON NAIL DON'TS:
"My major don't—I don't cut my cuticles. I just use lots of cuticle oil and gently push back my cuticles. Cutting them can make them grow back a little more rough and jagged. If you cut too deep you can leave a noticeable mark or even draw blood and cause an infection. I just avoid the nippers as much as possible and reach for something really hydrating like
Deborah Lippmann's Cuticle Oil
.
Another don't—don't forget a base coat! Stained yellow nails are the worst, and it is awful to just have to wait for them to grow out. I had to unfortunately learn this one the hard way. While there are things you can do to help remove the stains it is just better to avoid them all together."
ON HER FAVORITE NAIL CARE PRODUCTS:
"Product wise, I am a big fan of Burt's Bees. I really like their
Lemon Butter Cuticle Cream
as well as their
Hand Salve
. These are super moisturizing and very affordable.
My favorite lotion is super cheap and actually from Trader Joe's, it is their Coconut Body Butter. I like it so much because it is not too greasy or shiny so it is perfect for when my hands dry out on set.
Deborah Lippmann
, as I mentioned, has great cuticle oil, but I also really like the
Rich Girl SPF 25 Hand Cream
. Its great that it has the SPF because hands can tend to get sunspots and show signs of aging more quickly than the rest of your body so I feel like it is a good prevention cream.
I also like the
Deborah Lippmann Smooth Operator Buffer File
. Nail buffing is a bit of a hand model no-no because excessive buffing can make your nails thin and brittle. I like this one because it is pretty gentle but gets the job done nicely. I actually use it to smooth out my nail tips after filing them and do a light buffing from time to time."
ON BEING ON TEAM DIY MANICURE OVER THE SALON:
"I don't really love going into a salon to get a manicure, I'd much rather do it myself. I suppose I now associate getting manicures with work! I'd take a facial over a manicure any day. I know it sounds pretty weird but at this point it just doesn't feel like a treat for me.
As far as colors go I am pretty open to anything. A few of my favorites are
Jin Soon's "Tea Rose"
which is the perfect pinky coral,
Smith & Cult's "Stockholm Syndrome"
which comes in a beautiful bottle and is a cool neutral gray, and
"Mrs. Tony Montana" by Floss Gloss
is the perfect solid white. Because I tend to like painting my own nails more than getting a manicure I prefer it when a polish is more than just a great color, I appreciate a great quality formula and easy-to-use brush."