Career
Deskside: Stefano Tonchi
Editor-in-Chief, W Magazine. New York
"What do you see from your window?"

Not every interview starts with this, but not every interview is with the likes of Stefano Tonchi. Over the phone, Tonchi is warm and familiar—funny, too. He's everything you'd hope the editor of your favorite magazine—one of the few today that continually push things forward across their departments, thanks in part to Tonchi's laser-sharp vision and legendary army of incredibly talented editors—should be. So when we had the chance to quiz him on everything from his hiring processes to his workplace essentials, we were thrilled by how candid Tonchi got with us. We got talking on why he (plot twist) prefers fashion to personal style and even about collaborating with everyone from Kim Kardashian to Yayoi Kusama on his favorite-ever covers from his tenure at the magazine. But enough out of us—we'll let him get to it.
---
ON HOW THERE'S NO AVERAGE DAY:

"I would say nothing at W is average. Really, every day is different. I don't have a schedule that stays the same everyday. You have weeks with a lot of fashion shows; you have weeks with a lot of meetings. When I get here, it's usually calling my editors and talking about the issue we're working on. What we do most of the time is really, wherever we are, think about how to serve our audience in a different way and dream up ideas. We conceive every issue as a whole, we try to create a sense of unity, with a unique point of view and a balance. I always think of the magazine as a product of a great group of editors. It feels that way."
ON WHAT HE LOOKS FOR WHEN HIRING EDITORS:

"I would say the most undervalued quality is curiosity. It's what makes you go out when you're tired, or what makes you go to the next gallery when you've already seen 10. It makes you discover a new designer who might be working in a corner of Brooklyn. I think it's undervalued because some tend to appreciate experience more."
ON THE WORKPLACE ESSENTIALS HE JUST CAN'T LIVE WITHOUT:

"My iPhone is absolutely a part of my life I could not live without, just because I don't even remember my phone number at this point! I have everything in there. I just got an iWatch that I'm experimenting with. It's very exciting that you can pay for your taxi ride with your phone. The watch tells you when you have to stand up when you sit and work for too long. It's really fun. My laptop, because it's beautiful to see [all of our] pictures displayed on a large screen. All of these usually fit in my bag, because they're really items I cannot work or live without."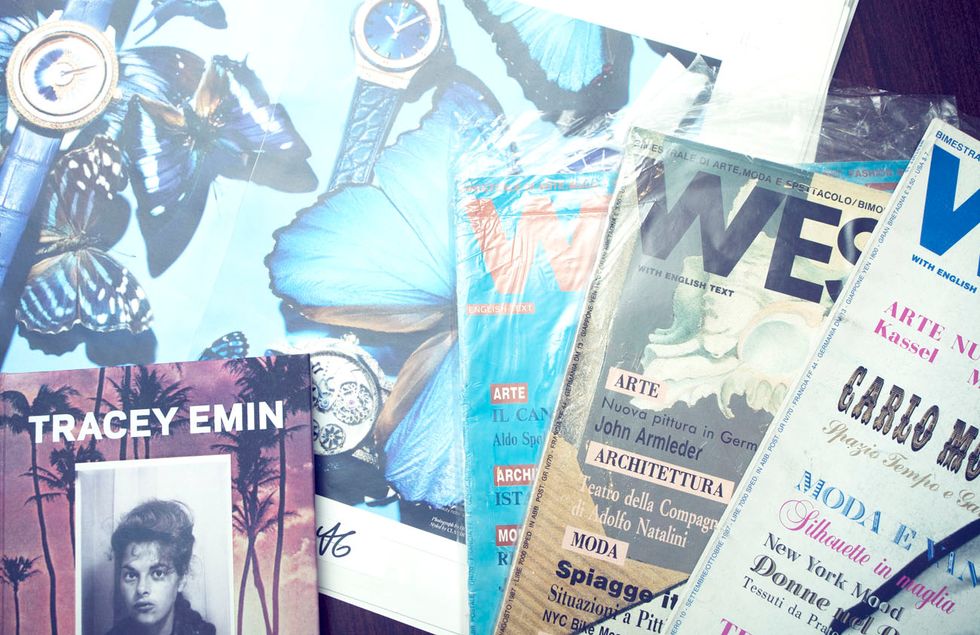 ON WHY HE PREFERS FASHION TO PERSONAL STYLE (AND HATES UNIFORMS):

"I really don't have a uniform; I hate uniforms of every type. I think fashion is more important than style, actually. I think I'm breaking the rules! Style can be kind of boring. I think fashion can be much more dangerous because there can be bad fashion and good fashion. You have to make the distinction. In that sense, the magazine that I work for, we are about innovation, we are about taking risks. No uniform. No ordinary choices. They don't need to be extravagant, don't get me wrong. Fashion doesn't need to be weird. Even the khaki suit, it is a fashionable suit because it is from this season, it has certain proportions. The khaki suit that I had two years ago was not the same. That's what I call fashion. Especially for a guy, it doesn't have to be the most extravagant thing. You know, last year I would not have worn a denim shirt. Today, a custom denim shirt, handmade in Paris by Charvet, sure. [Laughs] I have cuffs with cufflinks that make my denim shirts special but it is a fashion item. It has nothing to do with these kinds of fussy words like 'style'."
ON HIS DAILY READS (AND YES, HE CHECKS BOTH PAGE SIX AND TUMBLR):

"I still like to read the New York Times in the morning. I look at the papers before I go to the gym—I have my coffee, I read Page Six, I look at the Arts section. I check the tennis page when there's something going on about that—it's one of the sports that I like. I read papers more for pleasure. I read The New Yorker. I read Italian Vanity Fair—I'm Italian and it's a really funny read for me because I don't live there, but I like to know what's going on, on Italian television or with Italian soccer. I try to keep my eyes on social media, to see what's going on. That's really what I do in the car, the subway, the train—wherever I am, because you can do that on your phone. Instagram, Twitter, Tumblr."
ON HIS FIVE YEARS AT W AND MAKING THE LEAP FROM T MAGAZINE:

"September will be my fifth anniversary in a way because that was my first issue. [Going from T to W] was quite easy. I just went down the alphabet! Even the business card didn't change too much—it had just one letter. [Laughs] I really carried on a lot of what I had done at all of my different jobs as editor. I brought a lot of great editors with me from T—Lynn Hirschberg; when you think about entertainment, she's one of the most respected journalists in the business of making movies. Armand Limnander, who was also one of my deputy editors at T, and Alix Browne. I believe that whatever is the core of your magazine, you have to put it within the context of contemporary culture. That has been my goal at W, taking a magazine that has always been a strong player in the fashion world."
ON THE BIGGEST DIFFERENCE BETWEEN W AND T (AND WHAT IT HAS TO DO WITH #FREETHENIPPLE):

"W has a specific DNA that is really strong, edgy, groundbreaking fashion. You can push the limit farther, literally. I think somebody once counted how many breasts we had in an issue two years ago. Somebody wrote a very funny story about the number. I think it was 35 and we said, 'What? Usually they come by two.' She said, 'In one picture, you could see only one.' It was kind of funny as an example of how we really push the limit in terms of content, stories. We have a readership that's sophisticated and educated, and who expect something different. A story by Steven Klein or Steven Meisel is not the average fashion story about lace, or a uniform for work. What we do, we do it in a very different way."

ON HIS FAVORITE ISSUES SO FAR:

"I have some great, great favorite stories. Some of my favorite projects are for the Art issues, where we commission artists and collaborate with them. The Barbara Kruger cover with Kim Kardashian was Lynn [Hirschberg]'s idea, to feature somebody who was the most un-W person on the planet on the cover of W, with [Kruger's] 'It's all about me, I mean you, I mean me'. At that point, five years ago, it was really groundbreaking—I mean, we're talking about a time when selfies didn't really exist!

I loved the cover with George Clooney; again, it was a great collaboration to convince George and make it happen in the courtyard of his villa in Milan. The clothes were sent to Yayoi Kusama to be painted and she sent them back from Japan. Another great collaboration was with Jessica Chastain and George Condo. None of these were simple projects; there are layers of persuasion and trust.

My first cover in September 2010 had Jessica Chastain and Jennifer Lawrence on the cover for the first time. We shot six or seven stars, took two of them and made them big—they were winning [and nominated for] Oscars a few years later."
ON WORKING ON W THE FIRST 40 YEARS & HOW THE MAGAZINE's BECOME A TALENT INCUBATOR:

"W has a really interesting story because the first twenty years, it was printed on broadsheet paper like the New York Times. It was really an extension of WWD, where Mr. Fairchild liked to put his In-and-Out list. Mr. Fairchild was curious about the life of the rich and famous and he followed them, taking these fantastic pictures. In 1992, it became more visual, with a larger format, and it became a nursery of new talent—Mert and Marcus, Mario Sorrenti, Steven Klein, that's where they published their first stories. W has always been a great place to experiment and create incredible images."


ON HOW HE VIEWS (AND NAILS) FASHION'S RELATIONSHIP TO ART:

"That's something that I think has become really important here at W. W has always covered the arts, especially contemporary art, and today, it's really where the conversation is. Art is also a new type of social currency.

Art is not fashion and fashion is not art, so they both live in their own fields. I would say that there is a lot of fashion that is artful, just like there is a lot of art that is fashionable. The two live in the same world but they are two very different things. In my opinion, artists lead and fashion designers follow, like most of us. Artists are the think tanks of society, as they spend their time thinking about the representations of reality and emotions."

ON WHAT'S TO COME FROM W DIGITALLY WITH THE ADDITION OF DIRK STANDEN:

"I'm such a big fan of Dirk. He is very, very talented and very loved in the community. The moment we heard that Style.com was going to go into e-commerce, I asked him if he was interested in coming to us. We are doing extremely well as a magazine, we have a really successful business on paper, and we're growing on digital. I needed someone with experience and authority, to take on the relaunch of our website.

We are so strong on social media. That's not a surprise, because I think social media is really what W is about, the social scene. Also, it's about being different and standing out, that's why everyone on social media is so eager to put themselves out there. The people working at W, they are social media stars in their own right, starting from Edward Enninful, my fashion director to Giovanna Battaglia, to the photographers we work with, to the models we feature. They're all social media gods and goddesses, so it's clearly something we have to consider."
ON HIS ADVICE FOR ASPIRING EDITORS:

"Following your interests and not giving up your dream is what I've done, and what I've suggested to every editor. Not feeling satisfied until you are actually satisfied with what you see in front of you. Pursuing your curiosity. Enjoy your success, because I think it's all about staying ahead of the game.

The best advice I ever had—it's something simple that I think is very true, especially when everything is moving so fast. It came from my mentor, who was an editor that I had worked with, Alexandra Penney: don't be late, but don't be too early. [Laughs] You have to have a definitive image, to have a definitive cover and a definitive interview. That's what's important."