Entertaining
Day Drinking Recipe: After The Rain at Fat City Blues
With bartender Simon Ho. Toronto.
---
Welcome to Day Drinking, our new series in which we'll be celebrating just that—the age-old tradition of getting tipsy during the daytime. We'll be spotlighting cocktails, bars and their respective bartenders every Friday—think of it as your digital pre-drink for the weekend ahead.
When it comes to drinking buddies, no one quite fits the lets-talk-life-over-tequila-and-po-boys criteria like Simon Ho of Fat City Blues. Hell, half of the city's bartenders name Ho as their number one fellow-lush. Ho knows his liquor, hence the whole reason we had him whip up one of his specialties just for us (and you) to enjoy this week. Grab a pair of your best 3D sunglasses (you have those, right? Because, yeah, he's a wearing 3D printed tee) and have one on us.
---
After the Rain
¾ oz PINEAPPLE PUREE (recipe below)
1 oz of FRESH LIME JUICE
2 oz of TROMBA TEQUILA
CAJUN SPICE RIM (chilly, paprika, cayenne, a bit of black pepper and mustard powder)
SALT
one > To make the pineapple puree, core pineapple and grill it. Throw into a blender and push through cheesecloth. Reduce with some sugar and habanera to make it sweet and spicy.
two > Rim class with half-and-half Cajun spice and salt.
three > Shake up the pineapple puree, lime juice and tequila with ice.
four > Garnish it with a couple lime wheels.
---
FAVORITE DRINKING SOUNDTRACK:
"Outkast. Or anything that falls under the Dungeon Family umbrella. Like that early-to-late 90's Atlanta hip hop, kind of Southern, real funky kind of stuff."
FAVORITE TOM CRUISE, COCKTAIL-ERA BARTENDING TRICK:
"I wasn't around then. I don't know many tricks. I'm like a, get-the-booze-in-the-cup-pretty-quick guy. I blow fire—I like doing that with booze, that's fun. Does that count?"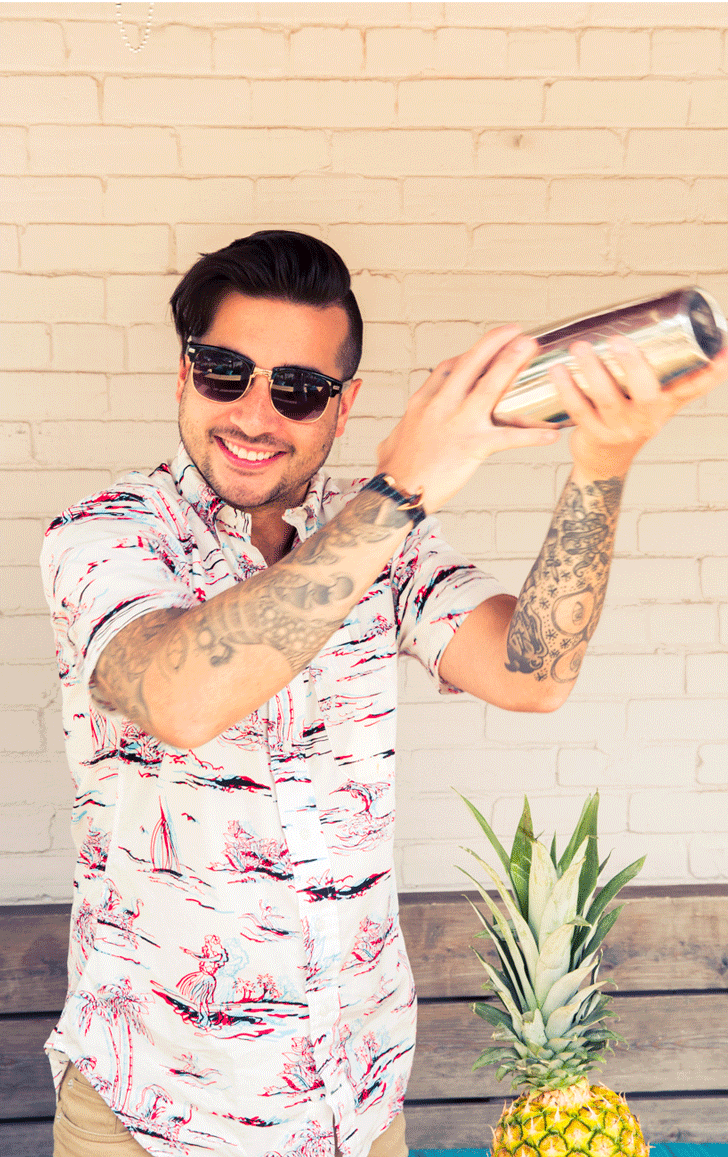 FAVORITE COCKTAIL:
"Margaritas are pretty much my favorite thing to drink in the summer and during the day…and all the time."
LIQUOR OF CHOICE:
"Tequila. Hands down. Campari I really like for daytime and summer stuff."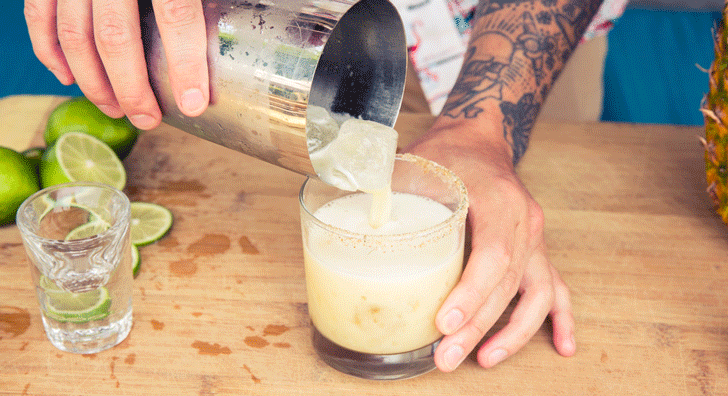 MOST MEMORABLE COCKTAIL:
"That's tough. I was with Mike Webster in New Orleans at a Tales of the Cocktail party and it was a Ramos Gin Fizz, but we milked a cow in front of the party to get the milk and then used that fresh cow milk to make that Ramos. That was pretty crazy. I think that's definitely got to be it. We ended up with all of our clothes off in the World War II Museum at this big party taking a picture."
BEST HANGOVER CURE:
"An Advil, an antacid, and a bottle of Pedialyte (something they give to babies who have diarrhea and it's just electrolytes). I swear by it. Or more booze — the Caesar."
PERSON HE'D MOST LIKE TO DRINK WITH:
"It would really have to depend on the setting. I don't know if I would pick just one. I'm a really social person, so I would pick several, lots of my friends, those would be my favorite people to drink with. I enjoy their company. I'm not really captivated by famous people or anything like that. I like the people I hang out with—my partners here, Gordon and all those guys at The Drake that I used to work with, my golf team, my buddies who I play golf with—that's always a good day of day drinking. I'm a social butterfly, I need lots of people around."