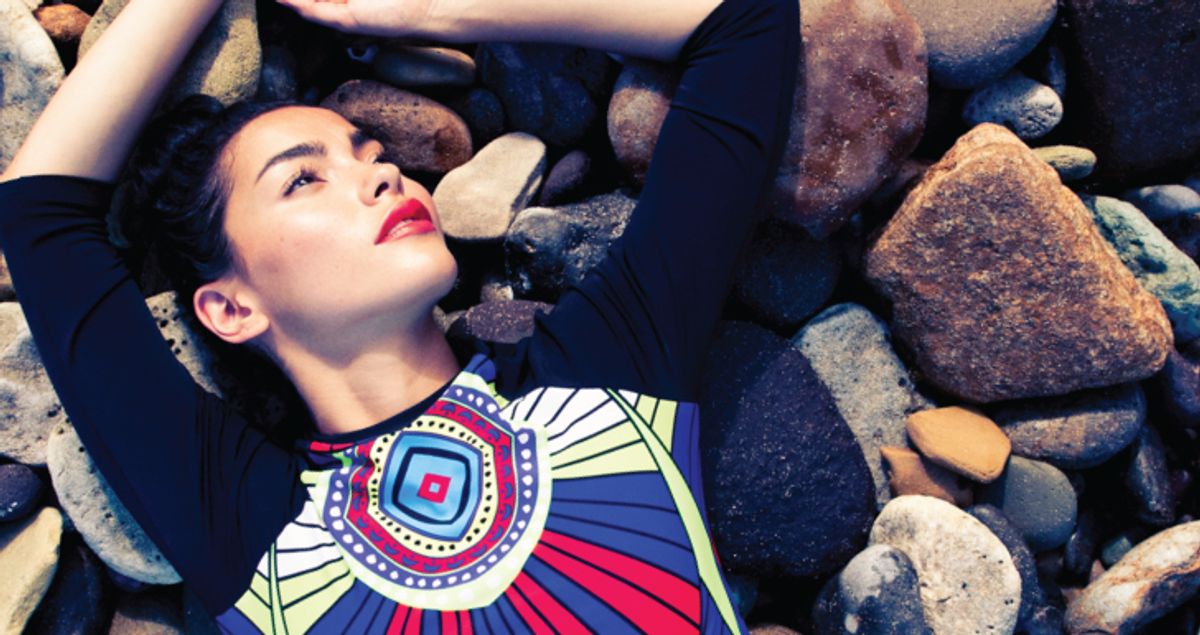 Makeup
Because sweat and pools will most definitely be involved.
At this point, our love for almost anything summer is well established. Like, multiple after-work mojitos with our girlfriends on patios; lazy afternoons by the pool; dancing, er, awkwardly bobbing unabashedly for the entirety of Kendrick Lamar's set at Bonnaroo, as one does; and long hot summer days at the beach.
 
But as much as we seriously crave the aforementioned moments all damn year, the moment sweat becomes a daily occurrence and water is in the near vicinity, there's a fairly good chance we'll end up with mascara smudged halfway down our cheeks (uh, heat), smears of bronzer rubbing off on your until-now white crochet tank (impromptu festival water gun fights), cherry-flavored transferred kisses, and melted foundation that somehow went from matte-sheer to a greasy-cake-y mess before our toes even hit the sand.
 
As much as we'd like to think we can go sans makeup all summer long, let's be real, we won't. Even if that means residual color-payoff ending up all over our Isabel Marant crepe top and our summer flings. But, guys, we're on a mission to find makeup that's a hell of a lot more sustainable than its glossy counterparts. We're talking next-level stick-factor products that won't dare (seriously, they better not) budge, no matter how much you're actually applying; whether you're going for no-makeup makeup, daytime 9-5 appropriate, or a full-face look.
---
For makeup that's beach approps, we love NARS Pure Radiant Tinted Moisturizer SPF 30, which gives just the right amount of coverage while still letting your just-sun-kissed freckles poke through. The UVA-blockage factor is handy, too. To settle shine, Tarte Amazonian Clay Matte Waterproof Bronzer gives just a hint of color, but has insane staying power—just in case you decide to leave your towel and go in the water. For that reason, we're also throwing in Dior's Diorshow Waterproof Mascara. No raccoon eyes allowed. 
We get it, having your 9 AM application last until after-work hours (um, patios!) is a serious accomplishment. That's why we're obsessed with Giorgio Armani's Lasting Silk UV Foundation: it's creamy buildable payoff stays on like you wouldn't believe… even by cocktail number four. And if we continue along with the buildable trend, Benefit's Benetint defines it—its dual usage (lips and cheeks, guys) can be as sheer or intense as you like. Oh, and then there's this other cult-y beauty product: Maybelline's Great Lash. Tried and true, friends.
We'll say this is a little extra. We're talking a full-on look—no wavering for the temps. First is Stila's Stay All Day Waterproof Liquid Liner, which, with even the best oil cleansers, will require a little bit of work to remove. Make Up For Ever's Aqua Rouge lip stain, hell, it's practically a tattoo (a.k.a kiss and beer bottle proof). And, let's just say you're having a bit of a season-inflicted acne outbreak, or just feel like you need heavier coverage without the cakeyness, this M.A.C Pro Longwear Foundation is awesome. Consider it your second (pretty darn flawless) skin.