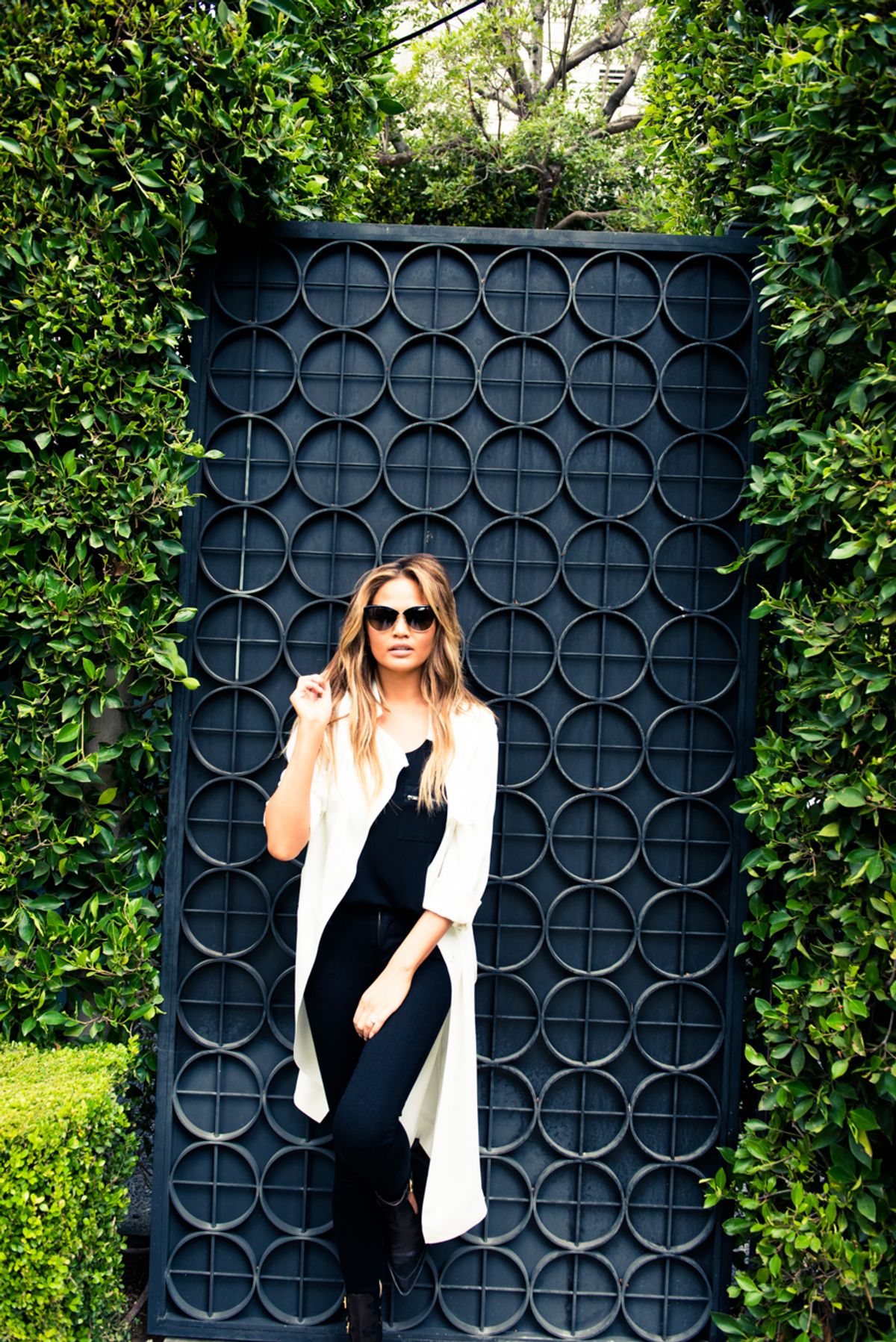 Closet
Chrissy Teigen
Model; Cook; TV Host. Los Angeles
Meagan Wilson
If social media is really, really good at one thing; it's creating this illusion that you intimately know the names behind the handles you tap follow on. As in, you saw what they ate for dinner, when they subtweet their significant others, when they Snapchat their late night drugstore run. And if you, like us, are one of the 2.4 million (at press time) Instagram users following the ins, outs and intricacies of Chrissy Teigen's personal life, our arrival at her home in the Hollywood Hills will sound nothing if not familiar. It went something like this: we were welcomed in by our second favorite social media-happy Teigen––the one and only @pepperthai2, also known as Chrissy's mom. Her three pups (Puddy, Pippa and Penny) weren't far behind. As we entered the kitchen—the very same one where she'd been up until midnight (an early wrap time for her) the night before working on her upcoming cookbook—we found Chrissy, with
Lauren Andersen
on makeup and
Giannandrea
on hair. Yup, pretty sure we just captured a handful of days in the life of her 'gram. And then we got to the part that doesn't often see the light of Valencia—the closet. And guys, holy sh*t doesn't even begin to cover it. We're talking rows on rows of strappy sandals, knee-high boots and handbags laden with our favorite names—
Balenciaga
,
Alaïa
,
Valentino
,
Saint Laurent
,
Givenchy
... in other words, girl gets it. Her actual wardrobe was a mix of the highs—
Balmain
jackets which she promised are beyond worth the investment, and we're inclined to believe her—and more affordable pieces, like
XOXO
rompers and separates (she's fronted the brand for a handful of years, hence its total closet domination). And it's exactly that mix that enables Teigen to consistently nail the art of off-duty style... That and the help of her killer collection of shoes, bags and sunglasses. Don't even get us started on her hat game...