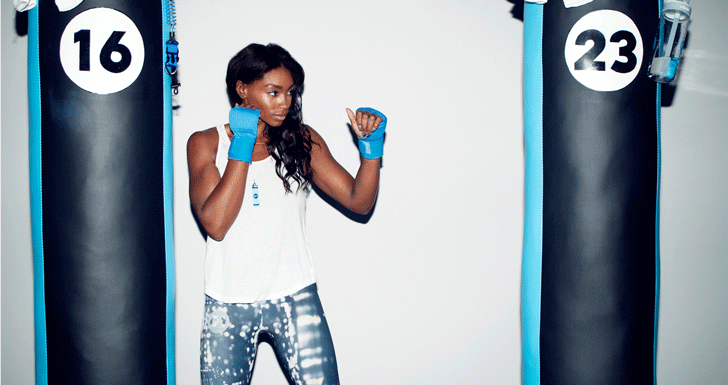 Fitness
6 Boxing Moves That Every Model Knows
A supermodel-approved workout of the cult variety.
---
ICYMI: boxing is the newest workout to garner a parade of model followers. We have to admit, it feels like practically every model Instagram feed we regularly follow subtly workout-shames us with 15-second clips of impeccable hand-eye coordination in the ring. Seriously, Gigi Hadid ducks and jabs with the same precision as the arch of her brow #workoutgoals #browgoals. Then there are the seasoned model-boxers like Adriana Lima, who have had a standing session in the ring for over a decade. So according to our calculations, boxing = a toned bod.
Seems that SHADOWBOX NYC, a brand spankin' new boxing studio in the flatiron district, had the same idea — most of the instructors happen to moonlight as Wilhelmina models (like Brittany Clybourn pictured here). Guys, this isn't your gritty, back-alley gym — rather a white-out, almost spa-like boutique spot with Olympic boxer Raymond Montalvo at the helm of the trainer roster. He, along with Clybourn, shows us the fundamentals of winning in the ring… that we can replicate in our living rooms.
"With your hands and feet on the ground with your butt up to the sky, in downward dog, bring your left leg straight back and up into the air as high as you can. Lower your left leg, keeping it straight, until you reach push up position and bring your knee into your chest. Bring your knee from your chest and extend back and up into the air, and really push back into your shoulders, with your armpits pushing back towards your bottom leg. Repeat x 10. Switch legs and repeat x 10. This is a total body exercise; working the core, glutes, hamstrings, back, shoulders, and chest."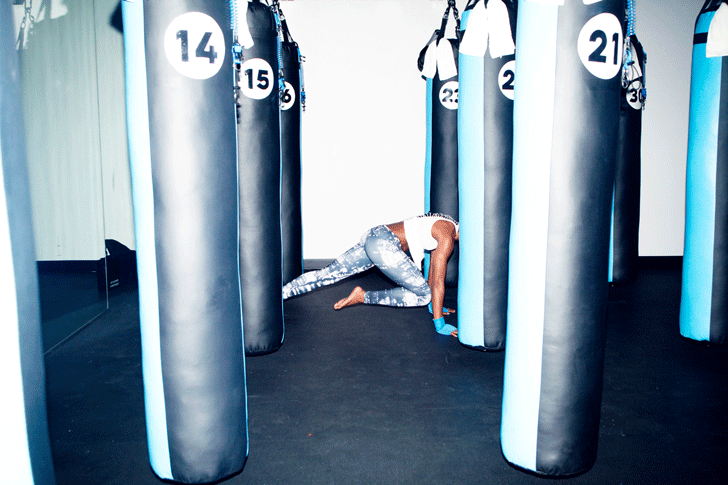 Downward Dog Kick
"With your hands and feet on the ground with your butt up to the sky, in downward dog, bring your left leg straight back and up into the air as high as you can. Lower your left leg, keeping it straight, until you reach push up position and bring your knee into your chest. Bring your knee from your chest and extend back and up into the air, and really push back into your shoulders, with your armpits pushing back towards your bottom leg. Repeat x 10. Switch legs and repeat x 10. This is a total body exercise; working the core, glutes, hamstrings, back, shoulders, and chest."
Move #2
Punching Russian Twist
"Sit on the ground, cross your feet over top of one another and lift your feet off of the ground. Twist your upper body, alternating side to side. Left hand touches the ground on the right side. Right hand touches the ground on the left side. This exercise is beneficial for the core, especially the obliques."
Russian Twist
 
"Sit on the ground, cross your feet over top of one another and lift your feet off of the ground. Twist your upper body, alternating side to side. Left hand touches the ground on the right side. Right hand touches the ground on the left side. This exercise is beneficial for the core, especially the obliques."
Move #3
Combo: Jab, Cross, Jab, Cross
"Start in your 'fighters stance' (right foot back if you are right handed, left foot back if you are left handed), slightly turn your hips out towards your back leg to open up the hips. Bring both hands up to your chin. This is to defend yourself — always have at least one hand up at the chin at all times. Make sure there is a slight bend in both knees. Round your shoulders. Make sure your core is engaged at all times. JAB with your front hand. Make sure you pivot your front foot and hips to really get full extension with the punch. With your arm straight out in front of you at chin level, hand should be positioned as if you are pouring out a pitcher of water. Then bring your hand back to chin. CROSS with your back hand. Bring your back hand straight out in front of you at chin level, hand positioned as if you are again pouring out a pitcher of water. Make sure to pivot your back foot and rotate your hips towards your front foot. Bring yourself back to 'fighters stance'. HOOK with your lead hand. Pivot your front and open up your hips inward. Act as if you are punching around a barrel and stopping midway through with your forearm facing away from your body, arm a little lower than chin level. And, back into 'fighters stance'."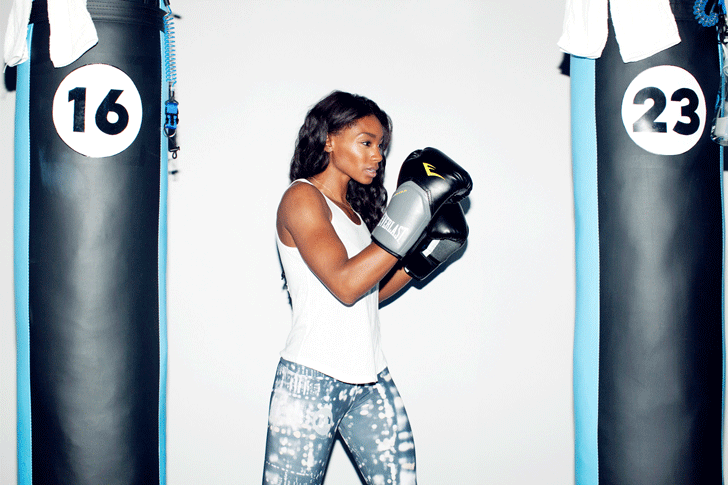 Jab Cross Hook
"Start in your "fighters stance" (right foot back if you are right handed, left foot back if you are left handed), slightly turn your hips out towards your back leg to open up the hips. Bring both hands up to your chin. This is to defend yourself — always have at least one hand up at the chin at all times. Make sure there is a slight bend in both knees. Round your shoulders. Make sure your core is engaged at all times. JAB with your front hand. Make sure you pivot your front foot and hips to really get full extension with the punch. With your arm straight out in front of you at chin level, hand should be positioned as if you are pouring out a pitcher of water. Then bring your hand back to chin. CROSS with your back hand. Bring your back hand straight out in front of you at chin level, hand positioned as if you are again pouring out a pitcher of water. Make sure to pivot your back foot and rotate your hips towards your front foot. Bring yourself back to "fighters stance". HOOK with your lead hand. Pivot your front and open up your hips inward. Act as if you are punching around a barrel and stopping midway through with your forearm facing away from your body, arm a little lower than chin level. And, back into 'fighters stance'."
Move #4
Combo: Jab, Cross, Hook, Uppercut, Uppercut
"Repeat the above combo. From the 'fighter's stance' to Back Hand UPPERCUT you need to pivot your back foot and bring your back hand down a touch and then snap your knuckles up toward the sky. To Lead Hand Uppercut you need to drop your lead hand down from your chin, pivot your front foot, really open up your hips away from your body. Bring your lead hand quickly out and upward towards the sky and return to 'fighters stance'."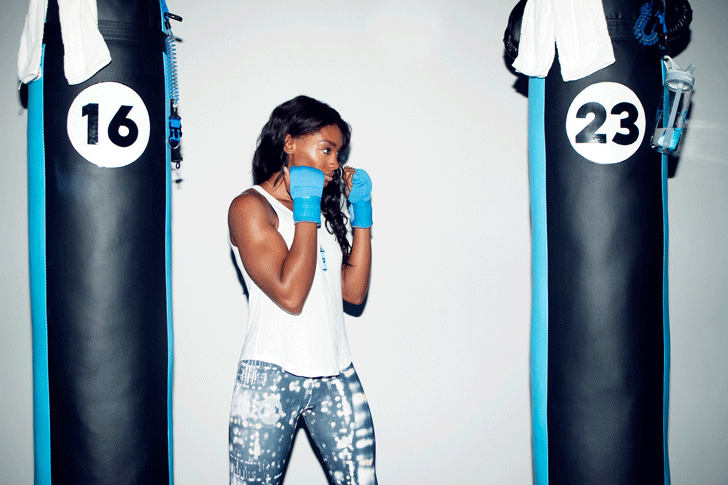 Jab Cross Hook Uppercut Uppercut
"Repeat the above combo. From the 'fighter's stance' to Back Hand UPPERCUT you need to pivot your back foot and bring your back hand down a touch and then snap your knuckles up toward the sky. To Lead Hand Uppercut you need to drop your lead hand down from your chin, pivot your front foot, really open up your hips away from your body. Bring your lead hand quickly out and upward towards the sky and return to 'fighters stance'."
MOve #5
Combo: Uppercut, Uppercut, Hook, Cross
"Lead Hand Uppercut into Back Hand Uppercut. Follow with your lead hand hook, then add a Back Hand Cross. Making sure you pivot with every punch that you throw. Lead Hand Jab into Back Hand Cross. Back Hand Cross to the Head then squat down and Back Hand Cross to the body."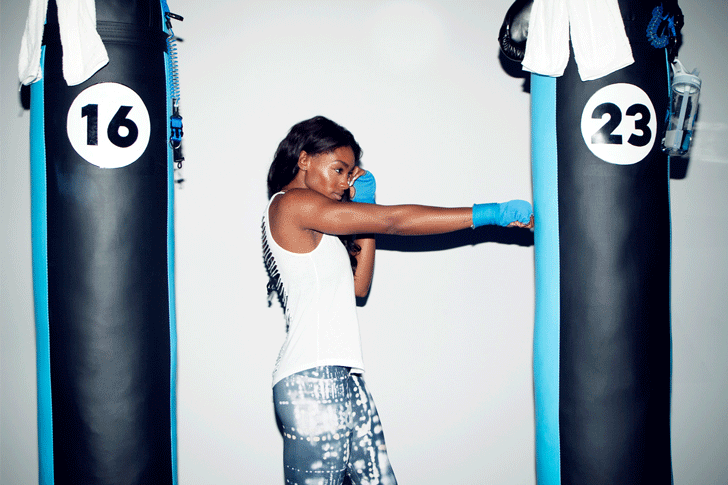 Uppercut, Uppercut, Hook, Cross
"Lead Hand Uppercut into Back Hand Uppercut. Follow with your lead hand hook, then add a Back Hand Cross. Making sure you pivot with every punch that you throw. Lead Hand Jab into Back Hand Cross. Back Hand Cross to the Head then squat down and Back Hand Cross to the body."
Move #6
Combo: jab, jab, cross
"JAB with your Lead Hand return hand back to 'home' and immediately throw another Lead Hand Jab into your Back Hand Cross. Don't forget to really pivot those feet to get those hips moving. All of your power is going to come from your ability to get your hips and feet moving. Always keep on hand at 'home' (chin) to defend yourself. Always keep your core engaged to enable you to move quickly."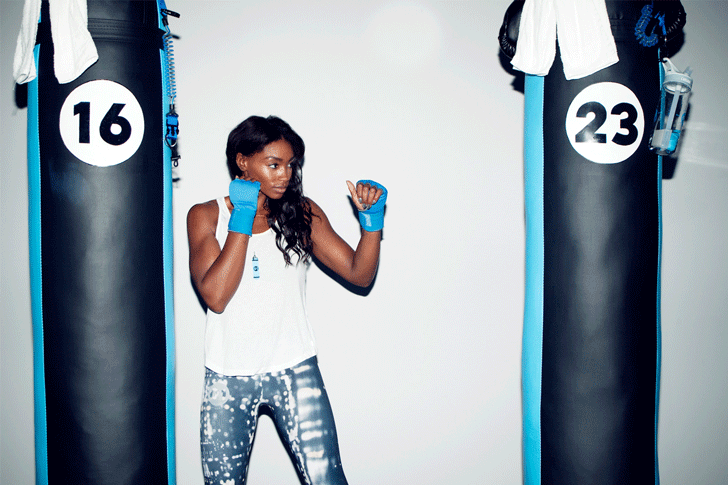 Jab Jab Cross
"JAB with your Lead Hand return hand back to "home" and immediately throw another Lead Hand Jab into your Back Hand Cross. Don't forget to really pivot those feet to get those hips moving. All of your power is going to come from your ability to get your hips and feet moving. Always keep on hand at "home" (chin) to defend yourself. Always keep your core engaged to enable you to move quickly."