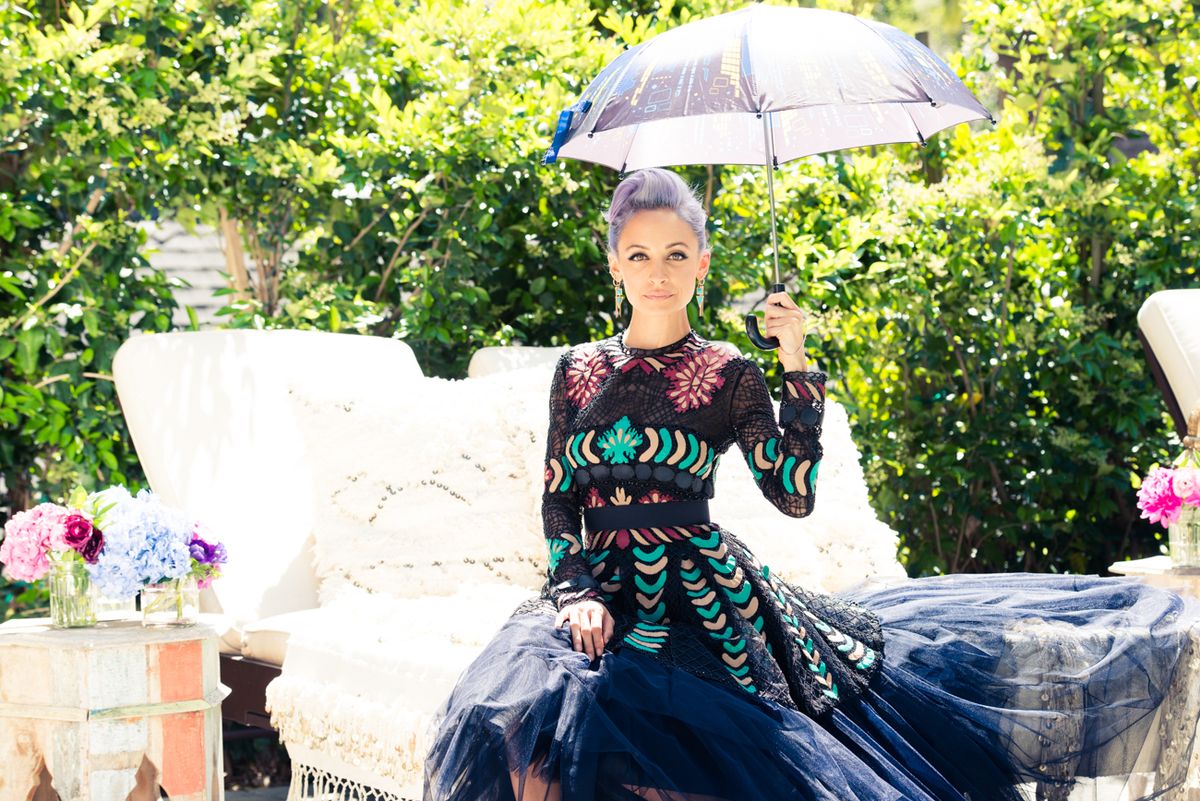 Dress, Valentino; Skirt, Alberta Ferretti; Belt, Emporio Armani; Earrings, Anita Ko and Jennifer Meyer; Bracelet, Gaydamak
Skin
Because even when you look like the devil emoji, there's hope (read: makeup).
This is how early summer goes… The sun finally manages to edge out from behind, like, nine months of clouds and we flock to the nearest park, beach house or patio as fast as our pasty little legs will take us. Fast-forward a few hours and our faces have turned a delightful shade of strawberry daiquiri, our noses have more peeling power than a Bioré pore strip, and it basically looks as though someone turned up the saturation filter on our IRL selves. Cute, right?

Let's face it—nothing kills a summer vacation quite as fast as a killer sunburn (currently flashing back to falling asleep on a Carribean beach, book on chest—months of angular tan lines ensued). Given our not-so-great track record with the UVAs, we enlisted the help of makeup artists Fiona Stiles (who primes and paints the likes of Jennifer Garner, Elizabeth Banks and Gabrielle Union) and Lottie Stannard (Taylor Swift, January Jones and Nicole Richie) to teach us how to cover up a sunburn.

And as always, practice safe skin, people! SPF!! (But we didn't need to tell you that, did we?).
---
It's the first day of your tropical vacation, and a few hours in the sun has caused your face to turn the color of the Met Ball carpet. What's the first thing you do?

Fiona Stiles: "Moisturize!! Sunburns make your skin feel hot and tight. You probably aren't going to have any burn cream with you, so be resourceful. A light moisturizer will feel cooling and keep the skin moist so it hopefully doesn't peel. Also, a cool washcloth just feels really, really nice."

Lottie Stannard: "First thing I do is wash my face and put after-sun lotion or cold Aloe Vera gel (I buy pure Aloe Gel from the drugstore, keep it in the fridge and travel with it). If you get a bad burn, you can use a calming moisturizer like Kate Somerville Goat Milk cream, which will calm the skin and help prevent peeling."
What are the steps you'd take to cover up the burn?

FS: "If you brought foundation with you on your trip, mix a little with some moisturizer to make a lighter coverage foundation. You are probably a few shades darker (and more red) than you were earlier in the day, so thinning it out will make it less obvious that it doesn't quite match. If you have a bronzer with you, add a little to your chest and shoulders to try to even out the skin tone and make the burn less noticeable."
What if you only have a minute to freshen up before dinner—are there one or two things you can do to calm down the redness fast?

LS: "Soak a washcloth in cold whole milk or water and press onto the face."
What if your sunglasses have left a reverse-raccoon eye? Are there any concealer tips or tricks you can recommend to help soften a tan (or burn) line?

FS: "This is a tough one if you don't have a variety of concealer colors with you. One good solution is to apply your foundation (thinned out if possible) all over your face as you normally would. If you have a non-shimmery bronzer (I love Suntan from Jouer) with you, sweep it over the paler parts of your face; under your eyes, over your eyelids and gently try to merge the sunburn area with the non-burned area."

LS: "If you have a drastic color difference it's usually easier to work with instead of against the burn by using a darker face color and concealer."
Is there any product you should never apply over a sunburn?
FS: "I wouldn't use anything too occlusive, like Vaseline. It would trap the heat in and make you feel even worse."

LS: "Anything containing alcohol."
Do you have any go-to products that cover redness?

FS: "On set I like to use something like MAC Face and Body, which is a thin foundation and yellow-based so it reduces the red. But you probably won't have that with you on your vacation! I recommend just thinning out concealers and foundations with a moisturizer and using bronzer to disguise the red a touch."

LS: "Sometimes trying to cover a burn can result in a strange skin tone, so I try to instead warm the face up using a tinted moisturizer in 1-2 shades darker than natural color and then use a bronzer with subtle shimmer like Tom Ford's Gold Dust. This brings light to the face, giving a more golden-glow effect."
What sunscreen would you recommend for under makeup?
FS: "My favorite favorite favorite sunscreen is Sun Visor SPF 35 from Goldfaden MD. It's made without parabens and harsh chemicals, and it's a fine mist spray that is amazing under makeup, and great and easy to reapply over makeup (which is very rare). If you are looking for a good drugstore sunscreen for the face, I love Ocean Potion Clear Zinc SPF 45. It's also great under makeup."
LS: "I have two that I love and can't live without. My favorites are Chanel UV Essentiel Complete 50 and Algenist Ultra-Lightweight UV Defense 50 (for people who are sensitive to fragrance). Reapply sunscreen after going in water and invest in a powder sunscreen like Peter Thomas Roth Instant Mineral SPF 30 for touch ups throughout the day."
—Chelsey Burnside