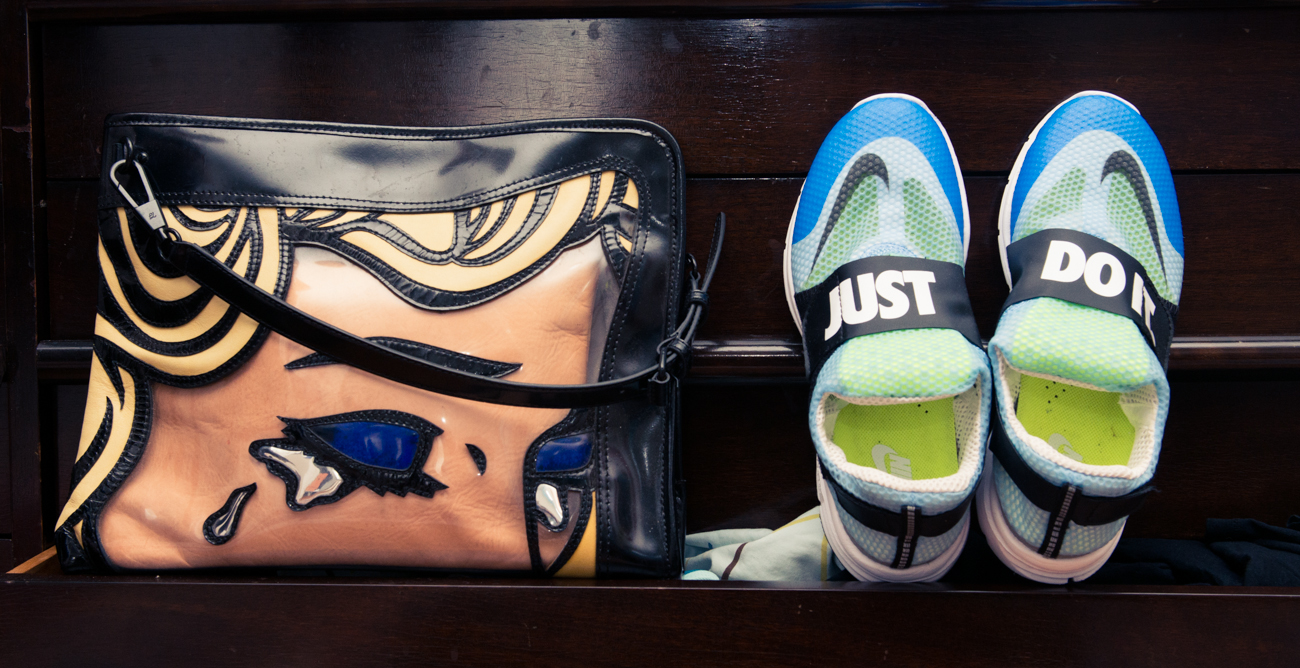 How 10 Health Editors Actually Workout
They've been to Flywheel, done SLT—here's how the women who've tried it all stay fit.
We swear to our Manolos there's a new fitness class or workout method launching weekly. We mean, the sheer number of programs and techniques that exist is both overwhelming (occasionally we want to just throw in the towel and just go for a simple jog—no Nike app recording our miles, pace and steps) and, well, hugely motivating: don't like zen'ing out over yoga? There's heart-blasting SoulCycle for that. Hate weight training? Taryn Toomey's The Class will have you working just as hard using nothing but your own body. And no one knows this better than the health and fitness editors whose job it is to sample them all and report back (yeah, for the most part, they're fit as f*ck). So once you've tried it all, what do they actually return to? (And while we were at it, we had them spill on their choice gear and post-workout beauty sitch.) Let's just consider the routines of the editors of Cosmopolitan, Elle and more, the ultimate guide to the best fitness options out there. Not so overwhelming anymore, right?
"My ideal 'workout' would be swimming in the ocean every single day, but since that's not a dream that's going to come true in Manhattan, I settle for riding my bike up and down the East River a couple times a week. When it's too cold or icky outside to ride, I take Core Fusion Barre classes at Exhale—they're tough, in a good way, and make me feel not only stronger, but also stretched-out and limber. I don't know if this counts, but I'm also kind of addicted to the 7-Minute Workout app. I know it's been around a long time now, but it's the best—especially when you're in a hotel room, or just want to make yourself feel like you did something semi-worthy before going to bed.
If I'm going running (which, admittedly, is pretty rare), I love the early morning; I like to take classes right after work or on Sunday afternoons; and bike rides are best in the early evening, just before sunset.
[My post-workout routine involves] a hairbrush, because sweaty, stringy bangs aren't cute. Sometimes a dry shampoo, if I remember. And some kind of wipe and/or concealer to address mascara migration.
Predictably, [I wear] Lululemon. I've been wearing the same tank and leggings combo for longer than I care to admit."
"I love taking different fitness classes. The high-intensity interval workouts at The Fhitting Room and Refine Method will kick your butt. I also try to take at least one Flywheel indoor cycling class a week—I've been going for years and find the classes challenging but therapeutic. Sadie Kurzban, the owner at 305 Fitness, always makes you feel like a dancing goddess when you take her class, I highly recommend it! I also recently started taking yoga classes at the new Y7 Studio in Flatiron—it's hot yoga in the dark set to a hip-hop playlist, need I say more? For a great low-impact workout, barre3 in the West Village is my go-to spot for their signature ballet-meets-Pilates- meets-yoga class. And when I'm training for a race I prefer to do my longer runs outside, but I'll go to treadmill group fitness classes at studios such as Mile High Run Club and TheRUN to work on speed training.
I love getting #UpNOut. Working up a good sweat first thing in the morning clears my mind and kick-starts my day, and I can still grab drinks after work with friends. But sometimes there's no better way to end a stressful day than with an intense class where you just leave everything you have on the studio floor.
I keep my post-workout beauty routine as simple as possible: mascara (Voluminous Miss Manga by L'Oréal Paris), skinnyskinny's organic dry shampoo in grapefruit and cardamom, a little BB cream and I'm good to go. I have curly hair so I'm never without some hairspray… you never know when you'll need to tame a rogue curl.
If I could live in workout leggings, I would. Brands like lululemon, Reebok, Michi and Under Armour are my go-to for everything from bold-patterned capris to bottoms with sexy mesh cut-outs. The Nike Pro Rival is a must-have sports bra if you have a larger chest—it provides the support you need without sacrificing your shape. I just ran a half-marathon and wore the ultra-comfy and responsive adidas Ultra Boost sneakers. And I recently received a pair of gorgeous, white snakeskin capris from the London-based brand Human Performance Engineering from Bandier in New York City. The store is a mecca for finding cool new fitness apparel!"
"You seriously have to drag me to the gym! (Though my husband manages to every once in awhile so we can work out together.) Covering the health and fitness beat for Marie Claire, I've tried it all, but at the end of the day, I am a Bikram devotee through and through. I've been practicing pretty regularly for about six years, maybe more. It's like, a three hour time commitment though—take the time it takes to get there, plus it's best to be about 30 minutes early so you have time to change and then stretch and acclimate to the hot room, then it's a 90-minute practice, then you have to cool down and wait in line to take a shower after, change clothes… you get the picture. So it's usually more like a once a week endeavor, but I have to fit it in or I go nuts! I go to the Bikram Yoga NYC midtown outpost near my work at the Hearst Tower, or Bikram LES in my hood, which is decorated in punk rock hot pink and they play awesome music in the lobby and it's just a cool place to work out. I love SLT on 57th st. when I can get there—it's so freakin' hard that you're sore for a whole week! Now that the weather is better, I try to run once a weekend when I'm at my upstate house. Emphasis on 'try.' I aspire to more dance classes—I took AKT In Motion once and loved it—but there isn't one near my apartment or office, and when that's the case, it ain't gonna happen.
I will never, ever be a morning person. It just isn't going to change. It has to be after work, like 6ish, which means dashing out the door a bit early. If I happen to have a break in my crazy schedule and am caught up on deadlines, I'll sneak out of work for a quick SLT class at like 3 or 4 pm if I can, but… good luck!
Face wipes are essential! I swear by Ole Henriksen The Clean Truth wipes because they cleanse, but leave a trace of vitamin C, so I feel like I can skip moisturizer for a bit (since I'm sweaty-ish anyway). Honestly, that's it. Though I do very much appreciate that at most of the boutique fitness spots they provide spray-on deodorant and dry shampoo. I'll use them if they're there, but otherwise, I'm super minimalist/disgusting.
I'm still obsessed with these workout harem pants I got at Lululemon when it was the big thing! Now there are so many 'athleisure' brands and I love them all. I really stocked up on Alexander Wang stuff when he did that sporty H&M collab."
"If I'm running, it's 100% outside, all the way. Even in the winter. And I love to hike, kayak, ski—basically I love to pair exercise and nature. But, I also love classes, particularly indoor cycling classes (I two-time it with both SoulCycle and Flywheel), yoga, and high-intensity strength classes like Fhitting Room and Tone House. I really just love exercising in general (I would be terrible at my job if I didn't), but I think it's a combination of my competitive nature (I'm constantly trying to beat myself in my last workout) and those damn endorphins that keeps me coming back.
I'm a morning person, for sure, so 99% of the time I'd say [I workout in the] A.M. (it helps that I don't have to get to the office until 9:30). That said, my boyfriend and I love to work out together, but we have opposite schedules, so I'll make the sacrifice and exercise after work if it's with him.
I am such a sweater (seriously, just ask my best friend or my boyfriend and they'll tell you how gross it is), so I am definitely a hit-the-showers kind of girl. I'm so envious of women who can dab their forehead with a towel, spritz some dry shampoo, and head to brunch. To get out of the locker room quickly, I scrunch my wet hair with Garnier Fructis mousse for a little texture once it dries, swipe Maybelline mascara (my desert island beauty product) across my lashes, and use Degree dry spray deodorant. I've tried pricier versions of all, but have found that my drug store buys are just as good.
For sneakers, I'm loyal to Nike and Asics. I believe sneakers are very personal and you have to figure out which brand works for you (i.e. doesn't cause injuries) and stick with it. I love Lorna Jane, Lole, 2XU for compression, and Sweaty Betty for tanks and tops that get you to and from the gym. Zara Terez also makes the most adorable patterned leggings."
"I use the gym in my apartment building for strength training—right now, I'm hooked on Kaya Itsines' workout plan. Then, I head to Bar Method when I'm the mood for a workout class. I absolutely love their full-body routine—you get a great burn without ruining your blowout. And since they opened a studio in Brooklyn last year, I pop in whenever I feel like switching things up. On cardio days, I take advantage of either running the Brooklyn Bridge or along the water in Brooklyn Bridge Park. Those are my favorite routes—the views are guaranteed to clear your head and leave you energized. Running is my therapy.
I prefer to do any high-intensity exercises in the morning, either on my own or at Bar Method (just get it over with, am I right?). Then, if I can get home early enough from work, nothing beats a run outside right before sunset.
For post-workout beauty, I keep it simple: Neutrogena Cleansing Wipes, Neutrogena Oil-Free Moisture Broad Spectrum SPF 35, and I top it off with my favorite Clinique bronzer (True Bronze Pressed Powder). Three simple steps, and I'm done.
You'll mostly find me working out in Nike and Lululemon. But I have to say, I've snagged some pretty great workout tanks and leggings at Old Navy and Gap."
"I love running outdoors, and I do it a few times a week because I'm training for some long distance races this summer. But I also love the energy of group fitness classes—I'll try anything, and I love to mix it up! They're motivating and make me work even harder. Plus the music is usually pretty amazing. I'm addicted to The Class with Taryn Toomey—I'd do it every day if I could! And I love spinning at SoulCycle and Flywheel. I just did Brooklyn Body Burn for the first time this morning and wanted to cry it was so hard, but it was such a fantastic full-body workout and my abs are still quivering. I really aspire to get into yoga, and there are some great new studios to try like Y7. What really makes me click with a class is the instructor and the vibe in the studio.
Morning is my favorite time of day for a workout because it sets me up for a fantastic day… my neurons are firing, I have my endorphin fix, I feel accomplished, and the big 'when am I going to work out?' question is not hanging over me all day long. However, there is nothing like squeezing in a midday workout to boost your afternoon productivity. It feels like a big thing to leave your desk and exercise at lunchtime, but I'm always so happy when I manage to, and I feel especially efficient and creative when I get back to my seat.
If I'm in a rush and can't shower, I use Mio skincare facial wipes and Grapefruit Neutrogena wipes to de-sweat. Then I'll put my hair into a top knot. You get such an amazing, flushed glow after a workout that you don't need much makeup. I stick to Maybelline mascara and some tinted Fresh sugar lip balm.
I just got a new pair of Alo leggings that come over the heel that I'm obsessed with. Adidas has a pair of running shoes called the Boost which fit me perfectly and I love the New Balance Zantes for speed sessions. Lululemon leggings keep everything smooth and tight. I run in Oakley prescription sunnies. I love anything Nike, the bigger the swoosh the better. Live the Process and Olympia make beautiful pastel silhouettes that make me want to take a yoga class."
"Boredom sets in with any form of repetition, so I like mixing it up with my workouts. In a week's span, I'll go between a Barre3 class (the best for toning up!), boxing classes at Gotham (an amazing stress reliever), hip hop yoga at Y-7 (awesome for zenning out) and a long run outside (a necessary evil since I'm training for a 15K). Lately, I've been running outdoors more often and, after an extra-long NYC winter hibernation, there's nothing like relishing a beautiful day along the West Side Highway overlooking the water—it's such a great way to experience the city. One place you'll never catch me though is in a gym solo. Exercise is more fun when you do it with people you enjoy spending time with. In a way, it's become an extension of my social life. I know people who loathe any form of group exercise, but for me, it's the only way to do it. There is no greater motivation than having a friend hold you accountable.
I get it in when I can. But it's usually after work. I am, admittedly, a bit of a workaholic, so I've found that scheduling evening workouts a few times each week helps me disconnect from the office and reconnect with my 'real life.'
I honestly don't bring much—that good post-workout glow trumps a full face of makeup any day. Give me Burts Bees Lip Balm and some Raybans, and (in the words of Beyoncé and Nicki Minaj) 'I'm feeling myself, feeling myself.'
I have a special place in my heart for Nike because of those little zipper pockets on the back of their running tights. Onesie is another favorite for fun unique pieces that are so cute you'll find yourself scheduling workouts just as an excuse to wear them!"
"I'm really a runner at heart. I've tried tons of classes and I do occasionally hit up spin classes, various yoga studio, and Pilates. But nothing beats a nice, meditative run. I run outside in Williamsburg, where I live—the McCarren Park track is great for sprints. And I go to Blink and RetroFitness for treadmill, weight or machine workouts. I'm all about workout efficiency—I don't need a fancy gym!
My favorite workouts are truly outdoor activities like hiking, kayaking, and snowshoeing (depending on the season). And I usually head up to the Hudson Valley on lot of weekends for that.
I wish I could motivate myself to work out early in the AM, but I've come to accept that I'm just not that person. I usually like to workout immediately after my work  day—that way if I'm stressed or just sick of sitting in a chair for most of the day, I have a great outlet for it.
I usually have a light face lotion, and then I just go with my everyday makeup essentials: Cover FX powder, Kat Von D tattoo liner (truly the most incredible liquid eyeliner around), and an Anastasia brow pencil. I feel like the post-workout glow lets me skip foundation, concealer, and blush.
I have tons of Nike leggings and running shorts, which have all held up well and look great. Under Armour is my fave for bras."
"I love being outside. I'll walk to Prospect Park in Brooklyn and do high-intensity sprints up the steps to Lookout Hill. And I'm training for a climbing trip in the Cascade Mountains, so I've been hiking with a weighted pack in the Catskills, and near Kittatinny and Ramapo, in New Jersey. My go-to class—if you can call it that, and the CrossFit people certainly don't—is a morning WOD at the Black Box on the Upper West Side. I could go in there uncaffeinated and in the worst mood but come out happy and super-energized. The workouts are hard and quick and there's this no-bullshit vibe that I love.
If I can haul my ass out of bed, I find I have way more energy throughout the day if I work out in the morning. And hiking at the crack of dawn or in the late afternoon is great because there are more birds and animals around.
A friend who works at AKT InMotion turned me on to the cleansing wipes from Blûm Naturals; their Daily Dry & Sensitive variety doesn't sting at all, even near your eyes. I get really red when I exercise, so I have a little routine to deal with that: Dermatologist Doris Day told me to drink a full glass of cold water and put some on my wrists and neck because just splashing it on your face won't bring down the flushing. I do that then apply ColoreScience Skin Calming Face Primer; it has a golden-nude tint that hides redness, plus it's mattifying and has SPF. If I don't have time to wash my hair, I refresh the roots with René Furterer Naturia Dry Shmpoo, which comes in a travel-sized can.
Alala, Heroine Sport and Live The Process make stuff I'd wear outside of the gym, and I really like Cynthia Rowley's new activewear line. Athleta just came out with these quick-dry trekking pants that are great for hiking. And my other staples are Lowa hiking boots, Icebreaker socks, Ahnu leggings, Under Armour sports bras and Nike's Free TR 5 sneakers, which are great for cross-training and have a nice heel-to-toe drop that makes squats and weightlifting easier."
"During the week, if I don't sign up for a class, I don't have the discipline to exercise. On the weekends, I like to wake up really early and walk over the Williamsburg Bridge with a friend, or on my own and just listen to music. I go to the Nike 45 Grand for yoga with Krissy Jones because she's like a hypnotherapist for yoga-haters. Yoga classes felt centuries-long before I met her.
[To the gym, I bring] deodorant wipes, La Roche Posay Anthelios AOX Daily Antioxidant Serum, Diorshow Brow Styler Gel and RMS Beauty Living Luminizer. I just wear Nike because everything fits comfortably and the fabrics don't fade or stretch after washing. For shoes, APL because they're proven to make you jump higher."