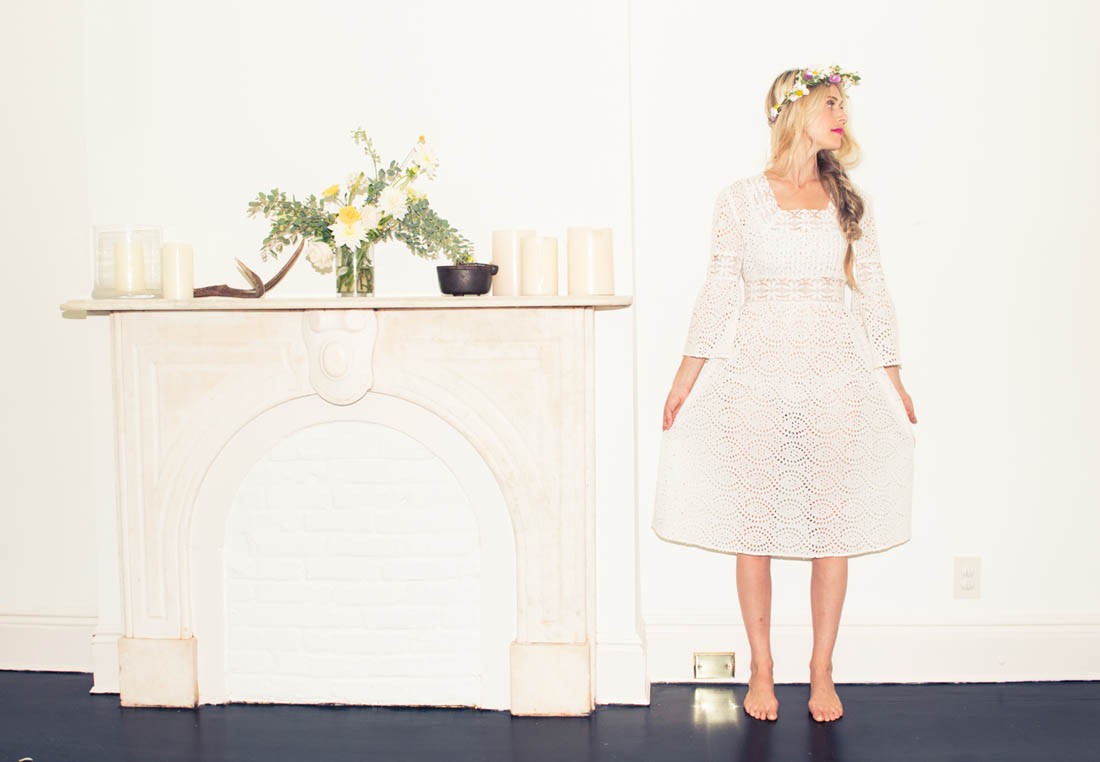 15 Rules for an Unconventional Wedding
Attention future brides! How to have a not-so-traditional wedding according to Molly Guy of Stone Fox Bride.
Here at The Cov, we're big fans of sartorial rarities—we mean, nothing gets us going like rare designer finds (hello, collectible CHANEL and Hermès) or custom couture—but weddings are one area where tradition makes it a little harder to stray from the norm. No matter how many hours you put in scouring Pinterest; the whole white dress, walking down the aisle thing doesn't vary a whole lot from bride to bride.
In the name of going slight against the grain on your special day (or, for that matter the special day of your BFF, frenemy or mere acquaintance), we asked Cov-alum Molly Guy for her ground rules when it comes to attending or having a wedding. Because if anyone can give us some tips for nuptials that are a little less princess-gown at the Plaza and a little more flower crown and mason jars, it's the designer behind Stone Fox Bride, purveyor of bohemian, yet romantic dresses, flowers and jewelry—a.k.a. pretty much everything you'd ever need or want for a wedding. If Guy's favorite historical wedding is any indication (it's would be Mia Farrow's to Frank Sinatra in Las Vegas, because duh), she knows a thing or two about out of the ordinary, not-so-typical matrimonial ceremonies. "It was super chic, mod and beautiful and not too pushy or romantic. Clean and high fashion," she raved about the iconic union. Sounds ideal, right? "They got divorced, but it looked good." Priorities, people.
RULE 1:
Have A Rain Plan.
"The most important thing for a summer wedding is, whether you have one on the beach or out in a field or in your back or front yard, is to always have a rain plan. Because nothing will ruin a wedding faster than everyone getting wet. Also to have it in a very air-conditioned place that will cool down on an extremely hot day."
RULE 2:
Pay Attention To Gift Registries.
"[Gifts] depend on whether they're registered or not. I live for cooking and I was so happy to register at Williams & Sonoma and get thousand dollar appliances like Cuisinart and Vitamix and amazing pots and pans and stuff. I always say if you are registered, it's a good idea to stick to the registry. I know it's always cool to go off beat and if you are inclined to do so I recommendMoroccan wedding blankets (they are really beautiful) or a gift certificate to a super cool restaurant.
RULE 3:
Don't Worry About Not Spending Enough On A Gift.
"You can get an awesome table cloth from a flea market for $5 and I think it's a general consensus your parents would get you something for $1000. Both are great options. Generally, it's fine to spend $100 to $200."
RULE 4:
If You're Getting Married In The Summer, Don't Make Your Guests Wear Black Tie.
"I just came from a wedding this weekend in L.A. that was cocktail attire and not black tie, which I love. It was a super chic wedding and the bride and groom were fancy, but cocktail attire is fun because you can interpret it however you want.  I'm not a fan of black tire attire, especially in the summer; there is something to be said for it when it's colder weather—like it could be really fun getting really made up and wearing a structured gown. But it's not fun in the summer—it's a real bummer if you do it in the summer. [As an example, to my friend's wedding,] I wore a pair of Chloé sandals that were beautiful. And I wore a Stone Cold Fox Bride Oscar de la Renta dress; it's really long to the floor and I had this old school Gucci clutch and my eyes were super smoky. I was delighted when I got there that Mary-Kate Olsen had a similar dress on!"
RULE 5:
Don't Make All Your Bridesmaids Wear The Same Dress.
"I always think that if you want to do some sort of matching situation, give them a broad color palette and let them choose for themselves. Give them options for silhouettes. The goal in all of this is to not have your friends be annoyed with you or resent you. They should generally feel excited throughout the whole experience. We did an amazing wedding last year and offered the bridesmaids all these different color swatches from pale blue to sea foam green to my all-time favorite tangerine and faint yellow and blush pink—it was beautiful. It was for a July wedding and the colors suited the outdoors so well. We also had the option of having the dresses altered a bit underneath… it's very touchy to ask your friends to pick out a uniform dress because everyone is different and everyone has parts of their body that they are uncomfortable showing off. We've done bridesmaids dresses and literally had them burst into tears because they don't want to show their arms or their legs. Offer as many options as you can because the last thing you want is to have your friends feel uncomfortable in their own skin."
RULE 6:
Keep Your Wedding Party Small.
"I personally don't really think you need bridesmaids. It tends to become a popularity contest with all your other friends. It's a very old medieval tradition that you had to dress someone up to look like the bride and walk her down the aisle to ward off evil spirits. And now it's become such a rally of friends. If you want to [have them], do not go over eight. Otherwise, it's really excessive."
RULE 7:
When You're The Bride, Less Is More.
"[Accessorizing on your wedding day] really depends on the bride. Personally, I am not a big fan of wearing a lot of jewelry. I think that your hair and your dress should speak for themselves. I do think there's something really nice about incorporating small diamond studs or a really understated opal necklace or a family heirloom piece—it's so meaningful and then you can give it to your own child when they walk down the aisle one day. I think it's completely up to the bride and their silhouette, but I believe that less is more. And I really try to stay away from things that are too heavy or too starchy. The goal with a wedding dress is that you want to feel like you're being held in—your stomach is being held in and your ass isn't showing a way that is making you feel uncomfortable—while also feeling totally comfortable in your own skin and being able to walk down the aisle. One of my favorite stories is from a girl that came in. The week before she was at a wedding and the bride was in a huge, heavy Vera Wang dress and in the middle of the dance floor pulled it up and said 'Can someone blow on my vagina? I'm just so claustrophobic!'
"I love our Glenda dress and our Frieda dress and our Caitlin dress… the silhouettes are universally flattering. They have a knit cumberband waist, long sleeves and full flowy skirts. They work on a lot of body types—for big boobs, small boobs, petite, curvy. I love the long sleeve, so chic—a really long lace sleeve. If you are going to do it, make sure it's not too tight in the arms. The last thing you want is for sleeves to be too tight."
"I love our Glenda dress and our Frieda dress and our Caitlin dress… the silhouettes are universally flattering. They have a knit cumberband waist, long sleeves and full flowy skirts. They work on a lot of body types—for big boobs, small boobs, petite, curvy. I love the long sleeve, so chic—a really long lace sleeve. If you are going to do it, make sure it's not too tight in the arms. The last thing you want is for sleeves to be too tight."
RULE 8:
Grooms Will Look Their Handsomest In A Classic Suit.
"When it comes to men I really like a classic suit—a classic navy, classic blackwith a white or pink shirt and loafers. I'm not into red converse or pink hats or linen. I'm a big fan of the classic old school suit."
RULE 9:
When It Comes To Rings, Keep It Simple.
"I think all these big gems are a little tiring, I'm really into a tiny, thin classic band. However, if you are going to go for a huge gem situation, as most of us girls do, I love a really classic platinum band with a solitaire diamond. It's super old school and it looks really nice when mixing colors—like with a gold or rose gold band. It's super beautiful with a black dress; it's versatile and it will never go out of style."
RULE 10:
All-Natural Is Best For Bridal Makeup And Hair.
"I think that you should look how you normally look, but a more thoughtful version. My best friend said to me once, 'Your boyfriend most likely fell in love with you when you were naked and natural and lying side-by-side in bed, not when you were totally done up and looking like a beauty queen.' So I don't think a lot of makeup is necessary. I love loose waves, clean skin, a little bit oflip balm, mascara—super understated."
RULE 11:
Go For Romantic Blooms On Your Big Day.
"[I love] peonies, poppies, roses, eucalyptus and wild leaves.
RULE 12:
For Music, A Playlist Of Classic Hits Is All You Need.
"Generally, I'm a fan having different music walking down the aisle than you would at cocktail hour. I had a friend who walked down the aisle to [an old school love] song. It was so cute. During dancing, an all-classic playlist with Van Morrison, The Beatles and Blondie [is best]. I don't think you need to have a band—I think it's okay to have a playlist. When you're walking down the aisle, that's more time to get romantic and poetic."
RULE 13:
The More Food, The Better.
"I love family style and to have a lot of food. Nothing can ruin a wedding faster than hungry guests, so have lots of hors d'oeuvres and canapés. A family style dinner with big local organic salads and bread and butter is always good and having vegetarian options. Whole grain salads or quinoa salads, local steak, chicken, fish… anything local and seasonal and organic. Spend money on food—you want your guests to feel like they are being taken care of."
RULE 14:
Vanilla Over Chocolate Cake In The Summertime.
"I love a multi-tiered vanilla cake, unfrosted with butter-cream fresh frosting between the layers, with fresh berries and edible flowers. Some people like chocolate, but in the summer I think vanilla is the way to go. White cake, white flowers—it's very seasonal."
RULE 15:
Summer Wedding = Classic Summer Cocktails. 
"I don't think weddings need a signature cocktail. I think it depends on the mood of your wedding and your budget. In the summer mojitos and prosecco are nice and cold beer and classic white wine."