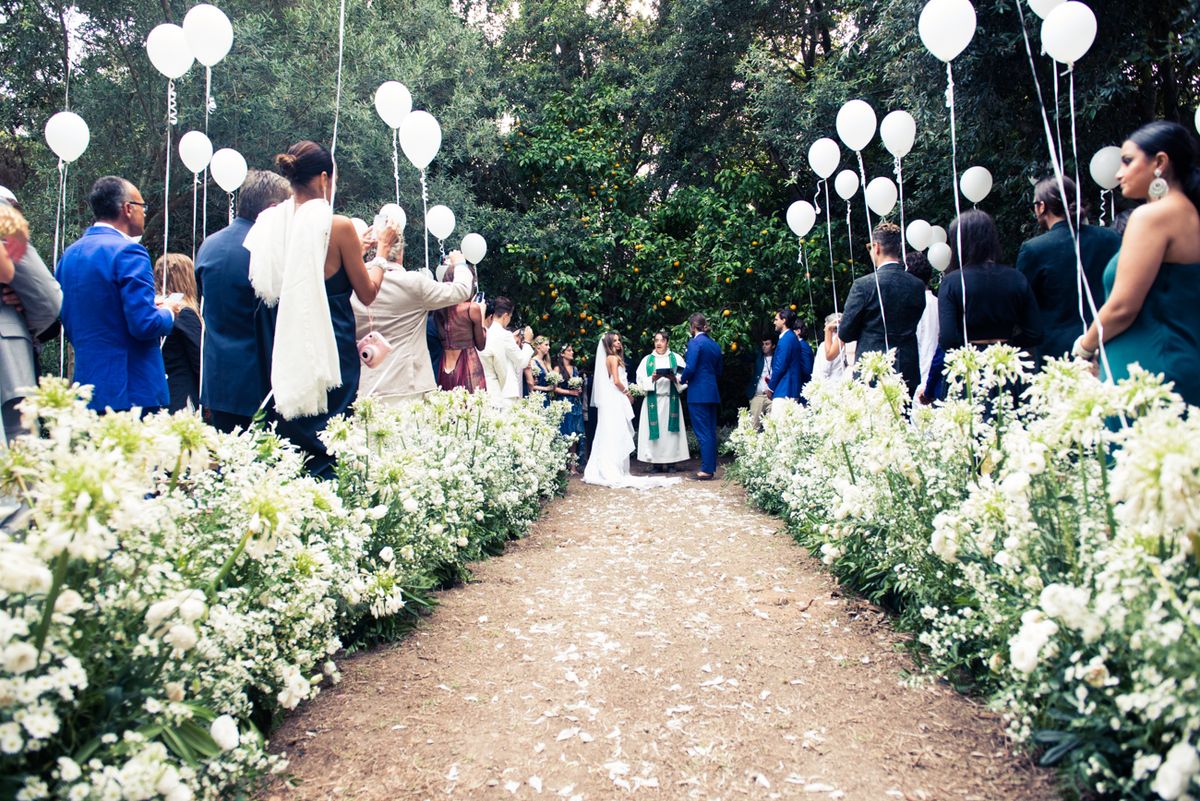 Weddings
3 Destination Weddings We're Obsessed With
The kind of stories that Pinterest board dreams are made of.
If you're one of those who keeps a secret Pinterest board while still swiping on Tinder (no judgment from us—there's a reason the secret board exists), we're guessing there's a palm tree-strewn white-sand beach alter location or a cobblestone Italian street. Don't lie. And don't worry, we can totally relate. Because nothing is quite as fantasy-inducing as a beautiful setting—and it doesn't get much more romantic (or glamorous) than jet-setting off to some exotic locale with your nearest and dearest. And let us tell you that the best inspiration comes straight from our fashion world friends, and the three here had a wedding for every type: see Amber Venz, Samantha Orley and Misha Nonoo in Cabo, Colorado and Venice, respectively. Consider this the narrative accompaniment to your secret board. We won't tell.
---
Misha Nonoo
DESIGNER
Married in Venice
"We started planning our wedding as soon as we got engaged and had 14 months time, which was very helpful! We definitely sent out our Save the Dates early so that guests could plan accommodation. We got married in Venice in May, which is at the height of the season so it was important that we helped our 300+ guests secure rooms early on.
I think the final count was 308 people in total from all over the world including Europe, Asia, the Middle East, the US. Our friends and family joined us from far and wide which made the weekend all the more special.
We had visited Venice several times as a couple and right when we got engaged we were there for the Venice Biennale and we adored the city; the magic of being in a city environment and using boats to get everywhere never gets old. We had already decided that our wedding planner was going to be Riccardo Lanza, a good friend who has organized incredible events all over the world, but whose primary focus is Italy. When we told him we were considering Venice he was delighted and immediately showed us some jaw-droppingly beautiful locations that had never been used for private events before. It was endlessly appealing from all angles!
There were so many [magical moments], but I think one of the most unique moments to the location specifically was after the wedding ceremony when we took all 300+ guests in beautiful old vaporettos down the Grand Canal into the open water and over to the Forte Di Sant'Andrea where our reception was being held, all the while being serenaded by a fantastic jazz band we had flown in from the UK. The energy was so sensational and it set everyone up for what turned out to be a brilliant evening.
I think that having the time to plan it the way that you would like to is important. The attention to detail is everything in a wedding and you don't want to rush the process. Having a great planner who speaks the local language if you do not is also essential. Lastly, remember that if the majority of your guests are traveling for the event it's important to give them ample time to book their flights and hotels; and it's always nice to give them a guide for what to do locally so that they can really turn your wedding celebration into a vacation they remember and truly feel like they experienced the local culture."
Amber Venz Box
CO-FOUNDER, REWARDSTYLE, LIKETOKNOW.IT; BLOGGER, VENZEDITS.COM
Married in Cabo San Lucas
"The week after we got engaged, we drove down to Austin, for SXSW. The three­-hour drive gave us enough time to start the planning process and choose a date. Baxter and I dated for more than five years and we own a mid­-sized tech company together, so by the time we got engaged, we were ready to be married. We knew that we wanted to get married in Cabo, Mexico, and that their best weather is October to May. We decided to get married on May 2, which provided a two­-month engagement.
We called it a secret wedding because only our guests knew about it until a week before the event. By keeping it a secret, we hoped to offend less people; you can't be mad about a wedding that's already happened. Most people found out about the wedding when we started posting snaps from the ceremony to our Instagram accounts, @venzedits and @baxterbox, #TheBoxKnot.
I wanted my guests to arrive looking like they were walking into a Vogue event, like the Met Ball. ​I have always known that I wanted the men at my wedding to wear black tuxes so the decision to have black tie attire was made very early in our planning. ​On my wedding website, there was a section called "inspiration" where I posted images of men and women from various high­ fashion events; I wanted to share my vision for the day and offer heavy outfit inspiration so that everyone arrived looking elegant and well-­dressed. I was very active in the wardrobing of my family for the weekend­ I even styled my grandmother (who looked like a mini Coco Chanel).
We wanted a destination wedding for two reasons: intimacy and landscape. Cabo, Mexico, is one of the most beautiful places that we have ever visited; the landscape is magnificent and to us, it rivals the Amalfi Coast. We love the slow, easy­going pace and getting there is simple—it is just a two-­hour flight from Dallas. Baxter's sister and her husband are ex­pats, living in Cabo with their three kids. His parents also have a cliffside villa there at Palmilla so we spend a lot of time in Mexico; it feels like our second home.
I keep a private Pinterest board of my favorite gowns and two of my most recent favorites are a look from Elie Saab spring 2014 couture and a look from Valentino fall 2013. Both have classic circular necklines, long, thin sleeves, an A-­line waist and a floral pattern. Those two pieces gave me very specific ideas about the silhouette and details of my dream dress. I wanted long, thin sleeves with peek shoulders, a circular neckline, an A-­line waist and a 6­8-inch train.
On Friday evening, we brought our guests to a privately owned mountaintop space for a cocktail party and ceremony. The floor of the venue was covered in perfectly manicured, plush green grass and there was a stone cross at the northern edge. The private Mirador has 360 views of the ​Boca de la Sierra mountain range and the Sea of Cortez.
The reception was held at a private Spanish­ style residence that is 20 yards down the mountain from the ceremony space. The back of the home is made up of glass pocket doors, which we collapsed to create an indoor­-outdoor venue. It has what I call an "infinity backyard" as the pool and lawn both drop off into a view of the Sea of Cortez.
We chose not to have a wedding party. I think it is fun to have bridesmaids and groomsmen if you get married in your early twenties or have a longer engagement and follow American traditions. Everyone that we invited to our wedding would qualify to stand up with us­; they are the most important people in our lives. It was a small enough wedding where everyone who was there was truly there for us.
Getting to experience traditional events like the first dance was very important to our parents. Baxter and I danced to Jack Johnson's 'Better Together.' The next two dances, parent and child, were emotional. Baxter and his mom were last to dance and they stepped out to My Wish by Rascall Flatts. No one, including me, knew that Baxter instructed the DJ to stop the song at 30 seconds and blast Turn Down for What, and when the music switched, it was hysterical. The crowd went from tears to laughter and everyone flooded the dance floor. One of my favorite memories was seeing Mrs. Box go from slow dance to break dance in Naeem Khan. From that point forward, the dance floor did not stop.
On Saturday, we brought the guests to the Cabo San Lucas Marina at the southernmost tip of Baja California del Sur for a white party on a yacht. Each of the women were given a baby's breath flower crown when they boarded the boat.
We toured the coastline for several hours, stopping at Lovers Rock and Chileno Bay for snorkeling. One of my favorite memories was watching our relatives have flipping contests off the back of the boat into the clear water. When we returned to the marina at sunset, each of the guests were given A&B spirit jerseys and towels as parting gifts.
Following the wedding weekend, we stayed five extra days in Cabo at a private home just below the ceremony location. We only got out of the bed or off of the loungers to order food or freshen our cocktails. It was so nice to rest."

Samantha Orley
CO-FOUNDER, ORLEY
Married in Aspen
"The planning process was pretty smooth, and we had a lot of fun with it. We went to Aspen a week before the wedding and a lot of our family and guests ended up doing the same, which was really fun. Since everyone was coming from all over the world to celebrate with us, it was important for us to make make sure they felt welcome. We put together a wedding website and welcome bag with details on some of our favorites things to do in Aspen as well as our own itinerary of activities so friends could join us on hikes, bike rides, etc. It was so special that we were able to celebrate with all our friends and family all week long!
Aspen has become such a special place to us, and since we had been together for so long (10 years!), our friends and families were already so intertwined, so we loved the idea of a destination wedding where everyone could hang out for the entire weekend. It's also not the easiest place to get to so we tried to make sure our guests had all the info they needed to get there. 
The whole night was amazing! It ended up being a bit cold and rainy but we went for it and had the ceremony outside and the view of the gray clouds against the mountains was pretty incredible. And we had an epic time on the dance floor all night! 
 
I think it's important to have fun, go with the flow, and trust the people you have helping you plan everything. You can't stress about details because there's always bound to be issues that come up and things that go wrong and the truth is you'll probably be the only person that will even notice those things!"