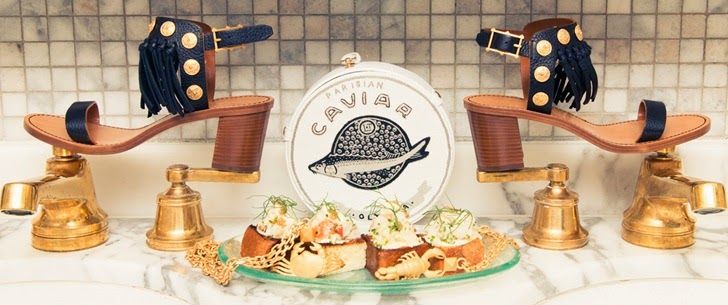 Shopping
What we'll be wearing while drinking sangria on the beach.
Let's be real: as much as we obsess over summer and cheer its arrival like nobody's business, once it actually comes around, we spend most of it inside, sitting at a desk and staring at a computer screen instead of outside, sitting poolside and staring at the waiter bringing us our Moscow Mule. So what we really love about summer, then, is long weekends—when we can actually indulge in the sun, sand and rosé.
Memorial Day weekend? It kind of sets the tone for every other long weekend you take for the rest of the season (whether it's statutory or more of a hooky situation). And there's no better way to establish a vibe than the perfect wardrobe. Here's what yours truly will be wearing to ring in the true (read: email-free) summer.
---
Meagan Wilson
Senior Editor & Social Media Manager
The first long weekend of summer is upon us and every part of me is ready. As in, for the next few days, I'm rendering my Macbook literally useless save for its real, true purpose on this earth (at least while there's sunshine outside and wine at arm's length): alternating between Young Thug, Stevie Nicks and Feelin' Myself on YouTube. I digress: my wardrobe will be ready, too, with the help of just a few totally rational purchases, like a leather-trimmed Row backpack. Because there's no better occasion than tumbling in grassy parks or hitting sand and surf for a two thousand dollar backpack. The Aquilano.Rimondi shirt dress is the sartorial embodiment of everything I want to be on any long weekend: easy, breezy, vaguely nautical. And it's on sale. As for the shoes? I've been obsessed with all things C x Mira Mikati since Colette's Sarah Andelman wore it mercilessly this Paris Fashion Week, and these white leather sneakers complete with cheery scribbles feed my twin fixations with white sneakers and palm trees. Plus, I'm pretty sure it's impossible to not be happy when you wear them. Only one way to find out, right?
It's the same deal every year: the first long weekend of the summer always just seems to suddenly arrive, meaning, I haven't made any real plans. So chances are I'll be making a huge batch of citrusy, bubbly white wine sangria (we're talking 5L of it), grabbing my XL crochet blanket, Beats Pill, and of course Walter, and meeting my equally disorganized friends at the park. If I'm feeling extra adventurous, I might actually trek it to the beach with all the aforementioned in hand. I'll be living in this Reformation body suit (not-so-safe-for-the-9-to-5), Rag & Bone distressed boyfriend cut-offs and studded Isabel Marant sandals all weekend long. Because during the long weekend, we shouldn't give a f*ck, right?
Emily Ramshaw
Senior Editor
Here's how I'm picturing it: breezy, beachside patio; sauvignon blanc on tap; lots of friends; lots of lobster rolls. Along with two months worth of unread books and magazines, a vat of SPF 30 and my go-to Lisa Marie Fernandez black bandeau, I'm packing these perfect summer jeans by Chloé (cropped and flared and high-waisted—pretty much checks all my denim boxes and perfect with the aforementioned bandeau), Laurence Dacade sandals that I've finally pulled the trigger on after eyeing them since March, and a Mansur Gavriel tote to carry it all when it's finally time to take the ferry home again.
Alicia Cesaro
Editorial Assistant
Long summer weekends conjure up dreams of sun-filled afternoons and marathon barbeque sessions that seamlessly turn into bonfire evenings, so packing and dressing for such occasions needs to be effortless. Swimsuits, cut-offs and shades to hide day-drunk eyes are the vital pieces occupying space in my much-loved L.L. Bean canvas boat and tote. To supplement the basics I'm hereby adding an off-the-shoulder poplin-like-it's-hot top—throwback to that time when these and (gasp) tube tops ruled—that's appropriate for picnics and adult-ish sit down meals alike. Double points for it being navy and therefore able to hide a multitude of sins, including, but not limited to mustard stains (don't judge). This brings-life-to-anything necklace that's sure to make my unwashed, unbrushed self look dinner appropriate. Plus some lace-up espadrilles, that are up for any and all outdoorsy activities, to tie the whole look together. G2G, it's officially rose o'clock.