Nutrition
It involves cauliflower and it's delicious. By our friends over at Hemsley + Hemsley.
The healthiest and simplest thing you can do for yourself is to eat seasonal, whole foods. By this point, we've learned that much. But that doesn't mean we necessarily follow that mantra—there's many a hurried workday when we end up with a Styrofoam takeout container of Thai food for lunch followed by a dinner of movie popcorn. As inconsistent as we are, there are people who make eating well (and making food that is healthy but never boring or bland) look ridiculously easy. Take sisters Jasmine and Melissa Hemsley, the London-based foodies who are masters at seasonal nutrient-dense cooking that also, gasp, tastes good. Every Tuesday, Hemsley & Hemsley will be back with a new, easy-to-make recipe perfect for al fresco summer dinners (rosé not included) and packed lunches alike. We're hereby limiting our popcorn dinners to a once-a-month max.
---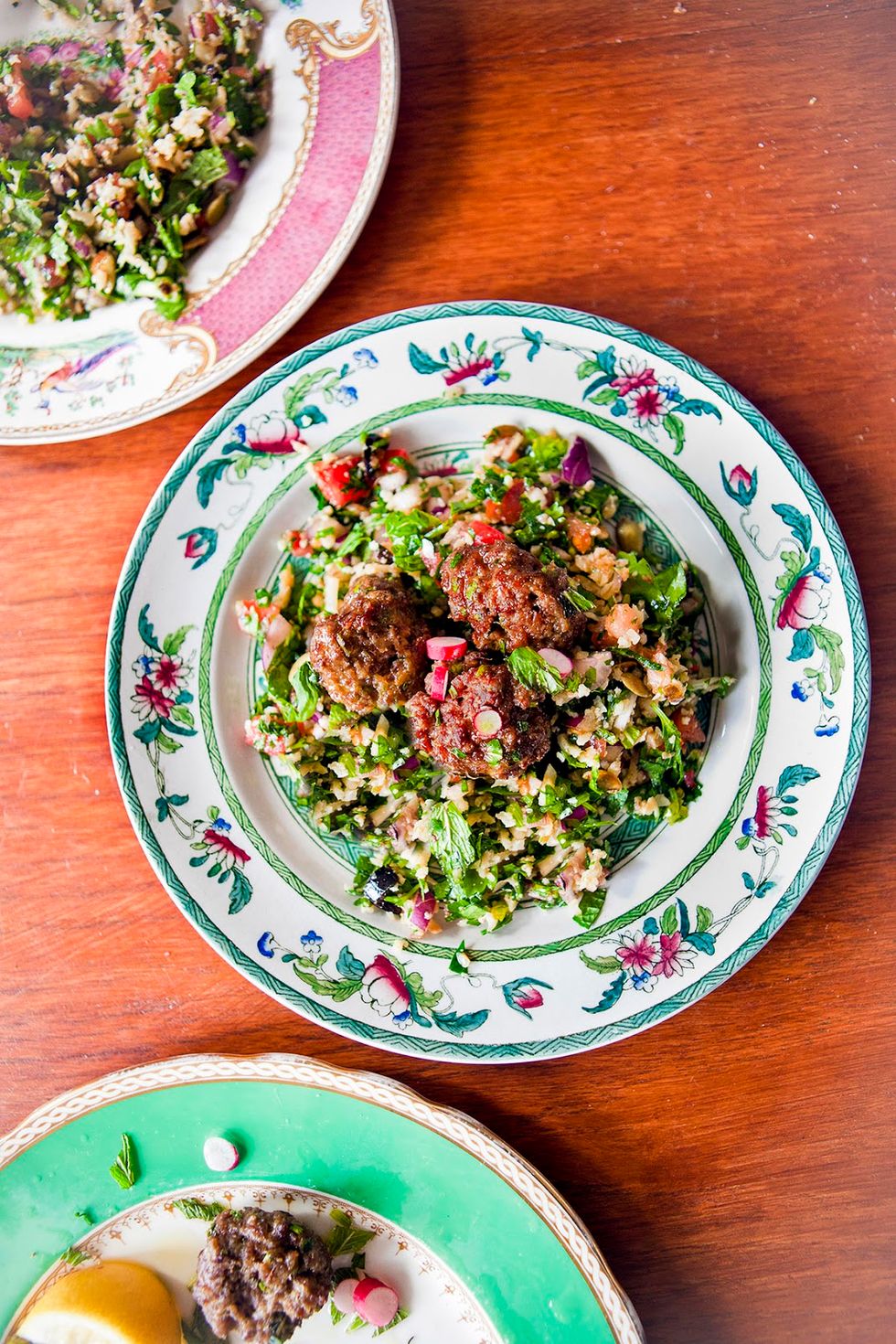 Meatballs and tabbouleh: a flavour match made in heaven. Inspired by a classic Middle Eastern dish, our cauliflower tabbouleh is a gluten-free delight. This is one easy summer recipe you need up your sleeve. With parsley as the star of the show and the punchy flavours of mint, lemon, onions and spices, you won't miss the traditional bulgur wheat or taste the sneaky cauliflower substitution. In fact, you'll probably have most dinner guests (and children) fooled! It is a recipe to convert everyone to cauliflower for life.
We've opted for lamb for these meatballs as the rich flavours work well with the zesty, fresh salad, but beef will work too. As always, when eating meat, look for quality from a butcher you trust. We use Riverford Farm or Ginger Pig (in London). Look for grass-fed meat, free from antibiotics and added hormones. While this may be a pricier option, the meat will boast a far greater nutritional profile. Grass-fed meat is the richest known natural source of CLA (an anti-fat, cancer-fighting fatty acid) and is higher in protein, vitamin E and beta-carotene than grain-fed meat. It also accumulates more Omega 3, is more environmentally responsible and tastes incredible!
To make your meat go further you can add grated carrot, shredded celery, cooked pulses and even the carrot pulp from your juicer. Or, if you're vegetarian, pair your cauliflower tabbouleh with tasty grilled halloumi, which is traditionally made from goat or sheep milk and much more digestible than cow's milk—try High Weald sheep milk halloumi. Cauliflower tabbouleh is the perfect salad to take to BBQs (take your dressing in a jar and dress when you get there); it's amazing with grilled fish and meats, too. And of course any leftovers are delicious turned into a weekend brunch—if it doubt, put a fried egg on it.
INGREDIENTS
Use organic where possible
FOR THE MEATBALLS
500 g minced lamb or beef (don't go for lean mince)
1 egg
1 small onion, finely chopped
3 garlic cloves, diced
1 tsp sea salt
1⁄2 tsp black pepper
a large pinch of ground cumin
a large pinch of ground cinnamon
1 tbsp ghee or coconut oil , for frying
a pinch of ground chilli or a little fresh chilli (optional)
FOR THE TABBOULEH
2 cauliflowers
1 tbsp ghee or butter
2 red onions or 2 bunches of spring onions, finely chopped
4 large tomatoes, diced
3 large handfuls of fresh parsley, finely chopped
a large handful of fresh mint leaves, finely chopped
juice of 1 lemon
6 tbsp extra virgin olive oil
sea salt and black pepper
TOPPINGS
Chopped radishes, nuts or seeds such as almonds, pistachios or sunflower seeds (preferably 'crispy' activated) to garnish. We recommend 'activating' pseudocereals and pulses by soaking them to start germination and to reduce phytic acid before cooking. By doing this their nutrients are more available and easier to digest. To enjoy activated nuts and seeds dry, crunchy or to make them into flour, we then dehydrate them.
INSTRUCTIONS:
1. First make the tabbouleh. Remove the cauliflower leaves and the tough end of the stalk. Grate the cauliflower into rice-sized pieces using the slicing attachment of a food processor or the coarse side of a hand-held grater.
2. Steam the grated cauliflower in a saucepan, lid on, with a couple of tablespoons of water and the ghee or butter. Over a medium heat, it should take roughly 4 minutes for the cauliflower to cook (not too soft!). Check that there is enough water at the bottom of the pan so that the cauliflower doesn't burn. Drain any excess water and tip the steamed cauliflower into a large serving bowl.
3. While the cauliflower cools, chop up the rest of the tabbouleh ingredients, then combine everything together. Taste for seasoning.
4. In a large bowl,combine all the meatball ingredients, except the ghee, and mix well.
5. In a wide saucepan over a medium heat, add a little ghee and fry a small piece of the meatball mixture and taste to check for seasoning. Adjust the remaining mixture as necessary.
6. Wet your hands and shape the mince mixture into balls. We use roughly 1 1⁄2 teaspoons of the mixture per meatball to make about 20 balls, but make them any size you like. Just remember, the larger they are, the longer they'll take to cook.
7. Heat up a little more ghee and, over a medium-high heat, fry the meatballs in a few batches until lightly browned on all sides and cooked through—this should take about 6-7 minutes.You can always brown the meatballs in advance and finish them off in the oven later if you're having people over.
8. Serve the meatballs with the tabbouleh, and your choice of toppings scattered over the top . If there are any leftovers, eat cold the next day with some homemade Lemon Parsley Cashew Dip.