Nutrition
How To Shop A Farmer's Market
An IRL farmer breaks it down.
Our newfangled descent into healthy eating (and living, obviously) has us doing everything from putting together nutritionally rich and actually tasty meals, thanks to our friends at My New Roots, Bonberi and Hemsley & Hemsley, to sprouting seeds on our balcony. And, okay, so during the winters we're relegated to stocking our fridges with imported produce from the mega-supermarket across the street, but the ground here has finally thawed and we're no longer living on barren land. It also means that farmers from around the city are hauling their homegrown seasonal goods downtown.
---
We all know by now that eating local, non-GMO, pesticide-free foods can be hugely beneficial health-wise, not to mention produce actually tastes like what it's supposed to. And since we've already gotten our summer recipes bookmarked, it was pretty much a given that we needed to find out the best way to get the freshest, healthiest ingredients around. We mean, that's the whole point, right? And there really is no one who knows fresh, local produce better than Darren Robertson, who harvests over a dozen veggies and herbs, eggs, and beef at The Farm in Byron Bay (spanning over 86-acres, BTW), and in turn sources and cooks with the best ingredients at Three Blue Ducks restaurant in New South Wales, Australia. Here, with his help, we break down the best way to navigate the stalls, what to ask, and why pickling is a really good idea.
We don't know about you guys, but markets (food or otherwise) tend to overwhelm us. What if the tomatoes we just bought aren't as red (purple, orange or yellow) as the selection just a few stalls down? Or what if we just overpaid for a jar of creamed raw honey? "I always do a lap first, usually with coffee in hand. It's useful to get an idea of what's around," suggests Robertson. You have to feel out what's available before you commit to a bushel of root veg, ya hear?
As much as you're already at a farmer's market :+1:, there's more to winning than just showing up. You gotta ask the right Qs. "Talk to the suppliers, that's the beauty of farmers markets. You have the chance to talk to the people that spend their lives growing this amazing produce. They'll know more about it than anyone." Find out what's organic or not, local or not, where it's from, how it was grown, is it chemical free, how do you cook it, or even how it tastes. You may even get tips on how to get the most out of your buys, like pickling or fermenting whatever you can't eat in time.
Bags. Not booze. C'mon.
Plastic bags are an unofficial restricted item around these parts. Instead, throw a few organic cotton reusable bags into your Mansur bucket bag, or, if you're feeling extra, you know, market-y, grab a woven basket.
If you're one for having first pick, waking up at the crack of dawn to be the first customer is likely what you're going to want to do. You'll find the largest selection and get your hands on just-picked everything.
We're always down to score a good deal. Arriving just before day's end, when the vendors are trying to sell-off their last batch of produce, is when you're going to save the most $$. More mullah for those bejewelled slides sitting in your digital shopping cart.
Not every vendor has Square, so make sure to run to the bank ahead of time. Smaller bills are best for both bargaining and buying small items.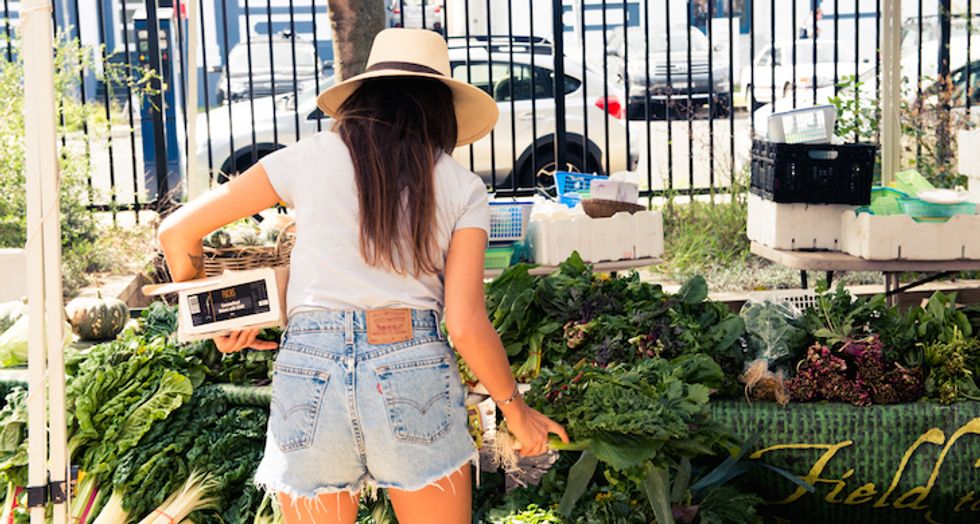 This is not a spree. Take your time, enjoy being outdoors and eat along the way. Maybe it'll spark some new recipe ideas.