Career
Deskside: Donna Karan
Founder, Donna Karan, DKNY, & Urban Zen. New York.
---
Apologies in advance if we fan girl out a bit here. But, when you've been granted access to the office and mind of one of fashion's most iconic names, it's hard not to be in awe. Donna Karan is part of a special class (that being with the Calvin Kleins and the Ralph Laurens of the world) - it's the one that conceived and shaped the way we dress today. Her first-ever collection, comprised of only seven essential pieces, simultaneously transformed the pantsuit into something feminine and powerful, while making it acceptable to wear all black (for that, we bow down).
And while she's still at the helm of her eponymous label 30 years later, Karan has taken on an additional, more personal philanthropic project with Urban Zen, with which she's created season-less dressing with a purpose: to preserve culture and integrate health care and education. Working with craftsman in Haiti, Nepal, Bali, and other disaster-stricken or developing countries, the label is helping to teach artisans traditional skills. Herein, she talks about the work she's doing with artisans all over the world, how she finds balance and her perfect zen moment.
ON HOW SHE FIRST GOT INTO FASHION:
"Okay, it went like this: my mother was in fashion, my father was in fashion and I didn't really want to be in fashion — I wanted to be an illustrator. I didn't want to be a designer, but I went to Women's Wear Daily for a job interview and they said I should go into design, not illustration. I got a job at Anne Klein as an assistant designer, you know, a very assistant-to-assistant kind of designer. People who get the coffee, shop for the pencils, that kind of thing. She says, 'Oh, why do you have to go back to school when you have this opportunity to do this?' So I didn't go back to school—I didn't go back to Parsons. I stayed there and became an assistant but then she fired me nine months later. I really wanted to get married and be a stay-at-home mom kind of thing. Then I got pregnant, went back to Anne Klein—it's a very long story."
ON THE HARDEST DECISION OF HER LIFE:
"I was with Anne for many years and then, unfortunately, she died of cancer and I took over the company then but I was pregnant with my daughter. Anne passed away and my daughter was born the same week, so I had to make the toughest decision of my life. That's when I realized that I had to go back to work because I had a collection to shoot."
ON THE FIRST DAYS OF DONNA KARAN:
"It was like I had a start from scratch again. I was fortunate that I had everything that a designer could want [at Anne Klein]. I had a design room, a pattern making room, I had all my fabrics, I had an office and all of the sudden I was starting from scratch in my apartment. It was a bit of a shock. I had to start small all over again."
ON DECIDING TO START HER OWN LABEL:
"I still wanted to stay at Anne Klein. I really didn't want to start my own label but my bosses at that time, who were the owners of Anne Klein said, 'Donna, there's nothing you can do that's small,' and basically, 'you're fired. We'll support you and put you into the business of Donna Karan.'"
ON WHETHER THE POWER SUIT HOLDS AS MUCH MERIT AS IT USED TO:
"No. I think women are empowered in dresses, there's no question about it. In those days, women were wearing jackets and ties and looking like men—I was the one who basically said I wanted them to feel like women. I think dresses have really become important; two-piece dressing."
ON HER TAKE ON OFFICE DRESS CODE:
Apart from me as a designer, as I sit here in my black stretch pants and in a black top; I, personally, like clothes from day to night. I don't like, Oh, if I wear this to the office, what am I going to go out at night in? To me, there's a definite feeling, particularly as to why I started even then, because I wanted basic clothes that could take me from day to evening. I said, if you can't sleep in them and if you can't go out in them, then I don't want to make them."
ON HOW SHE'S SEEN THE INDUSTRY CHANGE THROUGHOUT HER CAREER:
"I think certainly, that bags have become so important—bags, shoes and accessories. Sometimes more important than clothes because women have so many clothes that unless you're offering them something so new, so special, what is the new basic? You really have to give the customer something that she doesn't have. She loves not having to go into a dressing room, she loves just buying a bag because she doesn't have to go into a dressing room and try it on."
ON HOW SHE REALLY FEELS ABOUT E-COMMERCE AS A CONSUMER:
"I, personally, have a problem buying clothes online, myself. I have a real problem if I can't feel and touch it, unless I know the clothes. When I see my clothes online, I can understand them because I know the fabric, but I can't imagine being the customer who doesn't know what it feels like or what it feels like to wear. If she's a particular customer for a particular designer, I think it's a lot easier for her or unless she's dealing with basics or something that doesn't have a fit behind it. Something she's familiar with and understands the fit: you know, if she knows an Azzedine Alaïa dress, she knows an Azzedine Alaïa dress. if she knows a Donna Karan jersey dress, she's had one before, so she knows and she's familiar with it."
ON THE BIRTH OF HER LATEST PROJECT, URBAN ZEN:
"Even before I started Donna Karan, I always wanted a small collection for me and my friends, that were not about seasons, that were not about, 'Should we make fall clothes in May when it first turns hot out?'. I had a real problem with when clothes were being shown to the consumer, particularly now with online. I like her to feel fresh about the clothes and want them during the season when she's buying it; more of a 'Buy Now' philosophy. I also wanted to do a collection that was not only about clothes but based on philanthropy. What I wanted to create with Urban Zen was a concept of dressing within dressing, where a percentage of everything would go toward the concept, which is Urban Zen, which has three prongs: preservation of culture, integrated health care and integrated education, past, present and future. All of mind, body and spirit. So that was really how Urban Zen started; it started more from a foundational base than it did from a ready-to-wear base and the customer kept on saying, 'I want to buy my clothes here!'"
ON HER PASSION FOR NURTURING ARTISANS IN HAITI:
"I obviously spend a tremendous amount of time in Haiti. It needs a lot of help. We're opening up an educational school down there right now, which I'm very excited about. It's called the DOT and we're doing it with Parsons School of Design, which is very exciting. It gives graduates an opportunity to go to Haiti and work with the vocational people there and come up with new and exciting new products. I've been doing this now for four years and I feel that what's needed is the creativity, because they certainly have the technical aspects of it. I think one of the necklaces I'm wearing in one photograph was made in Haiti. People go, 'oh my god, that was made in Haiti?' It's so unique and so not what people would think Haiti is about, but I'm using it as an artisanal focal point. Taking paper mache that was used for masks and the parades that they do—carnivals. We took paper mache and we made bags, so it's not just about masks and things like that."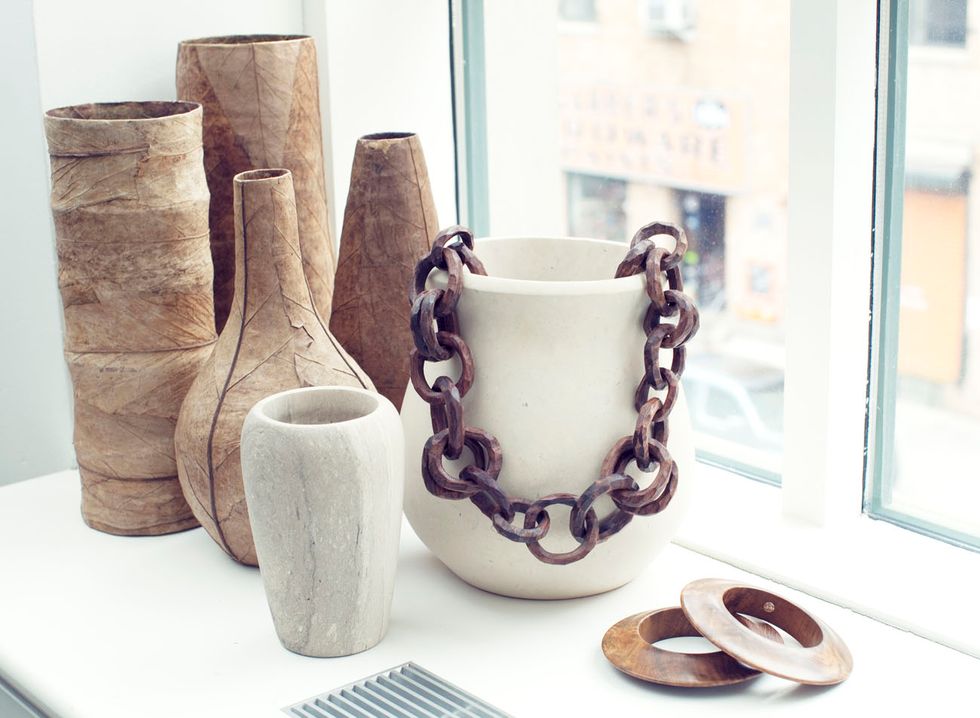 ON HOW URBAN ZEN HELPS TO FIND HOLISTIC TREATMENTS FOR CANCER PATIENTS:
"That all came from my husband, and all my friends who had cancer. I realized we were treating the disease, but nobody was treating the patient. They were giving him [Donna's husband] chemotherapy and nobody was working on what they needed in their day-to-day life. What my husband found out he needed very quickly was that it was yoga, it was aromatherapy, it was reiki, it was nutritional training. What we do is train integrated therapists who are either allied health therapists or integrated health therapists train in yoga, work in the hospitals, in-bed yoga, reiki, nutritional therapy and in palliative care.
We did a clinical test study at the hospital. They spent $9,000 in one year on a floor of ten rooms at UCLA. It's incredible. They're training all their nurses and doctors because it's not only the patient and the loved one that need it but it's also the nurses and doctors that need the help. It's a very stressful world. From an educational point of view, I link health care as the present and the future is our education and if we teach our children these principles of meditation and yoga and nutrition, they're going to be a hell of a lot ahead of a game than we are. It will be a way of life for them, the way yoga has become."
ON THE KEY TO ATTEMPTING A HEALTHY LIFESTYLE WHEN YOU'RE THE BUSIEST WOMAN, LIKE, EVER:
"Balance. I think we all try to achieve as much as possible. I start my day everyday with either pilates or yoga, a meditation, a protein drink of some sort, healthy food—and I'm not saying I'm 100 percent in either of these things but I'm saying if I didn't have these tools, I wouldn't imagine what it would be like. This is a part of my lifestyle."
ON HER DAY-TO-DAY ROUTINE:
"I get up every morning, I start off with yoga or pilates, meditation and then I take the morning for myself a little bit. I get into the offices—whether I'm at Donna Karan or Urban Zen, at about 10:30 or 11:00. From then on, it's whatever is to happen. [Laughs] From fittings to interviews to working at the next collection or communication with foundations, websites—there's 10 million jobs out there. Going into the stores, making sure they balance properly—just about everything."
ON THE IMPORTANCE OF DOWNTIME:
"I like to go to the movies or go out with friends for dinner. I make sure on the weekends that I spend most of my time with my grandchildren. They ground me; I go to the horse [stable] where my granddaughter rides, every weekend and I take her pictures. I love to travel. Travelling for me is very important. I'm definitely a family woman. [I find zen] When I go into meditation and just get on my mat. It's amazing how just getting on that mat does miracles to me."
ON THE MOST IMPORTANT LESSON SHE'S LEARNED THROUGHOUT HER CAREER:
"I think balance. Learning yoga and meditation and realizing that I think nature talks to me and I think some of my best advices are channelled through me. You know, when it tells me to slow down, or look at the beauty in the sky, or the waters and in the colors of nature. Nature is a very important aspect of my life. I love looking at light."
ON THE WHOLE WORK-LIFE-BALANCE THING:
"Most people ask me and I say, "If I had it this way, I would do a lot more travelling before settling down." I think some of the biggest joys in my life, I've gotten through travel and learning about other people and things like that. Sometimes we go into business and we're so fast to want to become something. Take it slow. You always have time to get that moment, you don't need it so quickly. I think I got thrown into it so quickly that that's why my personal life is so important to me, about finding that balance between my personal and my professional. I'm still a very guilty mom."
ON WHAT SHE'S MOST INSPIRED BY:
"Travel. There are places I haven't been to that I'm dying to go. I'm dying to go to Cuba—I'm trying to work that out right now. I'm dying to go to China, I've never been there before. All my C-words. I have to be in Haiti in June and I'm trying to hit Haiti and Cuba in one.
ON THE ONE COLOR SHE'D WEAR, OTHER THAN BLACK:
"White! [Laughs]"