Social Media Week
Here's How to Snapchat
Our favorite snappers on keeping it short, clean and out of the gym.
We could write a thesis paper on all of social media's enigmas—how using #blessed unironically is worthy of a screen-grab and an unfollow (and also the fact that those two actions are verbs), or why an appropriate dismissal when caught taking a selfie is the inexplicable, "Oh no, it's just for Snapchat."
Not to get all easy-A-elective on you, but it seems as though the one thing every new it-app, platform or product has in common is that it blasts just a little bit more of your life into the inter-ether. There were the bi-weekly blog posts, then the weekly status updates, then the daily Instagrams, then the hourly tweets—and then came Snapchat, which basically filled in the blanks in between them all with caps-locked captions and scribbled-on party hats.
And we loved every 3-2-1 of it.
That said, there are a few things we don't find so My Story-worthy about what may be the most easily over-usable medium. From the drunken blurs to the chatty monologues (god forbid you accidentally hit that volume button!) to that, er, southerly snap you got out of left field from a Tinder date gone awry, there are a few of us who could use a little etiquette lesson when it comes to the ubiquitous (we can officially say that now that Sofia Vergara has announced a Snapchat-hosted reality show, right?) guilty-pleasure app.
So we enlisted the advice of a few of the classiest, sassiest Snapchatters we know: Laurel Pantin, Erica Domesek, Vashtie Kola and Irene Kim. Phones in hands and puns at the ready, little ghosts—time for a little grammar school for the social set.
(P.S. TC is snapping, too. @TheCoveteur—get. on. it. Duh.)
- Chelsey Burnside
---
ON WHAT SHE SNAPS:
"I think the fun of Snapchat is that it's pretty spontaneous and kind of more intimate and fun than Instagram. I like to include random things that happen throughout my day, especially when I'm traveling. I also LOVE food and really like to do stories that cover every part of a tasting menu or fun meal."
ON THE NARRATION VERSUS CAPTION DEBATE:
"Definitely captions. I don't love it when there's lots of sound in my Snapchat feed."
ON THE IMPORTANCE OF BREVITY:
"For pictures, I usually stick to three seconds, unless it's something that involves a lot of reading, or there are a lot of details— then I'll go to five, but never longer. Also if I'm shopping or something while I'm traveling I like to post little one second peeks at things I'm seeing. I like to keep it short and sweet!"
ON SNAPCHAT VERSUS INSTAGRAM:
"Since joining Snapchat I use Instagram waayyyy less. I really love the informality of Snapchat. There's so much that goes into an IG post and scrolling through my feed a lot of it feels kind of staged lately, so it's nice to have a sillier, more authentic distraction."
ON WHEN AND WHY SHE JOINED:
"I joined back in October when I was at Lucky and it was because Eva Chen and Kristie Dash were so obsessed with it! I didn't really understand what it was for at first, but it took me about thirteen minutes to be completely sucked in."
ON HER BIGGEST SNAPCHAT PET PEEVES:
"Honestly my biggest one is long videos of talking. I keep my phone on silent all the time, which I think a lot of people do, and I don't want to have to turn the sound up or have the story be broadcast to everyone around me."
ON HER FAVORITE ACCOUNTS TO FOLLOW:
"Eva Chen's is spectacular, as is all of her social media content. I also really love Jamie Beck and her husband Kevin Burg's personal accounts—they're both really, really funny and give me crazy travel envy. Conde Nast Traveler's feed is also stellar!"
ON WHAT SHE SNAPS:
"I don't really have a strategy, other than there needs to be a beginning, a middle and an end. I try to always incorporate something informative, i.e. telling people where you buy smelly watermelon pens; something silly with honest heartfelt vibes, i.e. a date night at In-and-Out Burger; and always something that rings true to my personality and the world of P.S.- I Made This, i.e. taking people inside our studio for a tour or letting them come along for a virtual shopping trip for supplies."
ON THE NARRATION VERSUS CAPTION DEBATE:
"I am a fan of introducing a story with talking (using both sides of the camera) as well as layering in still shots with captions."
ON THE IMPORTANCE OF BREVITY:
"I feel like my stories can range from 70-200 seconds. Sometimes mine go a little too long, but that's just because I get excited. I recommend staying under 90 for better engagement results."
ON INSTAGRAM VERSUS SNAPCHAT:
"The @psimadethis Instagram is all about delivering smiles via DIY and colorful, happy moments. It's the brand POV, not mine. The @psimadethis Snapchat is from my POV. As the founder of the brand who created the voice, this is my first social media platform that is just ME!"   
ON WHEN AND WHY SHE JOINED:
"I joined over the fall of 2014 because my friends Eva Chen and Casey Neistat kept talking about their snaps, and I clearly couldn't watch if I didn't have the app.
Also, I felt super left out of my friend Liz's birth of her baby the day she went into the hospital and the little moments were sent out to friends (not including me), since I wasn't on it yet."
ON HER BIGGEST SNAPCHAT PET PEEVES:
"I am not into the following: drunk snaps, fuzzy image snaps, pointless selfie snaps, snapping every freakin' thing you eat at every freakin' meal."
ON HER FAVORITE ACCOUNTS TO FOLLOW:
"Casey Neistat, Eva Chen, Nev Schulman, Eric Toda, Musa Tariq, Erika Bearman, Styledotcom."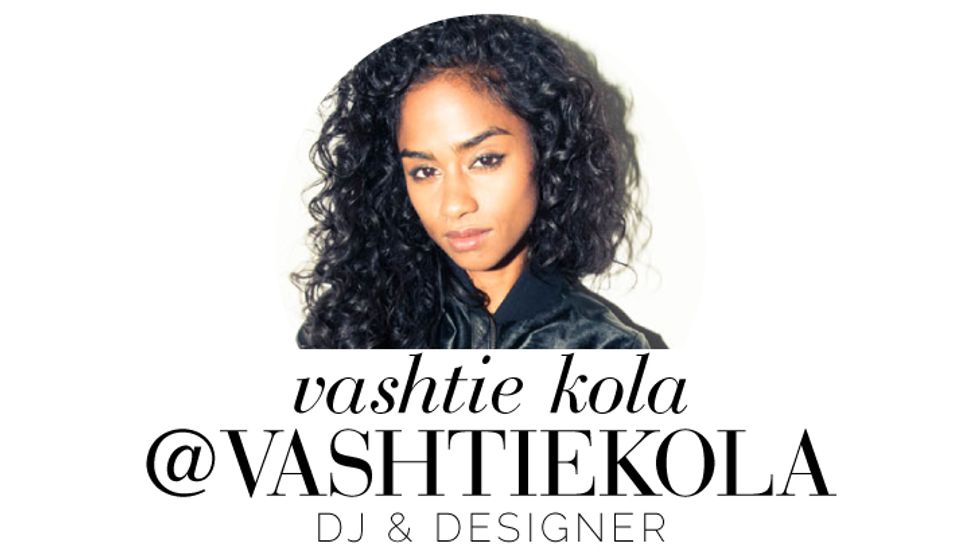 ON WHAT SHE SNAPS:
"I like to take a busy day and try to share all the elements that people want to see; all the behind the scenes and goofy moments. I just try and share the work I do in a fun way."
ON THE NARRATION VERSUS CAPTION DEBATE:
"I love talking because I think it makes for better narration."
ON THE IMPORTANCE OF BREVITY, OR NOT...:
"I try to utilize all 10 seconds per snap. It's maybe too much, but I prefer it that way. I think for a cohesive day in the life, 300 seconds is a nice amount."
ON INSTAGRAM VERSUS SNAPCHAT:
"For me, Instagram is more thought out, curated images. Snapchat is humorous moments, caught on the fly that give a wide audience a first-hand glimpse."
ON HER BIGGEST SNAPCHAT PET PEEVE:
"Exhaling any kind of weed, hookah or cigarette smoke to the camera. I get a millions snaps like that all day and it's so not creative. Then again, I constantly lip synch."
ON HER FAVORITE ACCOUNTS TO FOLLOW:
"ILoveMakonnen, Binx Walton, my best friend Elle_Clay and my managers wife Taryn Friedman because she snaps their newborn daughter, Hudson Madelyn, all day and she's just delicious!"
ON WHAT SHE SNAPS:
"I want to make sure I'm showing something I don't show on my other platforms. Something more intimate and raw."
ON THE IMPORTANCE OF BREVITY:
"Your snap story should be short and sweet, nothing too long."
ON INSTAGRAM VERSUS SNAPCHAT:
"Snapchats are more fun when they are random and spontaneous; it's a great way to show what's happening in between all the Instagrams!"
ON WHEN AND WHY SHE JOINED:
"I joined late last year because my little cousin in middle school got me into it and I wanted to be cool like her."
ON HER BIGGEST SNAPCHAT PET PEEVES:
"So many 'at the gym' selfie videos."
WHAT ARE YOUR FAVORITE ACCOUNTS TO FOLLOW?
"My favorite people are Eva Chen and Aimee Song."