Entertaining
Day Drinking: Mont Blanc at Lusca
With bartender Sharif Hassan. Atlanta
---
Welcome to Day Drinking, our new series in which we'll be celebrating just that—the age-old tradition of getting tipsy during the daytime. We'll be spotlighting cocktails, bars and their respective bartenders every Friday—think of it as your digital pre-drink for the weekend ahead.
 
The weather is finally cooperating; it's a Friday; we're feeling fancy because, uh, it's May and you have 36 hours until you have to sit down to brunch with your mom (and extended family if you're lucky like us). Might as well celebrate, right? At least that's our excuse. We'd like to hear what yours is, but we're too busy hanging out with the masculine perfection that is bartender Sharif Hassan, all while he serves us Mont Blancs, a gin-based cocktail with falernum, lime, chartreuse, egg white and bitters. You can make it yourself, or you can make the trip to Atlanta and hang out with him, too. :v: 'til Monday.
---
MONT BLANC
2 OZ GIN
1/2 CHARTREUSE
1/2 FALERNUM
6-8 MINT LEAVES
EGG WHITE
one > Dry shake all ingredients
two > Shake with ice. 
three > Garnish with mint sprig and angostura bitters.
---
FAVORITE DRINKING SOUNDTRACK?
"At home, Bill Withers anything. If I'm working, I like to kick it up to Jamiroquai—always funk."
FAVORITE TOM CRUISE COCKTAIL-ERA BARTENDING TRICK?
"I'm not much for flair, subtlety is key."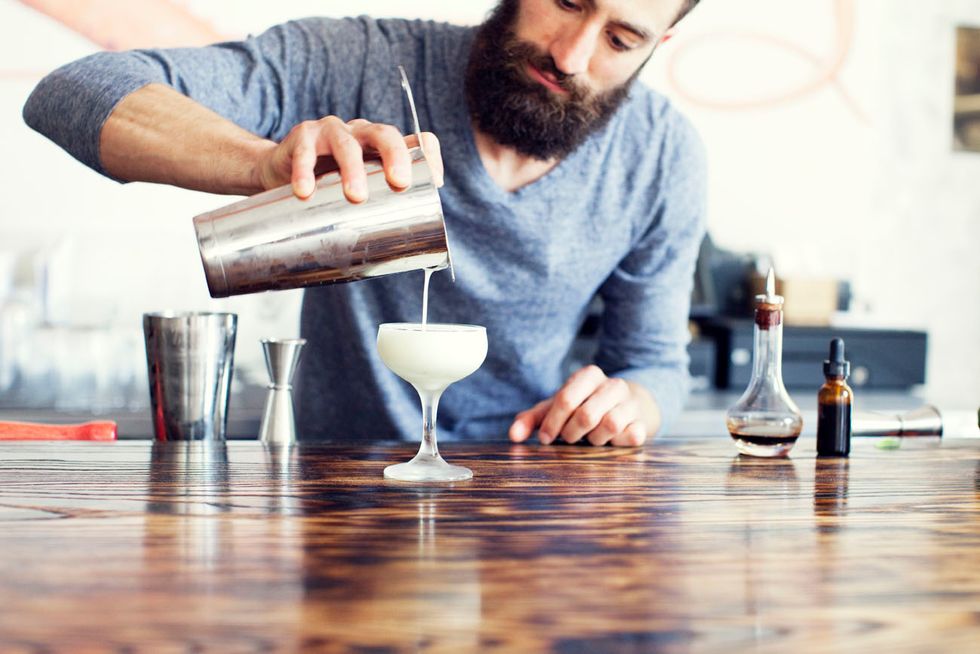 FAVORITE COCKTAIL?
"It's tough to pick just one. Each season has its own. This winter was Toronto's for me, now it's Negronis and Swizzles."
LIQUOR OF CHOICE?
"Rye whiskey."
MOST MEMORABLE COCKTAIL HAVE YOU'VE EVER HAD?
"I had one of the worst Old Fashioneds last time I was up in NYC. Totally forgot where I got it, too... Thank God."
BEST HANGOVER CURE?
"Juice! I like to hit Lotta Frutta on the toughest mornings."
PERSON YOU'D MOST LIKE TO DRINK WITH?
"I think I would go toe-to-toe shots with Chris Farley. I would definitely lose real bad but I think it would be hilarious."