Career
Founder & CEO, Bumble. Austin
---
Digitized dating, while guaranteed fun, and slowly, but surely ditching its former stigma on its way to becoming a viable way to meet people; is not without its mishaps. In fact, navigating it at times can more closely resemble a minefield than the corral of suitors you imagine upon signing up. Places to hide from dick pics and stage-five clingers are few and far between (something our sex and dating columnist, Lindsay of Tinder in Brooklyn, knows all too well)—which is why the concept of Bumble, headed up by Tinder co-founder Whitney Wolfe, is so appealing.
Bumble employs all of the same swiping mechanisms as the apps you know and love (by which we mean tipsily download while watching Netflix in the wee hours). The key difference here is that with Wolfe's app, only women can initiate and make the first move. So during a recent stop in Austin, it only made sense that we swing by Bumble HQ to talk about being a woman in the tech space, work uniforms and inspiration for the app.
ON EVERYTHING SHE LEARNED FROM HER TIME AT TINDER:
"I learned a lot from my time at Tinder. Co-founding a company and helping it grow from inception to tens of millions of users and a household name is a phenomenal and 'pinch me' experience.
Regardless of my takeaway from my time at Tinder, I wouldn't say it informed the creation of Bumble. The creation of Bumble was inspired by real life needs and a gap that exists, completely separate from any pre-existing product out there. The modern woman is incredibly independent and in control of so many facets of her life, yet, when it comes to dating there is still this 'rule' she shouldn't be too forward, and shouldn't go after what she wants. On the other side of that, the man is 'expected' to always make the first move and initiate contact with a woman. We wanted to solve this problem, along with encouraging online accountability and kindness. With keeping those morals at the helm of the product and business while trying to solve those real life problems, the idea of Bumble was born."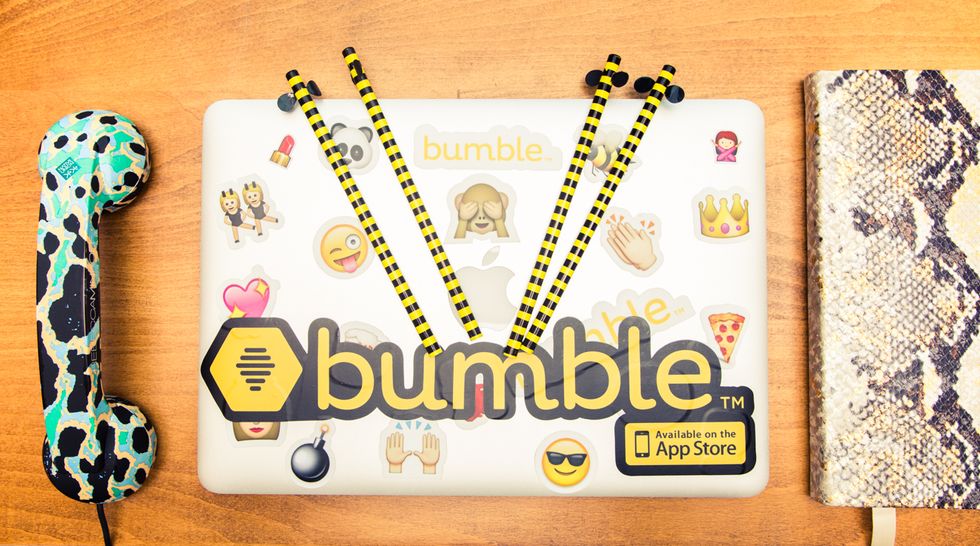 ON WHAT SETS BUMBLE APART IN THE HELLA-CROWDED DATING APP SPACE (& HOW IT'S INSPIRED BY REAL LIFE):

"On Bumble, after two people mutually match (they both liked one another) the clock starts ticking. The woman has 24 hours to say something before that match disappears! This emulates real life. If you go out at night and meet someone, you don't just have them in your pocket forever. You need to actually speak to them in order to have that first meeting go anywhere. We were trying to make this mirror real life as much as possible so that the connections were very meaningful.

Personally, I have wanted something like Bumble to exist for a very long time now. I remember seeing cute guys in college in class, or out with my girlfriends and wishing I could approach them first without being judged or classified as 'forward'. The beauty of Bumble is that we are taking that expectation away, and giving you the power to make the first move without feeling any sense of fear or uncertainty. You can blame Bumble. We want to be a platform that gives women the opportunity to feel confident, and empowered while we also want to take the pressure off of the man from always having to make that move first. Ultimately, we want to level the playing field. The current dating landscape isn't even. Women are still a peg below men in terms of dating expectations and 'rules'. Bumble aims to simply level that out and make everyone equal. There is nothing more attractive than confidence, so when the woman makes the first move, there is so much confidence in that moment that we truly believe it sets the stage for a healthy and empowered connection."


ON THE CROWD YOU CAN EXPECT ON BUMBLE:

"My friends in relationships are texting me saying, 'this isn't fair!' I would say the crowd is very educated and career oriented... and ultra attractive. On Bumble, we show your school and current job next to your name and age; we think this has led to attracting a very sophisticated crowd. I would not be surprised if a good portion of your feed as a woman in New York was Ivy League-educated men with fantastic and creative careers.

It's actually very funny, people have been emailing us asking if 'we're employing models' to sign up to be on the app, and we are like 'No!' The crowd is genuinely just an insane batch of people who are single and looking for likeminded individuals. Women feel safe, and wherever women are, the men tend to follow!"


ON HER ADVICE TO FELLOW ENTREPRENEURS MOVING ONTO THE NEXT:

"I am a firm believer in that if you are lucky enough to have an education and good health, there is no excuse to not go out and conquer your dreams. Whatever it is you are passionate about, get organized in your plans and go out and make it happen. There are three types of people. Those who make things happen, watch things happen, and then there are those who wonder what happened. If you want something, go out and get it. Don't follow your dreams, stalk them, chase them, and get them. Don't let fear or uncertainty ever get in the way. What doesn't kill you makes you stronger!"


ON HER AVERAGE (BY WHICH WE MEAN NOT AT ALL AVERAGE) DAY:

"I wake up at about six o'clock every morning and immediately check emails and respond to anything that I have missed, because half of our team is in London and they are six hours ahead. I take the dogs for a walk, make coffee and then get dressed, and retreat to the office for a full day of wonderful madness. Madness includes coming up with our next marketing push, talking individually to hundreds of our college ambassadors, discussing partnerships with other brands. We love working with like-minded companies who have the same values we do. We are all about girl power and working towards the common vision of trying to create confident connections.

I love to be very hands on with everyone in the company; I believe that there is really no 'I' in team. Its really all about respecting one another and acknowledging everyone for their talents and efforts. The team is what makes a successful company. Collectively we are always coming up with fresh marketing ideas and stunts, and always working to expand our brand in unique and creative ways. This is a startup so we live and breathe Bumble but I like to treat myself to a glass of red wine at the end of the day or night to unwind. I really enjoy cooking. It's a nice break from being plugged-in all day."


ON HER WORK 'UNIFORM':

"As this is a tech start-up, this goes dramatically in two ways. Either I am in Stella McCartney workout clothes, or my Lululemons and Nikes with a Bumble shirt or sweatshirt and hair in a messy bun. Or, I am in one of my favorite pair of Frame Denim jeans, a fun top from Isabel Marant or Stella McCartney, and an Iro Jacket with a pair of CHANEL flats. If its an evening meeting, I'll throw on my go-to's, a pair of Manolo BB heels. I am guilty of having them in almost every color; they are my obsession, they look elegant and are very comfortable."


ON WHAT YOU DON'T KNOW ABOUT BEING A WOMAN IN THE TECH SPACE:

"I love that in the tech space, things move at the speed of light. What other industry can you go from two people on a team to 20 overnight due to demand and scale, or two users to two million in a year? I love being able to build a team with like minded women and men who stand for equality and strive to create a better world for our users. A fun perk of working in tech is the creative environment at the office. We love to have creativity flow so we take breaks to have a little walk and jog our minds about new ideas. It all about building products for a better tomorrow. We feel that Bumble can make a profound impact in how millennials date."


ON WHY SHE CHOSE AUSTIN OVER SILICON VALLEY:

"I went to college in Texas, my best friends are still here. Texas is home to me, and always will be. Austin is becoming a very hot city for tech and has everything we would want and need to build Bumble up to its full potential. Its a really happy, laid back place with so much to offer. Dallas is an amazing place for shopping, while Austin boasts an amazing nightlife scene and perfect town for a tech startup. Great food, great people, there is a great group of ambitious like minded companies as well."


ON HER ADVICE FOR OTHER WOMEN WANTING TO WORK IN TECH:

"Believe in yourself. Listen to your inner voice, and never give up on what you feel is right. Go after your dreams and be confident!"


ON WHAT'S NEXT FOR BUMBLE:

"Big things! We are so focused on making sure our user experience is flawless so that we can strive to inch towards our main goal everyday, creating confident connections. We hope to be breaking into the untouched world of being able to bridge gaps, to bring the world closer together through not only people you have yet to meet but a nice mix of those you already know, and those who you should know. Stay tuned!"