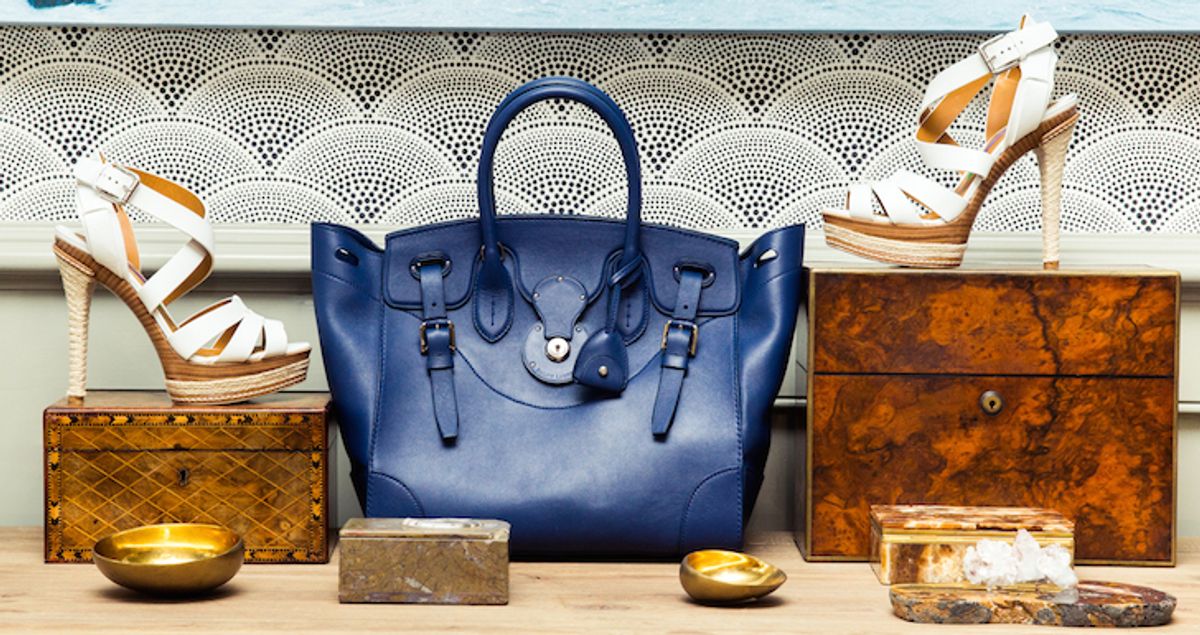 Living
How To Do the Hamptons, the Katie Lee Way
Spoiler: it involves a cache of rosé and a wardrobe full of Ralph Lauren.
Renée Rodenkirchen
Stephanie Mark
Okay, so maybe you can't get any more clichéd-weekend-activity than a brunch in the Hamptons, but indulge us for a second, because we know there's a special little place inside of you (we mean, it's inside us) that has a serious weak spot for the combination of the two. We might as well just embrace it, right?
---
Cue us hitching a ride with foodie extraordinaire, Katie Lee, to her Hamptons abode (just picture your dream home and that's pretty much Lee's place, nailed), for a day of brunching. Forget Jack's Wife Freda: making your own eggs, toast and other accoutrements is the new black, we swear. Plus, there's then the potential of crafting your own (abundant) cocktail list—Katie is partial to anything with champagne, and, well, we can't argue there.
If you know us at all, though, you'll know we didn't show up empty-handed (any Hamptons guest hoping for a return invitation knows that). Our hostess gift? A truckload of Ralph Lauren's latest (appropriately Montauk-inflected) pieces, which kind of suited Lee and the whole weekend getaway situation to a tee. Think modernized and totally indispensable blue-and-white striped tops, slick anoraks and will-travel loose weave sweaters. So while the chef, host of her own show, The Kitchen, and author of upcoming book The Endless Summer Cookbook, frolicked for our camera in a floral shirtdress and tie-dye harem pants, she gave us a guided tour of her blue-lacquered walk-in (dreamy, though) and then made grilled doughnuts (but really) among other midday delicacies straight out of her new book. Don't worry, we got the recipes, too.
Katie's Hamptons Style Guide
Out of the five boroughs, the living is easy—no fuss, no muss, or something like that. Lee's Ralph Lauren bleached-out denim, bright knitwear and tailored dresses are the sartorial equivalent of kicking back with her signature Bellini. Are we right, or are we right?
"I like to be comfortable, whether I'm in the Hamptons or in the city, though when I'm at the beach, I'm much more carefree. I say I like my fashion like my food: classic and comfortable, with a touch of couture. I wear more color in the Hamptons and like many New Yorkers, there's quite a bit of black in my city closet.
The Ralph Lauren pieces are really happy. I love the colors—the bright yellow crochet sweater makes me smile and that bright blue jumpsuit; how could you not have a great time when you're wearing that? And of course all of the pieces are classics, Ralph Lauren never goes out of style."
Katie's Perfect Hamptons Brunch
Walking into Lee's house for a midday meal, our mouths were already watering (remember that thing we said about the grilled donuts coated in Nutella?). Clad in a tropical flower-embellished shirt dress (classic Ralph Lauren meets Malibu beach house) and holding a bouquet of white roses, she kind of epitomized the ultimate hostess. Of course, sitting down to a meal of frittata, a strawberry kiwi quinoa parfait and, yes, those donuts, was pretty much the cherry on the proverbial cake.
"It's so much fun to have friends over for brunch. It's less pressure than a dinner party and the relaxed atmosphere makes for great 'coffee talk.' I like to make dishes that can be prepped in advance, like a frittata (which also tastes great at room temperature). These strawberry kiwi quinoa parfaits are one of my go-to brunch dishes. They are bright and colorful, healthy and so easy to make. The lime zest really brightens up the flavor. It's important to have a good balance of dishes on the menu. I always offer a healthy item, something with eggs and then one dish that's really indulgent, like these grilled doughnuts with Nutella.
I always brew a big pot of coffee. To make it a little bit more special, add a cinnamon stick or star anise to the coffee grounds before brewing. I also always have tea on hand, and in the summer months, I'll serve iced coffee and iced tea. As far as cocktails go, break out the bubbly! Champagne is great on its own, or you can add a fresh squeezed juice or fruit puree, like peaches with a splash of elderflower liqueur and fresh mint for a twist on the classic Bellini."
Katie's indispensable hosting tips:
"Always have rosé on hand! We go through so much of it in the summer in the Hamptons. I also have drop in or last minute guests for cocktails often, so I keep ingredients on hand for 'hors d'oeuvres on the fly.' Take a log of goat cheese and spread it with apricot jam and a sprinkling of pepitas for a quick snack, or some spiced nuts and olives always do the trick as well. I shop throughout the year for cute cocktail plates and cloth napkins on sale, too."
Her expert hosting advice aside, it was the vision of Lee casually serving us frittata while wearing a bright blue Ralph Lauren jumpsuit (proving that jumpsuits might just be the most comfortable, yet reliably #flawless sartorial choice ever) that really drove the brunching-at-home-is-better point home. Bon appetite, kids.
Chilaquiles Frittata
INGREDIENTS:
10 eggs
2 cups crushed tortilla chips
¼ cup cilantro
1/4 teaspoon salt
¼ teaspoon freshly ground black pepper
1 tablespoon olive oil
1 cup chopped tomatoes
8 scallions, white parts only, thinly sliced
1 cup corn (cut from the cob or thawed if frozen)
1 serrano pepper, minced
1 (four ounce) can green chiles
1 cup grated Monterey Jack/Cheddar blend cheese
Sour cream and salsa, for serving
DIRECTIONS:
Preheat oven to 300 F.
In a large bowl, whisk eggs. Add chips, cilantro, and pepper. Set aside.
Heat olive oil in a large ovenproof nonstick skillet over medium high heat. Add scallions and Serrano pepper and sauté until tender. Add tomatoes, corn, and chiles and cook about 3 minutes. Pour in egg mixture and top with cheese. Transfer to oven and cook for twenty minutes. (The temperature is low and this cooks longer than a typical frittata. I find that cooking eggs low and slow like this gives better flavor and texture and you don't get that overdone egg taste.)
Cut into wedges and serve with sour cream and salsa if desired.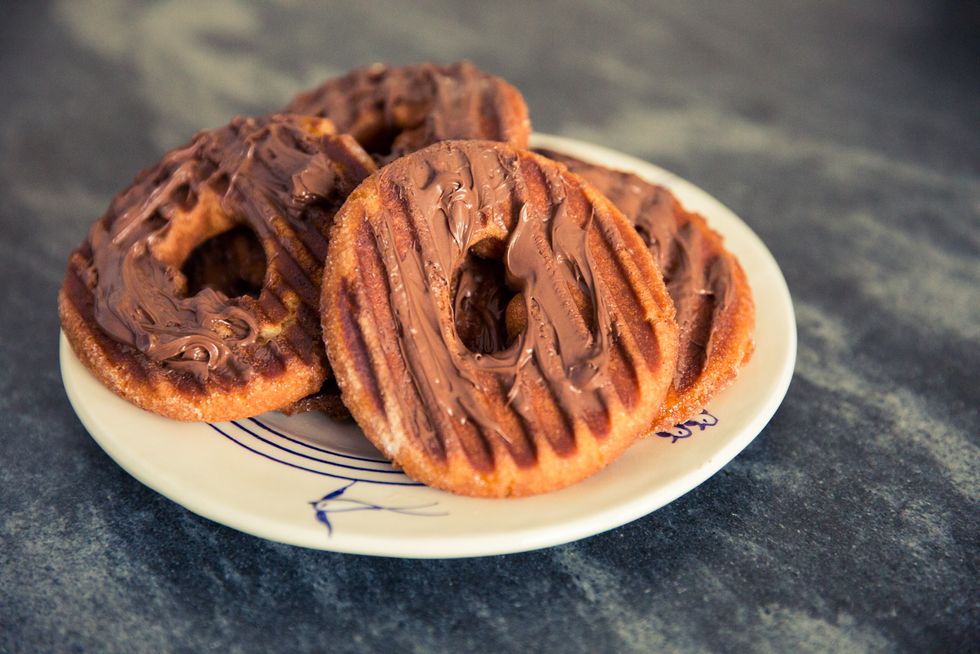 Grilled Doughnuts with Melted Nutella
INGREDIENTS:
4 cinnamon sugar doughnuts
¼ cup Nutella
DIRECTIONS:
Preheat a Panini grill to medium high. Place doughnuts inside and let cook about 2 to 3 minutes. (If you don't have a Panini grill, you can also use a grill pan and place a weight on top of the doughnut to press it down.) Meanwhile, microwave Nutella until melted, about 40 seconds. Serve doughnuts with Nutella for dipping.
Strawberry Kiwi Quinoa Breakfast Parfait
INGREDIENTS: 
2 cups plain 2% fat Greek yogurt
1 tablespoon honey
Finely grated zest of 1/2
a lime
1 cup cooked quinoa, cool
8 large strawberries, diced
2 kiwi, peeled and diced
DIRECTIONS:
In a small bowl, stir together the yogurt, honey, and lime zest.
Put 4 small juice glasses (6 ounce) on a work surface and put 2 tablespoons of quinoa into the bottom of each glass. Add 1/4 cup of the yogurt to each glass, followed by about 2 tablespoons of the diced strawberries and kiwi. Repeat the layering in each glass, and scatter any additional fruit and quinoa that is left over the top layer of yogurt.