Career
Sarah Britton
Author; Founder, My New Roots. Copenhagen
In case you hadn't noticed from our weeks-long tribute to our favorite recipes, the whole food blog My New Roots has a special place in our kale-loving hearts. So when we heard that founder Sarah Britton was releasing her first cookbook, getting her on Skype (live from her idyllic kitchen in Copenhagen) was our first priority (after pre-ordering our own copy, of course). After admiring her site for so long—it's pretty much the reason we ever started thinking of chia seeds and flax as pantry staples—there was a lot to discuss. Herein, she talks about her wakeup call and foodie epiphany, the importance of eating seasonally and how we can all eat like her—actually.
---
ON HOW MY NEW ROOTS CAME TO BE:
"For those that read the blog, they know that I did not grow up in a household that cared at all about healthy eating. I grew up on a lot of processed foods—just normal foods: hotdogs, boxed cereal. My parents were busy and didn't like cooking, so that's what we got. And we survived obviously, but I really had no relationship to food; it didn't excite me that much. I became vegetarian when I was 16, but I hadn't done research about what you need to eat instead of meat; I just stopped eating meat and replaced it with bread. I went to France when I was 16 and I literally ate two baguettes a day with Brie or Nutella, and I did not know why I was gaining so much weight. I didn't know anything about nutrition, clearly.
 
After I studied design, I kept hearing about this place called Arcosanti—an experimental community in the desert in Arizona. I went for a five-week workshop and ended up staying for a year. That was the first time I'd ever worked on a farm or even been close to what I was eating. Without intentionally doing it, I went on a major detox. I gave up all processed food; I was pretty much only eating what we were growing. 
 
I had the craziest wakeup call of my life: I just realized that I had been living in a complete mental fog and feeling really tired and just not well for 23 years of my life. It was a really remarkable time—very transformational. I was living in a cabin that was 8 feet by 8 feet in a forest by this river and I was working on a farm. Although I was super into camping and nature and stuff, being from Canada and everything, I'd never really immersed myself in it for such a long time. Just things like, getting up with the sun and going to bed with the sun—and I started doing yoga every single day. The point is, I became more connected to the natural environment—the rhythms and the seasons—and felt good for the first time in my entire life.
 
When I got back to Toronto, I had no idea what to do with my life. I had this design degree, but I'd just spent a year living in the middle of nowhere and that was the best I've ever felt physically, emotionally, spiritually. So, I thought, maybe I should look at cooking. I became super into food when I was there just because I was growing so much amazing stuff and using it to cook—this was the first time I'd ever tasted a real tomato, or a real pear, or a real peach. I thought food was really fun after that. Through looking for cooking classes in Toronto, I stumbled upon the private school for holistic nutrition that I ended up going to. I got my certificate and I thought I would go into private practice for holistic nutrition—but I just wasn't loving it. 
 
I'd hang out [with my boyfriend at the time] and we'd talk about all the cool stuff I was learning about: like, oh, you should really try this bee pollen and did you know this about kombucha? One day, when I was extolling the virtues of spirulina, he was like, 'Sarah, I have an idea. Why don't you start a blog?' I remember saying, 'What's a blog?' And he was like, 'It's a place where you can put stuff online, so people who really care can listen to you. I don't really care.' Our relationship didn't last long past that, but he gave me the inspiration for My New Roots."
ON THE RISK OF MEGA EXPOSURE:
"At the beginning it came out of pure heart space and just wanting to share with the world. And now it's my job. It's still total heart space, but I feel a lot of pressure to keep it up, to maintain a certain level of quality in terms of the photographs, the writing, the recipes. I get the craziest emails—they're so flattering, but at the same time, it's a lot of responsibility. And I am hard on myself if I put a recipe out and not a lot of people comment. I just feel like I'm under a magnifying glass sometimes."
ON HER RECIPE INSPIRATION:
"I get inspiration from a lot of different places. If it's warmer, it's something in the garden that I think is really rad. It could be going to the market and finding something I've never worked with before, or someone sends me a cool product. Or, today, I have a friend in Copenhagen who owns an organic spice shop and it's so beautiful—I went in there and just played with different blends and made an Ethiopian spice mix. So I'm going to do a blog post about that! 
 
I don't know where it comes from, honestly, because I don't come from cooking stock—my family hates cooking. I feel like I'm a conduit. I don't know how I come up with recipes so easily—it's pretty effortless. I think the more I cook, the easier it becomes. I can look at a head of broccoli and 30 recipes will just come into my brain… it's bizarre. I really don't feel like it's me. I cook everyday for my family—I might try something two or three times and then make it a blog post."
ON DECIDING TO WRITE A BOOK:
"I was the last of my peer group of bloggers to have a book, which I think in the end was good. Random House just happened to come along at the right time. Although I kind of felt like a snail amongst everyone else, I thought I needed to give myself a right amount of time. If I'd known how much work it would've been I probably would've said no.
 
Being the masochist that I am, I decided not to use any recipes from the blog—they're all new. I think there's two or three in the book that are old, and that's only because they were the favorites and people love them. I came up with a hundred recipes."
ON THE IMPORTANCE OF EATING SEASONALLY: 
"[In terms of seasonality,] I discovered when I was studying nutrition there's a real link. Eating foods that aren't seasonal, you really aren't preparing your body for the external environment and that's one reason why we can get sick a lot in the winter. If you're eating bananas and avocados in the winter, or in the summertime if you're eating a lot of roasted beets and pumpkins, or if we're eating asparagus in February… When you get fresh food, you don't have to do anything to it, it's just delicious.
 
The book is seasonal—it's using five seasons, in fact, not four. When I was studying holistic nutrition I was very interested in traditional Chinese medicine and their calendar is five seasons—summer is divided up into two: early summer and late summer."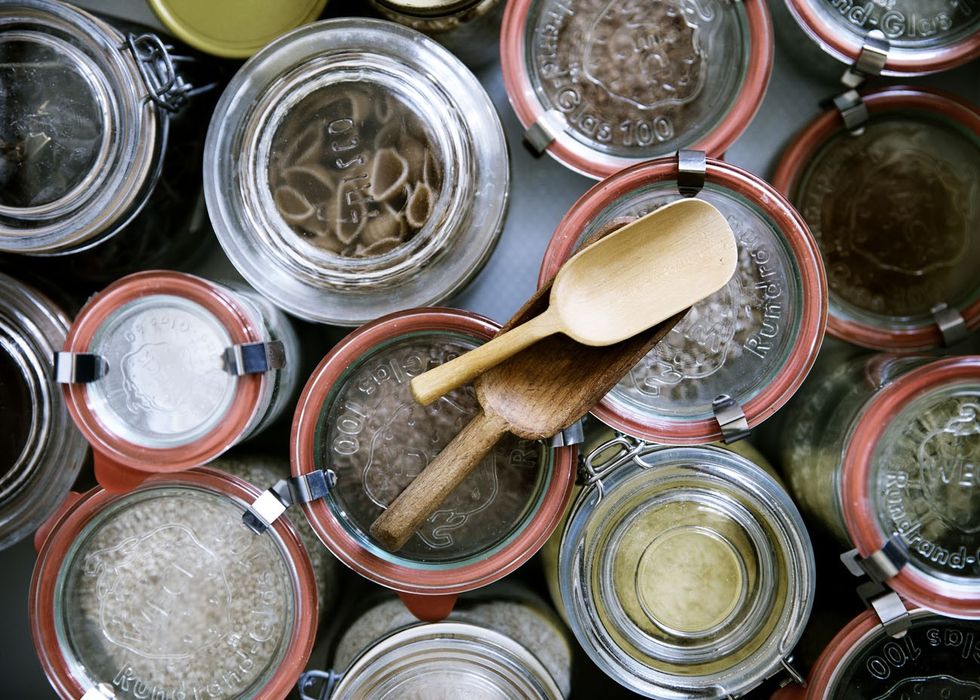 ON PHOTOGRAPHING REAL FOOD:
"My background is in painting. My mother is a painter and I went to school for fine art to study painting, and then randomly decided that wasn't for me and went to Montreal and studied design. I have a very traditional fine arts background. It's so weird how everything comes together—I use all of my training on a daily basis. Whether it's color, composition, light, all these things that matter so much. The photographs are not just point and shoot, although I like to think I style them a lot less than other people. I try not to go over the top with the sprinkles and whatever. I don't use tweezers and I'm not like spraying oil to make it shiny—the food is real and that's really the way I put the sauce on it. 
 
I want to attract people to this kind of eating, not repel them because they think, 'Oh that looks too complicated or too precious or too hard.' I'm trying to be as honest as I can-but obviously the food needs to look as beautiful as possible. When the food is fresh and seasonal it just looks amazing on its own. The photography is a really special part of what I do. It allows me to express myself in that way that I kind of miss because I don't do a lot of painting anymore."
ON HOW TO INTRODUCE MORE WHOLE AND HEALTHY FOODS INTO YOUR DIET:
"I'm always trying to tell people to make really small changes and take small steps. Increasingly, there's so much good food at a regular store. [In standard North American grocery stores] I couldn't believe how much the organic section has expanded and how they have brown rice pasta there now and quinoa all the time. They have much better breads that use sourdough instead of yeast. Just go to the grocery store and get the best of whatever it is you want to get. If you want to get pasta, find the highest fiber pasta you can. Look at the ingredient list and find the things that are the simplest and closest to nature. 
 
It's taken me nine years to get to where I am and I'm still going and it's never ending. Being patient with yourself is really important, allowing for those days when you're like 'I feel like a falafel.' Go get a falafel—who cares? But to start working in more and more produce. People think eating healthy is so complicated. Just eat more vegetables.
 
It's kind of like, if you go to a yoga class and then you go the week after, you will notice you can stretch a little bit further. It's the same thing will running—if you run consecutively you're like, 'Oh I can run a little bit further and a little bit faster'. It's the same with eating healthily: you notice the benefits really quickly and it motivates you to keep going and make other changes. If you ate a whole head of broccoli this week, what can you do next week? How can you drink more water? How you can cook for yourself one night a week? It has to be small beginnings and those little victories need to be celebrated.
ON HER DAILY GRIND:
"I do recipe development for different magazines and things like that for different publications, or I do a lot about detoxing. I'm like the detox queen, which I find very funny because I'm not into detoxing that much. I firmly believe you should eat healthy every day and then you don't have to go to drastic measures and 'cleanse.' I do encourage the idea of eating cleaner, so that's why I do them. So Oprah, Martha Stewart, those people approach me and I design programs for their magazines or website. I do a lot of recipe development and I write for different places from more of a holistic nutrition perspective. Right now I'm just trying to figure out the book tour—it's a crazy puzzle."
ON HER BOOK TOUR AND COLLABORATION PLANS:
"I'm really excited about the book tour. I will be doing just different events. Hopefully chef collaborations, booking signings, and I'm hoping to do an indoor pot luck. I really love collaborating with chefs. I've worked with some of the most talented chefs in Europe at this point. What we end up doing is a dinner collaboration and me and the chef create a menu with the healthiest ingredients. I will take one of their recipes and give it a makeover and they will give me ideas on techniques because I have no formal training in cooking at all. I learn so much in, but conversely the chefs also learn a lot and end up using some of the recipes in their restaurant, which is so amazing. 
 
I'm a really social person and I've ended up doing a job where I'm completely alone. It's really nice to go out and meet the readers—people are just so loving and enthusiastic and they remind me that I'm not alone in my kitchen, I'm with like hundreds of thousands of people doing this, doing it for them and we are doing it together. It's so rad. It's the most gratifying feeling and just feel so lucky to be doing it every time I go out in the world and meet people."