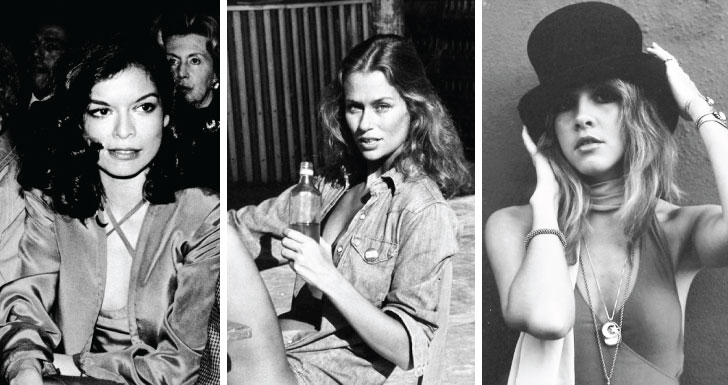 That '70s Trend
Think less Jackie Burkhart and more Jackie O.
The flares. The fringe. The fifty shades of burnt sienna. Our obsessions may come and go with the tides, but we've been holding out for That '70s Resurgence ever since American Hustle (and we have the suede swatches to prove it). After a fashion week chock-full of all things circa-seventies, we officially have the go-ahead to embrace the Annie Hall epoch with the largest pants we can get our hands on.
Taking cues from the era's fashion icons like Stevie Nicks, Jackie O, Lauren Hutton and Diana Ross, we broke out the trend into three categories—the Laurel Canyon hippie, the All-American it-girl, and the Studio 54 regular. Here's how to incorporate '70s style into your wardrobe without looking like you're perpetually en route to a decades party.
STYLE ICONS:
Stevie Nicks, Marianne Faithfull, Joni Mitchell
With all of the hippie hair undulating over shoulders this season (models were given strict instructions to go to bed with wet hair—they literally woke up like this), we've been sartorially inspired by all things easy, breezy and sepia-toned. We credit our Laurel Canyon obsession to Chloé's fall 2015 show, where models floated down the runway to Fleetwood Mac, all middle parts and midi skirts, draped in the kind of lacy frocks and gauzy muumuus that make us want to twirl through fields strumming an acoustic guitar (or, you know, at least camp in one of those Coachella teepees). Embrace la vie bohème by swapping your denim for suede or layering a whisper-thin dress under a floor-skimming wool coat à la Joni Mitchell.
STYLE ICONS:
Tina Chow, Bianca Jagger, Diana Ross
It was the glitter-flecked, secret-riddled zenith of late-seventies nightlife. From the lamé pantsuits to the purposeful frizz to the bedazzled bodysuits, Studio 54 has permeated our Pinterest boards and #TBT posts ever since we caught a glimpse of the time capsule that is Todd Papageorge's debaucherous photo book. It was where Andy Warhol rubbed shoulders with Dolly Parton; where Diane von Furstenberg, Cher and Liza Minelli could be snapped side-by-side on a leather banquette; where you could turn to your left and see Calvin Klein, and to your right and see the Village People inhaling laughing gas with the Jaggers beside a pony. Seriously.
Suffice to say, we too would have caught disco fever had that have been our real life—we love us some Soho House, but there's just no modern-day comparison (probably for health and safety reasons). But we digress. We've been channeling 54-regulars Bianca Jagger, Tina Chow and Diana Ross in the form of dressed-up androgynous suits, gratuitous side boob, and the glittering pants that launched a thousand American Apparel ads. Oh, and re-watching Dreamgirls like it's our job (BRB).
STYLE ICONS:
Lauren Hutton, Jackie O, Ali McGraw
From Jackie O's saucer sunnies to Lauren Hutton's XXL pants, if there was one thing the decade did right, it was cementing the All-American signature style. Caramel leather belts cinched high waists and hot pants, the no-brainer top was a tissue-thin button-down, and no outfit was complete without a hat or scarf (preferably both). We've been channeling our inner Ali MacGraw and slotting '70s silhouettes into our wardrobes with structured shifts and wide-leg denim.
And the trend isn't just relegated to weekend-wear—remember that classic shot of Farrah Fawcett peering over a shoulder in an outfit that only be described as Charlie's Angel business-casual (plaid blazer, suede button-down, indigo flares, the works)? We've been paying homage to the power suits and knee-high boots of the Nixon era this season with muted plaids, hits of shearling and fur, and the occasional oversized paper-airplane lapel. Consider us seventies-suited up.