Deskside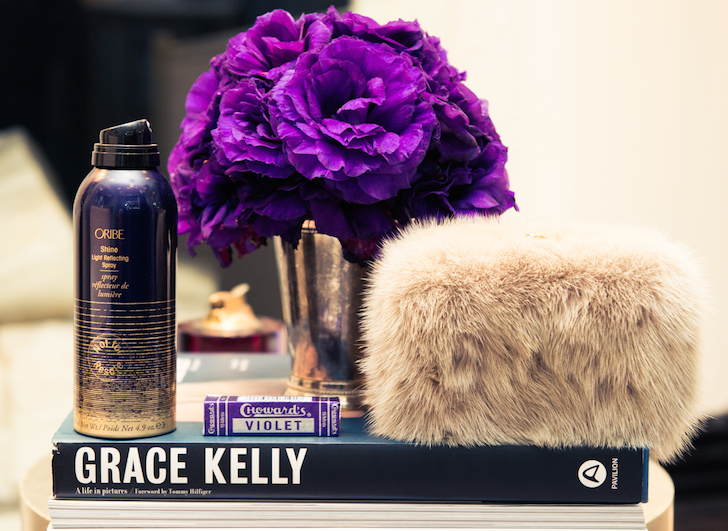 Deskside: Cassandra Huysentruyt Grey
CEO & Founder, Violet Grey. Los Angeles
Welcome to Desksides, The Coveteur series in which we sit down with leaders in various creative fields and figure out how they got there. We guess we could've also named this, "how the hell do I get your cool job," accompanied with a "help me I'm poor" GIF from Bridesmaids, but then realized going the mononymous route was a little more succinct.
The allure of Hollywood is well-documented, and thus, what one could easily think of as being as, well... a little overwrought. But its enduring glamorous appeal ultimately comes out on top, every time—and no one understands the push and pull quite as well as Cassandra Huysentruyt Grey, who, we would argue, is right up there in the movement to bring intrigue and creativity back to Los Angeles (alongside the likes of Hedi Slimane, who made waves upon announcing he would design for Saint Laurent on the West Coast rather than its native Paris). Huysentruyt Grey might have arrived in her native California kicking and screaming from NYC, but it wasn't long before she dug deep into Hollywood's legacy. It helps, of course, that she's also the same woman who can single-handedly put Bruce Weber, Jack Nicholson and Pharrell Williams in one room; and sure, her Instagram is usually littered with behind-the-scenes Polaroids of Grey arm-in-arm with Lorne Michaels or dancing with Christian Louboutin. And that's precisely where Violet Grey, the entrepreneur's content-meets-commerce destination comes in, documenting "Hollywood's beauty culture" (via editorials that are at once epic and intimate, featuring everyone from Eva Mendes to Lauren Hutton) and allowing readers (and shoppers at its IRL Melrose flagship) to peruse the industry's "hero products." Kind of like getting the ultimate insider guide from every glam squad in the league. Here, Grey reveals what she's learned since launching—and why you never want to mess with Amazon.
ON LIFE BEFORE VIOLET GREY:
"I worked as a consultant in San Francisco and New York; mostly doing influencer marketing, some branding and event marketing. Kind of lending my brain to making something or someone more popular. I view that part of my life as an education. I knew I was going to start a company in my early thirties. I studied, mostly luxury brands, but also tech companies, like Apple and Google. I've always been really interested in the 'why' of companies, the trajectory of a brand and what are the common threads. I've always been most fascinated with the psychology of why people are attracted to things or why people purchase things."
ON HOW HER (RELUCTANT) MOVE TO L.A. CHANGED EVERYTHING:
"I moved to L.A., reluctantly, for my husband, and was exposed to Hollywood. I lived in San Francisco as a teenager and in my early adult life, it was all about getting to New York— I thought this is where I am supposed to be. I felt it was the most exciting city in the world, it had everything I need to feel stimulated as a curious person.
I definitely wasn't inspired by L.A. or Hollywood. I had a lot of misconceptions about it and being from San Francisco, you have this aversion to L.A. as being superficial. It's the other California. I was with my husband long distance for about a year and a half before I decided that I couldn't spend this much time on a plane. I gave up my apartment in the West Village, a fourth floor walk-up, 500 square feet or something, that I had worked so hard to get and loved so much; and moved to L.A. 
That really was the catalyst for starting Violet Grey. I got to thinking about business and what I was going to do. Thinking about beauty, I just realized that Hollywood is the most influential beauty culture in the world."
ON THE BEGINNINGS OF VIOLET GREY:
"I've written lots of business plans and bought lots of URLs. We'd write business plans that were 4 or 5 pages long, basically outlining some white space in the market; either around an initiative for a client or an actual company. 
I wrote this business plan when I was still in New York, for a conceptual commerce company in the prestige beauty space. I guess it really was born out of personal desire, that myself, as a consumer of beauty, really couldn't find a place online that had a distinct point of view and curation of products or information that I trusted. I realized, 'oh, this is a pretty big opportunity', that most people are still shopping at the brick-and-mortar beauty counter. Within this cultural zeitgeist, people are finding their beauty recommendations from trusted sources like magazines. You're finding what you're meant to buy. Maybe you're tearing out pages and going to the beauty counter. It just seemed like a problem to solve. How can I aggregate content that really tells stories or educates women on how to navigate the beauty market?"
ON PRESTIGE BEAUTY BEING PROTECTED FROM THE 'AMAZONS OF THE WORLD':
"I love companies that are born out of culture, or brands that are born out of points of view. It added a layer to the story that made it richer and more emotional for me. Having studied branding all my life, it's very much like a character in a book. When brands start to become brands, they are living and breathing entities with a lot of identity; and when they're great, they tend to be really layered with history and DNA. This is how we begin to trust them and adore them and engage with them. They really become a culture and a community, so they're much bigger than an idea. As these different layers of emotional connectivity start to come together—content and commerce and digital—prestige beauty is really exciting, one of the last categories that doesn't compete with Amazon. If you're trying to compete with Amazon, good luck! Luxury is one of the last categories that's pretty protected from the Amazons of the world."
ON LEARNING TO LOVE HOLLYWOOD & WAITING FOR THE OTHER SHOE TO DROP:
"Hollywood, in the last ten years, has become very different in terms of the way we perceive it. It's very commercial, it's very exposed, there's a lot of reality TV, smoke and mirrors and superficiality. Some of that doesn't lend itself so well to a luxury brand that's deeply steeped in art and culture. But in reality, what Hollywood stands for is the most incredible storytellers of all of time. Creating characters through wardrobe and makeup and hair and words and lighting... it really does have a lot of integrity around image-making and iconography and all of that. That, to me, was a really exciting revelation because I really didn't understand how glamorous it really was or how much there was to pull from. 
There's so much undocumented stuff here. Even in the architecture or the way people used to live [out] here. That all became really exciting and I really fell in love with it. And then this miraculous relationship, where I'm just completely in love with my husband, and work. Everything feels right and exciting and challenging. It kind of feels like, 'when is the refrigerator going to fall on my head?'"
ON BRINGING TOGETHER CONTENT & COMMERCE:
"In our modern world, you really have to be content and commerce to sit at the table. If you are in the business of engaging with people, then you need to have some emotional connectivity. You need to have something that inspires and engages people. Everyone is competing for eyeballs. It's about developing a relationship with an audience and how you monetize that relationship. We really don't think of ourselves as a commerce company, or even a content and commerce company; we really think of ourselves as a point of view, a culture and a community that is interested in story telling and curating. But it's all about servicing an audience. Content is a very important part of business in general and it motivates me, certainly, and a lot of the [Violet Grey] team, because that is the magic of what we do. We're just starting to scratch the surface, [but] it's definitely the fun part of the business."
ON THE BOOK EVERY ENTREPRENEUR HAS TO READ:
"There's a book that Ben Horowitz wrote, called 'The Hard Thing About Hard Things'. It was hands down the best book I've ever read about starting a company or entrepreneurship. I've read a lot of books and that's definitely made the most impact on me. 
My strategy in life has been to surround myself with people who are smarter than me that I can learn from. I have a lot of mentors and I've gotten a lot of good advice. Some of the best advice is, 'if you don't know what to do, don't do anything right away.'"
ON NOT PRESSING 'SEND' ON THAT RANT-Y EMAIL:
"Communication is key and in my opinion you can't communicate enough. Over communication is very healthy in any company environment. A lot of people, including myself, tend to communicate via e-mail and about sensitive, potentially political subjects... If you're starting to feel angry or misunderstood, get in the room in front of somebody and talk about it. Don't respond on email. This is a huge source of political cancer for companies; when they're communicating in a way that isn't straightforward."
ON WHAT SHE LOOKS FOR IN STAFFERS & THE INTERVIEW PROCESS:
"I often say that to build a great company you need vision, people and money; in that order. 
I think one of my talents is identifying talent; people have looked for us and I've looked for people. I always wanted to build a company that people really want to work for. I have two co-founders, Tiffany Bensley and Ariella Feldman, that really are such a big part of everything that we do. With building our team, the three of us are the leadership and we've learned the hard way that the recruiting process is really important. 
You have to have more than one interview. People get nervous and it takes a few times to really make an assessment. People who ask questions is a good sign, when they start to interview you. To me, that says that you care about who you are working for and what they are going to offer you. Really just makes me believe that you value yourself more. I like when people ask a lot of questions. I like when if they don't know the answer or they get nervous, they say, 'I'd love to get back to you on that' or 'I'd like to think about that.' That's really smart. What's magnetized for us is that you are smart, passionate and trustworthy. You have to be passionate and you have to really want the job that you are seeking out."
ON HOW DIGITAL IS CHANGING THE LUXURY GAME:
"Luxury brands, the really good ones, are really good because they protect their intangibility. The luxury playbook is [about] limited distribution. Exclusivity, that's the antitheses of the Internet. You're open to everyone. When you put your brand online, you're handing your brand over to the people, which makes people really nervous, and rightfully so, because they've really protected their perception. We built this company for those kind of brands to protect and celebrate them. In this oversaturated digital space where everything is accessible and everyone has a voice, positioning becomes really important. Creating an environment that celebrates the story of these brands is filling a void, because there really isn't much luxury real estate online."
ON WHAT'S NEXT FOR VIOLET GREY...
"We really want to service our clients. We want to give her the best in beauty across all categories. Curating fragrance, bath and body... we're just curating life stages, like maternity and bridal, so that's really fun. On the commerce side, we want to do more exclusive products and collaborations with our brand partners. We're finding that there are certain things missing in the market that we'd like to create. Thinking about what she needs, doing the work for her, and making sure we have everything she needs in her cosmetic wardrobe.
On the content side, we are making probably two or three pieces of content a week now. We've just started to ideate our video strategy. It's exciting, because we're in Hollywood and there are so many incredible filmmakers, directors, actors and writers... you have all of this talent. It's about finding them and creating a strong vision for what kinds of stories you want to tell with this medium."