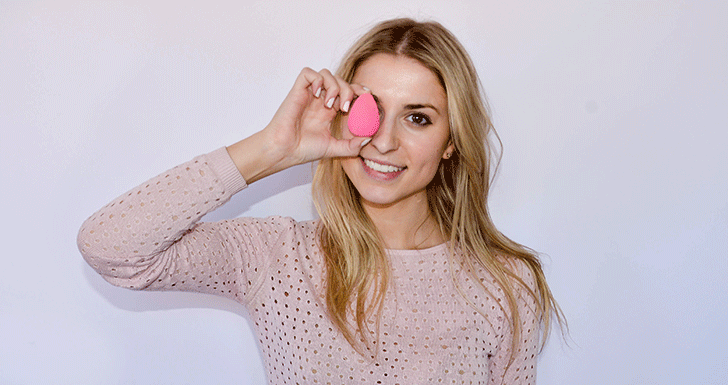 Makeup
Do it right and you'll never have cake face again.
---
The little spongy hot-pink egg that has flipped and reversed
our whole makeup method, in the best way possible.
But thus, we regress. Friends, meet the Beauty Blender, the little spongy hot-pink egg that has flipped and reversed our whole makeup method, in the best way possible. We'll admit, when we initially saw this oddly shaped applicator, we figured it was an infomercial one-hit-wonder. But then, we started seeing it in the kit of every. single. makeup artist — actually. It got us thinking: has this innocuous little sponge made our brushes, fingertips, powder puffs, and airbrushes (remember, they had a very brief moment on the shelves) obsolete?
After much experimentation, it might actually be the ultimate applicator, seamlessly and efficiently blending product into your skin for a flawless complexion.
This one is important, guys. We'll admit our first go at it we totally missed this. The result? It soaked up a fair bit of product. So take note: run the egg under water and squeeze out till there's just a smidgen of moisture left.  
The trick here is not to pump out the foundation directly on the sponge. First squeeze out a dab onto your hand or mirror.
Step 3
Blend, Blend, Blend
Dip the round bottom end into your foundation and apply to your skin in small, gentle strokes. No need to apply much pressure, the sponge will do most of the work for you.
Apply concealer to under eyes and any spots that need extra coverage. Use the pointed end to get into the corners. 
For a natural flush, repeat on the apples of your cheeks with your fave cream blush.
" I'm a bit of an amateur when it comes to daily makeup application. Actually, maybe the word for it is lazy. Any extra steps or products or tools have to really be worth it for me to introduce them with any regularity. As it is, I don't use a proper foundation; I use a super light Aveeno BB cream (moisture and SPF being the keys here). I usually just rub it all over my face the way one would cream, so using the beauty blender, it was definitely a more even application, but it lessened any coverage the product does offer from minimal to next to none. When it came to my concealer, however, this little thing was genius. I use a pretty thick liquid concealer, and the Beauty Blender made the coverage essentially seamless. Same goes for a cream YSL blush I use in the winter. My flush looked natural and, well, blended."
- Emily, Senior Editor
"The funny thing is, the first time I used the Beauty Blender, I had to idea how to actually use it. I completely missed the memo on wetting it first and dove right into the application. Big mistake. It sucked up so much product, which had me scratching my head as to what all the fuss was about. It wasn't until the next day during our usual morning water cooler convos at the Cov HQ (you know, about stuff) that I had that 'AHA" moment. Duh, I did it all wrong! The next day things were completely different, guys. I mean I used about half the amount of product. I will say, it wasn't as much coverage as I usually get with my foundation brush — BTW, I actually use a fluffy bronzer blush for my liquid foundation but that's a whole other story — but it would be perfect for days when I feel like I don't want a heavy face of makeup."
- Noah, Senior Editor
" I went a long while dismissing the Beauty Blender. A fuchsia, egg-shaped device, the star of it's very own informercial, a price point nearing the exorbitant mark for a sponge... a formula rife for me ignoring the existence something. Even as the rave reviews, both online and IRL, began to pour in; I shrugged it off as another fervent beauty craze I just didn't need to participate in.
 
And then, one arrived at the office. Everyone likes free stuff; I took one home. This is where a little context is required: I have a thing for concealer. It's probably my answer to the beauty-product-I'd-take-to-a-deserted-island question, because I know you were wondering. Stumbling upon a new holy grail iteration is akin to nirvana for me; and in the pursuit of a smoother, easier, better blending process, I gave it a try one morning. Dutifully following the instructions, I wet the sponge, wrung it out, and tapped on my usual primer. It felt awfully... decadent. The description of stippling as 'bouncing' was also oddly appealing. And then came the test: applying my usual undereye-and-as-necessary concealer. The result? I not only got better coverage with less product, said coverage was seamless, undetectable in an entirely new way. The kind that wonders you what the hell your make-up looked like before. Now where's my informercial? "
- Meagan, Senior Editor & Social Media Manager