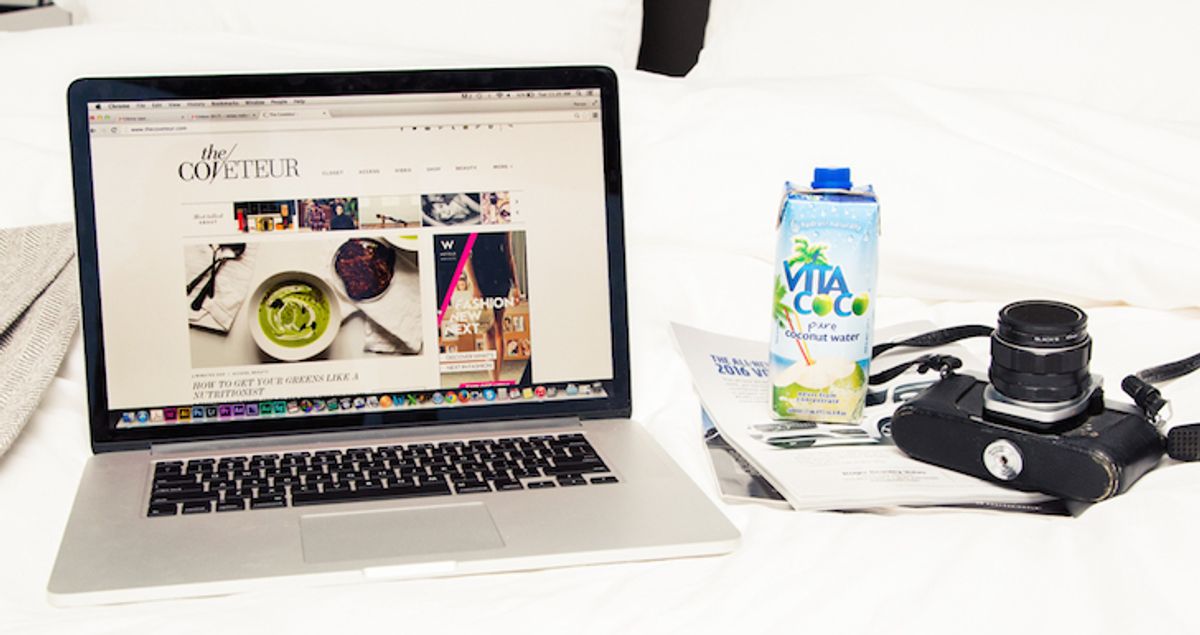 Career
From 3 stylists, editors, writers & all-around creatives who have been there, too.
You wake up on Monday morning— let's say at 11 A.M.— pop a Melazio pod into your Nespresso, check your emails while it froths up the caffeinated libation inside, grab your laptop, and sink right back into bed. Listening to T-Swifts 1989 on repeat? Yup, no judgment, guys. You get an invite to your BFF's seemingly spontaneous (again, no judgement) impending nuptials on some beach in the Caribbean…next week. Impromptu vacation? No problem. But wait, is this real life?
Here's the thing: it so can be.
Let's be honest, freelancing is just about as liberating as work gets (hence the whole "free" thing). And if you're anything like us, you've likely fallen into some black hole daydream on everything life could be if you could just work out of your living room or some brick and mortar coffee shop. Okay, so it isn't all unicorns and butterflies, there are some things that scare the Céline out of us. Take for example the inconsistent assignments, the 30-day late invoices (and parched bank accounts), and the fact that we would have to maintain a schedule that somehow resembles that of a normal 9-to-5 human.
Before you go ahead and pen your resignation letter, we asked a few freelancers what it's really like to be self-employed and what they wish they knew before making the switch. Take note, friends.
---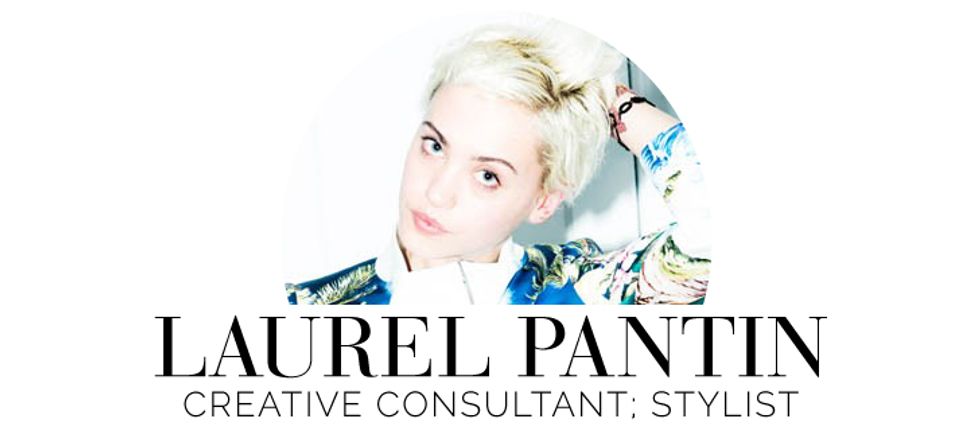 CV INCLUDES: GLAMOUR, LUCKY 
On transitioning from a full time position to freelancing…
"When I went freelance, I also left New York — we're moving back again this summer, but still—so there was just tons of anxiety. When you're freelance, you've got to hustle and take responsibility for everything in a way that you don't have to when you're on staff somewhere. Figuring out when you're being persistent and when you're being annoying... that line is very subtle! It's been weird figuring that out and trying to self-promote in a way I've never really had to before. I'm also really shy, so networking definitely isn't my favorite. On top of it, I'm in a new country, so making work connections here and all of that from scratch has been super challenging, but also a great experience and really valuable. I signed with a creative agency in Cape Town pretty quickly after moving here, which has been incredibly helpful for styling."
On her first days struggles…
"The slow times are a little weird, I like to always have a lot going on. I like to have a few writing projects going on so that when I'm not styling, I'm still busy, but there was a week or so recently where there wasn't much going on and I felt pretty weird. The slow times, and the whole thing about self-promoting and networking are a little difficult for me."
On her triumphs…
"Signing with my agency, One League, here [in South Africa] was great! I think I'm still so new to this that kind of every time someone wants me to do anything for them, I'm like, 'YESSSSS!' It's still exciting and fun and new."
Advice on going freelance…
"Try and make some kind of routine or schedule that you stick with, even when there's not much going on. I've found it really important to keep some consistency day-to-day just so I feel organized and in control of my different projects. Also, this applies to people who aren't freelance, but say yes to as much as you possibly can. Make hay while the sun shines!
On the importance of connections…
"I wish I met with more people before I left New York. It's really important to maintain relationships and keep people up-to-date on what you're up to. I wish I spent a little more time doing that before I moved."
On why being nice helps you get further…
"I think being nice to everyone is really good blanket advice. There's the whole thing about never knowing when you're going to need someone's help, or who you're going to end up working with, but I also think it's easier to be happy when you're being nice. When you're freelance a lot of the time you're going to get hired not just because of your skills, but because you're not a total pain in the ass to be around, so it's good to be happy and friendly and pleasant."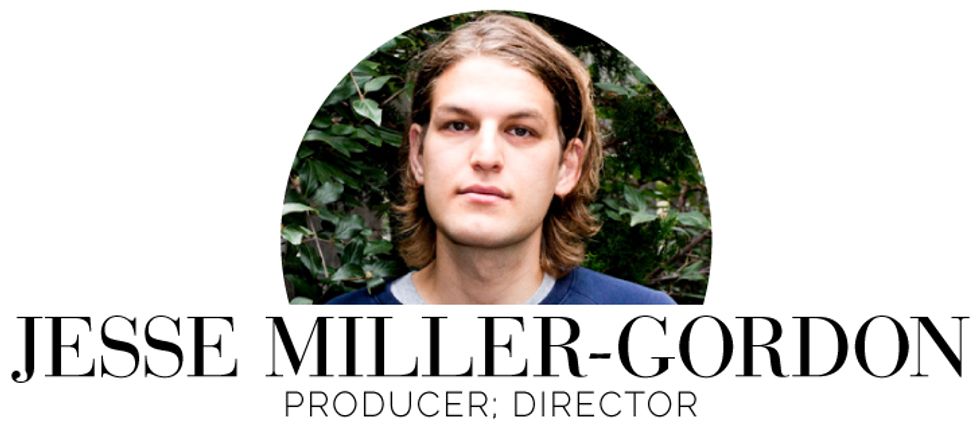 CV INCLUDES: VICE, PITCHFORK, INTERVIEW MAGAZINE, STYLE.COM, VFILES
On why going freelance was the best option for him…
"Everything I want to do doesn't fit at one particular outlet, that's the main thing. Different places want my writing more than my video—sometimes there's overlap, but no one place brings on someone to just do their own pitches across whatever media. Also, the uncouth dress code is part of it. I'm wearing a button down pajama top, Umbro shorts and a Jimmy Buffet shirt, writing this on my bed. I'm listening to Dipset's 'I Love You' on repeat, and have been for twenty minutes. Who's going to stop me?"
On when he realized working independently would make him happy…
"It wasn't until I had an office job that didn't really allow me time for outside projects that I really started to feel caged in a bit. The work I was doing for salary was less exciting to me than the opportunities I was passing up outside the office. It became clear that I had to go freelance to be happy."
On the risk vs reward of working for yourself…
"The cons are what keep a lot of people away from freelance: the inconsistency, the risk, the money, and the late payments. The payoff is freedom. I'll make less if it means I get to work on what I want — it's part of the deal."
On going straight into freelance from school...
"I went to school thinking I would want to go to law school directly after, so I never learned video in any practical classroom setting. I took a writing class or two, but mainly kept it to myself. Going straight to freelance initially made sense because I didn't have the first clue how to go get a job at a media company or creative agency. I started a short lived production company with my good friend Skye, Glasnost NYC. It was some of the most fun I've had up to this point working in the world."
On the biggest frustrations…
"Late payments is always the thing! No one likes to be tacky and complain about it, but it's tough and it's across the board. Sometimes I'll produce a shoot, get paid in a timely manner, then get an email from someone in hair and makeup weeks later that is still waiting on payment! It's everyone's struggle who freelances — being compensated fairly and on time is always a concern."
On letting go of your 9 to 5 expectations...
"Be prepared to be broke in spots. I'm always trying (trying) to save up. Make sure you wake up every day at the same time you would if you had an office job — only addendum to that being if you have a bar or service job at night — and DON'T BE AFRAID TO GET A SERVICE JOB. The whole point of freelancing is to work on what makes you happy, right? Don't end up chasing the same stories and jobs you'd have avoided because rent is due (but definitely take them when rent is late, that's real)."
On handling the paperwork of it all…
"I wish I'd set myself up to handle my taxes in a saner way. There couldn't be a more bland, straightforward, boring answer, but there it is, man. Taxes. How many 1099's does it take to bring tears to the eyes of a grown up? Spring for an accountant that's familiar with your field, then put me in touch with him."
On the best career advice ever given...
"My dad told me to, 'stop talking about making the thing, and just make the fuckin' thing.'"
CV INCLUDES: ROOKIE, THE GUARDIAN, ROLLING STONE, BUZZFEED, DAZED & CONFUSED
On ditching her office job for a full time freelance gig...
"I left my office job as a writer for a 'media company,' two words that, when paired, skeeze me out a little, because I didn't believe in the work. I also wasn't making very much money, and I had been offered a part-time story editing position at Rookie, the website with which I am in romantic love, so I dipped. That part-time deal developed into a full-time one, where I am an independent contractor.
I work mostly remotely, meaning I can (a) edit it from anywhere, which, in the recent past, has included in between shots on unrelated freelance jobs (I feel weird calling them 'modeling,' but I am sometimes paid to take pictures in garmentzz), my empty bathtub, which is my most frequent office at home since it's the only place where my cat won't bite me, for some reason, my grandmother's plastic couch in New Jersey, AND (b) I'm coming to you live in skanky knee socks with JFK on them, my boyfriend's felt baseball cap, matching satin intimates, and cat scratches, since I'm on the living room floor on my stomach instead of in the dry shower.
I love being freelance because, at my first full-time editorial job, I had a strict non-compete. At 22, the age I was throughout the time I held that position, all I wanted to do was EVERYTHING, story-wise. Now I can, as long as I take care of Rookie, work on my book, Action, which is forthcoming from Grand Central, and the new site I started, Enormous Eye, first. My favorite places to write, outside of Rookie, are Rolling Stone, NME, The Guardian, and Dazed & Confused, but I badly want to break into food and travel writing, and to write about literature."
On not being afraid to get a side job…
"Before I graduated and was able to start full time at the Corp-O-Site where I began my editing career, I worked at a coat store in the East Village, and I regretted quitting it SO badly to take the associate editor job. I spent all day slow-dancing with the old ladies who came in and getting Dumpling Man soy sauce on the stories I worked on at my desk. I sold the bejesus out of those coats on commission, too. I loved being a salesperson; it's in my bloodline, plus it kept me in Diet Dr. Peppers. Find a job that brings people in front of you, too, because writing is [puts on word-poetess voice] "a solitary act," per, like, every Paris Review "THE ART OF WRITING" interview ever. That shit is real!"