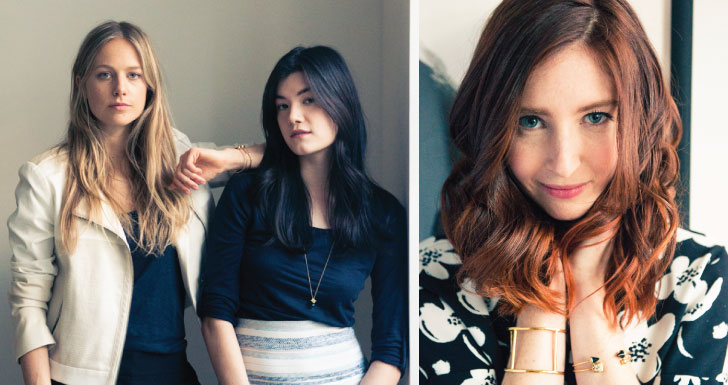 Deskside: International Women's Day Edition
Sarah Slutsky, Stylist & Director of Brands & Partnerships, Cinematique. Jen Steele, Editor & Anna Gray, Contributing Editor, Girls I Know. In collaboration with Ann Taylor.
Welcome to Desksides, The Coveteur series in which we sit down with leaders in various creative fields and figure out how they got there. We guess we could've also named this, "how the hell do I get your cool job," accompanied with a "help me I'm poor" GIF from Bridesmaids, but then realized going the mononymous route was a little more succinct.
In celebration of the fact that this Sunday is International Women's Day, we've teamed up with Ann Taylor's Changemaker campaign to bring you an extra special edition of our Deskside column by featuring a few women who are making serious waves in their respective industries (and under the age of 30, no less). Not that we need a special occasion to get some motivational advice from the likes of Sarah Slutsky and Jen Steele and Anna Gray, but suited up in Ann Taylor's spring collection (think professional-with-a-twist pieces, like printed shirts, slim-cut trousers and stripy pencil skirts) and with a mission to elevate powerful women (right here, guys)... well, we couldn't not grill them on exactly what makes these women tick.
---
---
Jen Steele & Anna Gray
girlsiknownyc.com
We have a thing for profiling women who have done great things (hence this very story). So, too, do Jen Steele and Anna Gray, the brains behind the website Girls I Know, where they interview all of the incredibly inspiring women—from writers and publishers, to bankers, restaurateurs and photographers—that amounts to their supersized Rolodex of New Yorkers. (Go to the site and prepare to settle in for a few hours.) We chatted to them about our mutual admiration for powerful women, the importance of style in fashioning an identity and Beyonce.
ON THE VISION BEHIND GIRLS I KNOW:
Jen Steele: "Girls I Know is a website about different women in New York that are all dynamic and creative, and have different careers, things to say and points of view. It's very vast, eclectic and diverse. Girls I Know began as a site to encourage other young women by way of the careers and influence of others; women that have already had substantial careers or successes or interesting lives. We take Polaroids and photos of these woman in their environments and capture the essence of who they are. Then we tell the story of how we know them. It's usually a really beautiful New York story, sort of random. Sometimes they are people we have worked with or people we have met through friends. The main point is that they have put a mark on us in some way. We then ask random questions to get a little glimpse into their personality."
ON LAUNCHING THE SITE:
Jen: "We launched the site two years ago. We started with 10 women. There was the woman who started CosmoGIRL! and was EIC of Seventeen Magazine, Atoosa Rubenstein. At that point we were just asking each woman one question. We both wanted to keep it very streamlined and simple, so I asked Atoosa, 'When was the last time you were afraid?' which I think is an interesting question to ask someone who is in such a place of power.
The first year we featured yoga instructors, waitresses, doctors, a woman that worked on Wall Street in banking—just a really good, solid group of young women and older women."
ON THEIR INSPIRATION :
Jen: I had a back stock of Polaroids from my travels working in fashion and a long list of women that I have met. For a while I considered myself very lucky to have met so many woman who were so inspiring. Then I had an internal conversation with myself and realized I wasn't lucky, I was just very open to meeting people. If you stay very open and aware, especially in a city like New York, you will find yourself encountering many wonderful people. So I started documenting that."
ON THE MEANING OF POWER:
Anna Gray: "A powerful person is someone who doesn't focus on what people think about them when those people don't matter. I think you should always have a perspective of yourself that's reflected in the people that you care about. But it's really hard to have the self-confidence and self-awareness that comes out of knowing what you want and who you want to be—people who have that are extremely powerful."
ON DEFINING A CHANGEMAKER:
Jen: "I think a changemaker is someone who isn't afraid of taking risks. A little bit of fearlessness is involved when you think about what you can contribute to the current climate—social, economical—that we live in. It's deciding which change you want to make and not being afraid to embrace what your talents are. You don't have to subscribe to one type of profession or one attitude to conjure change and make a difference."
Anna: "A changemaker is someone who doesn't follow a traditional career path; they recognize all their own individual talents and energize them into any category they feel makes the most sense.
I think a changemaker is a powerful person who recognizes that something is wrong or could be better—whether that's in media or film or art or writing or fashion, in any occupation. Seeing that something could be better and striving to make it better regardless of what boundaries they might cross."
Jennifer: "We never knew how to define any of these women, but they are inherently all changemakers."
Anna: "Some of them have extremely traditional jobs, but within their own career paths they have done things that set them apart from the traditional role. We have featured a lot of stay-at-home moms who are super strong and incredible mothers and their children are fucking awesome—that's not a new career path or a new idea for a womanhood, but the way that they live their lives is something people should pay attention to because their self confidence is extremely apparent. When you meet them, you're like, 'Wow you are magical. I've never met anyone like you and you are inspiring.'"
ON HELEN GURLEY BROWN'S PIONEERING PUBLISHING WORK:
Jen: "Helen Gurley Brown was a woman who was quite ferocious in making change in the women's publishing industry. She was EIC of Cosmopolitan for many years in the '70s and she sort of instigated a sexual revolution and a feminist idea when it comes to how woman are projected in the media."
ON WOMEN HELPING WOMEN:
Jen: "Currently we are working on a redesign to change the interface—keep it this mysterious, special Internet treasure, but make it a little bit fresher so that we can keep the fire burning and alive. There's no monetary value to the site; we do it purely out of our motivation to share other people's stories. I feel very grateful to have known these people and I wouldn't be where I am without them—their voices can help other people as well. It's a method of connectivity. For example, Clancy McCarty, who we featured, works with Every Mother Counts, Christy Turlington's nonprofit. I had a friend who was interested in working for them, so, by way of Girls I Know, we connected these people and now she has an internship with Every Mother Counts.
People that have been on the site that do casting, call me and they say we want to get to know someone we've featured. It's a really great opportunity for connecting. We haven't found a method to get that going; it's not like a Facebook or LinkedIn scenario, but the potential exists in this really rad way."
ON STAYING INSPIRED:
Jen: "Our first zine launched in November; we only started with 100 copies and they sold out, which was awesome. I've been doing a little bit of traveling and taking more photos for the second zine—it's really great to be excited. Everyone has a vision in their mind about what they want to do, but if you do it and see it come to life, that's what inspires me the most."
Anna: "Like Jen, I'm a creature of habit... I go to the office five days a week fromm 10 AM to 6:30 PM. I take the same train, I walk the same blocks, I go to the same place for coffee. It's easy to fall into these routines and forget you live in one of the most amazing cities in the world and you have this cool job. Every now and then you take a different route or someone will cross your path who's different or who you haven't seen in 10 years and you will be reminded that you are in a sparkly scenario—that's always very inspiring."
ON HOW THEY MET:
Anna: "Jen and I met in a bar, playing pool. She is from Wisconsin. I've been in New York for seven years—I came here for college. We both have suburban backgrounds: little girls moving to the big city. I think we found each other because the longer you live here, you get much better at immediately knowing who you are going to vibe with. When you've had a close-knit group of friends for a couple years, the people you meet from there are going to be significant to you. That's how Jen and I met—she was important and I could tell."
Jennifer: "When we met, Anna said something really specific when we met, like, 'Girl after my own heart,' which I think sold me. And then we really didn't cross paths again for a year. I started dating her best guy friend, still my boyfriend, and we are all in this fun group of friends. I started Girls I Know after leaving a magazine job; Anna had just graduated college and I asked her if she wanted to help. She was frankly the only person who understood what I was talking about and understood my vision—part of it was that I couldn't quite articulate what I wanted to do but she just saw or was inspired by the mission.
We work well together as business partners and as friends. Our birthdays are two days apart, we're both kind of even keeled, no surprises. I'm a few years older than Anna, not that makes much of a difference, but I learn a lot form her because she has a different set of skills than I do. And she learns from me because I've been around for a little bit longer."
ON THEIR "REAL" JOBS (A.K.A. THE ONES THAT PAY THE RENT):
Jen: "I work as a stylist and a writer and I also do branding initiatives for Ganni, this label out of Copenhagan."
Anna: "I studied literature in college; I'm a writer by trade. I work for an interior design service called Homepolish. We have a supplementary digital magazine that I'm the editor of. Before that I had a million jobs. I was a model for Opening Ceremony for a while. I was a stylist, I worked in PR, in retail. A lot of just staying in New York is the hustle and finding something that pays rent. From that multitudinous experience, I met a ton of fascinating people, a lot of them are incredible, powerful, intelligent super-women and it's super exciting to be able to share their stories with the Internet."
ON PERSONAL STYLE AND IDENTITY:
Anna: "Identity is incredibly important to us; style is incredibly important to us—I mean developing an outward-facing personality based on what you look like. I think it's really important to be able to walk into a room and say something about yourself without speaking.
My style is ever evolving. Sometimes I dress really crazily with sequins, and sometimes I dress simply in all black or all white. Jen's style is also extremely eclectic: sometimes she looks very '90s and sometimes really '70s—she's good at the decades. It comes from her music as inspiration: she watches movies and looks at weird old photo books and she recreates these insanely awesome outfits."
ON THEIR INTERVIEW SUBJECT:
Jen: "If I could think of a dream interview, one would be Beyonce. I met Beyonce when I first moved to New York; I was an intern at Seventeen. I went to her listening session when her father was still her manager. I wore a sunflower dress from H&M and she told I was the cutest thing she saw that day. That's not the reason I want to feature her, but I technically know her because I met her, and she is just such a badass and such strong representation of women in entertainment.
The other is Joan Didion. She is coming out with this beautiful documentary that her nephew is doing. The things she has written and said and the impression she has made on American literature is profound.
I really wish I could have gotten Helen Gurley Brown. She passed away the year I crossed paths with her in the freight elevator. She was in a wheelchair at the end and still going to Hearst tower. And it was one of the moments when I sort of have regret that I never asked to take her photo or get to know her more or ask her questions.
Dolly Parton—she is pretty cool. She wrote so many of those American classic songs that many people don't know she was behind.
I'm overwhelmed by the possibilities. I still want to shoot my grandma. In the zine, we did a feature on mothers in New York: young mothers, old mothers, mothers in-law; it's such a celebration. So grandmothers are next. My grandmother raised me so she's someone I really want to put on the site."
ON HOW TO BE HEARD IN CREATIVE INDUSTRIES:
Anna: "I think it's all about vision, understanding what your vision is and what you want to do and feel it with every part of yourself. To be able to compete in the current media climate where everything is happening and social media is constant and never ending and becomes another limb on our body, you have to have a clear vision, to understand what you want to execute and do it. And use your resources and ask for help from people that can help you. Fearlessness. Act the change in your life."
---
---
Sarah Slutksy
Cinematique / Stylist
You know how Emma Watson is essentially unmatched when it comes to red carpet boldness (and subsequent wins)? That dress-over-pants Dior ensemble? The Misha Nonoo jumpsuit she wore to the British Fashion Awards? Yeah, that's all Slutsky. But on top of styling maybe the only interesting red carpet fixture in the game, she's also the creative brains behind Cinematique, a New York-based startup that makes video "touchable" and shoppable (just watch the videos on this here page to see what we're talking about). Take a look at their client list—it is, in case you were wondering, a big effing deal. Herein, she talks being a fashion person (and a woman) in the tech industry and how she manages her dual careers.
ON BREAKING INTO THE FASHION INDUSTRY:
"Since I can remember, I've wanted to tell stories and be involved in the creative narrative of fashion. What I love most is how it comes together in an aspirational but also very emotional way. So, as I embarked on my educational path to working in fashion, I chose a program that was full of internships, and I really made a conscious effort to get a breadth of experiences—from fashion design to trend forecasting through styling, and even to the advertising and graphics side of things.
After school, I was very persistent and met with as many people as I possibly could, and I was very fortunate to end up at the editorial department at Vogue. I guess for somebody who wants to tell stories through fashion, you can't really have a better starting point. I was so thrilled to work there and it was truly an incredible experience.
From there I met one of the founders of Cinematique at a coffee shop at random—it just happened out of a serendipitous opportunity. I was immediately drawn to the Cinematique platform once I started talking to the founders about their filmmaking backgrounds and their passion for quality content and narrative."
ON HOW HER STYLING WORK AND HER ROLE AT CINEMATIQUE COMPLIMENT EACH OTHER:
"As I moved into a more permanent role at Cinematique, we realized how styling and this incredible technology platform really do go hand-in-hand. What you're looking at is communication. When I'm styling I'm thinking about what I'm trying to say. What is the person I'm working with trying to say? It's always about communication. They seem really different, but ultimately, if all of these passions didn't collide, it wouldn't work."
ON WORKING AT A STARTUP AS OPPOSED TO A BIG CORPORATION:
"When you're at a big company, the day is defined, you know what your tasks are and you have a system in place. At a startup it's not that way at all: you learn as you go and you have to be nimble. Vogue set me up to be reactive and able to handle the myriad of situations that come my way at a startup."
ON THE SPECIFICS OF HER JOB AT CINEMATIQUE:
"In the beginning, it was very much proof of concept, laying the foundation and getting the fashion community and other verticals aware of our existence and what we are capable of. Very early on it was hitting the pavement, having conversations and working just to be heard. I was fortunate that people were receptive, and kind and generous with their time, and willing to hear about this new way of viewing film.
Now that we've had some great partners and established ourselves as a video platform with serious legs and a whole new idea, my day is really about helping brands to create optimal touchable video experiences. Reaching out to brands is still an important part of my job, getting them excited and bringing them on board. But once the presence has been established, it's about how we become creative and how we make these videos truly dynamic pieces that viewers will want to return to over and over again. So my job can be anything from advising on the story board and letting people know where great touch points can live and what kind of content can go with them, to helping my team generate new programs that brands can be apart of. We are still very much a startup so there's still development and day-to-day brainstorming about the future of Cinematique. The desire to continue to create and innovate is the defining factor of all of the Cinematique team members."
ON THE IMPORTANCE OF DOING IT ALL AND HAVING AN IMPACT:
"It's really important for me to be doing both [styling and working on Cinematique]. Having both keeps me on my toes; I'm always working on something, I'm always looking at images and seeking ideas. Styling is very fulfilling for me—I really enjoy the experience and I love thinking about how clothes can be interpreted in many different ways, and I also really love how styling can impact people in positive ways. I remember when I was young, looking at people in that world as role models, and I kind of hope that someday I can carry that torch, and reach people and impact people in a good way."
ON MANAGING HER TIME:
"Oh my gosh. I'm still working it out: it's hard. I have to thank my friends for being so loving and patient and understanding, and when I need them, they're there. Ultimately, when a task comes to you, you have to tackle it and do it well. If you're just constantly handling what comes to you, it can all be done. There's no room for procrastination. If you put something off, slowly it builds up to 100 things you put off. What I can say is that the only reason I can do it all is because I truly love them both. I'm so fortunate for both experiences—they are equally important to me."
ON BEING A WOMAN IN THE TECH INDUSTRY:
"Coming into this tech world I think I was very aware of this whole, 'Woman in tech' issue. From day one I realized that if I'm going to take this job, I'm going to have to do everything I can to be important when it comes to sitting down at the conference room table and making sure that my voice is heard and that I'm an equal contributor in every way that my male counterparts are. I will say, I'm a pretty fortunate founder in tech: the three other founders are all male and very respectful towards my ideas and encourage my growth. I feel very much a part of the team. But I do make sure when I go to a meeting that I'm poised and ready to speak with confidence.
I really want to make sure that women do feel like they are equal in this community and in the workforce; and I do believe in equal pay for equal work. It's a topic that I feel passionately about. As someone who's very hungry to work and do good work, I hope to encourage and mentor and be there for other women who want to achieve the same things."
ON THE IDEA OF WOMEN HELPING WOMEN:
"I hope that someday we get to the point where its people helping people. But I know right now if we don't support one another and realize that we all benefit when the community is supportive and encouraging, we are only setting ourselves back. For me personally, I've really tried, when I've had interns—and I have an incredible assistant—making sure that every person you take on as a member of your team is nurtured and able to ask questions. You're investing in them in the same way they are investing in you and they should be growing and set to achieve success. But I do hope eventually it's people helping people to be better versions of themselves."
ON THE BEST ADVICE SHE CAN GIVE TO WOMEN HOPING TO BREAK INTO ANY INDUSTRY:
"Ultimately, related to tech or not, the advice I would give is to be relentless and pursue your dream no matter what it might be. I know there are women around the world who have obstacles put in front of them, but I think we need to be our own champions and surround yourself with group of individuals who will support you and make you dreams possible. I think education is so valuable, but at the end of the day, being self-motivating and realizing you can do what you set out do, that's the number one piece of advice I would give. Just keep going."
ON KNOWING FASHION WAS FOR HER:
"I grew up in Chicago and I think that the number one reason I am in fashion and love fashion is because of my grandmother. I'm not even kidding when I say she was a vision. I remember just being so inspired by her, she felt like such a beautiful, strong woman. She would take me with her to trade shows and we would go up and down Michigan Avenue. But because of my grandmother I never even really considered anything else, it was jut something I loved and felt attached to and it really feels like me. And then I went for it. It's funny, my dad still thinks I'm going to go back to school to become a lawyer. Sorry Dad, it's not going to happen."
ON DRESSING UP EVERYDAY:
"For me dressing up is part of my DNA. It's emotional, and honestly, I usually fall asleep thinking about what I'm going to wear the next day. A lot of it is defined by what my day is going to look like. How long will I be on my feet? Will I be going uptown and downtown and all over? What do I have after work? But I mean, I do try to dress to feel ready to conquer anything. I can't go out the door until I feel like my best self."
ON HER MORNING BEAUTY ROUTINE:
"I've narrowed my process of getting out the door in the morning down to the minute because I'm not a morning person at all. I've learned in the last year, through of my dear friend and makeup artist Charlotte Hayward, about jojoba oil—it has been my saving grace. Every night and every morning, it's the first thing I put on. And then generally it's a simple tinted sunscreen or moisturizer because I'm fair with freckles. I love a strong brow, so I'll always brush my eyebrows up. Generally I use Givenchy mascara in the morning with some Charlotte Tilbury eyeliner and that's about it. I'm pretty simple as far as getting out the door. I wish I was someone who gave myself a great hairdo and a blow-dry every morning, but usually I have crazy-wavy hair. However it looks, I'm going to have to work with it. Sea salt spray is my saving grace I guess. "