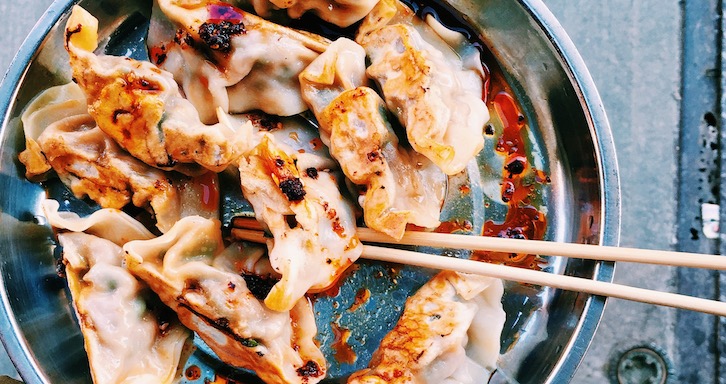 Date Night: New York
3 great date ideas in the City that Never Sleeps.
Our friend Remington Guest (of the lip-smacking Tumblr, The Cheap, The Best & The Hidden) knows good food and where to find it. (He's done it once for us before when he put together the list of New York and L.A.'s top vegan and veggie spots.) That and the fact that he's more than a little, ahem, cute, might just make him the perfect date. So we asked him to pool his resources and come up with three ideal dates nights on each coast. We'll pass it off to him to break it down in his own oh-so-special way and leave you with one tip: leave this open on your boyfriend's browser. You're welcome.
Date #1
Steamy & Sus Institutions
Text your date, "ey gurl, wear something comfortable, like some Louboutin sneakers." Do this with maybe an hour to go before you're meeting up. She'll be mad and confused, but more importantly excited because she's not going to Max Brenner for the 3rd time this year. If it's a Thursday, start at the New Museum. It's way more G to be in the know about free cultural shit. The museum is small, but fun. You can run through it in about 20 minutes. Head over to Lam Zhou Handpull Noodles for the best dumplings you'll ever have. Don't give me that, "but I've had some pretty good soup dumplings." It's the strangest and most suss looking place—you order by numbers because they legit not a word of English spoken. Now head over to Pell Street and get a foot massage. Yes, because this is the overall best activity of all time. Next, hit Apotheke because you're across the street and there's not as much of a chance the entire place will go up in flames again. Also going earlier versus later is easier. Not dealing with the door BS is the move. Chill here for a while. When it's time to move or you're hungry, head to Chinatown institution Wo Hop. This is the most sus date of all time. But for most of it you'll be in small steamy environments or an underground cocktail bar. YOU: 1 WINTER: 0
New Museum
235 BOWERY, NEW YORK
tip: There's a bakery in the back of the first floor. This museum is really fun on a caffeine and sugar high.
tip: Occasionally there are free movie shorts downstairs. Maybe you'll get lucky, idk.
tip: The roof is dope, but you can't go on free days.
tip: Don't get there right at 7 when the doors open. Everyone lines up and it's weird, because if you show up around 7:30, there's no line.
Lam Zhou
144 EAST BROADWAY, NEW YORK
tip: Stay the path and order the fried dumplings. Far and away the best you'll ever have.
tip: Utilize all of the sauces, etc. on the table.
Foot Heaven
16 PELL STREET, NEW YORK
tip: I mean...
Apotheke
9 DOYERS STREET, NEW YORK
tip: Self explanatory place. Find it and go inside. Nom Wah tea parlor is next door in case you're wondering what the crowded place next door is.
Wo Hop
17 MOTT STREET, NEW YORK
tip: Authentic Chinatown vibes.
Date #2
Taylor Swift likes Cookies Too
This is for you uptown girls. Start at Café Sabarsky because you'll most likely be waiting for an hour to get a table. Thank you, tourists. Afterward, hit the Met, but make sure you pay that suggested rate. This is a drive-by to steal some cultural vibes. Then head over to the new Joe Coffee, grab one to go and walk down to Levain. Levain has cookies and they're amazing. You can also drop a little knowledge nugget that Taylor Swift tweets about these cookies. Your date will wonder why the fuck you know that, and you can secretly answer to yourself: because Remington's sister tells him weird shit. The date could stop here and you'd have won. But we're not stopping. Head over to Lincoln Center where, from February 12-22, you can check out Dustin Yellins insane installation. From here head to Parm for dinner where the WARM MOZZ HAS MADE A RETURN. Then hit an UBEZ right down the West Side Highway to the McKitrtrick Hotel. NO I'm not suggesting you go to Sleep No More, this date is already approaching a dangerously wild duration. There's a new rooftop getaway with fire and shit. Next level winter activities ✔️.
You drank warm beverages, ate warm cookies, there was fire, and ate at a comforting restaurant with warm cheese. YOU: 2 WINTER: 0
Café Sabarsky
1048 5th AVE., NEW YORK
tip: Go for the pastries and coffee with whipped cream.
tip: This will be you though.
Metropolitan Museum of Art
1000 5th AVE., NEW YORK
tip: Pay what you wish. Literally anything.
Lincoln Center
20 LINCOLN CENTER PLAZA, NEW YORK
tip: Check out the sculptures. More info here
Levain
167 WEST 74th STREET, NEW YORK
tip: Cookies man. Get the cookies.
Parm
235 COLUMBUS AVENUE, NEW YORK
tip: Warm mozzarella. It was served at Torrisi Italian Specialties and is now the only place to get the famed MOZ.
Date #3
Scare yourself and go to Brooklyn. Head over to Fort Defiance and order a cocktail off of the EMOJI COCKTAIL MENU. On Thursdays, it's tropical tiki night (YOU: 3 WINTER: 0). Then go to Hometown BBQ where you will have one of the top 10 meals of your entire life. Have a drink before you leave for Ikea because there is always something you didn't know you needed in the marketplace. Maybe you can have a 500 Days of Summer Moment and jump on all of the beds until you rip your super skinny A.P.C. jeans and have to go home. Take the ferry from Ikea back because you should take any and all opps to be on a boat. You'll be a little drunk and on a boat with a bag full of Swedish candy and potentially some frozen meatballs. IS SHE REALLY NOT GOING TO TALK ABOUT THIS DATE TOMORROW????
Fort Defiance
365 VAN BRUNT STREET, BROOKLYN
tip: Sit at the bar and get some dranks and if you're early enough, oyster happy hour.
tip: The menu is written in EMOJIS. I SHIT U NOT. You can order a :volcano::ramen:(volcano bowl) or a :man_with_turban::man_with_turban::man_with_turban:(gunga din), if you know what I mean.
Hometown Bar-B-Que
454 VAN BRUNT STREET, BROOKLYN
tip: Really hard to tell you what to do because every item on this menu is super fire OVO CREW status, but the pastrami bacon is OUT OF CONTROL. Took the owner 5 months to perfect and you won't forget it in your lifetime.
Ikea
NO ADDRESS NECESSARY IF YOU DON'T SEE IT U DRUNK
tip: Find out what time the last boat back to Manhattan is.
tip: Don't rip your pants jumping on beds.