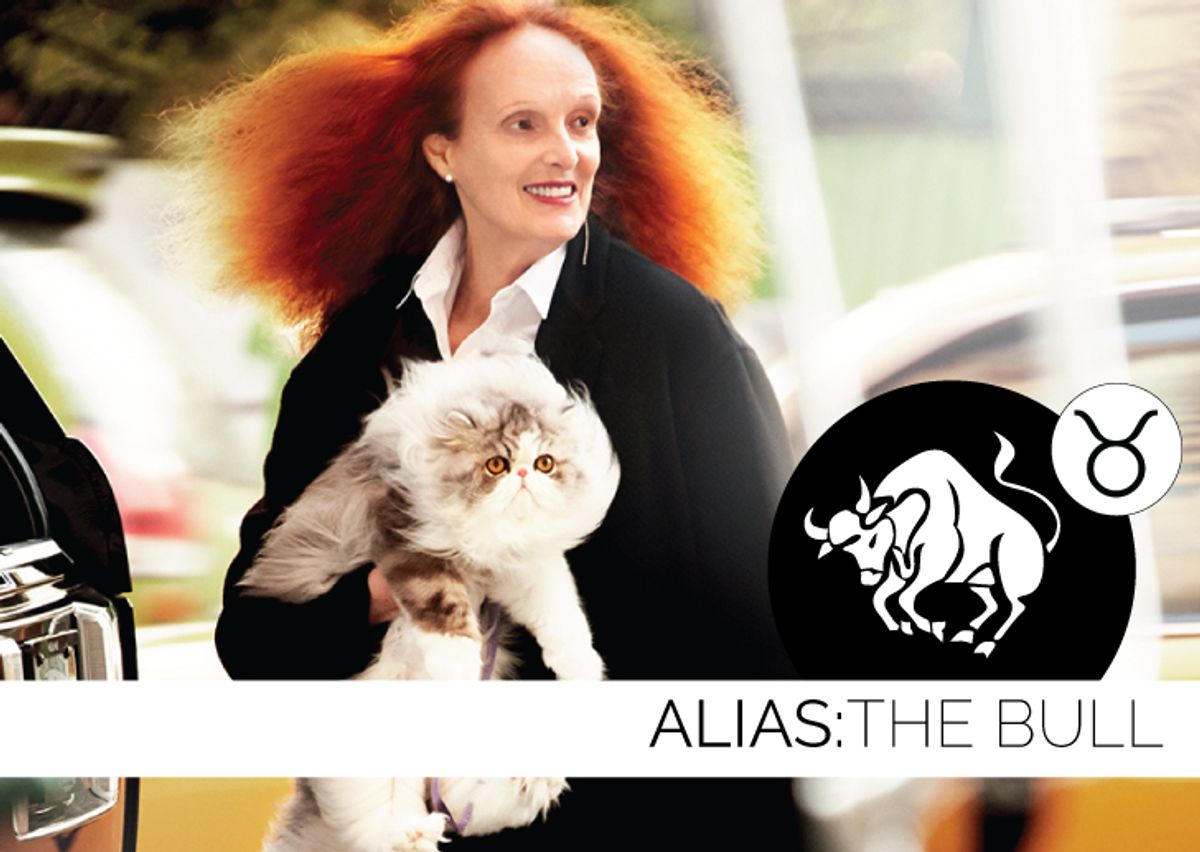 Horoscopes
2015 Horoscope: Taurus
April 20th - May 20th
Grace Coddington, born April 20, is the perfect expression of Taurus—sensual, soft, poetic, and yet at the same time, born with an abundance of practical business smarts.
Taurus
has been tested over the past two years, but that period is, thankfully, coming to an end. Culprit Saturn has moved away, and although will be back for a brief thirteen week period from mid-June to mid-September, once gone, Saturn and won't be back for three decades. Real estate opportunities glitter from now until mid-summer, and you need not move to take full advantage—you may decide to renovate, redecorate, and after that trend ends, from mid-August onward, it's going to be all about love.
---
Your Power Color:
Ms. Taurus, you should wear a light true green—the color of money and also the color of spring. Taurus' profits will come from appreciating her condo or house, or buy selling, buying, renting or inheriting property.
Heels or Flats?
In 2015, you will be busy seeking out paint, fabric and surface samples for your home improvement plan, so you'll need to be built for speed. After August 11 however, Jupiter will make a monumental move into Virgo to light your house of true love—for thirteen months! Switch to sexy high heels... unless you discover you are pregnant—very possible later this year.
What to Flaunt:
Consider wearing your hair up in a messy bun or soft chignon or wrap a pretty braid around your head. Taurus rules the curve at the nape of the neck, which can be surprisingly sexy, especially with some soft tendrils. Taurus also tends to love beautiful, real jewelry, especially necklaces.
Your Personal Style:
Taurus loves to shop, more than any other sign. Yet the Taurus woman will tend to spend wisely and remain practical. She likes to buy quality investment pieces with simple shapes—anything too flashy is out—for her sign is the ultimate producer of all that stands the test of time.
Ladylike Taurus never shouts when a whisper will do. Elegantly stylish, she prefers things classic. Her fabrics have to be alluringly natural and touchable, for Taurus is sensuous. She will most often choose from buttery suede, rich velvets, silks, cottons, linens, cashmere, gabardine and wool. Her special talent is the ability to translate color into a textural experience. For an evening look, Taurus women tend to have curves (her ruling planet, Venus, bestows them upon her). Taurus needs body conscious clothing that show her figure, but in a way that isn't flashy.
Because ladylike Taurus never shouts when a whisper will do, classic lines suit her well. Also add chunky cardigan cable knits this winter and a floral dress, perhaps by Oscar de la Renta, for spring.
Taurus, you are known to be is highly erotic, known for her exquisite sensitivity to touch, sight, sound, taste and scent. Life is full of food, wine, perfume, fresh flowers on her coffee table, a new song on her iPod, and something smelling divine heating up in the kitchen.
The colors of this sign echo the time of the year that the Taurus woman is born, spring, and of their lovely ruling planet, Venus, the planet of grace and beauty.
Think of Taurus and see in your mind's eye Helios, the Sun king, who gave the world light each day. According to the myth, Helios accompanied by his sister Eos (dawn) and wearing a golden helmet, would begin each day in the east and race a chariot pulled by four magnificent horses across the sky, until he disappeared behind the western horizon. It would take all night for Helios to ride in a circular path back to the eastern horizon in time for dawn the following day. While Helios would be more correctly associated with Leo, the dawn that Helios would create by driving his magnificent chariot would enliven all the delicate, soft pinks and blues that we associate with Taurus. It's worth rousing from a deep sleep to try to catch those fleeting translucent colors as Helios rockets by, as those colors, back-lit, are simply indescribable.
As you think of the Taurus colors, you also think of the pale pinks of fragile flowers that bloom at her time of the year. Call up the pale pink that is seen in the profusion of cherry blossoms or the deep pink of tea roses, still wet from the due. The light green of the budding leaves and grass that is so prevalent at the time of the Taurus woman's birth is also associated with this sign.
These pastels remind us of the Taurus woman's gentleness, of the diplomatic and caring way she treats everyone she encounters in the course of her day. We say we are "tickled pink" or "blushing with pride" or "true blue"—all positive associations that describe the femininity of the Taurus woman.
There are more colors that come under the Taurus domain. Add whipped neutrals, from coffee ice cream, to oatmeal, hot cocoa, to bittersweet chocolate. Then add the whole range of taupe earth tones, from sand, stone and mushroom to putty, moss and even mud. Taurus is, after all, the first earth sign, so every color associated with your sign is found in nature, with moist, soft and appealing associations. Few signs are as rooted to Mother Earth as this one, and joyfully so.
When the Taurus woman builds her wardrobe, she will often begin, as nature does, with a neutral brown-to-beige base. For fabrics, she insists on only natural fibers, from silk, suede, and velvet, to cottons and linen and all kinds of wools.
Taurus loves jewelry, because her ruling planet, Venus, teaches her to adorn herself. Unlike Gemini, a sign that enjoys playful, current costume jewelry, Taurus wants the real thing: fine jewelry and real jewels for the safety deposit box. She particularly favors necklaces (especially chokers) because Taurus rules the neck. Princess Diana, who always wore chokers, had the moon in Taurus.
The Taurus woman usually has a wide selection of exquisite scarves—perhaps, Pucci, Gucci or Hermès—to highlight her lovely neck, the part of the body these sign rules.
Do you have a Taurus friend? Then you are fortunate, for she will teach you how to stop to smell the roses.