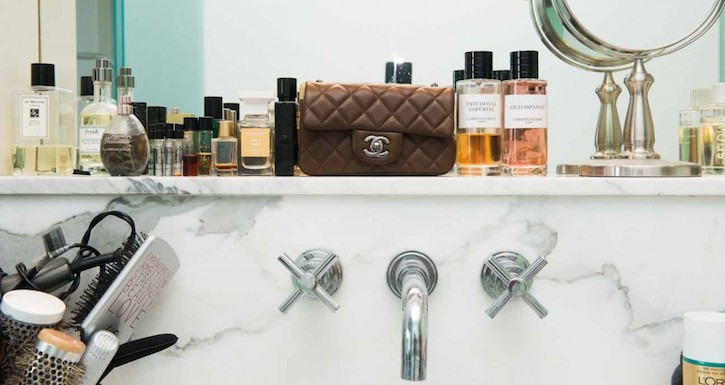 5 Makeup Bags That Double as Clutches
Pouches that are just too pretty to leave on the bathroom counter.
Here at TC HQ, we're firm believers in the art of the all-in-one—salves that smooth our lips and soothe our heels, NARS Multiples tucked into every pocket, and using makeup wipes for everything from erasing salt stains to slicking back flyaways (seriously, try it).
Our latest double-duty asset? The makeup-bag-as-clutch. We were inspired by the Louis Vuitton cosmetic case that made many a night-out appearance after some crafty blogger presumably figured out you can jam an iPhone and a few credit cards between the shimmers and shadows and voilà, mama's got a brand new bag. Shelling out that kind of money for something that just lives in a bathroom cabinet is just not good economic sense, are we right?
Take it from those of us who spend a good seven minutes deciding which lipstick brigade we should arm ourselves with for a given evening—tossing a wallet into your makeup bag and racing out the door is, in the words of everyone's boyfriend, so clutch. And now that we've graduated from the plastic gift-with-purchase cases that come adorned with some kind of grandmotherly floral to actually choosing our own pouches, we've gotten in the habit of consciously opting for those that go from countertop decor to arm candy—read: the leather-tassled, the kitschily printed, and the monogrammed. 'Cause seriously, how much better does our bathroom counter look with a little LV decoration? We're pretty sure the improvement quotient is about as great as the same item's addition to your go-to skinny jean/leather jacket combo.
Herein, five meant-for-makeup bags we'd easily tuck under our arm on the way out of the house (bonus: they're way less $$$ than their actual handbag counterparts). Now shake the glitter off your credit cards, 'cause that shopping cart's not gonna fill itself.
1. The I'm-totally-the-fourth-Kardashian-sister (a.k.a carries plenty of kontouring material) klutch.
2. The handy (read: less expensive) Baguette alternative.
3. The Giorgio Armani Luminous Silk Foundation-toting, minimalist Italian bag.
2. The never-leaves-Manhattan envelope (DiorShow mascara, Lady Danger M.A.C., Neutrogena wipes—check, check, check).
5. The narcissistic-but-not clutch (space for iPhone 6 Plus and an extra large bottle of Charlotte Tilbury Wonderglow with room to spare).