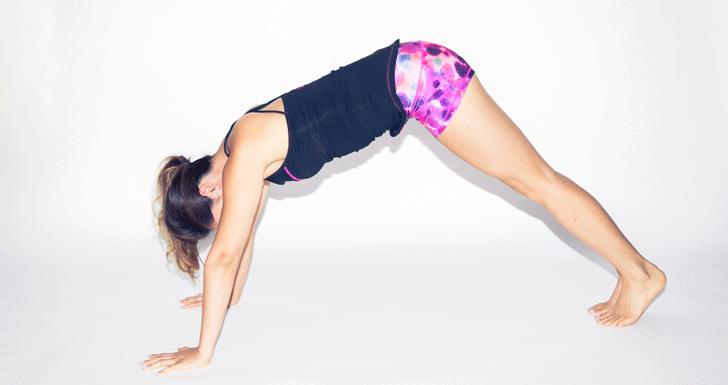 Fitness
Starting with Uptown Funk and ending with Try, think of this as Jazzercise for 2015.
When it comes to working out, music is an absolute necessity. Full stop. One part of it is using an aggressive beat or pop anthem as rhythm-driven motivation, the other is just because it's a mechanism to drown out the sound of our own panting. See what we mean? Total necessity. And our iPods reflect that (Running, Running 2, Running 3, Hardcore Workout Jams, Kick Your Ass Into Gear, etc.).
But the whole working out to music thing (can you tell we've been spending a lot of time in the gym lately—it's still January, you guys, and we can pretty much promise that things won't always be this way) got us thinking… Right now, our music essentially plays (blasts) in the background, but why not actually design a workout to a great playlist? Of course, our friends over at
Equinox
jumped right on board, and Amber Edwards, who teaches Tabata and Barre Burn at classes across Manhattan, sent along a seriously gut-busting full body session, all set to a 10 song playlist designed, well, to get you moving. So now, when the song changes from Iggy to Pharrell, you know it's time for jumping jacks and jogging in place. Oh, and blasting the music so keep from hearing yourself gasping for air is totally still applicable.
---
1. Warm-Up
Mark Ronson/Bruno Mars "Uptown Funk" – 4:30
EQUIPMENT: Body Weight only
- Inhale/exhale 8 times raising arms up over head and down
- Roll down to flat back and back up 4x
- Shuffle in place or light jog for about :30
- Lateral lunge side with arm reach 8x; inch feet closer together to shoulder width apart
- Center mini (pulsing) squats
- Travel 4 mini squats right, 4 mini squats left. Repeat 4 times each direction (8 total)
- Right rear lunge, lift same leg forward to knee, return to lunge (repeat 8 times), then step both feet back to plank
- Pike (downward dog), alternate pedaling feet 8x
- Pike, plank, 2 push-ups; pike, plank 2 push-ups (repeat 8 full sets); then walk feet forward to stand
- Left rear lunge, lift same leg forward to knee, return to lunge, repeat 8x, down to plank
- Repeat pike, plank, push-up sequence
- Walk feet in to stand and shuffle or jog in place for remainder to song
2. Lower body
Clean Bandit "Rather Be" – 3:47
EQUIPMENT: 1 dumbbell only
- Round the World lunge/squat. Right foot lunges forward, squat to right, lunge back, squat to right; repeat on left. Alternate sides for 8 full sets (4 right, 4 left)
- Chorus: Drop to plank and do Mountain Climbers, alternating 8 center and 8 twisting to opposite shoulder. Continue through chorus or about 8 sets of each
- Curtsy lunge on right, then lift right knee to right side to touch right elbow for oblique crunch with dumbbell; try for 16 on right, 10 sec break then 16 on left
- Chorus: Repeat plank/Mountain Climber sequence (every chorus)
- Go back to beginning, Round the World Lunge/squat, dropping for Mountain Climbers for each chorus
3. Upper Body/Core
Iggy Azalea "Fancy" – 3:16
EQUIPMENT: 2 dumbbells
- Renegade Rows—plank position, alternate narrow rows (modify by dropping knees); 16 counts
- Tricep Push-ups—hands on still dumbbells, elbows aimed back, lower chest; 16 counts
- 15 seconds child's pose to stretch, then combine 2 moves: 2 renegade rows, 2 push-ups, repeat for 8-10 full sets
- Thrusters—from plank, jump feet forward to outside of hands to land in squat, lift hands off floor, jump feet back to plank, repeat 8 times, then roll up to standing position
- Go back to beginning adding Thruster: 2 renegade rows, 2 push-ups, 2 Thrusters; repeat 8 times; after 8 roll up to standing position with feet parallel, shoulder width apart
- Deep parallel squat; 16 reps
- Go back to beginning, adding squats: 2 renegade rows, 2 push-ups, 2 squat thrusts (combining Thruster with squat). Repeat full cycle until song ends or until rest is needed
4. Cardio
Pharrell Williams – "Happy" – 3:53
EQUIPMENTt: Body weight OR 1 sumbbell held at chest for advanced
- Jumping jacks with feet crossing on "in" count
- Jog in place kicking yourself in the butt
- Alternate jumping jacks and jog 8 counts each, continuing for 8 sets
- Long jump forward, land in squat and touch floor, then shuffle back to start; repeat 8 sets (each one is 8 counts)
- Go back to beginning—4 jumping jacks, 8 counts jogging, 2 long jump shuffle backs; 8 times through
- Skaters for 16 counts
- Put all together from top—4 jumping jacks, 8 counts jogging, 2 long jump shuffle backs, 8 skaters; Repeat 8 sets
- Finish song doing fast feet
5. Full Body
 Katy Perry – "Dark Horse" – 3:35
EQUIPMENT: 2 dumbbells
- With weight on right foot leading forward, 4 quick narrow rows, 2 slow wide rows; 8 sets
- Single leg dead-lifts standing on right foot, 2 counts down, 2 counts up; 8 sets
- Deep lunge with right foot in front, bicep curl, shoulder press, rise out of lunge; repeat: lunge with bicep curl, shoulder press, rise; repeat 8 sets
- Still on right foot, step back with left foot, bring left knee forward and jump
- Repeat entire series on left foot: narrow and wide rows, dead lifts, lunge and press
6. Cardio
Gwen Stefani – "Spark the Fire" – 3:22
EQUIPMENT: Body weight only
- Light jog or shuffle until first chorus begins
- Jump to wide squat, knee cross (touching knee with opposite hand), squat, knee cross; repeat 8 times
- Shuffle low right and left, 4 counts each way; repeat 8-12 times
- Put 2 moves together: 4 wide squat, knee crosses; 4 sets of shuffles right and left; repeat
- 2 running men, 1 lunge (run run lunge, run run lunge); 16 sets
- Put all 3 moves together: 4 wide squats, knee crosses; 4 sets of shuffles right and left; 4 sets of running men lunges. Repeat whole series 8 times
- Finish song with alternating plyometric lunges
7. Full Body
Maroon 5 – "Animals" – 3:51

EQUIPMENT: 2 dumbbells



- Lateral lunge to right, press dumbbell overhead and back, return to stand; lateral lunge left, press dumbbell overhead and back down, return to stand; repeat right and left 16 times

- Wood chop shoulder to hip 8 times to right, then 8 times to left

- Repeat from top—lateral lunges, then wood chops

- Lower to v-sit on floor with 2 dumbbells, slow chest flies (2 counts open, 2 counts close); repeat 12x

- Set weights down, come into crab position; 4 tricep dips, 4 cross toe touches; repeat sequence 8 times


8. Cardio
Jessie J – "Bang Bang" – 3:19

EQUIPMENT: Bodyweight only



- Double hop right and left 8x

- High knee run 8 counts

- Return to double hop right and left, alternating after 8 counts with high knees

- Chorus; 8 strong knee strikes right, 8 knee strikes left

- Double punch right and left 8 sets; Continue knee strikes and double punches through chorus

- Repeat from beginning, double hop right and lef

- Finish song running high knees with power, anaerobic finish


9. Core
Morgan Page – "Longest Road" – 3:59


EQUIPMENT: Bodyweight only



- Plank hold 8 counts, then begin down-ups alternating starting arm each time; 8 sets

- Hold forearm plank, alternate knee taps on floor, 16-24 counts

- Sit back to child's pose for 8 counts

- Right side plank, arm circles 4 times each way

- Drop bottom knee to floor; top knee to elbow crunch 8x

- Lower onto back and cycle legs—quick, quick, hold, quick, quick, hold. On hold, elbow touches knee; repeat 16 sets

- Left side plank, arm circles 4 times each way; knee and elbow crunch

- Return to back and finish song with scissor kicks
10. Cool Down
 P!nk – "Try" – 4:07
NO EQUIPMENT
- Big inhales and exhales 4-6 times
- Lower down to deep plie with feet turned out, elbows to knees, slow sway right to left 8x
- Slow roll back up and down 4x
- Stand on right foot, left foot in hand, knees together; switch to left side
- Right foot forward and flexed, reach for toes for calf and hamstring stretch; repeat left
- Inhale up, clasp left wrist with right hand and reach toward right side; switch sides
- Arms forward, upper back stretch clasping hands; arms behind back, chest stretch
- Back to inhales and exhales to finish song