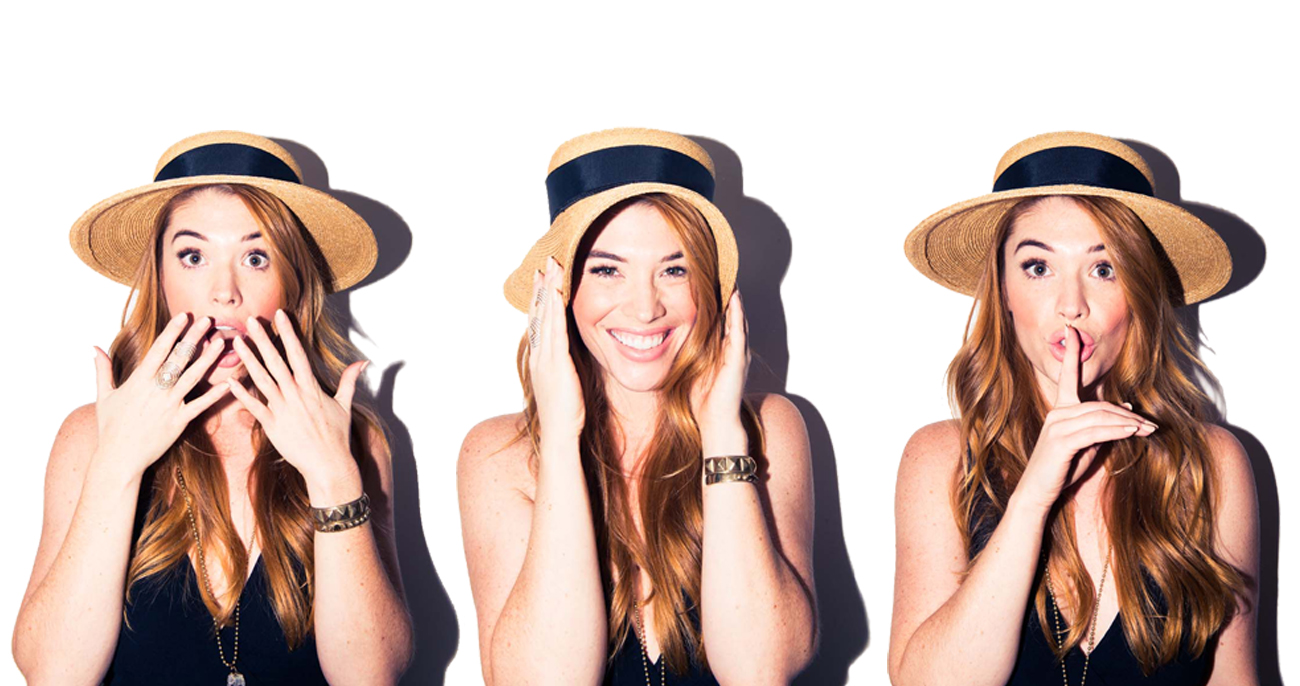 Inside Lauren Andersen's Beauty Routine
She does red carpet makeup for Reese Witherspoon and Jessica Alba on the regular, but what does the makeup artist actually use herself?
So there's been more than one instance around here when we've quizzed a makeup artist or hair stylist about exactly how they got *that* look. Like Lauren Conrad's new bob, for example (dubbed by yours truly as the non-mom bob), or Joan Smalls' Met Gala purple lip. But with the wealth of beauty and hair know-how these artists have as glam squads-to-the-stars, what exactly do they do when it comes to their own 15-minutes-in-the-morning routine. Well, we asked—Lauren Andersen, to be exact, while hanging out at her (beautiful—of course) L.A. home.
And guys, as it turns out, 15 minutes is actually all it takes for the makeup artist extraordinaire (maybe you've seen her work every other night on the likes of Reese Witherspoon, Jessica Alba, Nicole Richie, Amanda Seyfried—the list kind of goes on) to do her own makeup in the morning. But when we actually saw it all go down in her bathroom, our journalistic integrity (we swear it was out of investigative desire and not our own selfish curiosity) got the best of us. What can we say? There's a lot to be learned from the flawless application job that comes of a makeup artist's personal routine—see: mascara, concealer and lipstick tips below—especially with one as, ahem, gorgeous as Andersen. Consider this your ultimate go-to expert guide.
On how she got started in the beauty game...
"I grew up with a single, working mom who I would admire as she would get ready for work everyday. I have three sisters, two who are older, one who's younger, so there was definitely lots of femininity going around. [Makeup] had always been a hobby of mine. I would take my makeup to school and do my girlfriends' eye shadow at lunch. One year, my sister gave me a Kevyn Aucoin makeup book for Christmas. She told me this was my passion and this is what I should be doing. Since then it's been a total green light—go!
I moved to L.A. with a friend who's an actress and just did it. I don't even know how I started. I would pick up odd jobs and do photo shoots during the day. Any photographer that would work with me, any model or actress that would let me do their makeup, I was like, "Yes. Yes, yes, yes." I always said yes and did everything I could on a daily basis. I would try to do one thing a day to further myself in my career."
On her personal daily beauty routine...
"Things that are important to me: I definitely need moisturizer that has sunscreen on a daily basis because I'm very fair. I love a strong brow, so I use a Votre Vu tinted wax with an angled brush on my brows on a daily basis. I curl my lashes and I use a good amount of mascara. My favorite is Avon's Mega Effects Mascara. Then I like a rosey cheek. I always wear blush, and then lips run the gamut of whatever my mood is. I sometimes will wear bright red or hot pink, a burgundy or a black, whatever I'm in the mood for, but I'm definitely a lipstick queen.
[In the morning,] I give myself 15 minutes at least. I don't do a lot. I don't do an eye. I don't wear eyeliner or eye shadow, really—I think those are time consuming."
On how to apply lipstick like a pro (and exactly what to do with lip liner)...
"You can have a little bit more precision when you use a brush and lip liners help your lipstick stay in place. You line your lips, put on your lipstick, and then, if you want a nice burnt red with a nice sharp pencil, go back in. You can re-define and perfect. It's just whatever needs tweaking."
On what she'll be wearing during the holidays (we knew we were onto something with the glitter eye)...
"During the holidays I actually don't mind eye shadow that much. I like a good milky, yet shiny eye—something with a metallic to it and lots of mascara and lashes. Or with a crimson lip. I love the winter lip shades of pinks, berries, burgundies and wines—I think that's really fun with a porcelain or iridescent skin. I love things that sparkle and shine during the holidays."
On the ever-controversial mascara-on-the-bottom-lashes thing...
"I wear mascara on my bottom lashes! It creates a rounder eye. I think it looks youthful and doll-like if that's the look you're going for, but it's not for everybody. For instance, my sister has an almond eye and I'm sure she likes to have them appear rounder, but she has incredibly oily skin and if she wears eyeliner or mascara on the lower eye it just moves, even if it's waterproof. It creates the illusion of a different shape. If you want your eyes to look rounder, more doll-like, than bottom lashes do that.
The little tip of the brush is great—you want to make sure to dab it off first so it's not a big glop of mascara; then it's not a big mess. You just dab it on a tissue before you take it to your lower lashes. I just paint them so they exist—not so that they're longer or bigger or fuller, it's just so they're a little bit darker."
On the biggest beauty mistake you can make...
"Over-tweezed eyebrows! It's one that doesn't go away and everyone regrets. They looked really, really cute on Drew Barrymore in the '90s, but we're all upset with them now."
On the products she always carries with her...
"I think it's a good idea to carry blotters with you [in case] you get oily. I also carry a chap stick or something for my lips because they get dry. If I'm wearing a chap stick or a lip gloss or lipstick, something to reapply because I'll be drinking coffee, I talk a lot, I eat, so definitely a lip application."
On the tricks to concealer application...
"For the under-eye area, if you have any darkness or blueness, you [should use] a color that is too pink or peach for your skin. It battles the darkness and brightens it up. But don't use the same color, for instance, on a blemish because it doesn't match. You want to have two concealers: one for the under-eye and one for spots. Spot concealer should just blend into your skin. For blemishes, use a tiny brush to dab on the spot; with your ring finger just press it instead of using a ton of product."
On dressing for the job...
"For my job, I'll get on my hands and knees when I'm rubbing lotion and shimmer into my client's skin, so I have to be comfortable and be almost athletic and I have to be able to get dirty. I can't be too prissy on the job. I mean, sometimes I even take my shoes off."
On her personal beauty icons...
"I always go back to Jane Birkin. She's just so simple and sophisticated and effortless. She's one of my favs. So is Cindy Crawford. I love Cher at Studio 54; even through all these years she's always serving drama. Diana Ross—I love disco. At the same time, I'm such a hippie myself… I want to be Stevie Nicks."
On the beauty look she'll be doing in 2015...
"I'm into a minimalist feel right now; I like the simplicity of just skin and blushes and brows and that's pretty much it. I'm kind of looking forward to being a little bit more bare, a little bit more raw, a little bit more natural."
On favorite red carpet beauty looks...
"I love the look I did on Reese Witherspoon for her Inherent Vice premiere. I also like the look we did for her for the Toronto Wild premiere. Jessica Alba's Golden Globes was kind of a long time ago, but it's still one of my favorties. And Jessica Alba's baby2baby [event] about a year ago—that was really pretty. Those are probably my top four. Reese looked real cute last night though. Her look was a pink Balenciaga shift dress with a sheen to it and so [hair stylist] Adir [Abergel] and I had a conversation beforehand saying, you know, Reese is a blonde, blue-eyed babe, is this going to be too Barbie? How are we going to edge her up a little bit? So we decided we were going to give her an eye and he was going to pull back her hair so that could be the focus. I gave her a smudgy, rougher smoky eye to contrast how pretty her outfit is and she is.
Everything is an element that works together to create the whole look: the hair and makeup and outfit and shoes and accessories create a balance."