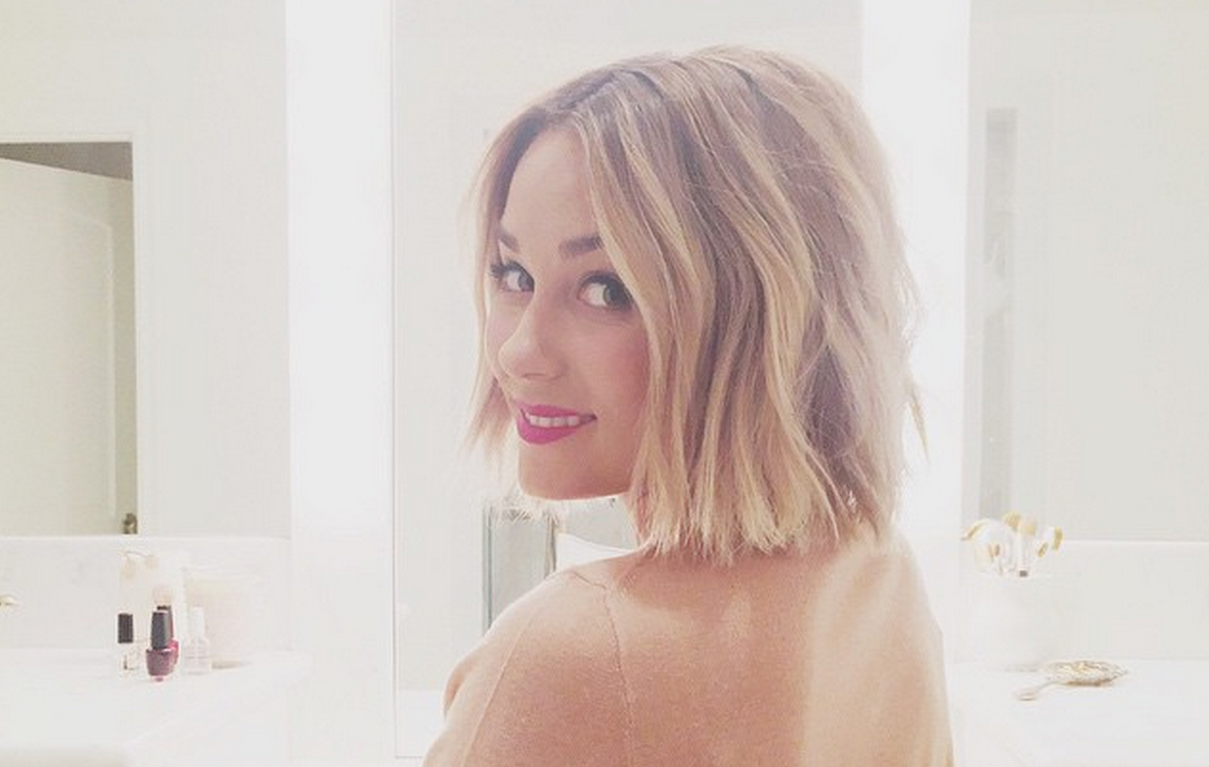 How to Do The Non-Mom Bob
As seen on Jennifer Lawrence, Lauren Conrad & pretty much everyone else whose hair you hoard on Pinterest.
Granted it's been a while since we associated the bob with that helmet-like cut made famous, well, by our childhood photographs and featuring our beloved mothers and their signature 'do. When Daria (we're on a mononymous basis, guys) first cut her hair a few years back, we'll admit that we threw all length-related caution to the wind and went for it. And recently, watching Jennifer Lawrence's veritable red carpet takeover and Lauren Conrad's mysterious Instagrams, well, the itch to reach for the scissors has returned.
Not so fast, though, you guys. 'Cause cutting your hair to shoulder grazing heights does not an automatic LC make—no, there's still a distinct risk that one could end up deep in mom bob country if the shearing is not undertaken correctly. What to do? Call in the experts (duh). As in the women whose responsibility it is to maintain the chic, cool and youthful (read: non-mom) chops of the aforementioned hair idols—that would be Jenny Cho (the woman responsible for J. Law and Rose Byrne) and Kristin Ess (yeah, she's Conrad's mane girl). Herein, their tips on how to achieve a bob that won't take you back to the '90s (in a bad way).
Kristin Ess
Cut & Styles Lauren Conrad's bob
On how to prepare for the chop...
"Be ready and be excited! Getting a bob is never a good idea for someone who is 'on the fence.' Be confident about your choice of chop! I never do it if someone shows a hint of doubt. I just say, 'Maybe next time.' Try a faux bob tutorial! We have one on thebeautydepartment.com. Or tuck your hair into your collar to see what it would look like above the shoulders. Look at it from every angle—this is a good time for selfies. See what it looks like from a profile angle! You'll want to make sure that it's flattering all around!"
On keeping it consistent...
"If you want to keep it between your chin and your shoulders, I would suggest [getting it trimmed] every 4 to 6 weeks."
On how to create texture (a.k.a. the key to having a non-mom bob)...
"I like the hair to have some grit and texture. Bumble and Bumble makes a great surf shampoo and conditioner, which leaves the hair with a tiny bit of texture as it air drys. Then I like to add styling aids. I'm obsessed with everything by R+Co. right now—particularly the Chiffon mousse, the Aircraft mousse and the Continental pomade. And I like to finish this look with Oribe Après Beach always. It creates beachy separation but still leaves the hair shiny and touchable."
On the secret curling method that will keep you well away from the mom bob...
"Flat iron waves! Always have your GHD irons on hand. Flat iron waves create such a cool vibe where a curling iron makes it more "pretty". There's a fun "cool girl" look about flat iron waves."
On the many things to consider before deciding on the perfect cut...
"I think if you find a good hairdresser with a good eye, almost anyone can bust a bob. It depends more on texture, layers and the angle at which your bob is cut. Your hairdresser should be able to find the most flattering cut for you and your face shape. I take so many things into consideration. I think about the neckline, the hairline, your forehead, your jawline, your natural texture, your maintenance in the morning, your love or hate for product, your ability to use styling tools, the thickness of the hair... I could go on forever."
Jenny Cho
styles Jennifer Lawrence, Rose Byrne, Dianna Agron & Kristen Wiig's bobs
On pre-cut preparation...
"The big question would be would I look good in a bob. My advice is to go to the right hairstylist someone who knows different type of bobs: layered, razored, blunt. Someone who will give you the right length and color who will advise you in the right direction for your face shape, hair texture, density, lifestyle and styling ability to recreate the look at home. [Before you make your final decision,] wear your hair in a faux bob."
On how often you'll have to trim...
"The shorter you go, you'll notice faster that you need a trim. [At] around six to eight weeks it won't lay and move the same—that's when you'll know to go in."
On how to avoid the dreaded mom bob...
"There are many ways to keep the bob's looking chic. Color plays a huge part in bobs not entering the mom bob territory. For blondes, either go platinum blonde or don't highlight too close to the roots leaving streaks and darker base on the roots. For brunette and dark hair, lighten up the ends so it doesn't look too heavy or just go solid dark but keep the shape super clean lined. Try not to blow dry the hair too big and under."