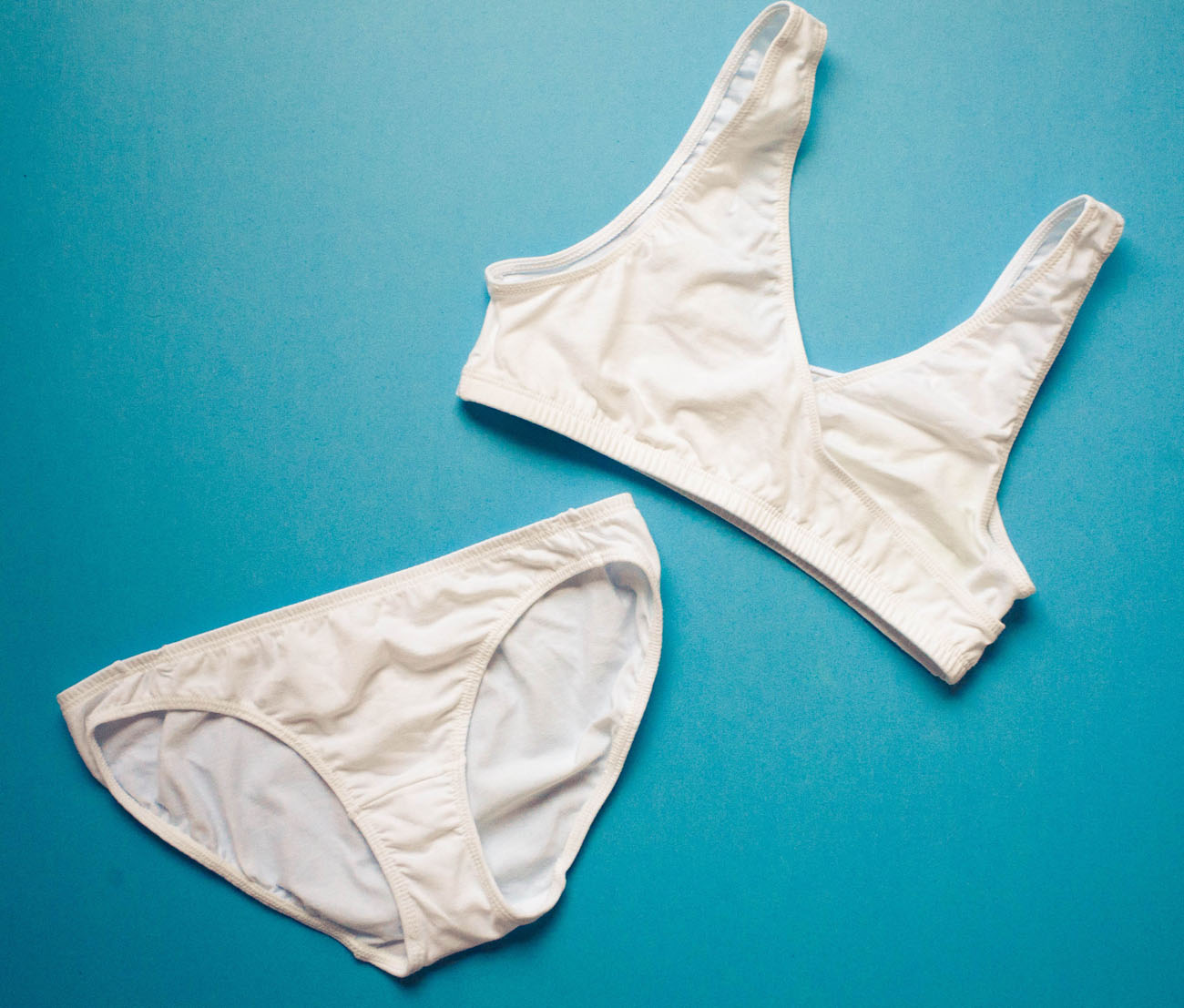 Next in Normcore: Underwear
Long live the training bra and white cotton panty.
Remember those panties you relegated to the back of the underwear drawer in, like, 1998?
You know the ones—they're most likely full-bottomed in various shades of "oatmeal", and come equipped with elastic waistbands that hit at the ultra-flattering crest of the hip, inducing muffin-tops, panty lines and perpetual singledom.
Until now.
With Acne's permission (see the #underwearmemos campaign, in which models slow-mo prance in their skivvies in front of various Fun Dip-shade backdrops), we're officially free to re-embrace normcore undies. Also known as time-of-the-month specials. Knickers. Granny panties. Man Repellers. You get the gist.
With seams as subtle as an iPhone wedged into your back pocket and a comfort level unrivalled since prepubescent Fruit of the Loom, these undergarments are the basic bitches of the fashion world: Mock them all you want, but there's bound to come a day when all you want is to sip a pumpkin spice latte and take a goddamn Buzzfeed quiz.
In all seriousness, the Acne campaign is the latest ode to au-naturel sexiness that eschews complicated lingerie in favor of pure, 100% cotton. We're talking training bras. Hanes tanks. Undies with room to spare. And we welcome them with open, cotton-clad arms.
It's by no means the first incarnation of normcore fashion (see: Birkenstocks, mom jeans, CHANEL's supermarket-themed catwalk and every family photo album of the past half-century). In case you've been living under Amal Alamuddin Clooney's rock, the term entered our lexicons a few months back to describe all things dangerously regular and oh-so-seen before (and yet now considered stylish?). Yeah, we were a bit confused, too.
But the non-trend trend keeps on giving in the comfort and ease-of-dress department, giving us the go-ahead to ditch our trophy shoes for Nike Airs, leather-clad legs for all denim everything, and now, Agent Provocateur thongs for cotton briefs—and no, not the low-cut, lace-lined, Miranda Kerr-filled Victoria's Secret kind.
So leave the push-ups and negligees to Dita and sport these solidly regular undies with pride.*
*Except under leggings.
—Chelsey Burnside