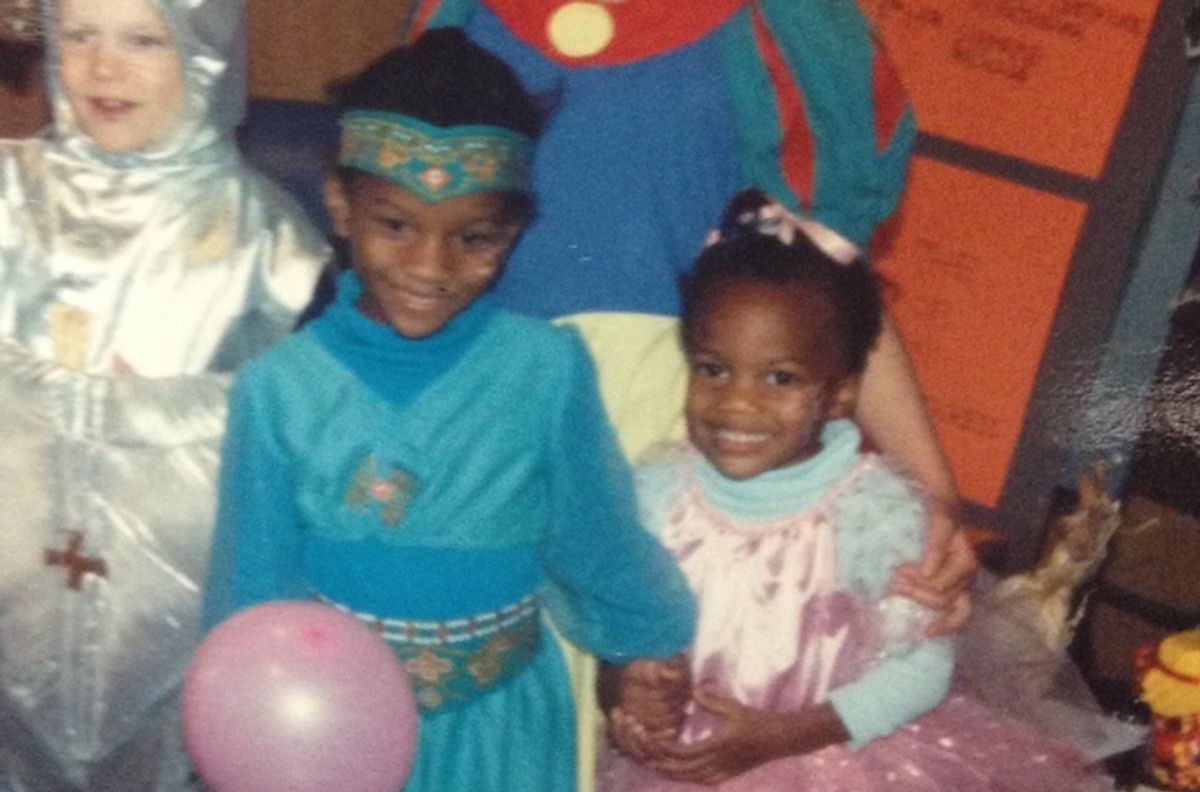 Fashion
Our favorite industry insiders on the costumes they'll never forget (for better or for worse).
So Halloweekend is officially upon us. And we'd venture a guess that reading that either got your spine tingling or made your blood run cold.
Still costumeless? Google-mapping the distance from your office to the nearest Party City? Getting that sinking feeling you get whenever Grandma subtly checks her watch while asking you whether you're still single? You're not alone.
No one—not even fashion editors—are immune to the last minute, thrown-together, grab-any-pair-of-culottes-and-call-yourself-the-Man-Repeller Halloween costume. Although granted, it does lend procrastinated get-up a little more cred when you can have a full-fledged glam squad ringing your doorbell in a matter of minutes ("Siri, get me Sally Hershberger, stat.")
We asked the likes of Refinery29 beauty editor Phillip Picardi, Lucky's Alexis Bryan Morgan and Hayley Phelan, model Sigrid Agren and more for the story behind their most memorable Halloween costume—and what they plan on being this year. And not a lingerie-clad bunny among them!
Copycats totally welcome. Just make sure you're at that other party.
—Chelsey Burnside
---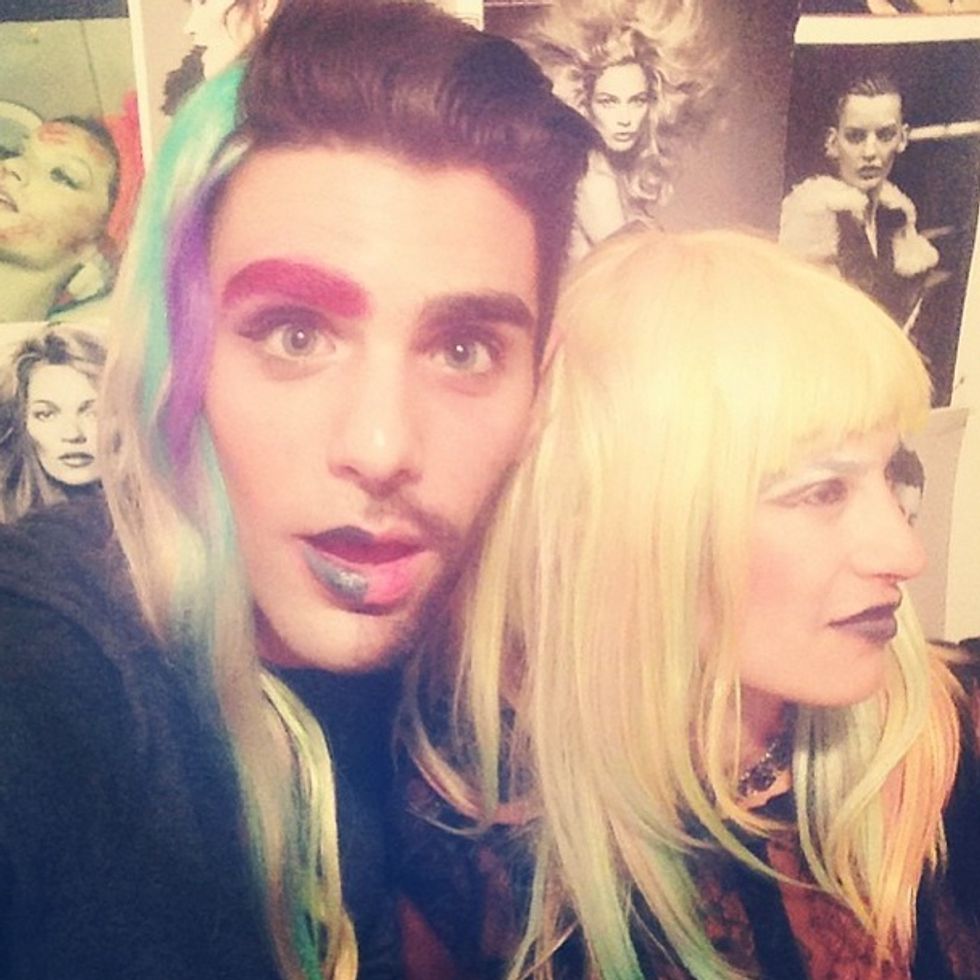 Phillip Picardi
Senior Beauty Editor at Refinery 29
"My most memorable Halloween was last year. Basically, I had absolutely no plans to do anything at all, but then my friend Leslie (Kirchhoff, she's a DJ) announced that she'd be spinning at Boom Boom and got me and a couple of my pals plus ones. The only problem was, I had zero costume ideas and I think I got off of work at, like, 8 PM that night. COMPLETELY at the last minute, I called up my friend
Aura Friedman
, who's a colorist at
Sally Hershberger
, and she came over with her friend, Glenn, who's now a stylist at Marie Robinson. Aura came with all of these crazy rainbow wigs that she'd custom-made, so we got inspired, and then we just started haphazardly applying all of this wild costume makeup I had called in for a Dia De Los Muertos thing I did a couple nights before. I shaved half of my face and laid on piles of concealer and did a fairly heavy contour and added fuchsia eyeshadow all over my brows and put on this weird metallic cream shadow for lipstick, all while Glenn was applying weave glue to my head and blowdrying the piece so it would stay put. Aura basically did sort of the same thing, except it was even weirder... but still pretty somehow. The funny part is, getting ready was the best part. But maybe that's because the rest is all fuzzy! I remember at, like, 10 AM Glenn was knocking on my door with Starbucks and I was like, SHIT! I'm late for work! But it was so worth it... and even though we had never hung out outside of a working environment before, all of us ended up being close friends. In fact, I was just with that same crew of people celebrating Aura's birthday last Friday!
For this year, I'm supposed to be teaming up with Nick Barose and he's going to turn me into "Boy Shields"—a drag version of Brooke Shields in the Calvin Klein ads. I'm still hunting for an oversized brown blouse and high-rise flare jeans, so keep me in mind if you spot anything? This will be my first time in full drag, so I'm a little nervous. If you need to find me, I'll be on a treadmill and attending Pilates classes until I have to bare my midriff."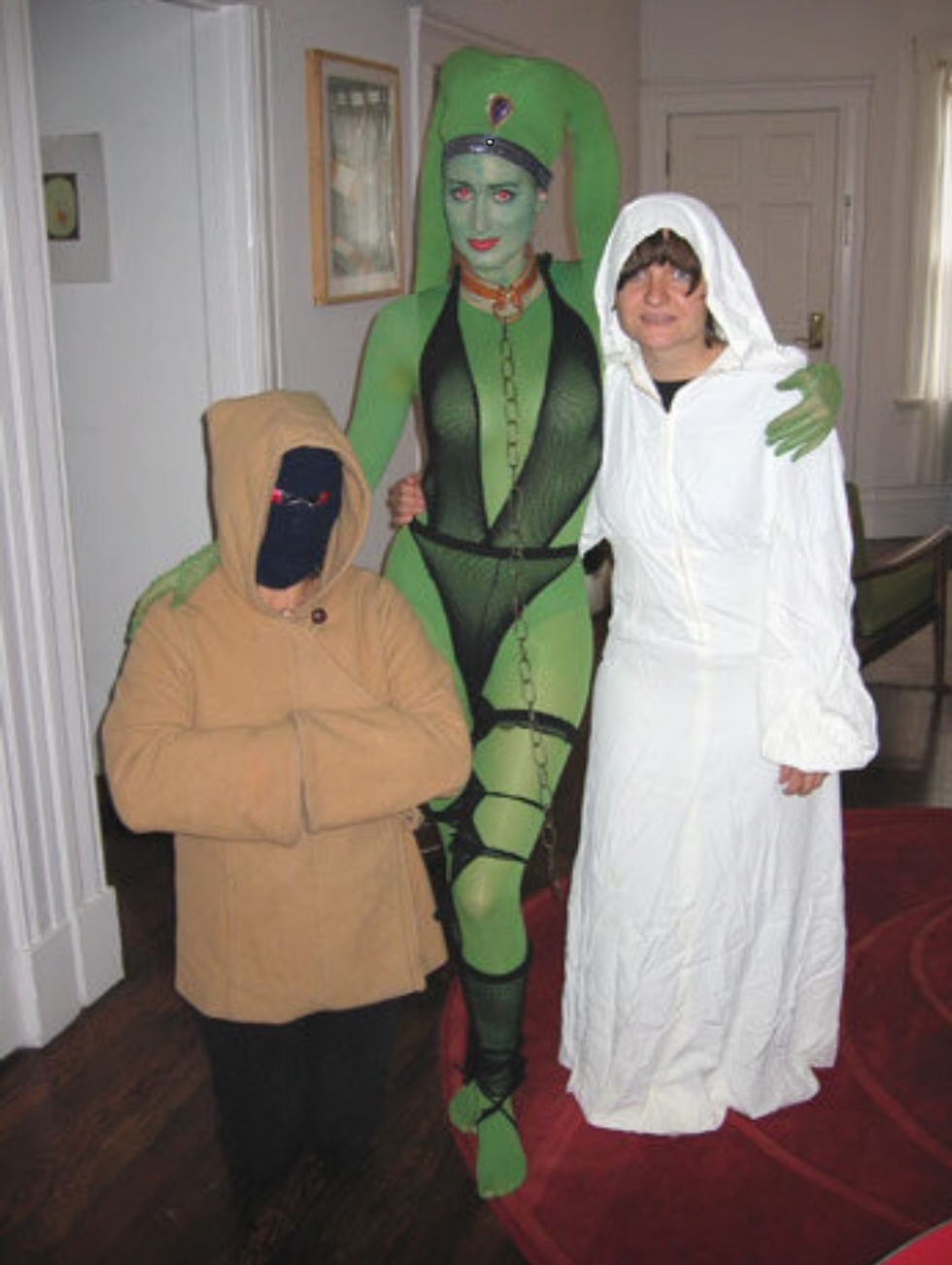 Alexis Bryan Morgan
Executive Fashion Director at Lucky

"My Oola costume (a character seen in Jabba the Hutt's throne room in Return of the Jedi) is definitely the Halloween costume that I remember most. It took weeks of planning and several hours to put on. I dyed the hose, leotard and gloves green and found face paint in the same shade and painted every inch of my face and neck—it was so weird!! My sister (not pictured) actually made the collar out of clay and painted it gold. We had an entire day of costume prep together—pretty much one of the most fun days of my life!"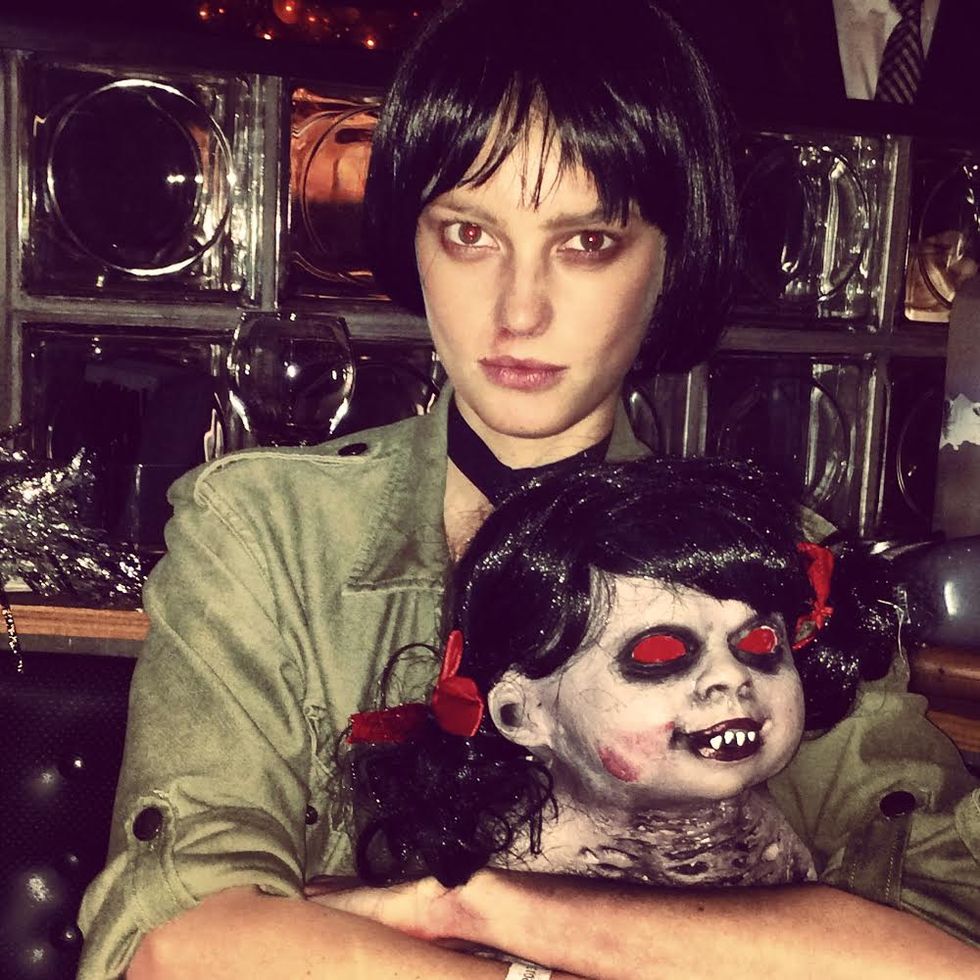 Sigrid Agren
Model

"Last year I was Mathilda from the movie The Professional, but this year is going to be mostly about the makeup. I'm going to have my friend, Morgane Martini, who I work with during shows and editorials, paint me as a skeleton. She is super talented and creative, and does very realistic finishes... I cant wait!"
Andrew Bevan
Style Features Director at Teen Vogue

"Halloween is my favorite holiday since as long as I can remember. It's very hard to narrow down one favorite look, so I'm going to have to nominate three. I was a funny, imaginative kid and a prepackaged superhero or goblin costume was never an option for me. When I was 4 I wanted to be a bag of flour—I have no idea why. Although the photos make me look like I'm dressed as a run-of-the mill ghost, my back had a giant Gold Medal Flour emblem on it. Maybe it was a hybrid costume, I don't know. When I was 5 years old I was a Kentucky Fried Chicken "chef" complete with brand paraphernalia and a name tag. I remember I even got a tour of a real KFC for my character study research. As an adult my favorite was last year when I was a good mouse gone bad in a goth Mickey Mouse getup. My friend Liza Dare Wenger made my ears out of black rosettes and everything else was from my own closet. This year sadly I will be at a rehearsal dinner for my friend's wedding in Connecticut. The dress code is head-to-toe black. I, of course, am wearing a pumpkin-colored Calvin Klein collection suit, because you gotta break the rules every now and then, especially on Halloween!"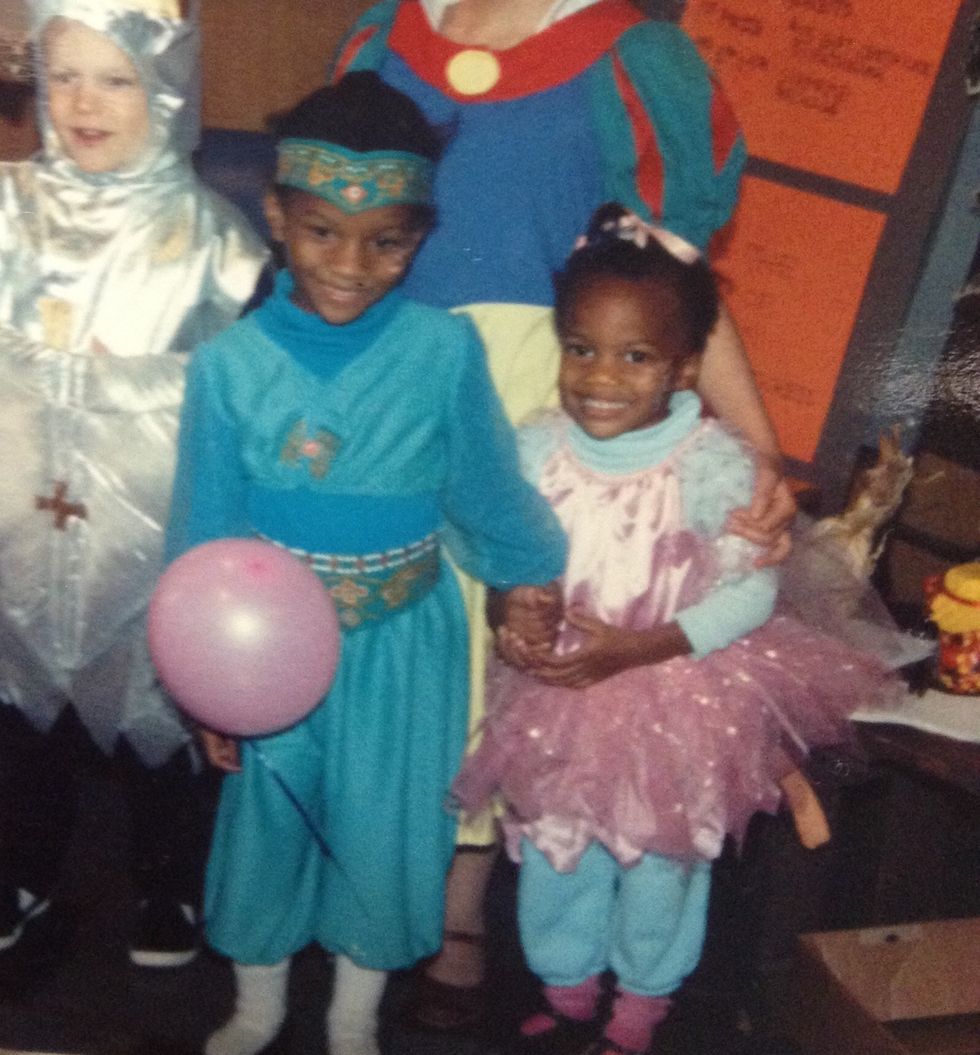 Danielle Prescod
Fashion Editor at ELLE.com

"Halloween was always a very important holiday that I took extremely seriously. I was an intense child, so this is not really surprising. Sometime in the early '90s, when my sister and I rented Hocus Pocus religiously, I had edited down my costume choices to that of Aladdin's Princess Jasmine. Because it was the early '90s and we still had decipherable seasons in New York, it was truly fall and therefore pretty chilly. I woke up on Halloween and my mother, who was, like, a caring mom or whatever, informed me that I had to wear a turtleneck and a coat with my costume if I wanted to go trick-or-treating. The meltdown that followed was of epic proportions. She obviously did not care that I would not be authentically representing the character, who did not have to wear a turtleneck or a coat because she resided in a desert climate and furthermore, she obviously did not care that the turtleneck would also make me look lame. She acquiesced on the coat either out of pity or sheer exhaustion, but as you can see the turtleneck was non-negotiable. I swore to never let that woman ruin an outfit again.

This year I am going to be Maleficent, who was brought back to reimagined glory this year by Angelina Jolie. Maleficent has always been a very chic villain.  I went to see that movie a few months ago and frankly I really respect her. A woman that was done wrong and gets her revenge while wearing fur and feathers? Sign me up."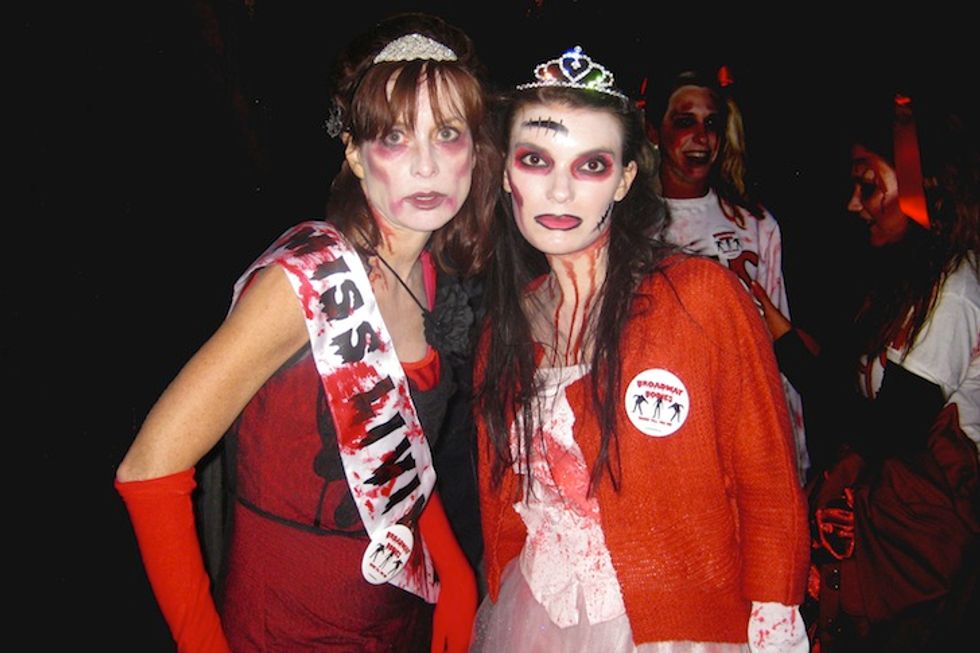 Carly Cardellino
Beauty Editor at Cosmopolitan.com

"My most memorable Halloween costume was from 2011 when I danced to 'Thriller' in the New York City Halloween parade with some of my coworkers. I was a zombie prom queen—I loved my outfit, it was everything. I actually made it out of my real-life prom dress from sophomore year of high school; I cut it to shreds and splattered red paint all over.

This year I think I'm going to go as Snow White—pale skin, red lips and dark hair is my jam."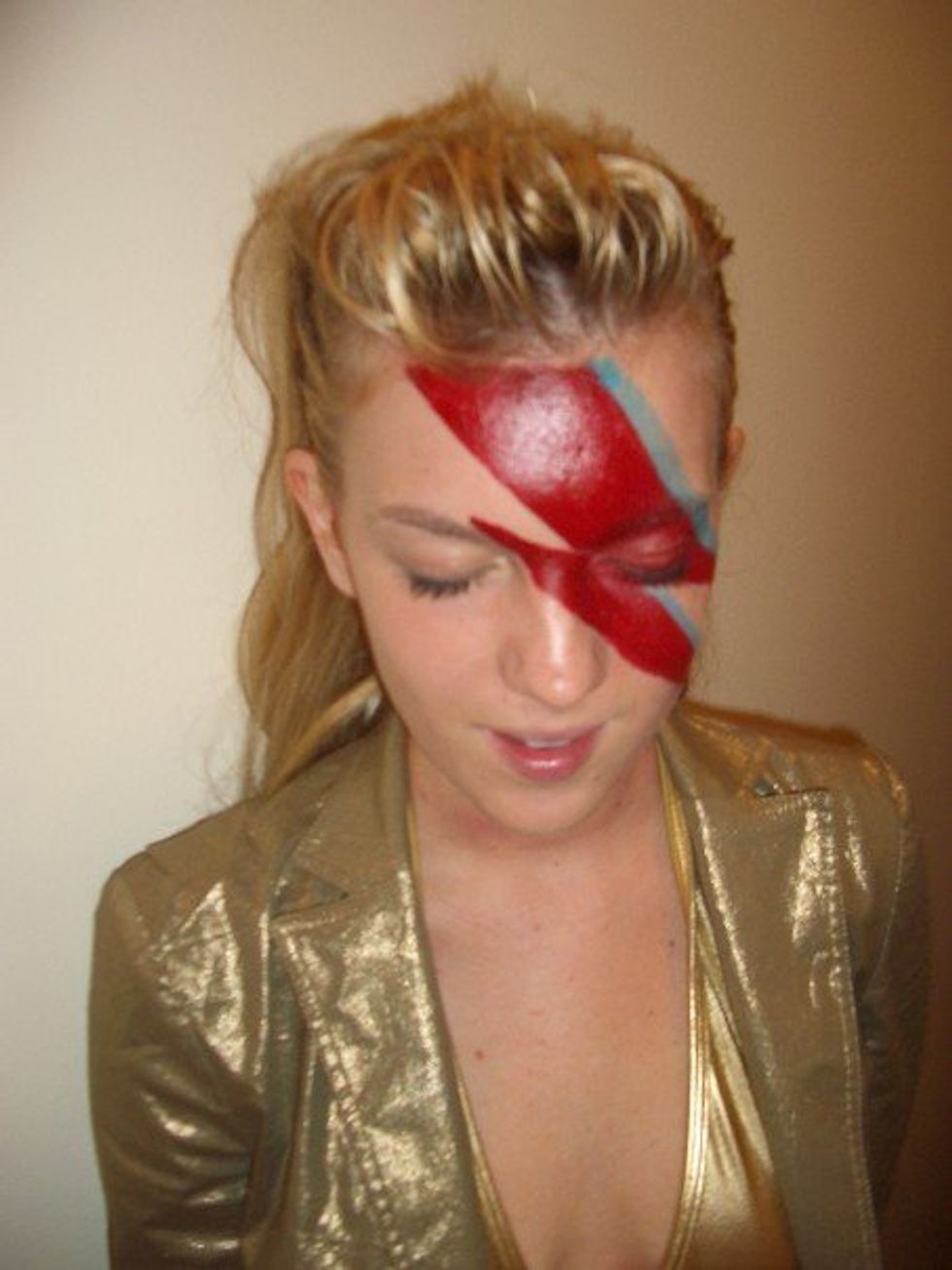 Hayley Phelan
Fashion Features Editor at Lucky

"One of my most memorable costumes has to be the year I was Ziggy Stardust. Anytime I get to wear head-to-toe gold and paint a red lightening bolt on my face is a pretty good day!"