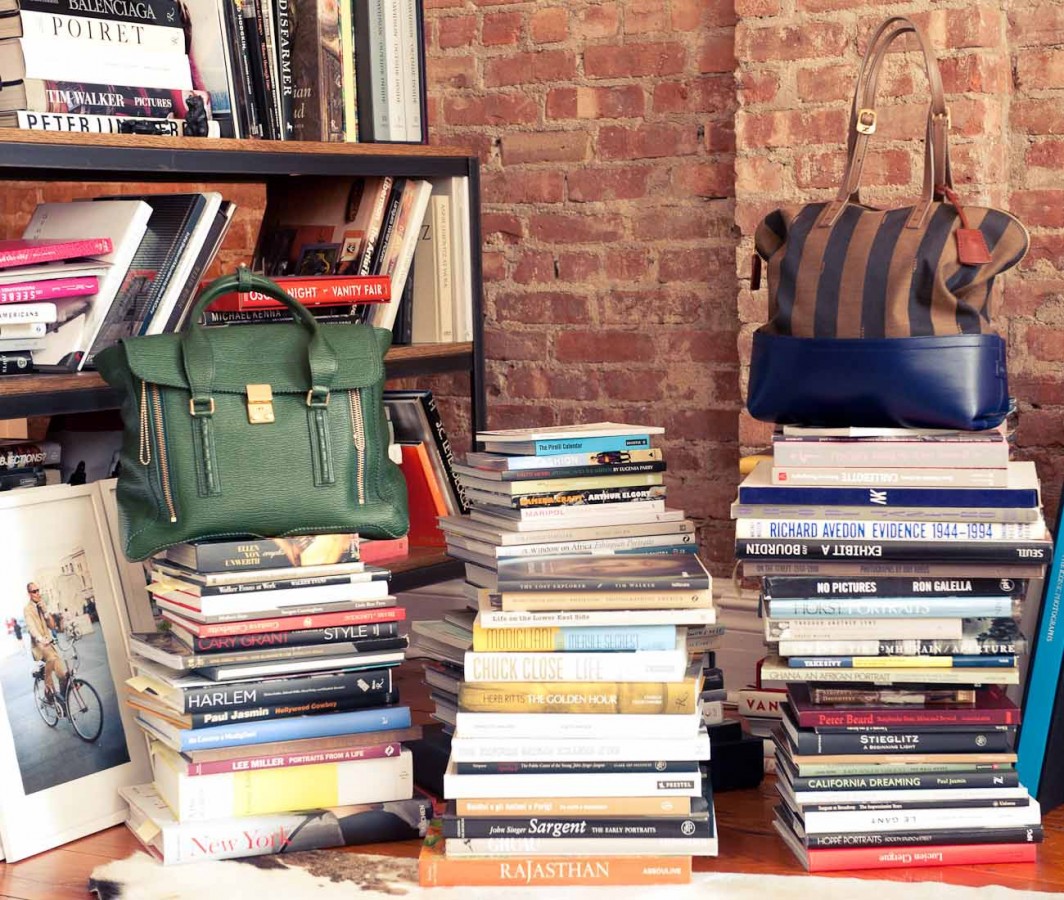 Interview Outfit Advice from 11 Fashion Bosses
What to wear to an interview according to people who could actually hire you (just call us your fairy job-mothers).
Weddings, red carpets and Tyra Banks-hosted casting calls aside, there's one rite of passage in which you will be inevitably and unapologetically be judged on your outfit. And in our world, your future quite literally depends on it. Trust us, it's what's on the inside that counts until you decide to debut an Andy Sachs original to a potential boss with a hidden Wintourian agenda—sure, she's asking you to talk about your biggest weakness, but secretly she's staring straight at it. Spoiler alert: it's that necklace and it looks like a medieval torture device.
Of course, we're talking about the dreaded job interview ensemble.
No one's above it, and very few have mastered the subtleties of the twenty-first century first impression, when even Wall Street and the White House are pushing the boundaries of business-not-so-casual.
But trust our Cov-alumni (a.k.a. fairy job-mothers—like what we did there?) to have experienced it all, from dressing like a circa-2004 Olsen Twin all the way up to dry-clean-only, three-piece linen suits. We grilled a few girl bosses—and one boy boss, too!—on the outfits that worked and the ones that didn't, why accessories should never be an afterthought, why dip-dyed hair may not be Vogue-appropriate and the forever-debate of flats vs. heels.
—Chelsey Burnside
On what she might have worn to her first job interview...
"It's tough to remember exactly, but I have been one to wear a tailored pant and a killer shoe rather than a dress to interviews—and that is because this silhouette speaks more to my personal style. When interviewing for any job you of course want to dress appropriately for the position, but you also want to stay true to who you are. After taking some courses at FIT, I interviewed for a PR position at Perry Ellis when Marc Jacobs was head designer. Yes, I got it."
On the outfit she'd like to see you wearing if she were interviewing you...
"Something that demonstrates a knowledge of what is happening in the fashion world, but that highlights their own personal style at the same time."
On his first job and what he wore when he interviewed for it...
"My first magazine job was at Allure and when I interviewed in 1992 with Polly Mellen, I wore a leopard Gaultier vest, a white shirt and a pair of black pants from this London shop called Demob. Polly commented on my vest and yes, I got that job."
On what he wore to meet with the power players who offered him his current job...
"I wore a navy Givenchy suit and a white Uniqlo shirt when I met with Marissa Mayer and Kathy Savitt for my current job as editor in chief of Yahoo Style."
On why you shouldn't go all-out with the designer look if you're interviewing with Joe Zee...
"I prefer the person to always shine through in a job interview versus what they are wearing. I'm less concerned about the specific outfit but more that they are polished, clean, pulled together and smart. I would be more distracted if someone showed up wearing a crazy head-to-toe runway outfit. It would make me worry that the actual work would take a backseat."
On what she wore to her first interview (at The New Yorker, no less)...
"I remember it very clearly... it was a 3-piece off-white linen skirt suit (yes, THREE pieces! The vest was no joke!) that I strangely bought in a crappy tourist boutique in Nice, France while backpacking after graduation. I mean, I remember the only splurge I allowed myself on that trip was a suit for interviewing... what a nerd. Anyway, I wore it to my first interview at The New Yorker for an assistant position. And I got the job!"
On what she wore to interview for her current job...

"I didn't really interview for this position since I came on so early on in our launch. But I do remember that it was in 2004 and I was very into low-waisted baggy cargo pants back then. Thank goodness my partners didn't hold that against me."
On what she expects out of an interviewee today...
"I'll admit I'm pretty old-fashioned when it comes to making a strong impression at an interview. I love getting dressed for meetings, even if they aren't particularly important ones. And, because I'm so busy, I really do remember candidates that project a strong aesthetic image that's really chic and put-together. I'm super impressed by talent who obviously know what looks good on them and exhibit how that can work so powerfully in their favor. When something really suits you—whether it's a beautifully tailored blazer, high-waisted trousers, or a flattering midi dress—it shows that you know who you are, and that confidence permeates how you conduct yourself in so many capacities. So, I guess I don't really care what a person wears to an interview with me, as long as it seems to suit them and I can tell the person put some care into choosing what that was for our meeting. One last tip: Remember, the details REALLY count, so your bag and shoes should never be an afterthought."
On how what you wear is the first (and most important) impression...
"Come on. I can't remember what I wore last week, let alone on my first-ever interview! Actually, I'm sure I blocked it out. People don't realize that the clothes you wear on an interview are Exhibit A. Your look should marry well to the potential job. While you need to dress the part, be very aware of what your clothes say about you. You want them to complement what comes out of your mouth. When in doubt, bounce some ideas off a savvy friend. Better chic than sorry."
On remembering the outfit she wore to her first interview...
"This is an easy one for someone who remembers the outfit she was wearing at age two when her baby brother was born (purple overalls from OshKosh B'Gosh and a star print turtleneck). The first actual interview that I can recall was for an internship at What Goes Around Comes Around's fashion archives in 2006. Naturally, I wanted to appear as though I had an eye for vintage, but my collection wasn't so vast at that point. I wore a Rebecca Taylor jacket that looked like it could have been vintage—it had chrochet trim around the sleeves and edges. I wore my only pair of heels that I had brought with me to the city at that time; they were from Via Spiga: brown leather, round-toe shoes that were probably beat up looking because I had walked miles around the city in them. I ended up getting the job and spending most of my paycheck on the vintage treasures that I was surrounded by. I was broke, but never regretted a single purchase. To this day, I can't walk down West Broadway without stopping in—and I've never once left empty-handed."
On two more notable interview outfits, including the one worn to meet with none other than Carine Roitfeld...
"Not much further down the line came my first interview at Condé Nast. I was reading a book at Jack's Coffee in the West Village when a friend called to tell me that there was an opening in the fashion closet at Vanity Fair and that I needed to be there for an interview in one hour. I ran home to throw on a black dress from H&M and a pair of Miu Miu boots that, in retrospect, probably weren't the most appropriate. Alexis Bryan told me that they had interviewed several girls, but that I was the one for the job (in almost those exact words). I spent the next year in the fashion closet: picking up and returning samples, delivering complicated lunch orders, assisting on shoots, and watching in awe of every run-through and fitting. Alexis, who is now the fashion director at Lucky Magazine and Sam Brokema, the senior accessories editor at Harper's Bazaar were the kindest mentors to me when I had absolutely no idea what I was doing!
Cut to several years later, Shiona Turini and Michaela Dosamantes were prepping me for a third and final interview to become the online editor at Carine Roitfeld's CR Fashion Book. The three of us sat in Le Pain Quotidien on a rainy day in Soho. I was wearing a black, double-breasted Band of Outsiders jumpsuit and a Burberry trench. Of course I asked the girls for advice on what to wear when meeting one of the chicest—if not the chicest—women in fashion. In unison they both answered: "Wear the jumpsuit." So I did. As I stood up to shake Carine's hand at the end of my interview, she looked at me and asked, "What are you wearing?" I said, "Band of Outsiders." She said without smiling, in a very matter of fact sort of way, "It's good." I must have been grinning from ear to ear. I don't think it's what got me the job, but it definitely didn't hurt."
On why the outfit isn't everything...
"If you ask me what I'd look for in an interview outfit, my answer is that I wouldn't pay much attention to it at all. One of the smartest, most knowledgeable, and hard working women that I've had the pleasure to work with in fashion wore sweatpants and New Balance sneakers to work every day. Granted, this is not the dress code at my current place of employment, but the point is that true style and talent comes in all forms. If you're unable to recognize that, you could miss out on someone who's truly great."
To her first job interview, Power wore...
"My first "fashion job" interview was with Nina Garcia and Brandon Holley before I became the West Coast Editor of ELLE and ELLE Girl. I wore a little boys' vintage navy blazer, a tiered, cream-colored Vanessa Bruno islet skirt, charcoal grey ribbed tights, and (gasp!) flat brown knee-high riding boots. Can you believe I wore flats?! To meet an Editor-in-Chief and a Fashion Director at two major magazines in New York?! I was crazy-young and from California, thank GOD Us Weekly-esque, Olsen-twin-inspired fashion was the look of the moment. I must have looked nice enough though, because I got the job! Back then it was very cool to wear dark tights with light colored feminine skirts and dresses. I also had an arm-full of bangles, I'm sure. It's funny to me now because I wear next to no jewelry. Luckily I didn't have to interview for my current job, because I created it specifically for ME!"
On what she expects out of interviewees now...
"What you wear to an interview is far more important than people think. What you're wearing communicates who you are before you even open your mouth. It's just as important to look polished, as it is to be articulate in my opinion. The biggest mistake that most young girls make when interviewing for a style-related job is that they often try to be so trendy they end up sacrificing professionalism. I would rather meet people who look a little more serious and conservative. Show me your taste through the fabrics, colors or silhouettes that you choose, or maybe one key accessory. You can't go wrong with a blazer. It exudes stability and an in-charge attitude, two things I look for. Make sure your hair is clean, your nails are freshly manicured, and your shoes are in good shape. Everyone looks at shoes..."
On what she wore to have her first job interview (over the phone)...
"I lucked out because my first interview, for an internship in the W fashion closet, was over the phone while I was still at school in Boston. Though I was wearing a hole-y Ramones tee and slip-on Vans, I guess my voice told a different story because I got the position. "
On what she wore to interview for her job at Style.com...
"A little under three months ago, Nicole Phelps asked me to meet her for a coffee downtown to discuss an open position at Style.com. For someone who approaches dressing in a very calm and methodical way, I've never fretted more over an outfit because the contrast of interviewing in a casual setting really threw me off. When applying for jobs it's really important to me to come across as myself in a candid way, so ultimately I wore things that made me feel like myself. On this particular day it was a pair of oversized pleated Chloe pants I scored at a sample sale a million years ago plus a silk collarless BCBG blouse and some Celine loafers. I don't think wearing flats to an interview was overly rebellious and I guess Nicole didn't either. "
On her best advice for people interviewing now...
"It's really important to show that you are aware enough to dress appropriately for the environment and, in my opinion, to err on the conservative side so as not to offend. That said, you definitely want your personality to come through so take liberties to express yourself with color, texture and well chosen accessories. "
On the outfit she wore for her first interview (at JFK Jr.'s magazine)...
"I remember what I wore to the George interview because I'd worn the same thing to an interview with Anna Wintour at Vogue a couple of weeks before (a job that, it's important to say, I did not get). It was an A-line grey Marc Jacobs skirt that hit a few inches below the knee, and a matching top with a little collar and short sleeves. I still wear that skirt. And I believe that I had dyed the bottom inch of my hair black—it was pretty blonde at the time—but I wore it up in a bun so you couldn't tell. That was my first and last foray into "interesting" hair color choices. I got the job at George...and I got a haircut."
On what she wore to interview for her current job...
"When I was first contacted about the Redbook job, I went out and got two dresses from Erdem: one is sleeveless and one is short-sleeved and they are both classic sheath dresses with interesting prints. They were biggish purchases, but they made me feel confident and elegant and comfortable, too, which is exactly what you want to be when you're in an interview. I wore them with black high-heeled Gucci loafers that I got at the crazy Thanksgiving sale at Bob Ellis in Charleston, SC, two years ago. I love those shoes."
On what to wear if you're interviewing for a magazine...
"Magazines are a creative field, so you have some latitude in what you wear for an interview. But whatever you choose, I think it's important to look polished and put together, but also at ease in your clothes. There's something a little tragic about seeing someone hobbling down the hall in heels that are killing them, or a suit jacket that is obviously making them feel constricted and itchy. It's hard to have a great conversation with someone who is fidgeting or in pain, and a good interview is really all about a great conversation."
On what she wore when she interviewed at MatchesFashion.com...
"I do remember what I wore for my first interview at MATCHESFASHION.COM though. I kept it very simple—a well cut pair of trousers, a crisp white shirt, paired with some bold statement accessories to add some interest."
On what she looks for in an interviewee now...
"What would impress me? To be honest, it would be a similar look to what I wore to my interview here... If someone walked in wearing something that looked smart but simple and good quality, with one or two statement accessories, I'd be instantly impressed. Of course ultimately you have to feel relaxed and comfortable when you are being interviewed and I often think the more you dress up, or try to play a part, the less relaxed you are."
On her (somewhat misguided) first interview outfit...
"The outfit I wore to my first fashion job interview—an editorial assistant position in the features department of ELLE—was not my finest style moment. Thought I'd interned at a number of fashion magazines and knew what what was appropriate to wear once you got the job, I had this idea that I needed to wear a suit to the interview to show respect for the company and interviewer. Keep in mind suits were definitely not having a moment at that point in time and I don't like wearing pants, but nevertheless I turned up in a black Banana Republic pantsuit, styled with a black cashmere v-neck sweater, pointy ankle boots, and—wait for it—a strand of graduated pearls, which I have probably not worn since. My outfit definitely did not show my personality, but thankfully the interview went well and I ended up getting the job!"
On her professional look when she first started her company...
"I didn't interview for my current position, as I am one of the company's co-founders, but I do have a specific dress I used to wear the first year Katherine and I worked together whenever we had big presentations or business meetings. It is a dark royal blue vintage dress with three-quarter sleeves, slim silhouette, and knee-length hem, which I wear with my favorite Hermes belt."
On her best interviewee fashion advice (especially if you're applying to WhoWhatWear.com)...
"It's important to dress appropriately for the position you're applying for, so that outfit can be a wide range of things, since there are so many different types of jobs at our company. That said, for someone applying for an entry-level position in the editorial department of WhoWhatWear.com, I'd say something relatively polished that still shows your personality. I think jewelry is a great way to personalize an outfit, especially if the pieces you're wearing are vintage or have some sort of sentimental value. I also suggest wearing either a shirt or blouse with sleeves or a blazer; there's something a little odd about seeing someone's bare arms in an interview."
On the outfit she wore for her first interview...
"My first job was in beauty PR! I wore a fantastic vintage Chloe black dress to the interview. A super corporate suit wouldn't have worked for this, so I went with something I felt amazing in. It's such a classic piece and I imagine I will still be wearing it 20 years from now—and yes, I got the job!"
On why the interview outfit is so important...
"It's not about the label—it's about how you carry yourself. For me, it's about having confidence and picking an outfit that reflects your personality. I tend to lean to a more polished look since this is your first, and should also be your best impression."