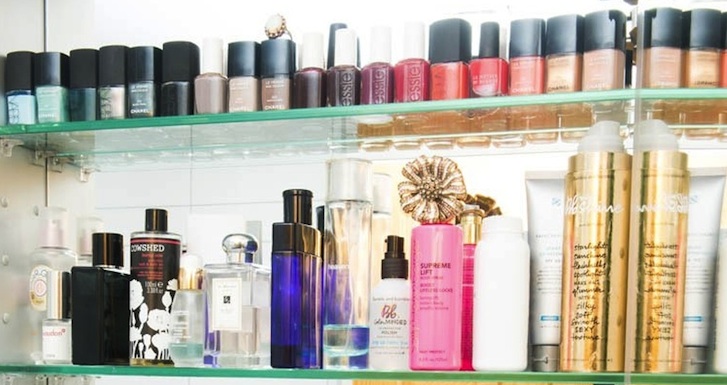 Inside Oscar PR Girl's Beauty Cabinet
Because when it comes to getting truly glamorous, no one knows better than Erika Bearman.
Spiky, Bambi lashes; artfully-defined arches, perfectly brunette to bleach blonde and back again hair. There's just really no mistaking the beauty look of Erika Bearman (social media alias: @OscarPRGirl), you guys. And way back when we were raiding her de la Renta'd closet over a year or so go, we made sure to get filled in on her beauty routine, too. Not going to lie—that endeavour was a little more selfish than anything. Oh, and while she spilled on everything from cribbing beauty notes from the routines of girls in Seoul to her obsession with Bikram, we also took liberties by playing eye-spy in that beauty cabinet—you know, just in case there's something there that catches your eye, too. Read on and learn how to get a little of that whole glamour girl New Yorker thing for yourself.
...on cribbing beauty tips from girls in South Korea:
"The most fascinating place I went to recently was Seoul, Korea. The girls there are so cool I thought my head would explode. I came back and all I wanted was skin whiteners, eyelash extensions and a Samsung Galaxy Note 2."
...on the guiding principles of her beauty routine:
"The best beauty secrets are Bikram yoga and sleep. And no worrying. And don't wear too much makeup."
...on the cure for dry skin & high school favorites:
"My skin is a little dry so I love oils. I'm only happy when I look a little bit shiny. I've been using Clinique's Take the Day Off [makeup remover] since I was in tenth grade. Renee Rouleau's triple berry smoothing peel is amazing. And I think the Clarisonic is excellent."