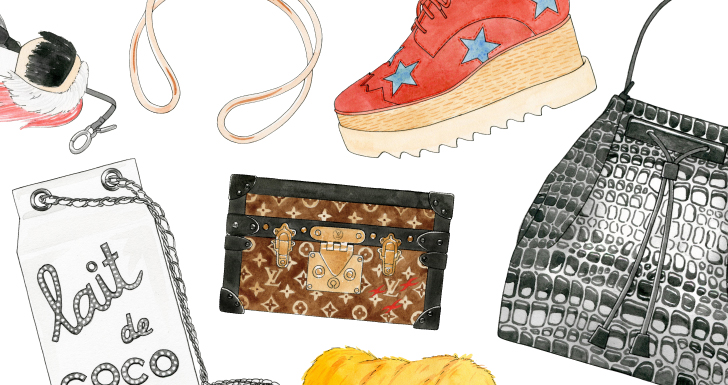 An Illustrated Guide to Fall Accessories
A second-best stand-in for actually owning the best shoes, bags & doodads of the season.
Alright, so we've been living by the fashion calendar for what feels like our entire legal lives (i.e. swapped seasons and a Christmas that spans the entire month of September), but year after year, there's one thing we just can't get used to. As soon as we've shed our winter layers in favor of the most groundbreaking of florals, it's time for fashion's fall-winter parade, teasing us with an assortment of accessories we won't be able to get our hands on for another season. It's sadistic, really.
Needless to say, we pre-fell (pre-falled?) hard for just about everything this year, including but not limited to shoes that don't require our feet to go in for surgical repair, grocery-chic bags and the only keychain that would cause us to join a wait list.
Maybe it's its sculptural simplicity, or the way it delicately floats around your neck like rose-gold wizardry. Then again, maybe it's just that it makes us feel like a space-agey Cleopatra. Either way, we're hooked—er, hinged?
In a sea of navies and neutrals, there's nothing we love more than a fall classic in a citrus shade. Case in point: the Céline fur muff of our tangerine dreams. Just looking at it in all its Muppet-like glory dripping off Daria Werbowy in the F/W campaign gives us a much-needed jolt of Vitamin C. Plus, we've got to keep our hands warm somehow, right?!
Speaking of getting our daily dosage, the latest addition to our kitsch collection? The Lait de Coco carton bag. Just looking at it (read: staring and stroking) transports us back the ordinary-meets-high-brow genius that was the Chanel Supermarché (also known as one of our all-time favorite shows, looting notwithstanding). All together now—got milk?
First came the articulated cage ring, then the dainty midi—but our latest hand candy? Punctuating our fingers with tiny gemstones, pearls and the occasional enamel eye. We're obsessed with how they look nestled between our digits (almost like an ultra-elegant finger piercing).
The one downside to our newfound sneaker addiction? They make every other shoe feel like an obscure form of torture (death by Dolce wedge). Then, along came the sneaker god himself with a solution: Raf Simons' highlighter-hued rubber soles stacked onto sculptural heels are half-and-half hybrids of the most comfortable shoe we own...and the least.
There is literally one person on this planet whose likeness could be pieced into a tiny keychain, stamped with a $1,685 price tag and still garner a wait list of hundreds. We'll admit it. Ever since we saw baby Karl buggie swinging from Cara Delevingne's fingers, our bags have seemed noticeably, well, Lagerfeld-less. But what's more important, really—paying rent or having a constant mini-me Karl companion?
THE LOUIS VUITTON PETITE-MALLE
Just when we thought we'd seen just about everything we could see monogrammed with those iconic initials (i.e. punching bags, two-story suitcases and questionable tattoos), along came the game changer tiny trunk—the Petite-Malle—let's just say our Visa statements went from zero to 100, real quick.
Who knew there'd be something we crave more than a deep-fried, sodium-laden carton of McD's fries? But the addiction continues in the form of a golden-arch-emblazoned Moschino bag. The only thing that could top it would entail carrying actual fries in the bag. In the singsong jingle-prose of JT, we're lovin' it.
Another pair we'll be stomping around in this season? Studded YSL go-go boots that toe the line (pun fully intended) between footwear and hardware. Think badass Ariana Grande, minus the ponytail. And just about everything else.
It's our forever-problem with falling for the latest it-shoe—there's always a 'but', be it a very low rating in the practicality department, or finding out the hard way these shoes weren't made for waking. But Stella's stacks of lug soles, wooden flatforms and star-spangled oxfords are a layer cake of everything we look for in a shoe. Plus, they're actually comfortable. Catch us if you can.
For those of us who never quite got over the $55K crocodile backpack saga of 2012, the release of this little gem of a patent crocodile bag is an Olsen-worthy consolation prize. So it's not Technicolor pill-studded, and there were probably more than 12 made. But at least this one's probably more practical. Sigh.
First came the mesh snapback, then came the leather, then came the color-blocked felt. We may be admittedly noncommittal when it comes to our ever-growing cap collection, but our latest addition—a blinged-out Shourouk cap—may just be the one.
- Copy by Chelsey Burnside, Illustrations by Meghann Stephenson.