Travel
36 Hours in London
How to get effed up & spend all your money in a mere day & a half.
When we think of London, we immediately think of two things: the nights outs and the shopping. Oh, and the culture and... stuff. And William and Kate. But yes, mostly the doors of Harrods and the seemingly endless list of places to drop by come nighttime. In other words, nights we can't quite remember and purchases we'll remember forever. They balance one another out nicely, right?
And so during our most recent romp through London with Ciroc (the results of which are #comingsoontoaCoveteurnearyou), we took it upon ourselves to make note of our favorite places in the which to promptly forget all about your credit card balance. Pro tip: if you're from this side of the pond, don't ever try to proverbially keep up with Brits during a vodka-fueled night out. Just don't.
---
Embrace your inner Jayne Min and swing by Soho for a walk through Supreme to pick up some decks to hang in your living room and to hit up our personal favorite, Liberty. We won't lie—we could personally leave things right here and be quite content.
Where do we begin? A stone's throw from Soho is London's Mayfair area, which, aside from being home to some of the highest rent in the world (no, actually), is also where you'll find
Céline
,
Balenciaga
and Goyard's London flagships, as well as Dover Street Market,
Victoria Beckham
's newly-opened first foray into retail, and Bookmarc. The whole rent thing literally comes with the territory, if you know what we mean. We recommend refueling in between pit stops at The Mayfair Hotel with their signature mojito.
Ignore this club's apparent disdain for vowels for a second. This Leicester Square club is open most days of the week until 3 A.M., and has a strict VIP-only policy. As Greg Butelli, DSTRKT's manager told us (or more accurately, roared at us over the din of the
Ciroc-fueled
crowd), "London just has something going on all the time, every week. The most outrageous thing I can tell you about, without getting into too much detail, is we had a huge corporate event for one of the big gambling companies and they spent hundreds of thousands on the night. They had AfroJack as their DJ, there were entertainers, champagne for everybody—it was an amazing night. If you weren't there, next time." Our invitation must have gotten lost in the mail?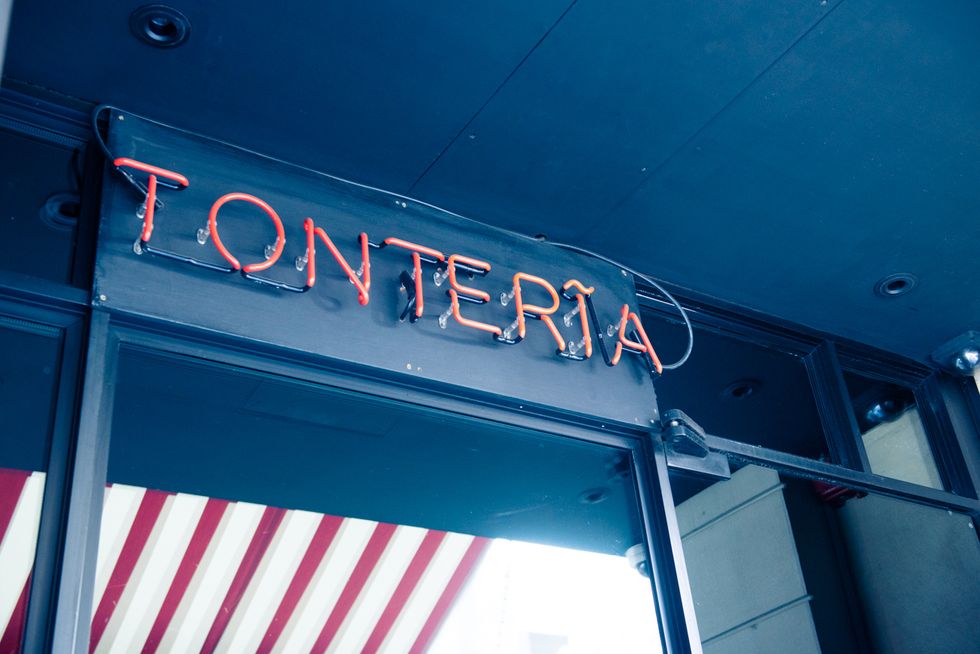 Any place that has an actual choo-choo train delivering shots whirling above guests heads all night kind of guarantees a good time. Expect themed nights (Monday's includes wrestlers, while Thursdays are all about fire shows), elaborate costumes and even tapas-style cocktails served out of Mayan pyramids. As Marc Burton, one of Tonteria's co-owners put it, "Every single night in Tonteria is completely different. When someone comes here, you never know what to expect." And because there's no one better than a club owner to ask where to go out, we turned the tables on Burton and asked him for his nightly go-tos. "I really love Shoreditch House. They've got a really amazing rooftop, you get great service and it's very homey, it's like a home away from home. When it's the wintertime I tend to go to Electric in Notting Hill." Note those ones in your Smythson, kids.
No night out (according to the likes of Rihanna, Cara Delevingne and Miley Cyrus, at least) is quite complete without a stop at Cirque le Soir—if you can get in, that is. As Tom Berg, Cirque's 'ringmaster' bluntly told us, "you need to have a bit of money to visit us. Or be very good looking. That's the other option." Regarding his most memorable
Ciroc
-soaked night? "We had Rick Ross do a secret performance for our club on our birthday, which made our night really special."