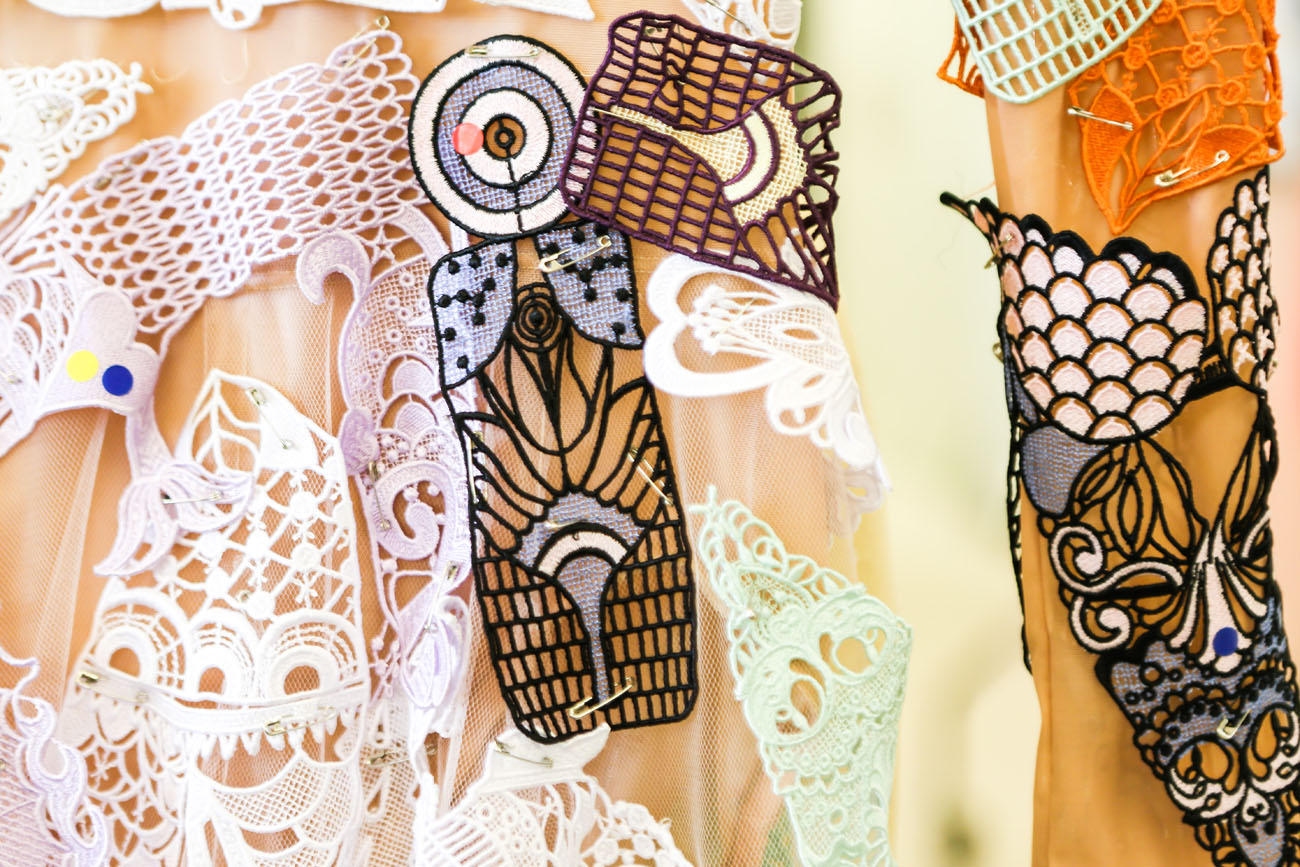 Behind the Scenes at the New York City Ballet
An exclusive sneak peak at the ballet's Fall Gala costumes, featuring Sarah Burton for Alexander McQueen, Mary Katrantzou & more.
Ballerina fantasies are pretty common around TC HQ. And it makes total sense, right? We mean, we're pretty sure collecting pretty slippers and dressing in frothy pink is pretty up there on our list of appropriate hobbies. We never really achieved the painstaking grace that we so admire in natural dancers (although we're not saying we don't try when we actually make it to a scheduled Ballet Beautiful class), but we never really lost our, well, obsession with the art form. (Exhibit A: Center Stage will always be on our list of favorite movies.)
So as soon as we heard that Cov-alum and Anna Wintour bestie Sarah Jessica Parker had coaxed four of our favorite designers to design the costumes for the New York City Ballet's Fall Gala celebrations, we were pretty much banging down the door of the Lincoln Center to get a sneak peek. Thankfully, they were super obliging and we found ourselves getting the VIP tour just days before the big night (which is, um, tonight, BTW). From the dancer's early morning rehearsal to the hallowed costume shop and the backstage dressing rooms, where we caught principal dancers Teresa Reichlen and Andrew Veyette warming up for a rehearsal of Clearing Dawn in costumes of Thom Browne.
Yeah, that's right, when we said the costumes for the Fall Gala, during which four separate ballets are performed, were designed by four of our favorite designers, we meant Browne, Carolina Herrera, Mary Katrantzou and Sarah Burton for Alexander McQueen. Seriously. So after seeing the work firsthand, we got on the phone with Marc Happel, the NYCB's Director of Costumes, who helped to guide the fashion designers through the process of designing for the ballet. When we our prepubescent, sequin-embroidered dance recital costumes, this is kind of the equivalent of dealing with couture. But when Valentino did the NYCB's first designer collaboration two year ago, we guess standards were set pretty high, right?
On how SJP's brainchild became a reality…
"Basically, it's been something [that came through] Sarah Jessica Parker, who's on our board. She thought it would be a good idea to use fashion designers for our Fall Gala, since the Fall Gala is exactly after fashion week here in New York. Initially, the idea was to use young and up-coming designers, but our first one was Valentino so, you know, we went right to the top. It's been an interesting process, usually the choreographers either work with SJP or they may have a designer of their own. Some, of course, jump on it, but there are also some that have declined. Most, I have to say, jump on it and love the idea."
On the challenge of designing for dancers…
"There's a very big difference between designing for the street as opposed to designing for a ballet. There's just the immediate fact that you're designing something that's basically being worn by an athlete that's doing this amazing choreography. It has to be done so that it can easily move and has the most support. Also, there's the fact that you are there to design for a situation where, instead of being directly in front of a model, there's maybe sixty feet between you and the dancer. Then there are stage lights, which bleach out a huge amount of color or can alter the color incredibly."
On Thom Browne's idiosyncratic designs…
"The choreographer gives them some idea of the ballet and they then take that away and come back with their interpretation of it. Thom Browne went away and came back with a very Thom Browne look. It's something you look at and go, that's Thom Browne. In some respect, you want that because otherwise you can get any old designer. If you're going to get a fashion designer you at least want it to have a feeling of that designer's work."
On making Mary Katrantzou's intricate embroidery work for ballet…
"[For Mary Katrantzou's costumes], they use embroidered letters that are made in Switzerland that she used in her resort line and they're applied with a very fine tool. We sent them a unitard and a leotard with a skirt attached and they placed letters all over these two mock-ups, and sent them back to us. Then the letters were sent to us from Switzerland and we learned how to apply the letters so that there's still have enough stretch."
Photographer, Rush Zimmerman.